Welcome to the 192nd Tablescape Thursday!
For this Tablescape Thursday, we'll be dining on my friend, Cornelia's beautiful balcony in Switzerland.
The view is wonderful from here!
Cornelia, please tell us all about the china you've chosen for this beautiful table setting here on the balcony. Cornelia shared, "The theme is mainly based on the predominating porcelain, the Russian Lomonosov Porcelain. Lomonosov Porcelain Factory was founded in 1744 and changed its name to Imperial Porcelain Factory after the Cold War."

"I bought my first Lomonosov Porcelain right back in 1988 when I visited for the first time the former USSR. It was still cold war at this time and very exciting to experience a totally different world. I bought it in Leningrad (now St. Petersburg) in a shop only for foreigners and had to pay it in US-Dollars, because they only accepted foreign currencies at this time."
"My first porcelain is pattern cobalt net. It first appeared in 1949. The design is based on a pink net pattern that was painted on raised lines cast into the porcelain dinnerware pieces of Catherine the Great."
"The design pattern is a combination of intersecting lines of cobalt blue with inverted tear drops of cobalt blue (made from mineral cobalt) and 22 karat gold accents."
"The plate underneath is by Meissen (Deutsche Blume) and is hand-painted. The cutlery used is Silver made by Jezler/Switzerland. The pattern is called Orfèvre. It is hand-hammered and was created in 1930 in memory of the Swiss Physicist Auguste Piccard."
"The plate for the main course is Royal Copenhagen, Saxon Flower. It is all hand-painted."
"On another visit to Russia in 1994 I bought a second tea set. Unfortunately, I do not know the pattern. It is cobalt as well but no longer produced.
It was in 1993 that the Leningrad Lomonosov Porcelain Factory became privatized. My tea set was directly bought in the factory which was quite old fashioned at this time. The soup as a starter will be served in a Lomonosov cup."
"The wine glass with the rich textured, gold rim, "Mintonborte" is by the German Manufactory, Theresienthal which was founded in 1836. The champagne glass is also German. Later on the coffee and friandises (small pastries, or sweets) will be served with Lonomosov Cobalt Net Porcelain."
The tablecloth is linen and the napkins are vintage.
"The vase is hand-painted and made by Augarten/Austria. The roses are bought on the local market. I wanted to evoke a Russian atmosphere so I used Matryoshkas as decoration. I bought them on a trip to Leningrad in Summer 1989."
(A closer view of the Matryoshkas nesting dolls.) "They are hand-painted and gilded with 22 carat gold. They have illustrations of a Russian fairy tale on their bodies."
Thanks so much for having us over for this wonderful dinner, Cornelia. It was so much fun hearing a bit of the history behind the china used in this table setting.
Such a gorgeous day for dining on the balcony. Did you feel those soft breezes? I've featured one of Cornelia's table settings here on the balcony once before.
You can view this wonderful setting at the link: Villeroy & Boch, Le Ballon. It features whimsical hot air balloons created from the work of the French artist, Jean Mercier.
Looking forward to all the beautiful tablescapes for this Tablescape Thursday!
Receive BNOTP updates right in your Inbox:
To receive the latest posts, as well as updates about upcoming blog parties, subscribe To BNOTP posts via an RSS Reader. Or, have BNOTP delivered right to your Inbox. You'll find links to subscribe via RSS and e-mail on the top ride sidebar of the BNOTP home page, OR click HERE to subscribe via RSS Reader and HERE to subscribe via e-mail.
Reading this post via e-mail or RSS feed?
*If you are reading this via email or RSS feed, to view all the tablescapes linked for Tablescape Thursday, click HERE.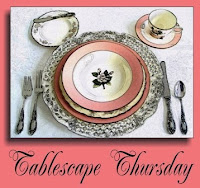 Please Read:
If you are participating in Tablescape Thursday, please be sure to add your permalink below, and not your general blog address. To get your permalink, click on your post name, then just copy and paste the address that shows up in the address bar, into the "url" box when you link up.
You'll need to include a link in your post back to the party in order to link up and participate. That's so visitors to your blog will be able to find the party and the other Tablescape Thursday participants.
If you would like to use the Tablescape Thursday logo button in your post, just copy and paste it to your computer and upload it to your post as you would any photo. Or, grab the html code you'll find under the "Parties" heading at the top of this blog.
Please, don't add your post name/blog name ALL IN CAPS…it tends to create big spaces between the rows of links. Thanks!
Let's try something fun today! Please visit the person who linked before you and after you…that way everyone will get some visits. Hope you'll visit more, of course.




Welcome! Thanks for coming to the party!