A while back I was in the mood for a feel-good movie. I pulled out the movie, You've Got Mail, starring Tom Hanks and Meg Ryan, remember that movie? I pretty much love any movie with Tom Hanks or Meg Ryan. You've Got Mail is a 1998 American romantic comedy set in Manhattan (Upper West Side) of New York City. Today I thought I'd take you on a little tour of the wonderful places we get to go in the movie. Ready for a little movie house tour?
I was surprised to learn You've Got Mail was based on a play called, Parfumerie. You've Got Mail isn't the first film to have been inspired or made based on that play. An adaptation of Parfumerie was made in 1940 called The Shop Around the Corner starring Margaret Sullavan and Jimmy Stewart. Of course, in 1940 folks were not e-mailing each other online so the story line was slightly different than the 1998 version.
You've Got Mail was a box office success grossing more than three times the budget it took to make it, so chances are very good you've seen it. If not, the basic story line is Kathleen Kelly (played by Meg Ryan) is the owner of a small bookstore called The Shop Around the Corner. She meets Joe Fox (played by Tom Hanks) in a chat room online and they become great friends. Their chat room ID's are "Shopgirl" for Kathleen and "NY152" for Joe, just in case you run across that in a trivia contest one day. Joe owns a huge bookstore chain called Fox Books. Online, they do not know each others occupations.
Their online friendship slowly develops into a romance. As they are corresponding and falling in love online, they end up accidentally meeting in real life and become bitter rivals since Joe has just built a huge, modern discount bookstore that ultimately threatens (and does) put The Shop Around the Corner out of business. Throughout much of the movie, they have no idea, this person they dislike so much in real life is the very person they have come to love online. What a great story line!
Throughout the movie their paths cross (or almost cross) many times. I loved this scene where they miss each other by seconds.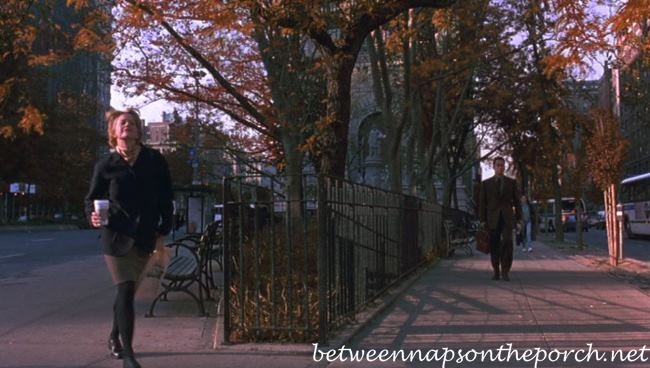 All the filming for You've Got Mail took place on the Upper West Side of New York City. In the movie Meg Ryan's character, Kathleen Kelly, lives in the center brownstone (one with window boxes and plant) located at 328 West 89th Street, Manhattan. (Picture from Google Earth.)
When I saw this movie, I fell in love with the coziness of Kathleen Kelly's apartment. I loved it instantly. As I watched the movie this time, paying even more attention to the interior, I was surprised to see how simply it was decorated. Actually, it's not "decorated" at all but it's definitely loaded with charm. Her home is proof, you don't have to spend a lot of money to create an interior that's charming, cozy and a lovely place to live.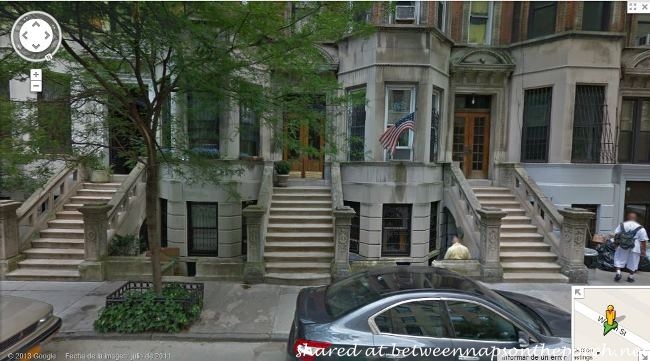 Since much of the action in this movie takes place in Kathleen's home, let's start our tour there. Look! She's holding the door open for us. Actually, she is sick with a bad cold and is trying to get the evil, Joe Fox to leave. It doesn't work and he politely ignores her.
Take a look at the stairway in this brownstone! You would never in a gazillion years see gorgeous wainscoting/paneling in a hallway in today's apartment buildings. The beautiful molding you see around the closet door is all throughout Kathleen's home, too.
I tried to find out when the brownstones in this area (Manhattan) were built and it appears to have been around the late 1800's going into early 1900's. Not sure of the date for this exact building. It's obvious folks took pride in their workmanship. These homes were not just thrown up like so many of today's homes and apartments are. Today, if you purchased a brownstone apartment in Manhattan, you would have to spend several million, that's if you could find one for sell. They are very popular places to live.
We get a better view of the staircase when Kathleen's boyfriend, Frank (played by Greg Kinnear) leaves for work. Even this shared staircase is cozy and inviting.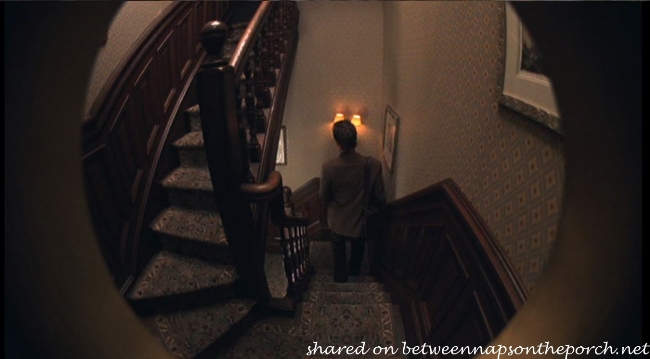 Kathleen's apartment has an English-Country-Cottage feel. I love the contrast of the beautiful wainscoting/wall paneling against the chipped, shabby table under the window in the kitchen. You'll see more of this style decorating in Kathleen's bedroom. In this scene Joe is trying to win Kathleen over so he brought her a bouquet of her favorite flower, daisies.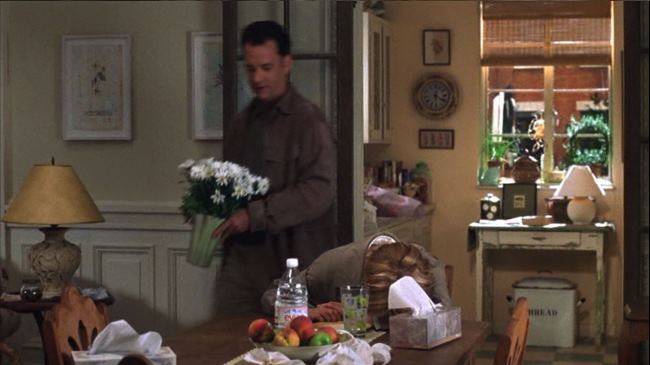 Not exactly a gourmet kitchen but it's perfect for a single person or a couple. I love the real wood, true-divided-light, French doors. My home has those type windows and I've resisted replacing them even though they aren't that energy efficient. My gas and electric bills are always so low, if I did replace my windows, it would take a gazillion years to make up the cost. I'm sure when I move one day, the next owner of my home will probably do it, but I don't want to give up up the look of the old windows.
Look at those cute chair backs!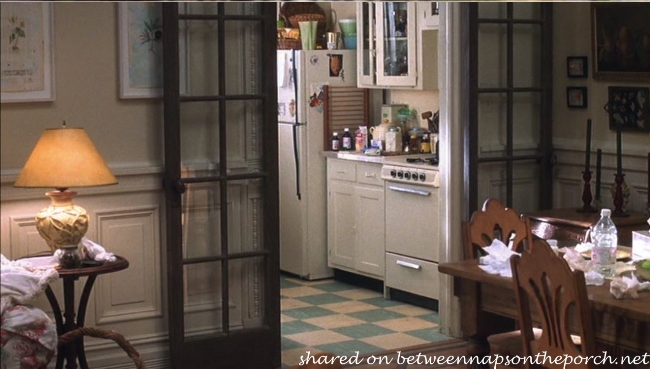 Here's a view of the other side of the kitchen. Notice how placing a lamp in a spot where you wouldn't normally expect to find one adds instant charm to a room, especially when lit in the evening.
Have a spot in your home that could use a bit of charm or warmth? Add a lamp. I love soft lamplight in guest baths or powder rooms. They are great to leave on during evening parties; when your guest enter the powder room, they won't find themselves fumbling for a light switch. Plus, it just gives cold bathrooms some much needed coziness. Okay, I know I got way off topic, couldn't help myself.
We get our first glimpse of Kathleen's home peering in through a window. I love this perspective, it's like a little sneak peek before we actually go inside. Just soak up all that beautiful molding, you'll see more of it in a sec.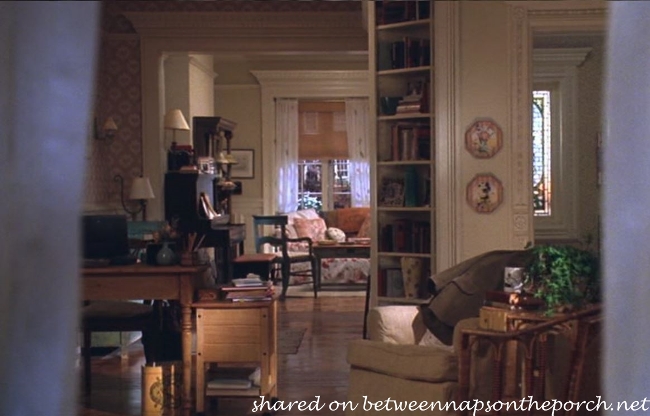 This desk plays a pivotal part in the movie since this is where Kathleen spends evenings on her computer getting to know and love Joe.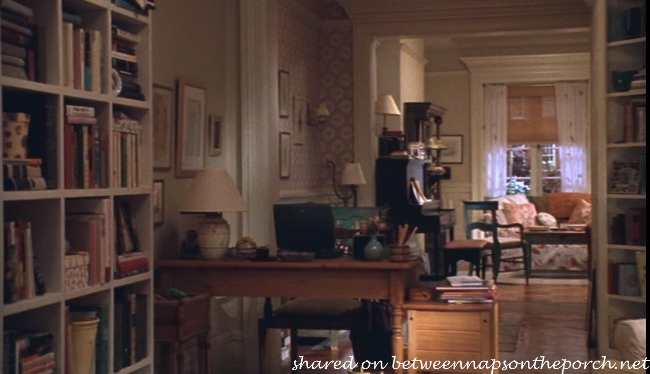 This home feels cozy but definitely, not "decorated." Notice the random placement of the pictures on the wall. There's something kind of neat about that, makes me want to go hang some prints/pictures in a random pattern somewhere in my own home.
If you were Kathleen and you were sitting at your desk, this would be your view if you looked up. Don't you love the desk coming out from the wall? I've tried to work this into my own home somewhere but I never seem to have a spot where I can do it. It's a great way to pull furniture out into a space, as opposed to having it all lined up around the walls.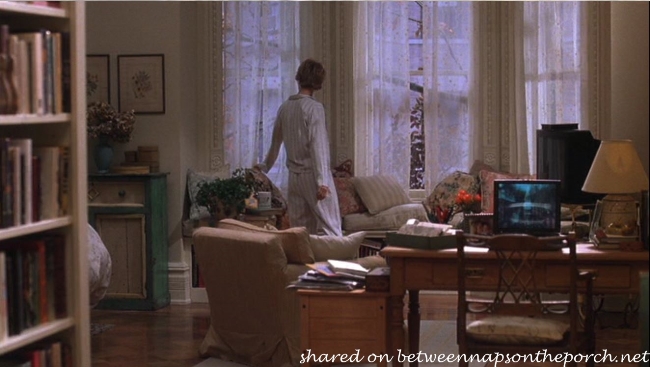 The living room is super cozy in the evening, made even cozier by all the bookshelves over-flowing with books. It's just the interior you would expect in the home of a book shop owner.
The sofa is right out of an English cottage. Wonder if that's a Colefax-Fowler fabric? The whole apartment has that English Country Cottage feel, a style I do love. Update: Linda identified the fabric on the sofa, it's Waverly Norfolk Rose and is still available as of this date. Thanks so much, Linda for that info! That must be a really popular fabric for it to still be available today.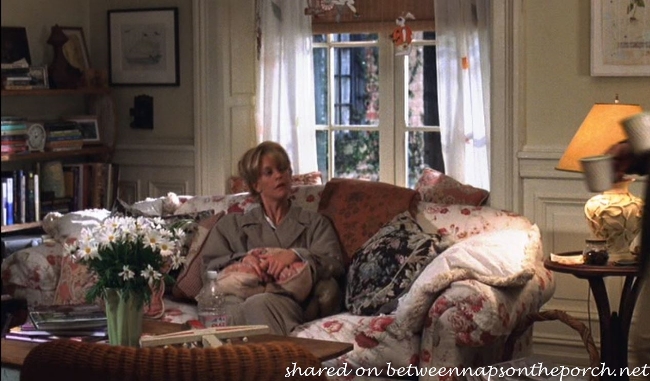 Kathleen's bedroom again shows contrast in style. The bed itself feels elegant with it upholstered headboard but the bedding is sweet and non-fussy.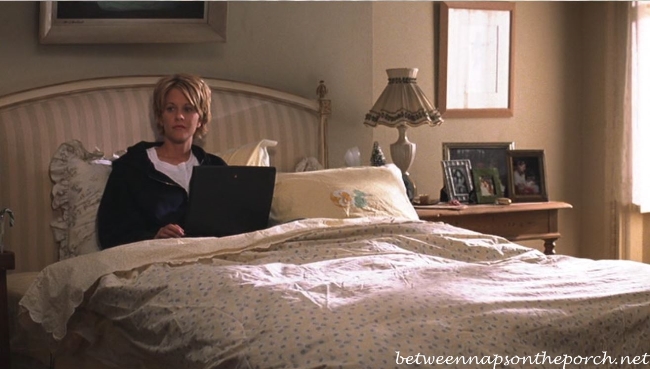 The other furniture in the room looks as if it were collected here and there over time, again a very much non-decorated look. This tells you so much about the character, Kathleen. We know her Mom has passed, so these could easily be inherited pieces.
You'll notice, later in the movie, some of the furniture is in different locations. I noticed a couple of pieces were moved but didn't realize how much until Claudia mentioned it in the comments. (Thanks Claudia!) Did you notice it? It happens in the movie after Kathleen's bookstore closes and she and her long-time boyfriend split-up. Toward the end of the movie, the bed is no longer against the wall but is instead in a corner. Even Kathleen's desk is in a different spot. I guess it's part of the way Kathleen copes with all the big changes in her life.
Love the books stacked on the small table at the foot of the bed. Books give any room instant character and warmth like nothing else can.
Did you notice the window seat? This apartment has so much charm!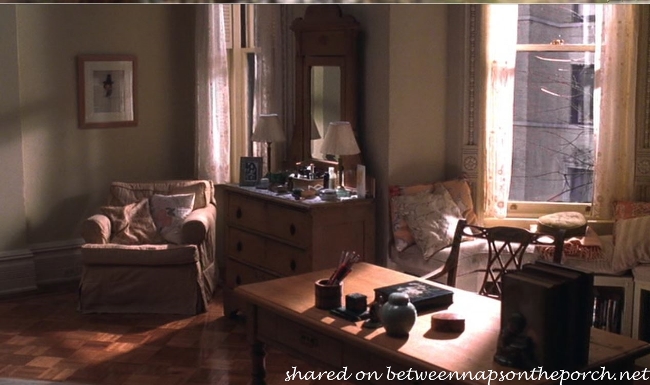 We get a little glimpse into the bathroom in this view…better shot coming up of that space.
In the movie, Kathleen loves daisies and we see that again in her bed linens.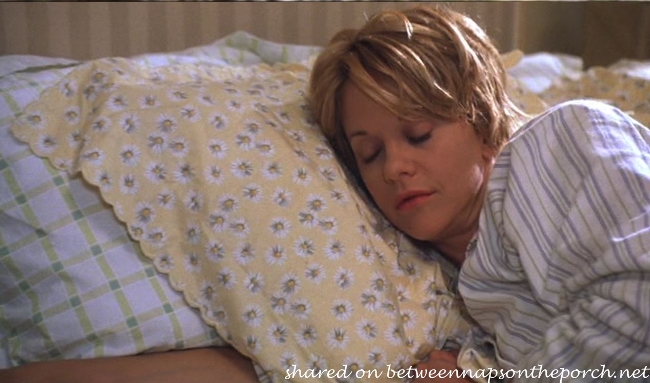 Another glimpse into the bathroom and more views of the exquisite molding throughout this brownstone. Even the bathroom vanity has beautiful carving. I wonder how they've manage to paint it time and time again these past 100 years without losing all the wonderful detail. So beautiful!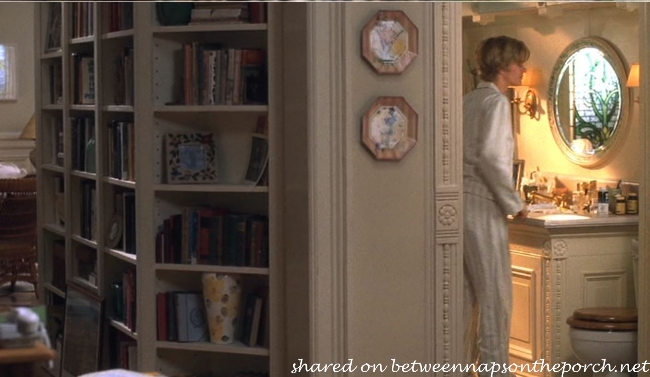 Joe Fox's New York Apartment
We don't see a lot of Joe Fox's New York apartment, but its very different as you might expect.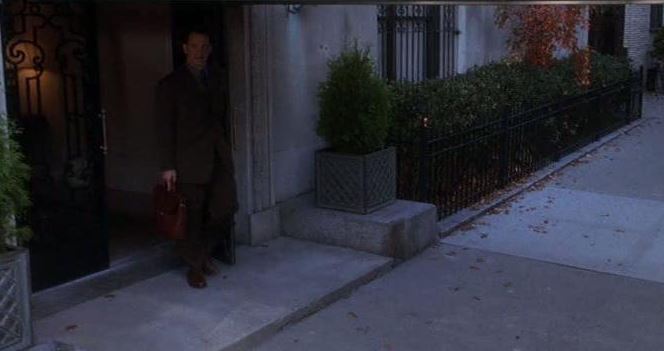 We get a little glimpse into the entry/hallways his apartment in this scene. That clock totally steals the show in this scene, doesn't it? Love that clock!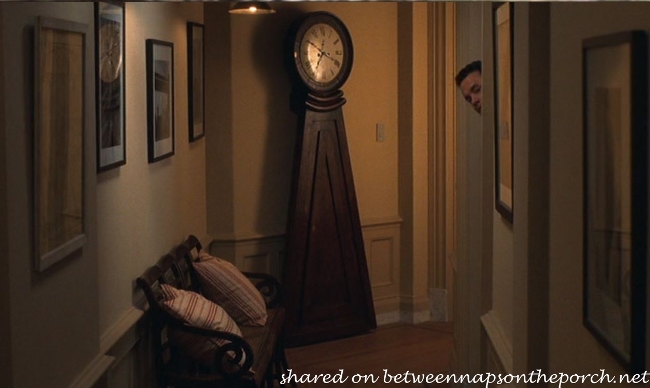 The kitchen is super modern. Hard to believe this movie was filmed in 1998 because that could totally be a kitchen in today's home.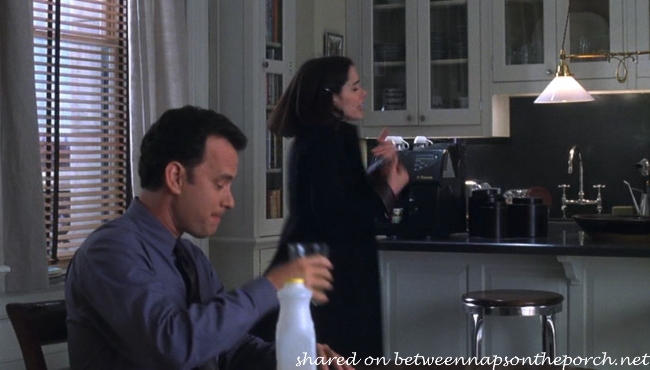 Joe's bedroom is sleek and masculine. It totally has that "decorated by an Interior Designer" look, down to the bed linens. Note the perfectly matching bedside tables. No randomly hung pictures in this space.
The room where Joe has his desk is cozy though. Notice the fox sitting on the books, perfect for the owner of Fox Books.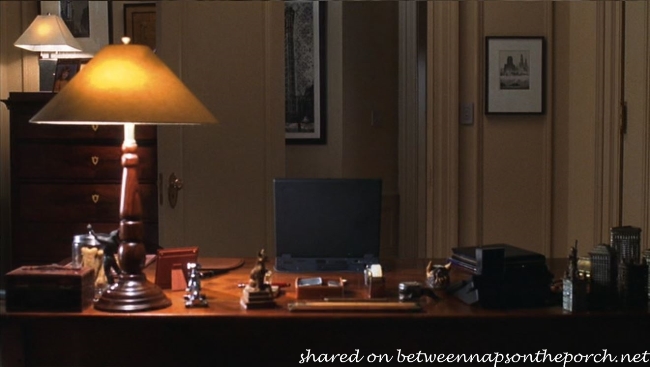 Of course, we would expect to find bookshelves filled to brim in Joe's home, too.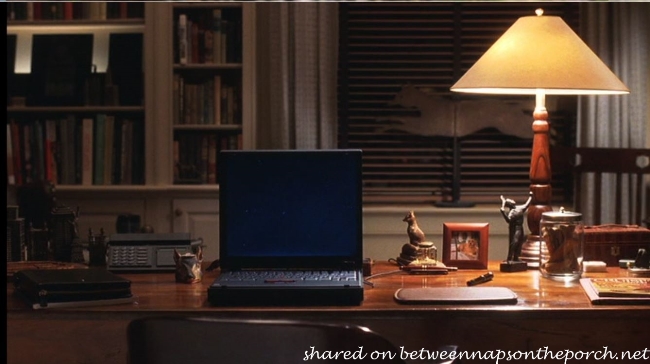 The Shop Around the Corner
I couldn't give you a movie tour of You've Got Mail without taking you inside Kathleen's adorable bookstore, The Shop Around the Corner.
The Shop Around the Corner is located at 106 West 69th Street, Upper West Side, Manhattan, New York City, New York. The store in real life was a privately owned cheese and antiques shop; it was was converted into Kathleen's book store for the movie. Does anyone know what's there now? Wonder if the cheese and antiques shop is still there?
A view of the interior looking back toward the entrance to the shop.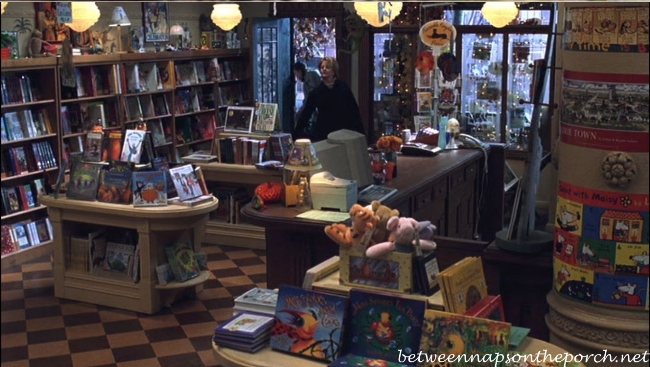 The Shop around the Corner is a bookstore for children so it's filled to the brim with lots of whimsical decorations.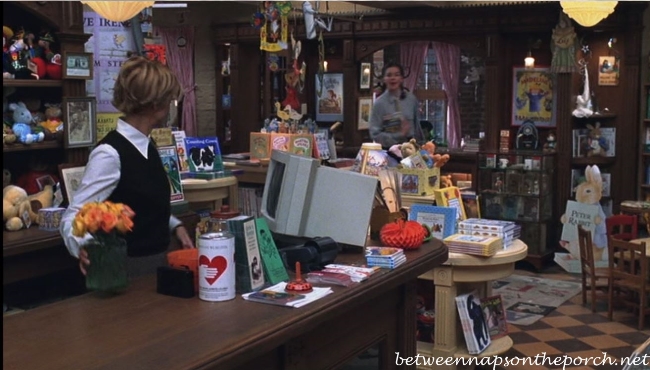 I took way too many pictures of the shop because I thought it was so cute. I managed to cull them down to these three. I loved this little bookstore. I worked for 5 years as a Media Parapro in my son's elementary school library when he was a student there. We had a reading corner and I used to love reading to the little ones when they came in for their library visit. I hope they still do that in the schools.
Update: Since we all loved this sweet bookstore so much, I created a separate post showing it in more detail here: The Shop Around the Corner Bookstore in the Movie, You've Got Mail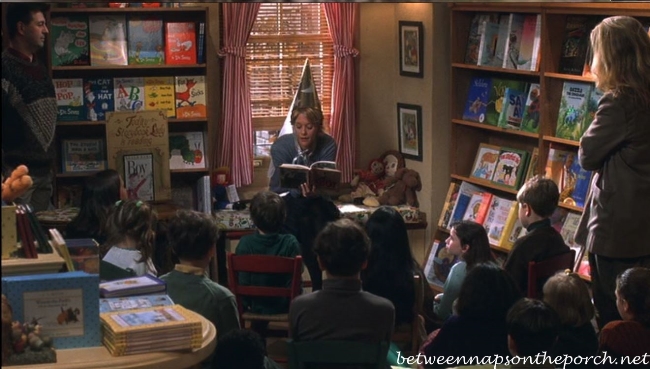 I didn't save any pics of Joe's bookstore, Fox Books, to share. Just picture a big, modern, multi-floor bookstore and ya got it.
Hope you enjoyed this little tour of Kathleen's brownstone in the movie, You've Got Mail.
Please feel free to share this post with friends; share buttons can be found below.
Love Movie House Tours? You'll find many more of your favorites here: Movie Houses
*If a post is sponsored or a product was provided at no charge, it will be stated in post. Some links may be affiliate links and as an Amazon Associate, I may earn from qualifying purchases. *