Welcome to the 577th Metamorphosis Monday!
Many years ago, I used to race to get my Christmas tree down before the strike of midnight on New Year's Eve. Growing up here in the south, I used to hear folks say, "It's bad luck to keep your tree up beyond New Year's Eve."
Pshaw! Who started that rumor anyway? lol Now I leave my tree up well beyond New Year's and I'm always sad when it's time to take it down.
My friend, Marie, has a white tree in her breakfast area that she leaves up year 'round. She decorates it for all the holidays and it's so exciting to see it whenever I visit her home.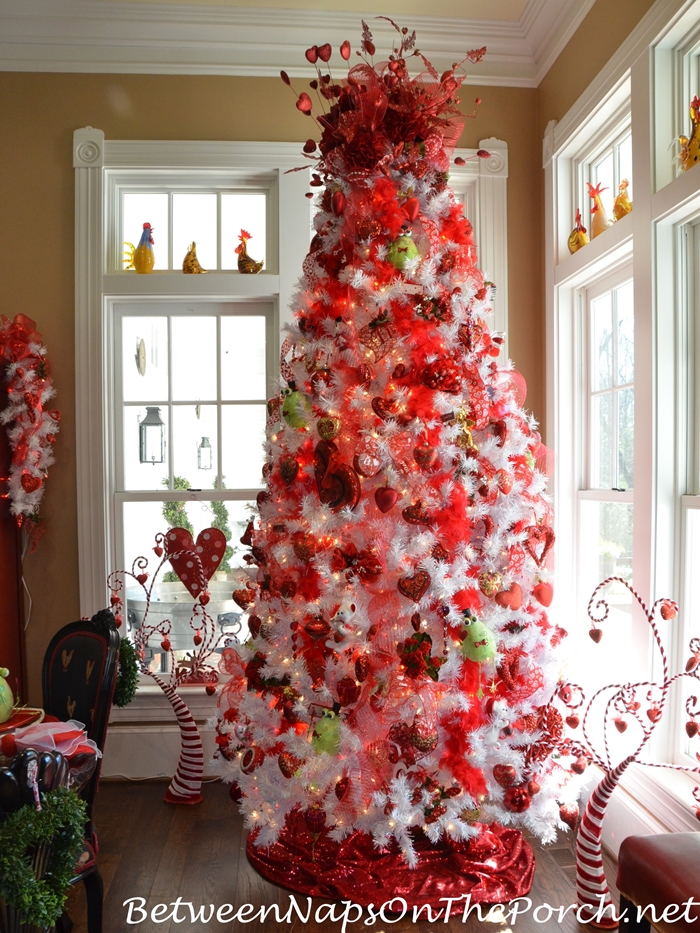 Here's another photo of Marie's Valentine's Day tree from a previous year. Have you ever thought about decorating a white tree for the various holidays or seasons throughout the year?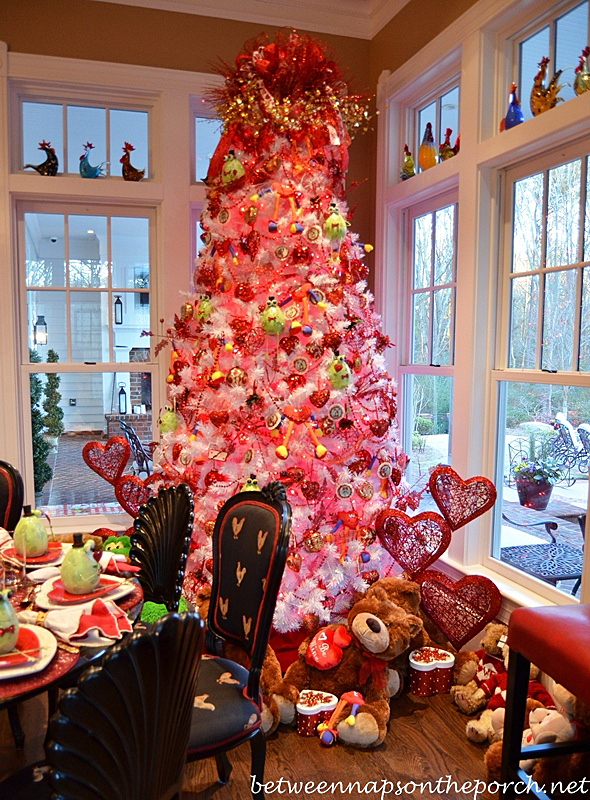 The day before Valentine's Day I shared this woodland-themed Valentine's Day table for Tablescape Thursday. After I shared that table, later in the day I received a lovely email from Ruth, a BNOTP reader.
Ruth said, "Loved the Woodland Valentine's Table. Without the hearts it could also work as a great Scottish Table, to celebrate Burns Night, a Scottish evening celebrated by the Scots to honor Robert Burns."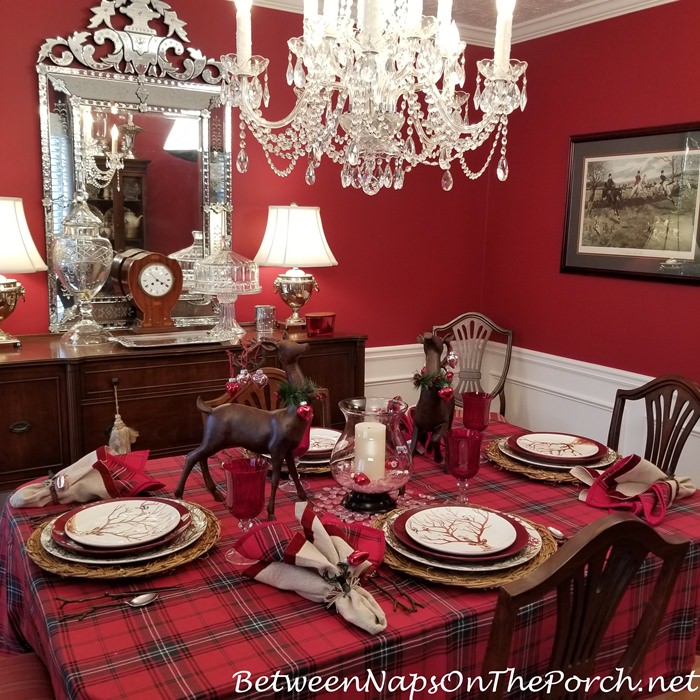 Ruth added, "Great minds must think alike. I put hearts hanging off my reindeer's ears too. He is in the living room under the Valentine Tree. I feel like your friend, Marie, with my white tree."
Of course, you know I asked to see more photos of Ruth's tree! I love the idea of a Valentine's Day tree! Ruth sent more photos saying, "I usually have a green tree done in blues and golds; sort of the colors of the room, but this white tree is making it's way to the basement red, white and blue room.
My white tree is actually just stopping in the living room on it's was from a pink bedroom where it was decked out in fairies, ballet, and Nursery rhyme characters to the basement tv room with a red, white and blue theme. The tree down there stays up all year, but it's green and I think red, white and blue looks so nice on white."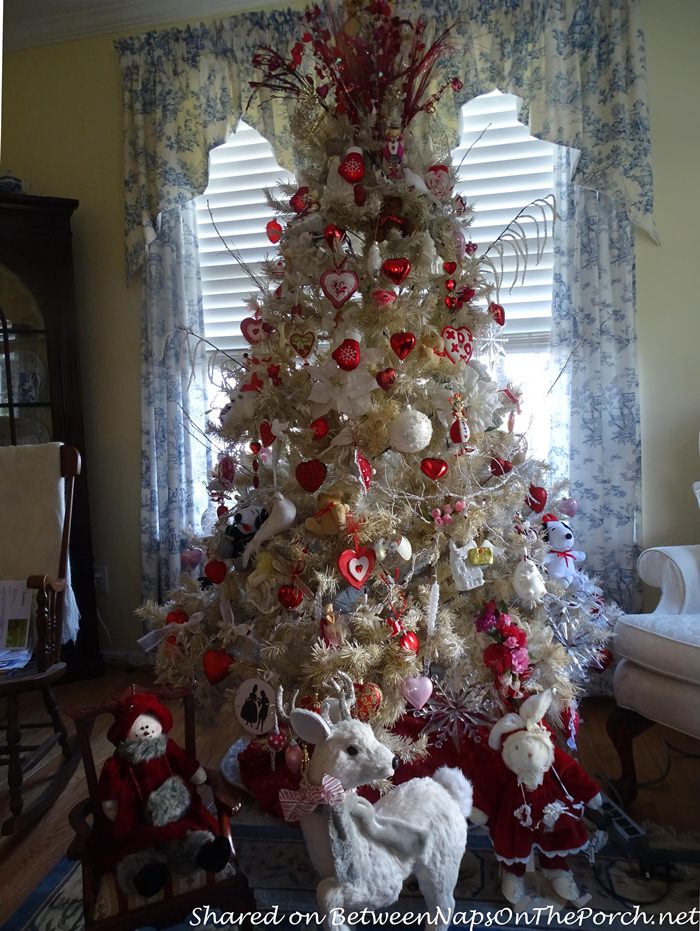 Here's how Ruth's tree looks at night. Sooo pretty!
Ruth said, "I have a patriotic theme in the tv room and I think ornaments look so good on a white tree. This tree was upstairs in a pink bedroom and done in flowers and fairies, ballet and nursery rhymes. Huge effort to get it down so it stayed on the first floor for Christmas done all in white. Many of the white ornaments stayed as they icicles and angels. Goes for winter and Valentine's Day."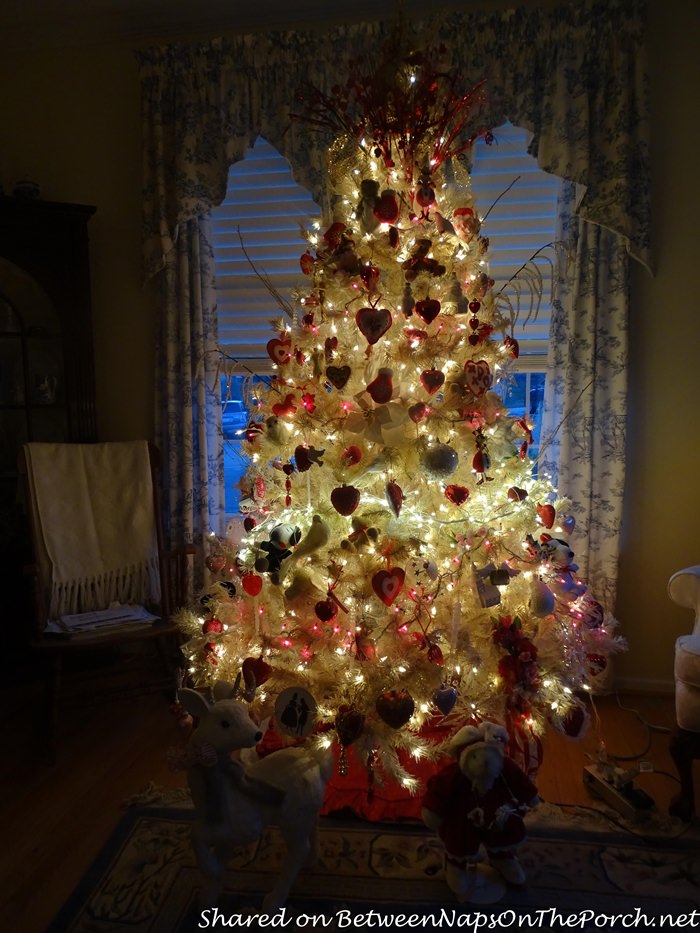 Here are some of the wonderful ornaments Ruth has on her beautiful Valentine's Day tree.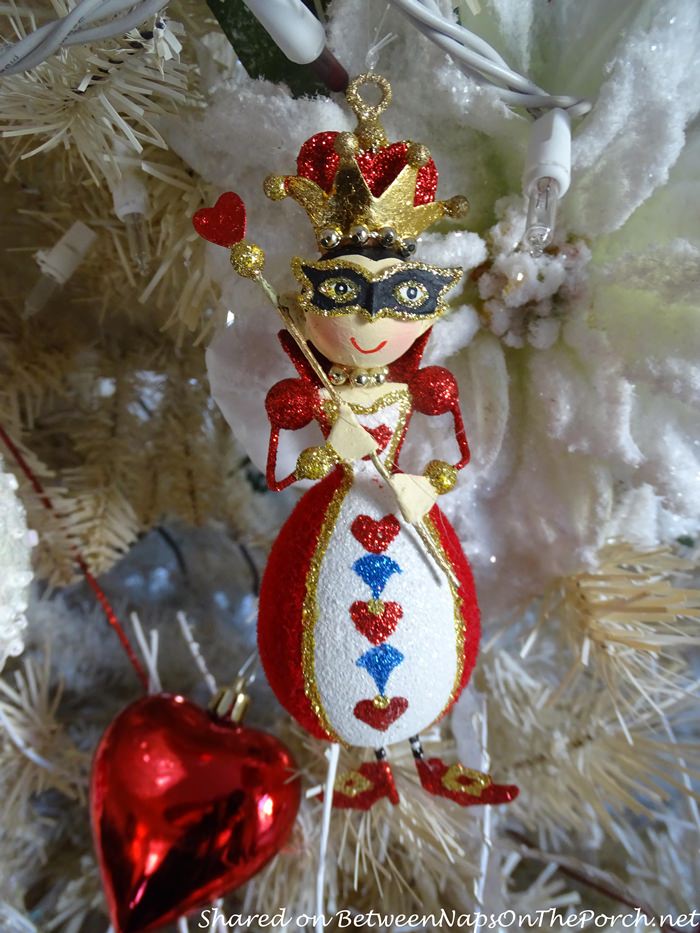 This adorable bear is a Radko ornament.
Ruth will be decorating her tree for Easter, too. Ruth said, "It's staying for Easter, too. I don't like the eggs on green pines, but the white will look nice. Then to the basement level for the year-round patriotic tree."
Happy Valentine's Day
Ruth in PA.
Ruth, thanks so much for sharing this wonderful makeover! I love this idea of having a tree up year-round to celebrate the holidays and seasons throughout the year. It certainly would help ward off those winter blues!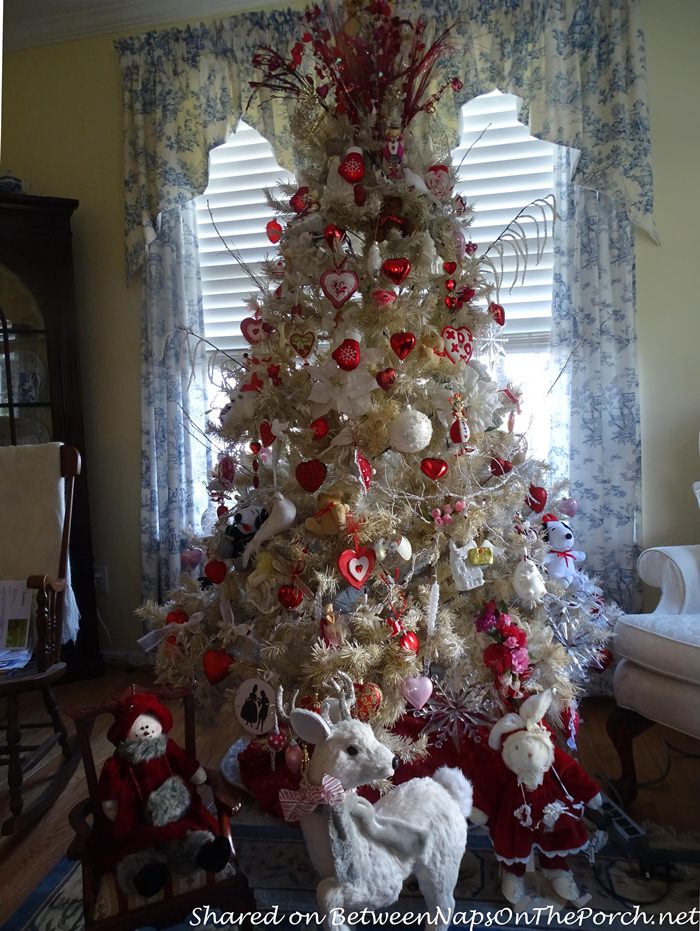 Looking forward to all the wonderful Before and Afters linked for this week's Met Monday!
Pssst: Did you know Between Naps On The Porch is on Instagram? You'll find me on Instagram here: Between Naps On The Porch.
Like to know when a new blog post is up and available to read? Subscribe for email updates, it's free and your email will never be shared.
Subscribe here: Subscribe for free post updates via email here: Subscribe.
Metamorphosis Monday
Metamorphosis Monday is a party that's all about Before and Afters. If you are participating in Met Monday, please link up using the "permalink" to your MM post and not your general blog address. To get your permalink, click on your post name, then just copy and paste the address that shows up in the address bar at the top of your blog, into the "url" box for InLinkz when prompted.
In order to link up, you'll need to include a link in your MM post back to the party so the other participants will have an opportunity to receive visits from your wonderful blog readers.
This party has ended, click button below for the links to all who participated.
*If a post is sponsored or a product was provided at no charge, it will be stated in post. Some links may be affiliate links and as an Amazon Associate, I may earn from qualifying purchases. *