Imagine walking into an apartment filled with beautiful treasures that no one has seen or touched in 70 years. This lovely Paris apartment was literally frozen in time for seven decades, abandoned by Mrs. De Florian when she fled to the south of France just before the Second World War. Amazingly, she never returned.
It's like something out of a movie. The contents was left undisturbed all these years. It was only after Madame De Florian passed away that anyone made this discovery since she paid her rent until she died at the age of 91. I love how it was described in one article I read, "Entering the untouched, cobweb-filled flat in Paris' 9th arrondissement, it was like stumbling into the castle of Sleeping Beauty, where time had stood still since 1900."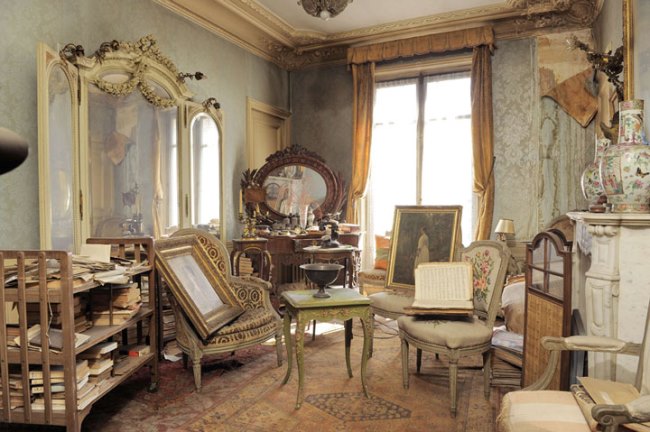 The apartment is near a church in the French capital's 9th arrondissement, between Pigalle red light district and Opera.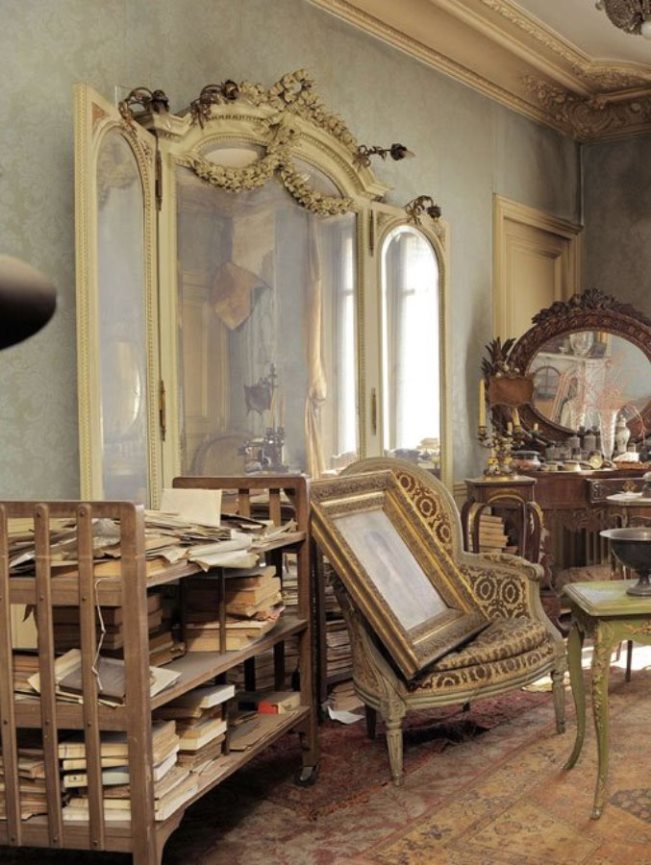 The first person to enter the home was Olivier Choppin-Janvry, a "Commissaire Priseur-Auctioneer." The article said,"Walking under high wooden ceilings, past an old wood stove and stone sink in the kitchen, he spotted a stuffed ostrich and a Mickey Mouse toy dating from before the war." Apparently, back in the day, it was a sign of affluence if you had a few taxidermy pieces in your home.
I love the wallpaper, it looks so familiar. It reminds me of one of the fabrics Mario Buatta loves and used back in the day…maybe from Colefax and Fowler. I'm going to do some research on that, see if I can find out anything. It's close to THIS one, but I don't think that's it.
You can tell it was a beautiful, elegant place. I love all the wallpapers, the rugs, the furniture. Imagine how beautiful and vibrant the rugs must be underneath that 70 years worth of dust!
One of my favorite pieces found in the apartment was this painting by Giovanni Boldini, painted in 1898. At first, no one could find any record of the painting and wasn't sure of the artist. Eventually, a scribbled love note from Boldini was found and it turns out, the French woman in the painting was the artist's former muse, Marthe de Florian, an actress with many admirers. She was the grandmother of Madame De Florian.
It must have been so hard for her to leave this apartment and all these beautiful pieces. I wonder why she never returned.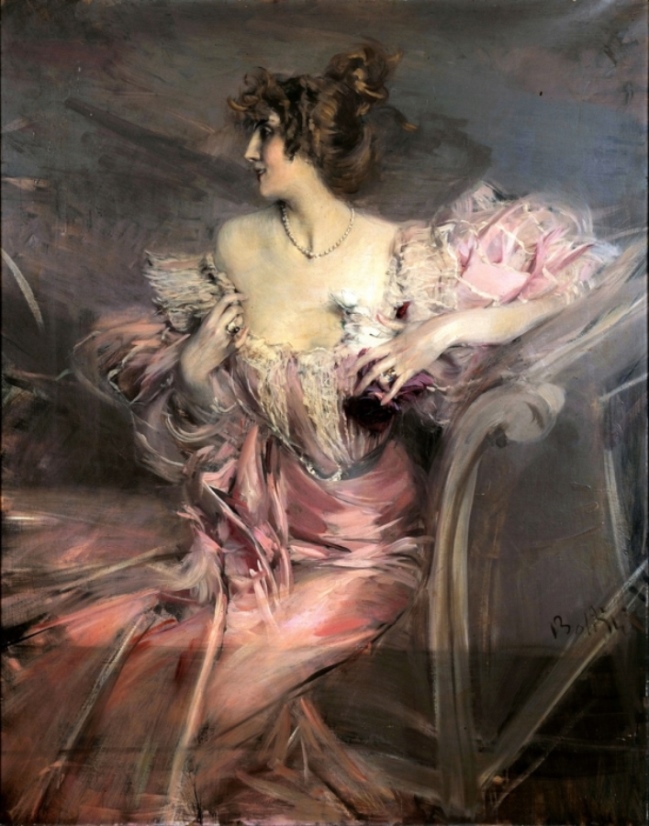 The apartment which is owned by her estate, has been left un-dusted and un-disturbed until this day.
Such a beautiful dresser! I would love to know what's inside all the little bottles. Perfumes? Makeup? Wonder if they are brands that are still being made today.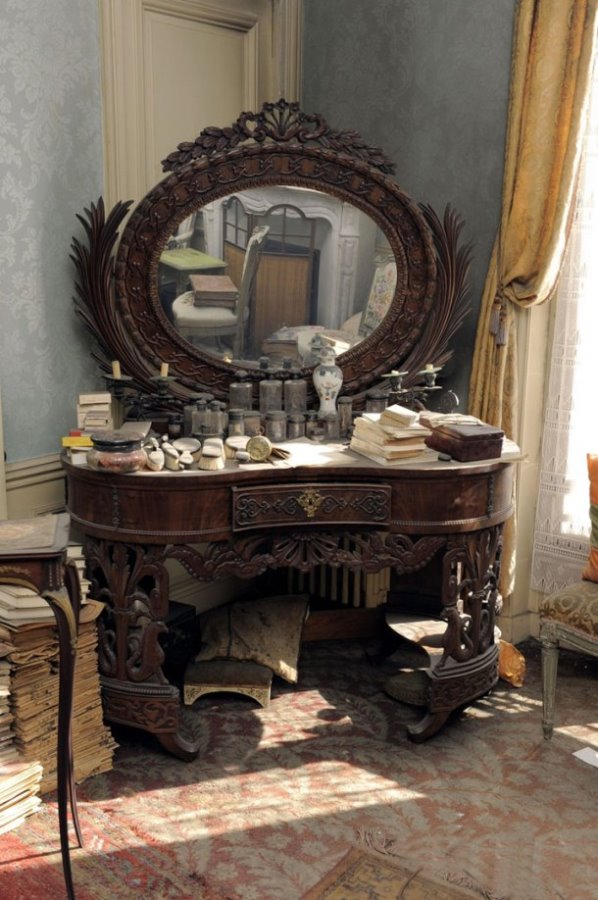 Wonder what those little things are peeking down from that gorgeous wood-beam (coffered?) ceiling. I'd love to see more close-up photos of this apartment. Such a fascinating story!
Pictures and information in this post are from HERE
*If a post is sponsored or a product was provided at no charge, it will be stated in post. Some links may be affiliate links and as an Amazon Associate, I may earn from qualifying purchases. *