Happy Friday! Yesterday I shared a fall table setting and my centerpiece for the table was the prettiest little pumpkin casserole from Martha Stewart. (Pumpkin Casserole is currently on sale here: Martha Stewart Pumpkin Casserole)
The pumpkin casserole came with a yummy recipe for Roasted Pumpkin Soup. This soup was very easy to make, the trickiest part was cutting apart the sugar pumpkins. Those babies are hard! Peeling and cutting up the pumpkin was a breeze once I had my pumpkin cut apart. By the way, you don't want to use regular ole pumpkin for cooking like this. It just isn't the same as the sugar pumpkins in flavor.
The recipe suggests garnishing the soup with some of the left over cream. I think I could use some practice at the art of cream garnishing. lol Does it look okay? Any tips on how to drizzle cream in an artful fashion? 🙂
To make this roasted pumpkin soup, these are the ingredients you'll need.
Ingredients:
2-1/2 pounds sugar pumpkin, peeled, seeded and cut into 1-inch pieces
1 onion, peeled and cut into 1-inch pieces
2 garlic cloves, peeled
4 sprigs thyme
4 sage leaves
Olive oil (enough to coat pumpkin)
Coarse salt and freshly ground pepper
3 cups homemade or store-bought low-sodium vegetable stock, add more as needed
1/2 cup heavy cream, plus more for serving
5 tablespoons freshly grated Parmesan cheese
Roasted pumpkin seeds or butternut squash seeds for serving (optional)
I took this photo below, then realized later I had forgotten to get out the thyme. Arrggg.
When I was in the market buying my sugar pumpkins, I weighed them and one seemed to be enough, but since I wasn't sure how many I'd need once they were cut up, I went ahead and purchased two.
In the end, one good size sugar pumpkin was enough. I had a good bit of roasted pumpkin left over and enjoyed eating it right off the cookie sheet. lol It smelled so good cooking, I was pretty happy about having some left over!
The milk bottle contains the heavy cream and that's olive oil in the decorative bottle on the right. I picked up the olive oil bottle in the same little shop where I bought the pitcher I blogged about recently in this post: Bringing Home a Bit of Tuscany to My Kitchen
The small bowls down front are filled with pumpkin seeds and fresh parmesan cheese.
After slicing apart the sugar pumpkin, I used a potato peeler to peel the pumpkin. Next I cut up the pieces into small 1-inch size pieces.
I spread the pumpkin out over an aluminum foil covered baking sheet and drizzled olive oil all over the pieces.
Then I cut/chopped up the onion and garlic into small pieces and sprinkled those, along with the herbs and pepper, all over the pumpkin. I left off the salt because I'm not a big salt fan, but if you like salt, this would be time to sprinkle it, too.
Finally, I tossed everything all together on the baking sheet, making sure to get all the pumpkin pieces lightly coated with the olive oil and other ingredients.
I popped the pan into my preheated oven and roasted the pumpkin for about 45 minutes, turning over the pumpkin pieces with a spatula about half way through the cooking time. Here's how it looked once done. I was so surprised by how good roasted pumpkin tastes cooked this way!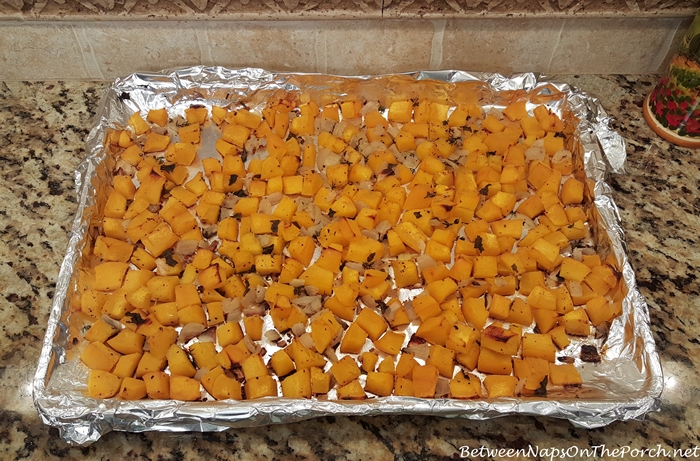 Next I blended the pumpkin, vegetable stock and cream together, adding a bit more stock since the mixture was pretty thick. I think I may have used a bit more than 2-1/2 lbs of pumpkin.
After everything was all blended, I poured the mixture into my pumpkin casserole and brought it to a low simmer over medium heat. I used one of my new Olive tree wood spoons to occasionally stir as it simmered. Have you ever noticed how much fun it is cooking with new dishware? New recipe, new pot, new spoon, I was in cooking heaven making this! lol
After the soup was simmering nicely, I added in the fresh parmesan cheese, whisking it into the rich mixture. I also ended up adding a bit more stock and a touch more cream. If you weigh your cut-up pumpkin pieces on a kitchen scale, you may not need to do this, but since I'm pretty sure I used more pumpkin than I needed, I did need to add a little more stock and cream.
When the soup was almost ready, I sprinkled some of the pumpkin seeds on a cookie sheet and toasted them in the oven, keeping a constant watch on them. If you've ever toasted pumpkin seeds or any other kind of seed, you know they can go from untoasted to burnt in no time flat! lol So just keep an eye on them.
When my soup was ready, I sprinkled a few of my roasted pumpkin seeds across the top. I just love how that looks! If your dinner guests like cream, you could also drizzle a bit of cream atop your soup in the pumpkin dish, of course, before adding the seeds.
After dishing up the soup into acorn tureens, I drizzled a bit of cream on top and sprinkled on more of the roasted pumpkin seeds. This is such a feel-good, hearty soup…a real comfort food for chilly fall or winter days. We don't have the cold temps right now but we have plenty of drizzly, yucky rain, so this was perfect.
Oh, the recipe states that it makes two servings–I got closer to 3-4 servings out of it, but it may be because I used more pumpkin, as well as more stock and cream.
Here's a printable version of the recipe below. Enjoy!
Print Recipe
Roasted Pumpkin Soup For Fall Dinners
Ingredients
2-1/2

pounds

sugar pumpkin

peeled, seeded and cut into 1-inch pieces

1

onion

peeled and cut into 1-inch pieces

2

garlic cloves

peeled

4

sprigs thyme

4

sage leaves

Olive oil

enough to coat pumpkin pieces

Coarse salt and freshly ground pepper

3

cups

homemade or store-bought low-sodium vegetable stock

add more as needed

1/2

cup

heavy cream

plus more for serving

5

tablespoons

freshly grated Parmesan cheese

Roasted Pumkin seeds or butternut squash seed for serving

optional
Instructions
Preheat over to 450 degrees.

Combine pumpkin, onion, garlic and herbs on a rimmed baking sheet.

Drizzle with oil and season with salt and pepper.

Toss to coat pumpkin, then, (tossing vegetables halfway through) until pumpkin in slightly caramelized and very tender when pierced with tip of sharp knife.

Discard any woody stems from the herbs, leaving the leaves.

Transfer vegetables to a blender.

Add stock and cream.

Blend until smooth, adding more stock if necessary to achieve desired consistency.

Transfer to pumpkin enamel cast iron pot.

Bring to a slight simmer over medium heat.

Add cheese and whisk until smooth.

Season with salt and pepper.

Serve, garnished with heavy cream and roasted pumpkin seeds, if desired.
*If a post is sponsored or a product was provided at no charge, it will be stated in post. Some links may be affiliate links and as an Amazon Associate, I may earn from qualifying purchases. *