Welcome to the 353rd Metamorphosis Monday!
Almost every day sees some kind of metamorphosis in our homes right now with the holidays here. I absolutely love this time of year! Halloween has always been one of most favorite holidays because it's filled with so many smiles and so much laughter. I hope your Halloween was a lot of fun this year.
I have a small Before and After to share in my kitchen. It's a little change waaaay over there by the stove. Just to the left of the stove on that small section of granite countertop stands a little Chef piggy.
He normally stands alone or with a small, marble mortar and pestle beside him.
One of the most memorable things I did on my trip to Italy was to visit the home of Frances Mayes in Cortona. She's the author of the book that later became the movie, Under the Tuscan Sun.
After a quick visit to Frances Mayes's home, we headed down to the village of Cortona to shop and see as much of this hill town as we could in the very brief amount of time we had there. See that alley between the two buildings below? We dined in an excellent restaurant down in the alley called La Grotta. I very much recommend it if you ever visit this area.
Notice the shop off to the far left, the one lit up and showcasing pretty dishware.
That window was a flame and I was a moth!
I mean, could you resist this?!
I really wanted to remember this visit to Cortona, so after shopping around a bit and having a hard time making up my mind, I finally purchased a small pitcher and a pretty olive oil dispenser. The shop-owner promised me that everything in her shop was really made here in Italy. They must get asked that a lot because in some of the shops I visited, the shop keepers shared that bit of information before I even asked.
The hallmark on the bottom of the pitcher says "COLTI BUONO, CasAntonio, Hand-Painted Cortona-Italia." Being the suspicious person that I am, I wonder if the pitchers are mass-produced someplace else, then just hand painted in Cortona. I saw the same painting/pattern on dishware in other towns we visited in Italy, so that does makes me wonder. Hopefully they are at least all made here in Italy, if not in Cortona, and then shipped to Cortona where someone paints and fires them. Maybe it's best I don't know! Ignorance is sometimes bliss, ya know?
I brought the pitcher back (wrapped in tons of bubble wrap) inside my rolling, carry-on bag. Once home, I decided to fill it with spoons and spatulas made of olive wood. I had read that olive wood is super durable and has a beautiful graining. That just seemed appropriate after seeing so many rolling hills of Olive trees during my stay in Italy.
I was surprised when I shopped for olive wood spatulas/spoons online, the prices are pretty steep. After tons of googling, I came across a set on Amazon that was hand-made in Israel, yet reasonably priced. It includes 5 pieces for about what one piece costs in a lot of stores online.
I purchased this set here: Handcrafted Olive Wood Set . I'm very pleased with these and love the long 12″ handles. The wood is truly beautiful! The info that came with them says that they are made from pruning very old Olive trees that are no longer producing olives. Since they are handcrafted, they are not perfect. A hole might be slightly off-center in a handle, etc… but I think that just adds to the beauty.
I filled the Cortona pitcher with the beautifully grained olive-wood cooking utensils, then added in a few other fun pieces for some seasonal color.
I already had the yellow spatula. This past weekend I purchased a fall-orange spatula, a cute turkey spatual and a pumpkin spatula from my local Williams-Sonoma. I love how they look mixed in for autumn. (Turkey Spatula and Pumpkin Spatulas can be found here: Turkey Spatula and Pumpkin Spatula) Does this mean I actually have to cook now? 😉
Looking forward to all the fabulous Before and Afters for this Met Monday!
Metamorphosis Monday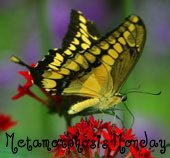 If you are participating in Metamorphosis Monday, please link up using the "permalink" to your MM post and not your general blog address. To get your permalink, click on your post name, then just copy and paste the address that shows up in the address bar at the top of your blog, into the "url" box for InLinkz.
In order to link up, you'll need to include a link in your MM post back to the party so the other participants will have an opportunity to receive visits from your wonderful blog readers.
Please observe these few rules:
Only link up Before and After posts that are home, gardening, crafting, painting, sewing, cooking, DIY related.
Do not link up if you're doing so to promote a website or product.
*If a post is sponsored or a product was provided at no charge, it will be stated in post. Some links may be affiliate links and as an Amazon Associate, I may earn from qualifying purchases. *