Recently, I received a lovely comment from Maryanne who reads Between Naps On The Porch. She shared that she had loved the porch I added to my home a few years ago so much, she added one like it to her home last year.
My ears perked up, I absolutely love hearing from folks who have added porches to their home. I asked Maryanne if she could share some photos so I could share them with you. She did and even shared a link to a video her builder made about her porch!
I'm so excited to share this wonderful porch and deck addition here at Between Naps On The Porch!
Here's how the back of Maryanne's home looked before the porch addition. Very pretty, isn't it? But wait, it's about to get even better!
Ta-da! In addition to a screened porch, Maryanne liked the pergola I had added over one of my decks and added one of those, too!
Did you know you can have a ceiling fan in an outdoor space? You can! They make ceiling fans that can get rained on…pretty cool, huh?
Maryanne shared a few pictures with me and I pulled several from the video of her porch. The ones I pulled from the video are a tad blurry since there's constant movement in the video, but I'll link to the video at the end of this post so you can watch it for more information.
You may think you're seeing double! Looks very much like my porch doesn't it? I get so excited when I get photos from readers who have been inspired by my porch and build one of their own! Maryanne's builder added some extra features you may really love and may want to add if you ever consider building a screened porch. I'll share those as we take the tour.
I'm not exactly sure how they work but Maryanne has windows on her porch that are called Eze-Breeze. You can Google to get more info about those but Maryanne says they prevent pollen from getting on the porch in the spring.
She was able to purchase the same swing I found for my porch from Wicker Paradise. It's called "Cape Cod" if I'm remembering correctly. Did you notice she covered her swing chains. Now I wonder where she got that idea? 😉
Maryanne said Hobby Lobby didn't have the electric cord covers in the white/cream color I used anymore so she went with a pretty gold that worked with the other fabrics on her porch. Maryanne found the same Bayview wicker-finish, outdoor Hunter fans I used for my porch. So glad they are still making those…you'll find them available here: Bayview Wicker White Palm Leaf Ceiling Fan. She also added outdoor speakers for music on the porch. You can see one in the corner in the picture below.
A nice big wicker sofa is perfect for those nap attacks out on the porch.
Notice anything else Maryanne added to her porch that was inspired by something found on my porch? 🙂
Yep! She bought a Summer Breeze sign for her porch, too! I didn't think to ask Maryanne where she found her sign but I know there's a place online that carries them. I bought mine in a local antique shop but if you Google "Summer Breeze Makes Me Feel Fine Sign" you'll find a place online where I've been able to find them for other folks who have contacted me asking where to get one. (Sorry some of these pics are blurry…they are from a video that I'll link at the end of this post.)
As you can see, Maryanne incorporated an eating area into her porch. So wonderful when you can dine outside without worrying about mosquitoes.
Love all the wonderful spots Maryanne has for sitting, rocking and talking. This is just such a wonderful space to enjoy that great backyard!
While having the porch built, Maryanne also added a deck off the end of the porch. Let's go check it out!
Maryanne left one area uncovered as I did on my porch/deck addition to house a table with an umbrella. Notice the lighting just under the deck rails…great feature to add if you can when building a deck.
She loved the pergola I added over one of my decks and had one built over a section of her deck, too. I love how it turned out!
Perfect spot to sit and talk in early spring or in fall when the mosquitoes aren't a problem here in the south.
Another view of the pergola with the outdoor ceiling fan.
One feature I considered but had to nix when building my porch was lighting on my steps. I absolutely love this idea for aesthetics and safety. So, if you can include it when building a porch, definitely do it.
Let's check out the area underneath the porch and decks.
Maryanne's builder finished in the area under the porch with brick pavers, a beadboard ceiling and fans to keep it nice and cool. What a great spot to enjoy her beautiful backyard!
Here's another view of the Before and After for this under-deck area.
Ever wonder how much it costs to build a screened porch? I'm spilling the beans in this post: How Much Does It Cost To Build A Screened Porch
I also shared some great features you'll want to include when building a porch in this post: 9 Great Features Every Porch Needs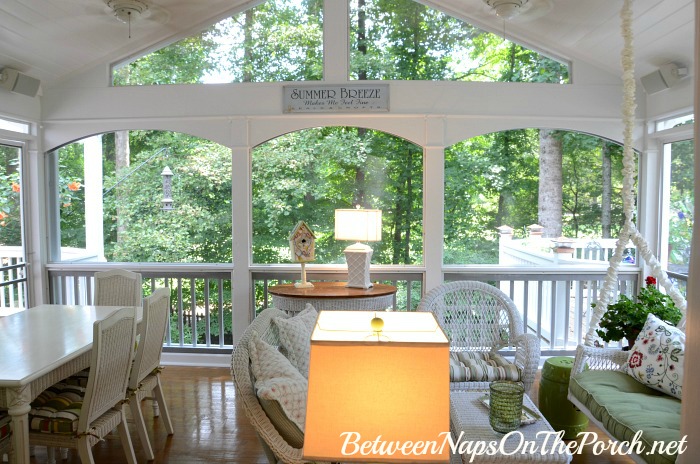 Thanks so much to Maryanne for sharing her wonderful porch and deck additions! Such a treat to see such a beautiful addition and I hope it inspires you if you've been thinking about adding a screened porch to your home!
If you've added a porch to your home, send me some pics and I may be able to share them here at BNOTP. My email is: [email protected] Pictures need to be full size and not too dark or blurry.
*If a post is sponsored or a product was provided at no charge, it will be stated in post. Some links may be affiliate links and as an Amazon Associate, I may earn from qualifying purchases. *