Welcome to the 380th Metamorphosis Monday!
It was a busy weekend around here. The porch that normally looks like this…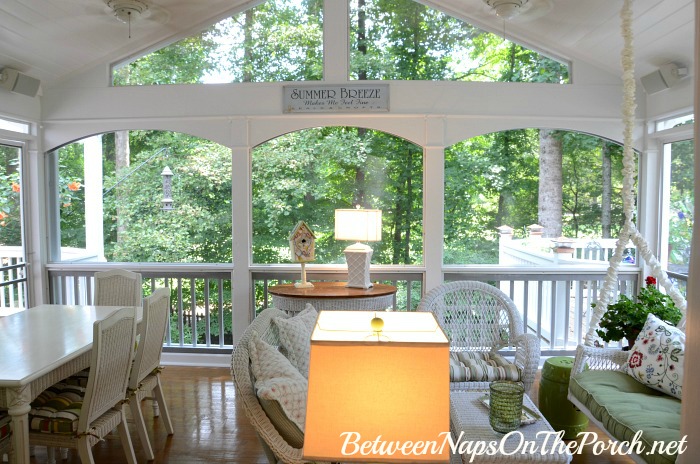 …and like this…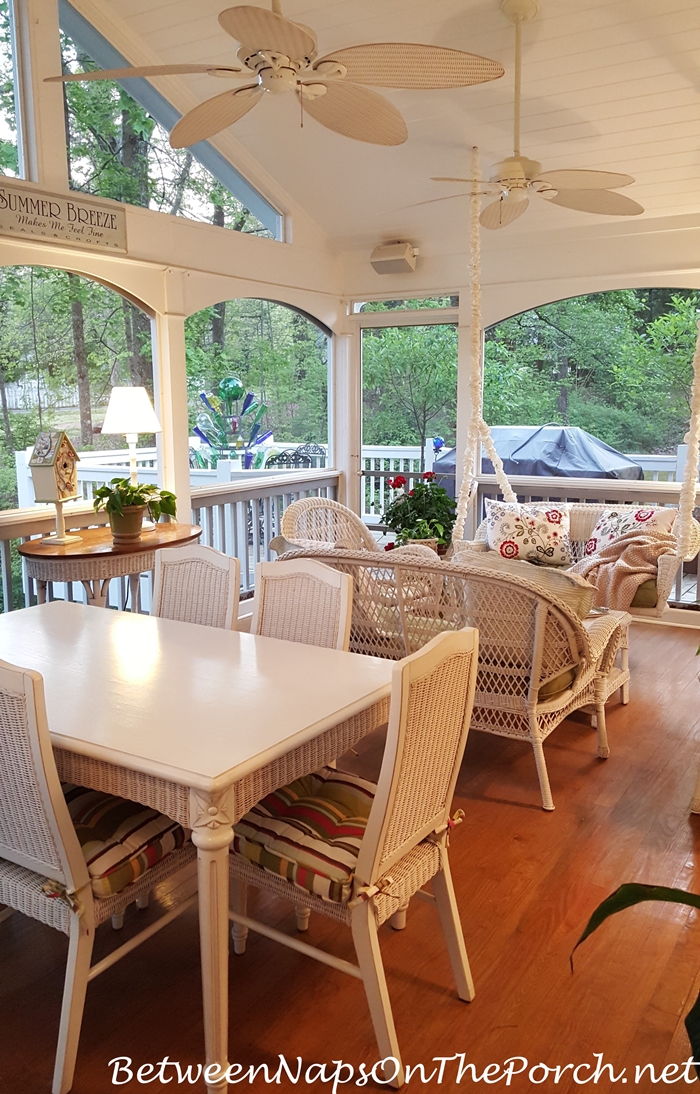 …looks like this today. Ruh-roh! Something's up!
The hutch that was full of dishes, now looks like this.
All the dishes are here on the breakfast table. What is going on around here?!
After 8 years of weather and wear, I decided it was time to have the porch floor re-polyed. Is re-polyed a word? Actually, my hardwood flooring company, the same company I always use when I add another room of hardwood flooring to the house, is going to "screen" the flooring and apply 3 coats of marine varnish. I can't remember if that's what the original flooring company used (been too long to remember) but apparently that's what you use for outdoor wood surfaces.
They will start tomorrow and it will be an all-week ordeal since they will sand and apply one coat of varnish tomorrow, then apply the second and third coats on Wednesday and Thursday–unless we get rain which could cause a delay.
I almost had this done when I had the porch repainted two summers ago, but decided to put it off a bit longer. The porch floor still looks great, but I can tell the shine has almost worn/faded away, so it's time. If I only have to do this every 8 years, I can totally live with that. I LOVE how cool the floors feel during the summer underfoot. They are smooth, cool and feel wonderful in the heat of the day.
Porch Flooring
I get a lot of questions about the flooring here on the porch. It's KDAT wood flooring. KDAT stands for "Kiln Dried After Treatment. What that means is they took pine, tongue and groove, wood flooring, pressure treated it just like they do decking, then kiln dried it to dry most of the moisture back out of the wood. Then the flooring was professionally installed by a wood flooring company who both nailed and glued it down to a very heavy-duty sub-flooring. Forgotten the name of the sub-flooring, but it was much thicker than normal sub-flooring.
If you would like more information about KDAT flooring and how to install it, google for "KDAT wood flooring." I can't really help you with how to install it because I left that to the professionals. If you use this type flooring on a future porch, be sure to hire a professional to install it and make sure he follows all the instructions regarding how it needs to be installed. That's very important for good results and long-lasting wear.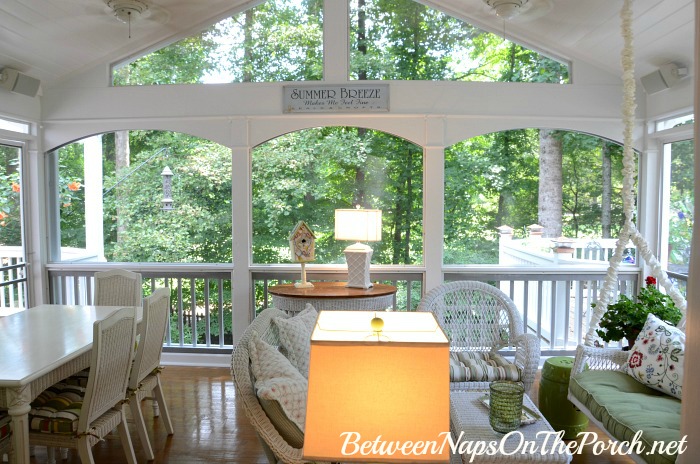 Second Project of the Weekend
The second thing I worked on this weekend was this little project. Remember all those post caps I primed out in the garage?
They refused to paint themselves so I finally had to do it!
This weekend I painted all 17 of them. Twice! Glad that's done!
Right now they are just sitting atop the posts. I still need to add caulk underneath (per the instructions) to hold them in place. They are so heavy, I'm tempted to not caulk underneath them, but then they may get blown off by a leaf blower one day, so I guess I'll go ahead and caulk them into place.
Third Project of the Weekend (a little one)
The final thing I did this weekend was repaint the white plant stand that lives in the corner of the porch. See it over there behind the chair?
It was looking pretty rough from many years of use.
All shiny and new…ready to hold another plant once the flooring is done.
What projects did you work on this weekend? I think next weekend, I'm going to just relax and play a little–right after I get allll those dishes back into the porch hutch. 😉
Pssst: I post almost daily to Instagram. Follow Between Naps on the Porch on Instagram here: Between Naps On The Porch.
Looking forward to all the wonderful Before and Afters for this Metamorphosis Monday!
If you are participating in Metamorphosis Monday, please link up using the "permalink" to your MM post and not your general blog address. To get your permalink, click on your post name, then just copy and paste the address that shows up in the address bar at the top of your blog, into the "url" box for InLinkz.
In order to link up, you'll need to include a link in your MM post back to the party so the other participants will have an opportunity to receive visits from your wonderful blog readers.
Please observe these few rules:
Only link up Before and After posts that are home, gardening, crafting, painting, sewing, cooking or DIY related.
Do not link up to the party if you're doing so to promote a website or sell a product.
Do not link up a post that was just linked up last week since readers would have already seen that post.
Please do not link up more than 3 posts per week.
*If a post is sponsored or a product was provided at no charge, it will be stated in post. Some links may be affiliate links and as an Amazon Associate, I may earn from qualifying purchases. *