Greetings! It's Friday! Have any projects around the house you'll be working on this weekend? Any painting projects? If so, I have a little sumpin', sumpin' to get you inspired and raring to go!
In March, I shared about an exciting new site by Glidden called My Colortopia.
My Colortopia was especially designed to help us DIYers when we're agonizing over finding the right paint color for a space. Haven't we all been there!
A few weeks later, I shared another wonderful tool called My Image Inspiration, a nifty tool that will let you isolate a color from something you love, then selects paint options that are very close to the color you chose. You may remember I highlighted some of the colors I love in this painting in my family room and found some paint colors, as a result.
Show Your Colors:
Glidden is at it again! They know how hard it can be to imagine what a room can become…how it can look when transformed with a fresh new coat of paint. A whole new section has been added to My Colortopia called Show Your Colors. Show Your Colors is a place where you can view some amazing "Before and Afters" that have been beautifully transformed. We all know, if there's one thing that can transform a room from drab to fab quickly and inexpensively, it's paint.
When you visit Show Your Colors, you can add your own Before and After pics to share, as well!
I added the "Before and After" pics of my recent office renovation. Remember the baseball themed wallpaper that was such a bear to remove?
Before: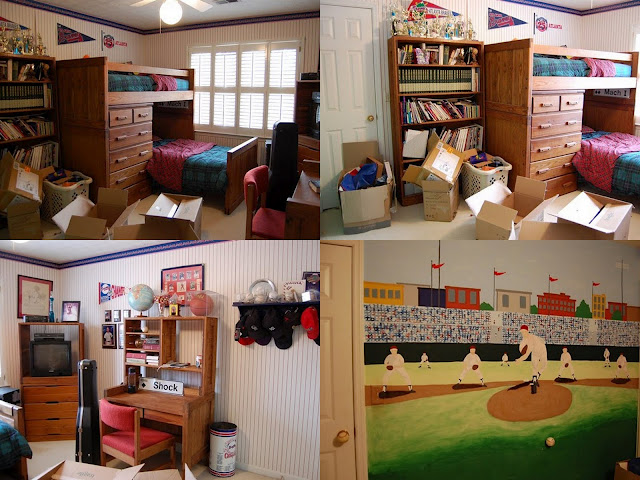 After: There was a lot of stripping of wallpaper, wall damage repair and painting involved to get to this "After" but it was worth it in the end. 🙂
A Surprise Photo!
I have another transformation to share that I've never shown here on BNOTP! Recently I came across this old photo tucked away in a drawer. Do you recognize this room?
I'm so glad I have at least one photo to remember when my dining room had wallpaper. I loved this wallpaper but it was so busy, the mirror and chandelier just disappeared in all the pattern. This picture was taken when I was getting ready to have a little dinner party with several of my girlfriends. It was still winter and freezing outside. I was shopping in Home Depot and came across these sweet jonquils they had just gotten in. I thought they would be the perfect centerpiece to offer us a little relief from the cold…a little reminder spring would come again.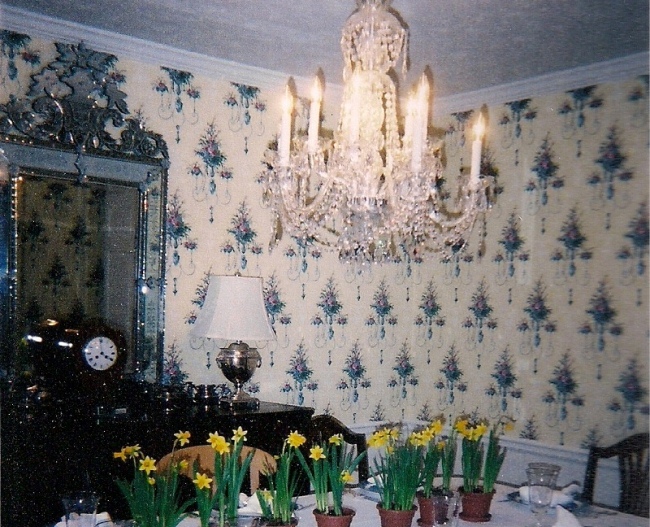 After: I decided to paint the room a bold color to give the mirror and chandelier some breathing room. What a difference! (Tablescape can be viewed here: Thanksgiving Table Setting with a Nature Themed Tiered Centerpiece)
Doesn't even look like the same room, does it? The only thing changed was the wall treatment with a fresh coat of paint. Well, that and the tablescape. 🙂 (Tablescape can be viewed here: Thanksgiving Tablescape with Spode Woodland
Here's a side by side comparison:
Stop by My Colortopia and check out the Show Your Colors section for some fabulous "Before and Afters." While you're there, show off one of your "Before and After" paint projects! You never know who you may inspire!
I have been sponsored by Glidden brand paint to write this post but the thoughts and opinions expressed are my own.
*If a post is sponsored or a product was provided at no charge, it will be stated in post. Some links may be affiliate links and as an Amazon Associate, I may earn from qualifying purchases. *