Wow! Thanks so much for all the great book suggestions you left in the comments of my last post! I'm really looking forward to checking out all the books and authors you recommended! Sooo many great recommendations!
Also, thanks so much for trying to help me figure out the name of the book I read back in high school that I would love to find again. There was one particular book that was suggested that I may purchase since the publish date fits with the time I would have read the book. Thanks again for all your suggestions, appreciate them so, so much!
Pssst: If you've been looking for some new authors to read, be sure and check out the comments of that previous post here: Trying to Remember the Name of a Book I Read Many Years Ago. You'll find a ton of great ideas for your next read!
Mother's Day Gift Ideas or Really Any Time of Year!
With Mother's Day just 2 weeks away, I'm sharing some fun gift ideas in today's. Many of the suggestions you'll find below would make a great gift any time of year, and some would work for the men in our life, as well.
When I was putting this post together yesterday, one of the first items that came to mind that any Mom (or Dad) would enjoy was a gift I gave my daughter-in-law for Christmas. She's mentioned several times how much she has enjoyed it, including in a recent text when she said, "That bathtub thing you got me for Christmas is seriously the best thing ever!" I remember when she opened it on Christmas Day, even my son was impressed!
This is the one I chose for her. I loved all the little design features like the support for holding a phone or iPad and the little slot for a wine glass. There's even a spot for a candle and other goodies like special bath oils, etc… If your Mom (or you) could use a bit of pampering in the evening at bathtime, you'll find this special tray here: Bath Tray.
I came across this awesome-looking pillow this evening. I wonder if my daughter-in-love has one of these already? I think this would be a great accompaniment to the tray. If I ever renovate my master bath and add in a tub deep enough for soaking, I'm totally buying one of these! This one is available here: Bath Pillow and Back Support.
During a previous visit to visit family in Ohio, I accidentally turned over (and broke) a champagne glass. Fortunately, it was empty at the time! lol Though, it wasn't a super expensive glass, I felt terrible about breaking it so I replaced it with a set of new glasses that I thought were really pretty.
The design of these glasses is simple, yet so elegant. If your Mom (or you!) loves champagne, you'll find these available here: Champagne Flutes. They would make a great gift idea along with a bottle of Veuve Clicquot's Rosé Champagne.
Does your Mom love a pretty statement necklace? This one is currently on sale reduced from $69.50 down to $32.99.
So pretty for spring! It's currently available on sale here: Floral Necklace for Summer.
I love these three pairs of earrings! Isn't this Bee design adorable?! These are also currently on sale 50% off with the code MUSTHAVES at checkout. You'll find them here: Bee Earrings.
Another pair with a great bee design! You'll find these earrings 50% off with code MUSTHAVES here: Bee Earrings.
One more pair of earrings that I really love! I'm not sure if these are on sale, but they were too pretty to not include in this post. They are available here: Pearl Drop Earrings.
I have two pairs of these butterfly earrings, have them in pink and in blue. They are beautiful and very affordable. You'll find them available here: Butterfly Earrings.
Do you follow the account Stamps & Stamps on Instagram? Their feed is wonderful and I was so surprised to find they had just published a book. I don't think they've promoted it very much, but if it's half as beautiful as the homes they design/decorate and share on Instagram, I know it would make a great gift. Do you have this book yet? Would love to hear how you like it? You'll find it available here: Stamps and Stamps Style & Sensibility
Two more books that have been on my wish list for a while are Mark Sikes's book, Beautiful available here: Beautiful…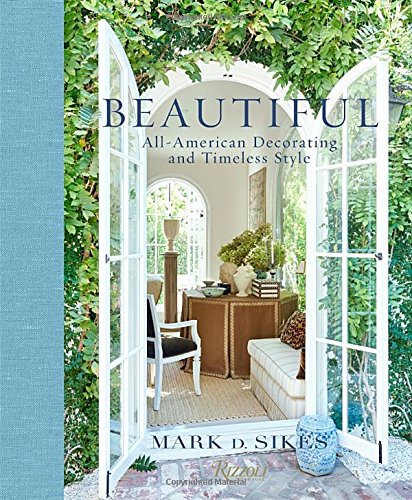 …along with his follow-up book, More Beautiful, available here: More Beautiful. These would make lovely gifts for Mother's Day, Christmas, or really anytime!
Another designer I love to follow on Instagram is Eric Ross. He creates beautiful interiors that you can actually see yourself living in. Based on his Instagram feed and the videos he posts there, I feel pretty sure this book is a keeper! You'll find it available here: Enduring Southern Homes.
My Daughter-in-Laws Favorite Cookware
During a previous visit to my home for Thanksgiving, my daughter-in-law (who (unlike me) loves to cook) used a pan I had just purchased. I had just purchased it because I was tired of not having a good, non-stick "egg" pan. She loved my new pan so much, as part of her Christmas, I purchased the same pan for her in two different sizes. Later, she and I discovered that it was actually available in a set! Wish I had seen that first!
A few days ago we were chatting via text and she was talking about how much she still loves those two pans. I asked if she would like the whole set for her birthday, which is coming up very soon. Her reply was an emphatic, "OMG, YES!!!!!" I replied back, "I can't believe I'm giving you cookware for your birthday!" to which she replied, "Lol, but I will use it and love it all the time! I do love to cook, you know!" And a great cook, she is! I love everything she makes when I visit!
If you or your Mom are in need of a great, non-stick, cookware option, this set comes very much recommended. It's also really pretty! That was the first thing that attracted me to it when I was looking for a new non-stick pan for cooking eggs. You'll find it available here: Nonstick Cookware.
Does your Mom love fashion? I came across this stunning Hermes butterfly scarf recently, but sadly it's sold out at the Hermes website.
After searching online, I was able to locate one in "Brand New" condition with tags. It even includes the Hermes box. I love a beautiful Hermes scarf and this is one of the prettiest ones I've ever seen by them. Here's the story behind this scarf from the Hermes website. The scarf is available here: Hermes Butterfly Scarf. I trust that site since I've purchased from them several times before when I couldn't find something available online.
I have to recommend this Air Fryer I purchased a while back as a great Mother's Day gift. I use mine multiple times a week, sometimes multiple times a day! Unlike my lovely daughter-in-love, I don't enjoy cooking, just don't have the patience. This air fryer is the next best thing to having a full-time cook living with me who does all the cooking! Seriously! I just throw in the food and it comes out cooked to perfection a few minutes later.
Lately, my favorite thing to make in my air fryer on a regular basis is Seapack Popcorn Shrimp that I buy in the frozen section of Kroger. It only takes around 12 minutes and comes out crispy, golden brown, and perfect every time! (FYI, Louisiana Fish Fry Cocktail Sauce is really good with the shrimp!) I've even made hamburgers several times in my air fryer. As I've said before, I would give up my microwave before I'd part with my air fryer! This is the one I have and you can read more it here: Ninja Air Fryer. It has a 4.8-star rating after 498 reviews and I would definitely give it 5-stars!
I just found this gorgeous notepaper a few days ago and definitely want to order a set for myself. Isn't it beautiful?!
You can order the notepaper by itself or with the pretty little acrylic holder shown below. The notepaper along with the holder would make a lovely Mother's Day gift. If you're invited to a party a month or so in advance, imagine taking this beautiful monogrammed notepaper as a gift for the hostess! It would also make a wonderful bridal shower gift! You'll find this elegant, blue and white, Chinoiserie-design note paper available here: Beautiful Blue and White Chinoiserie Note Paper.
Spring is here and that means lots of wonderful sunshine! Have to recommend my favorite sunhat because I think it would make a wonderful Mother's Day gift!
I love this hat so much, I've purchased it in three different bow colors: Pink, Cream, and Navy. I wear it alllll the time during the spring and summer months when I'm out walking, hiking, or will be outside for an extended period of time.
In recent years, they've started offering monogramming for it, as well! Cute idea! I love gifts that are personalized, it really shows thought (and love) was put into the gift! You'll find it available here in 6 bow colors: Sunhat.
I'm currently crushing on this beautiful eyelet shirt, so had to share it as a possible Mother's Day gift. It's available here: Eyelet Shirt.
A few years back I purchased this awesome handbag holder for my car so I could keep my bag out of the passenger seat and out of the sun which can do so much damage/fading to a handbag.
I still use it every day and have already purchased a second one as a backup, just in case they ever stop making it. I think this would make a great gift for Mother's Day, Christmas, or really any time! You'll find it available here: Handbag Holder for Car.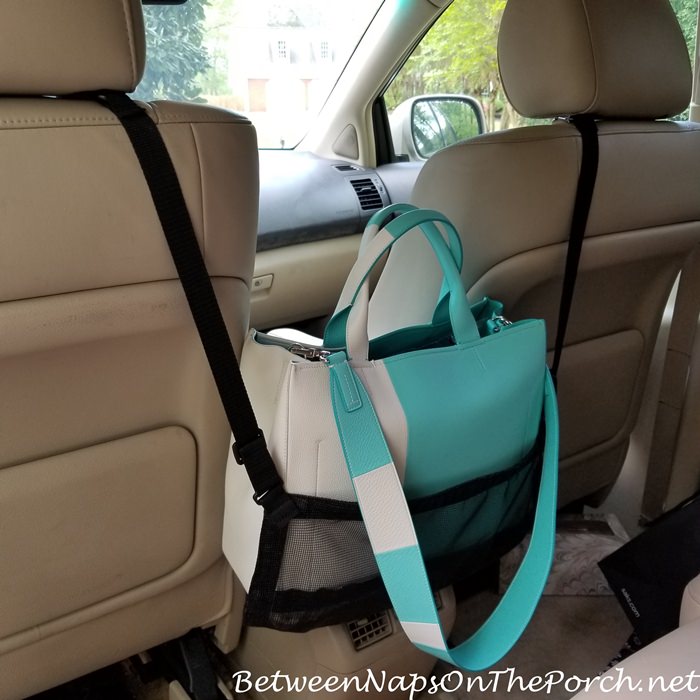 I wish I had a beach trip planned because this bag would be perfect! If your Mom loves spending time at the beach, around a pool, or just loves a great summer tote, you'll find this cutie here: Woven Beach Tote.
I'm always raving about this awesome puzzle board that is a total back-save and makes doing puzzles so much fun! This is the ONLY way I'll do a puzzle now, this board has completely spoiled me! If your Mom (or Dad—Father's Day is coming up soon) loves doing puzzles, can't recommend this board enough! You'll find it available here: Puzzle Board.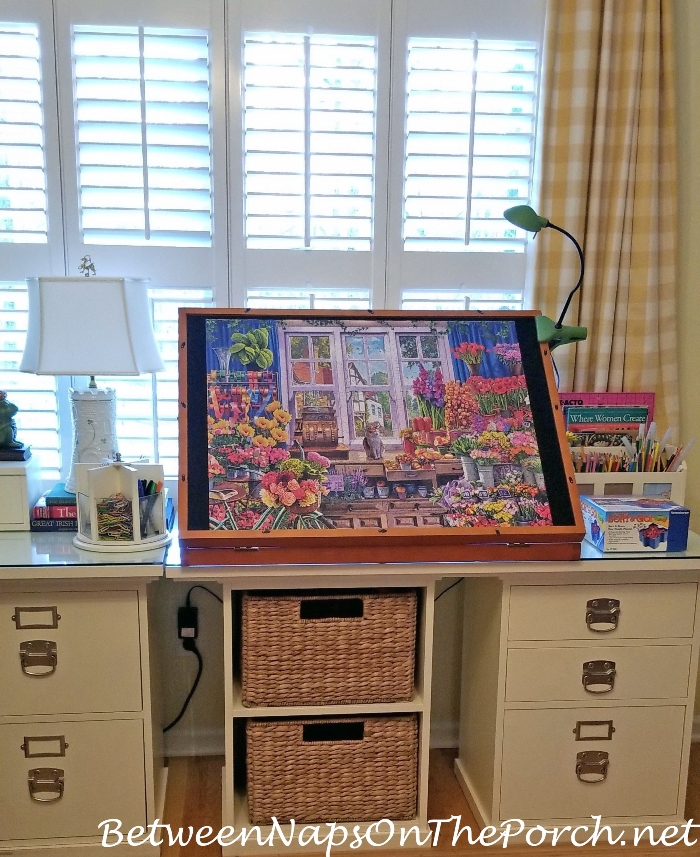 Game changer!!! That's what I thought when I saw these BIG puzzle trays online a few weeks ago! I've always felt puzzle-sorting trays were too small and apparently, someone felt the same way and invented these awesome big sorting trays!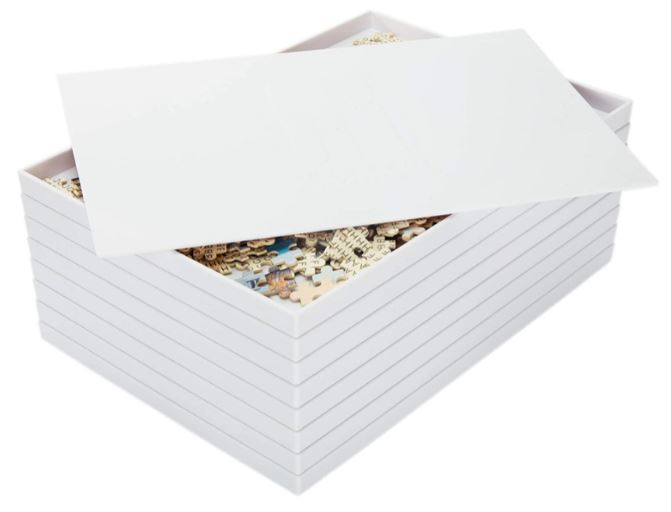 You get 8 trays when you order them and they are such nice quality! They also stack beautifully, not locking together where you can't get them apart as some sorting trays tend to do. Eight trays will easily hold all 1,000 pieces of a 1,000-pc puzzle. Love that!
Between my puzzle board and these big, beautiful sorting trays, I'm in puzzle heaven, now! lol I still occasionally use one of my little trays for sorting a small element of a puzzle, but these big trays are the bomb for everything else! I love them! You'll find them available here: Puzzle-Sorting Trays.
If you pick up the puzzle board or the sorting trays as a gift, here are the most recent puzzles I've completed and enjoyed doing. Love doing this "Yard Sale" puzzle! It's available here: Yard Sale Puzzle.
I fell in love with this scene the moment I saw it! Oh my gosh, isn't this gorgeous?! There's even a Teddy Bear at the picnic! 🙂
Here's how it looked once completed. I'm sure I'll do this one again in the future, it was so much fun to do! Those big sorting trays really came in handy for sorting all those blue, sky pieces! You'll find this puzzle available here: Lakeside Resort.
If you would like additional puzzle recommendations, you'll find several toward the end of this previous post: Favorite Puzzles.
This may seem like an odd Mother's Day gift recommendation but I love this tissue cover holder so much and I think it would make a wonderful Mother's Day gift! It's nice and heavy, just beautiful quality!
It's so pretty, I ended up buying it three times! It depicts different birds on two sides–the front and back. I have one beside my reading chair in the office and one here in my guest room. This picture doesn't do it justice.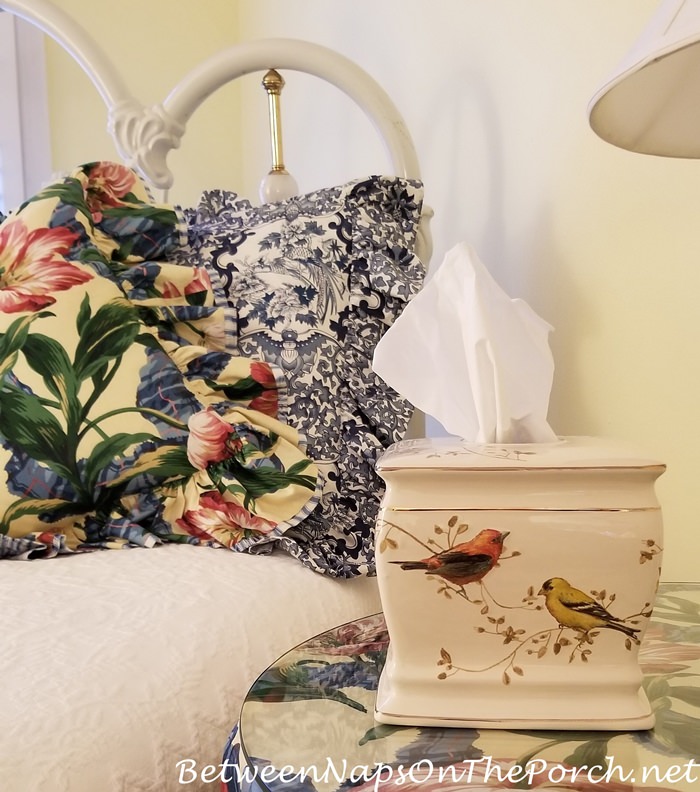 The third one is here on the desk in my kitchen. Great gift for the bird lover! You'll find it available here: Tissue Holder Cover.
Update:
Check out the Friends & Family Sale Event at Talbots. It just started and includes 30% off everything…your entire purchase.
I am eyeing this adorable butterfly sweater! I love it with the pink gingham shirt! It's on sale here: Butterfly Sweater.
I hope you find these gift-giving suggestions helpful for any upcoming event, be it Mother's Day, a birthday, or even Christmas. Never too early to start our Christmas shopping!
Have a wonderful weekend! See you tomorrow for Metamorphosis Monday!
*If a post is sponsored or a product was provided at no charge, it will be stated in post. Some links may be affiliate links and as an Amazon Associate, I may earn from qualifying purchases. *