Over the past year I've gotten a lot of emails/comments asking if I would share some information about taking photographs for blogs. I've been a bit reluctant to write this post because I'm totally an amateur in every sense of the word when it comes to the subject of photography. But I'm happy to share what I have learned. Just please keep in mind, I'm still learning, too.
I'm writing this post as if I'm talking to a person who has just started blogging and has never really taken many pictures before, because that's where I was three years ago when I began blogging. My husband had always been the picture-taker in the family so I was pretty lost when it came to photography. I still am for the most part, but I am trying to learn more with each passing day.
I hope these basic tips will inspire you and you'll find them helpful as you take pictures for your blog.
1. Photography = Lighting.
If you only learn one thing about photography ever, just remember it's all about the light. Photography begins and ends with lighting. Lighting will make or break your photographs. I didn't know this when I first began taking pics to share on the site, Rate My Space, which was several months before I got brave enough to start blogging.
You know when it hit me…when I had my ah-Ha moment about the importance of lighting? I was taking pictures of this beach themed tablescape with an early digital Olympus camera that had "live view." I took a photo and the photo looked okay. Then I tilted the camera the teeniest, tiniest bit, took another photo and the picture was brighter.
Beach table setting: View HERE
The only thing I had done differently was to just ever so slightly shift the angle of the camera. Why did that matter? Why did it make the second photo brighter? That's when it hit me…it was all about the way the light had entered the camera…the way the camera had perceived the lighting on the porch.

That's it! LIGHT! Light was the key, the deal breaker that determined if a picture would be bright and crisp, or dim and blurry. That was a HUGE moment for me. You may be shaking your head thinking everyone knows this, but I didn't.
From then on, I would take a gazillion pics when I took photos for the blog because I never knew which pic would be THE one…the one that had been at just the right angle to capture the light streaming onto the porch or into the room. Since then I've acquired a much better camera and camera technology has come a long, long way, just as it has with computers. Cameras have sensors inside (think of the sensor as film) and the sensors in today's cameras can handle lower lighting better than ever. Which leads me to another tip…
2. Buy the best camera you can afford…Save Up, it's worth it.
If you want to take great pictures, buy the best camera you can afford. Save up a little while if you need to. Tell your children/husband/wife/boyfriend/friends in lieu of birthday gifts, Christmas gifts and flowers for Mother's Day, you want a gift certificate to B & H or Amazon. Save up those gift certificates and when you have enough, buy a great camera and you'll wonder how you ever lived without it.
I think it was Scott Kelby who said you could put Walmart golf clubs in the hands of Tiger Woods and he would still beat the pants off us if we were playing with the best clubs money could buy. But since most of us are not the Tiger Woods of photography, don't handicap yourself. Give yourself the gift of an awesome camera and you'll definitely have a leg up when it comes to taking pictures for your blog.
3. Never use the built- in flash on your camera.
I never use the built-in flash on my camera. I keep my Nikon camera on this setting below…the little lightning bolt setting. It's basically an auto setting, but without the flash. (Update: As of mid February, I'm now shooting full time in manual. There are just times that auto won't get it. It takes a little time and effort to learn to shoot in manual, but it is totally worth the effort to learn how. It's actually easier to capture the pics you want once you began shooting in manual, so don't be afraid of the big M.)
There's a way to alter the strength of the built-in flash on a camera, but I don't think it's a very efficient or easy method for getting just the right lighting for your pictures. I've found when I'm taking photos inside my home, it's easier to just take them during daylight hours, turn on lots of lights, open the shutters/curtains and use additional lighting like soft boxes to bring more light into the room. I also switch over to manual mode when necessary…more on that in a sec.
Here's why you don't want to use your built-in camera flash. Take a look at these next two pics taken of the porch decorated for the 4th of July. The first one was taken with the flash turned on. Feels washed out and kind of lifeless, doesn't it? It has that "3rd degree-interrogated under the hanging light" look . I'm sure that tablescape is guilty of something and we are gonna get it out of it, one way or another.
Here's the same scene, taken in "auto" mode in natural lighting, without the flash. It's much more pleasing to view…more inviting. So unless you're a professional photographer with one of those fancy flashes that you can meter (I don't have one yet but would love one) don't use a flash when taking photographs for your blog.
4. Movement is the enemy.
A lot of cameras today have a little switch you can turn on that helps to compensate for small movements of the camera when you're taking a photo. On my Nikon, it's called VR-Vibration Reduction. On a Canon, it's called IS, which I think stands for Image Stabilization. No matter how hard you try, you're going to slightly move the camera when you press down on the shutter button . So use that little switch if your camera has it. It will help a lot, especially in low lighting situations where any movement will lead to blurry pics.
Consider using a tripod for stability. If you can't or don't want to use a tripod, try to brace your hand on a chair back or against a wall or something to eliminate movement as much as possible. I confess, I almost never use a tripod because I'm just too impatient. I routinely pull a chair out from a table and brace my hand on the back of the chair for tablescape photography. I've also been known to lean against a wall to brace my body or arm. If there's nothing to lean against or to brace your arm against, stand with your feet a little apart and tuck your elbows down into your body for more control.
If you take an overhead shot or something where you can't brace your arm/body, take several pics in a row as fast as your camera will allow and chances are a few are going to be in focus. Also, you can place your camera strap around your neck and pull it forward until it's taunt, and take the photo that way. That will also offer a bit of stability.
5. Take A LOT of pictures.
I used to feel bad about taking so many pictures of one scene or one craft project or one tablescape, to get 15-20 to share here on the blog. I would think to myself, if I were a better photographer, if I understood how to use my camera better, if… if…if… then I wouldn't have to take so many photos.
One day I was listening to THIS interview between Tim Ferriss and Chase Jarvis, a professional photographer and guess what I discovered? I discovered professional photographers take a gazillion pics, too! What? Really? Chase said he takes lots of pictures when he's photographing a subject or scene. In fact he said, "That's the dirtiest secret in photography. You've got to take a h*ll-of-a-lotta of pictures to get the ones you want."
Granted, Chase probably gets a lot more usable or fabulous photos than you and I do, but still, it's nice to know that even great photographers have to take lots of pictures to capture those few we end up seeing in magazines or online.
If you wish to hear that part of the interview for yourself, click on THIS link and fast forward to around the 33 minute section of the interview. Listen for at least two minutes to around 35.10 to hear how many pics professional photographers take. He goes on to talk about taking pics with phones…fun listen. It will make you feel a lot better about all those pics you're taking to get the few you actually end up using on your blog. Yes, it's a pain to have to sort through them all later to ferret out those 10 or 15 you plan to use, but when you write and publish that post, you're going to be so glad you took the time. And so will your readers.
6. Go for a surprise view.
Everything I've learned about photography, up until very recently, has been through trial and error. I think just reading my manual, reading tips online and getting out there taking photos is the only way to really learn the ropes. Update on 02-25-12: Check out the book, Understanding Exposure by Bryan Peterson. I'm reading it now and it's very helpful
One day back in June 2009, I accidentally discovered how cool it was to try and capture a scene from a "different" angle, a surprise view. It was a beautiful, sunny day and I dashed home from work, wondering what tablescape I could quickly create for Tablescape Thursday. It was a Wednesday evening and TT would need to go up by 9PM. I had just over 3 hours to create the table setting, take the photographs, sort through the photographs, crop and edit them, put them in an order that made sense or told a story, load them to the post and write the post. The pressure was on.
It was so pretty out, I decided to create a table setting on the tiny bistro table out on the deck. I had never placed a tablescape on the deck before so this was going to be fun…and different. I remembered a tablecloth I had purchased at a thrift store a few weeks before, so I dashed upstairs, found it in the linen closet and decided to create an all white table since the table cloth itself had lots of pattern.
I was using my old Olympus which wasn't the most sophisticated camera, but the lighting was nice that evening under the shade of the trees in the backyard. As I played with the table setting, I tried to figure out how to get some of the flowers on the deck into some of the pictures I would be taking. I wanted to give the viewers of this tablescape the feeling they were outside surrounded by flowers and had just come upon a pretty table all set and ready for a special dinner. There wasn't enough room on the tiny table to add a vase of flowers. So, I moved some geraniums a bit closer and decided to crouch down behind them to take a few pictures, hopefully including them in the pics.
When I sat down at my computer to look at the photographs I'd captured, I loved this new perspective. The glimpses through the the flowers drew you in and made you want to come closer. It felt as if words would ruin the mood the pictures had created, so I searched online for a poem that would feel appropriate. I found the most enchanting poem about faeries called The Faerie Ball. You can see this tablescape HERE. That was the day I discovered the magic of taking photos from unusual perspectives.
I've had a lot of fun with this "capturing scenes from different angles" thing. For example…in this table setting…
I took a pic through the handle (monkey's arms) on the pitcher. (View this table setting HERE.)
Different perspectives will draw out the personality of your subject. (View this table setting HERE.)
Give your readers an up-close view from a fun angle. (View this table setting HERE.)
Frame a view or a scene in an unexpected way.
Your reader will feel like they were there with you, peering through the gate into the beautiful back yard. (Take this historic home tour HERE.)
Capture a room from a different angle…peering over the shoulder of an old friend. 😉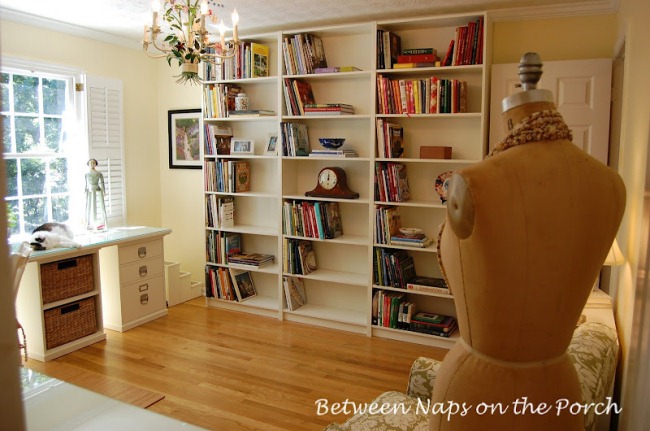 7. Use the exposure or metering bar
Do your eyes glaze over when folks start talking f-stops, shutter speeds and ISO. Yeah, mine too. I understand the basics: a lower f-stop = a bigger aperture (the size of the opening of the lens) and thus, lets in more light. A slower shutter speed will keep the lens open longer, again letting in more light. And by raising the ISO setting, my camera will be more sensitive to the light that's available, which unfortunately also compromises the quality of the photo by allowing for more "noise." I get all that, but don't ask me to walk into a room and immediately rattle off the ideal f-stop, shutter speed and ISO for the situation. Ain't gonna happen. That will take time, experience…and lots of practice.
So in the meantime, until I get my Ansel Adams on (in my dreams) I've been using the "electronic analog exposure display." Here's how it looks on a Nikon camera…note the graduated line with the plus and minus sign.
And here's how it looks on a Canon camera. When I'm faced with a lighting challenge, like trying to take a photo of a room while facing directly into windows on a sunny day, I'll switch over to "manual" mode and use the exposure bar for help in capturing the photo.
Before I discovered that little bar, when I took pics of my future office from this angle, the pictures always looked like this…dreary and dull. This is such a bright, sunny room, but you would never have known it from my photos. I was up to my eyeballs in wallpaper removal when this pic was taken, so learning to adjust settings on my camera wasn't real high on the ole priority list. On the auto setting, my camera "saw" alllllll that sunshine coming in through the windows and compensated for what it thought was way too much light. Result: underexposed photo…just too dark.
Later, when life was a bit more under control and I was motivated to solve the exposure issue when taking pics of the office, that's when I discovered the exposure/meter display. (When the student is ready, the teacher will appear.) It has allowed me to finally gain more control over the exposure of a photo in a difficult lighting situation without racking my brain with f-stops and shutter speeds. Do I hear an Amen?
So, here's how I use the exposure bar. I take a picture in my usual auto/no flash mode. Then I look at the photo I took in the live view display. If it's too bright/over exposed or too dark/underexposed, I'll switch over to manual mode, which is the M setting on a Nikon.
Next I'll adjust the setting on the "electronic analog exposure display" to a lower or higher setting so the indicator shows that the light is balanced. Looking at this pic below you can see the photo will be under-exposed if I don't adjust it to compensate for the available light. Often I find having it balanced in the dead center is a bit too dark, so I'll go up a notch or two and take a photo. If it looks over-exposed I'll bump it down one notch and take the pic again. Just keep taking pics and adjusting/moving up or down the bar display until the photo exposure looks just right.
By the way, the method for adjusting the exposure setting on the exposure display (+ and -) on a Nikon is…

…by turning this little wheel shown below. It moves the exposure setting to the right or to the left. Not sure how you do it on Canons or other cameras, just check your manual for that. It should be a readily available control, nothing you have to go through the menu to accomplish.
Sometimes I'll take several photos moving the indicator a little to the left or a little to the right because your picture can look very different in live view than it does once you download it to your computer. That way, I'll have pictures taken with different exposures from which to choose. You can also accomplish this with bracketing…but I'm not ready to learn that just yet. It's good enough for now that I know it exists. lol Baby steps, baby steps. This exposure adjusting method is not always fool proof for capturing the perfect photo, but it does help.
ISO
You can increase the ISO which will make the sensor in your camera more sensitive to the available light. So if you are in a room that's a bit dim/dark, bump your ISO up a bit. Check your manual for directions on how to increase the ISO. Be aware, increasing the ISO a lot can lead to more "noise" (reduced quality) in your pictures. But increasing it a little doesn't normally make a huge difference unless you have plans to enlarge the picture later for framing/hanging on a wall.
Hopefully using the analog exposure display will come in handy until you become more familiar with shooting in manual mode.
Bonus Info: If you're curious, once you download the photo(s) you've taken to your computer, you can right click on a photo, select "Properties," click on "Details" and you can see exactly what aperture (f-stop), ISO and shutter speed your camera chose for the photo you took. That might be a great way to eventually get a feel for what settings work in certain situations or rooms in your home.
8. Give your photos a feeling of balance: Rule of Thirds
In photography there's this thing called the Rule of Thirds. You can read about the rule of thirds, HERE. Basically, you want your photographs to feel balanced. Have you ever looked at a grouping of items on a table in your home and it looked off balance…something just didn't feel right? You move the lamp over, add another book to the vignette, shift a what-not to the left or right on the table and, Aaaah…balance. It's a lovely thing and you know it when you see it. You also know it when it's missing.
Photos can feel the same way…balanced or off kilter. When taking photos, put on your "table arranging" hat and look for balance as you peer into the viewfinder or live-view screen of your camera.
Here's a photo I did not use when I posted this "Children's Party Table" for Tablescape Thursday this week. See how out of balance it feels…downright top heavy, isn't it?
This was the photo I used below. Often you can balance a photo out by doing a little cropping, but not always. That's why you want to take plenty of photos so you'll have plenty to work with.
When you look through the view finder, keep the "rule of thirds" in mind. Look for balance. Occasionally, when I'm moving around a table taking pictures for a tablescape post, I'll lean down and a view will enter the viewfinder that I just know is going to make for a nice picture. Fill the frame and look for balance. Google "Rule of Thirds" and you'll find lots of information written on this subject.
9. Have fun and don't get discouraged:
When you first start blogging and you're visiting other blogs, you can sometimes feel a bit overwhelmed. It can seem like there's so much to learn and so much to know. Don't ever compare your blog with the blog of someone who has been blogging longer, even if it's just 6 months longer. If you took a look at the photos I took when I first began blogging, you would feel MUCH better. Trust me on that!
With each day, you will learn a new little trick or an easier way to do things. Your photos will get better and better. Let me tell you a big, big secret…the most important secret to growing a successful blog. Here it is: Don't stop. Keep working, keep learning and keep sharing. The rest will take care of itself.
Pssst: If you've found this tutorial helpful, would appreciate so much if you give it a +1 in Google. You'll find the +1 button at the end of the post. Thanks so much in advance!
For additional blogging tips, check out these posts:
14 Free Photo Editing Sites
Label Photos for Pinterest
Type Accent Marks, Currency/Math Symbols & Unique Punctuation for Blog Posts
Favorite Tool for Watermarking Photos for Blog
How to make a Blog Button with Grab Box Underneath