When was the last time you did a puzzle? I think I was probably 10 years old, maybe younger.
Recently I shared some of the whimsical artwork of Charles Wysocki, a talented artist I just recently discovered. While visiting the online store his family maintains since his passing a few years ago, I discovered several of his paintings had been turned into puzzles. I thought to myself, "That's nice." That's where my interest ended.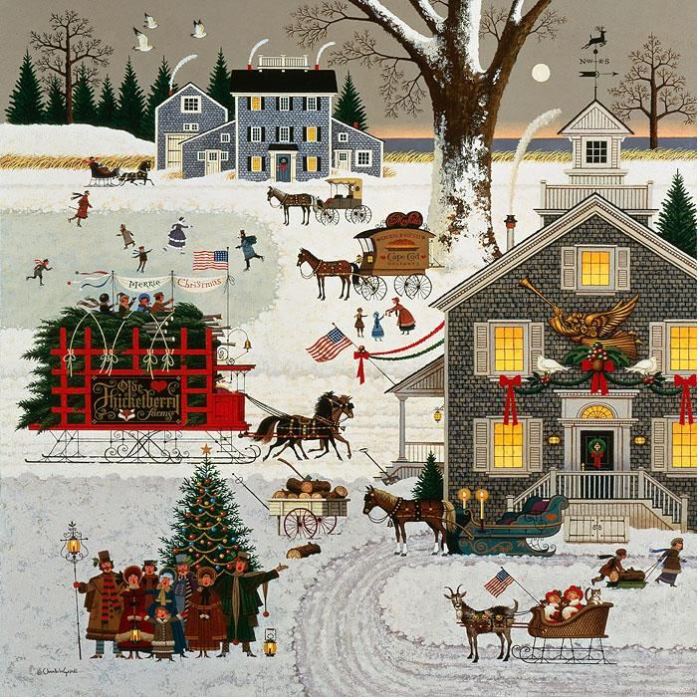 Then I discovered a painting he had done called Small Town Christmas. The detail is so amazing with 7 birdhouses, multiple birds including an owl, darling shops with adorable signs, an elf in the tree, a dog, a cat, pheasant and so many more charming characters. I noticed it came in puzzle form and thought it might be fun to do, so I ordered it.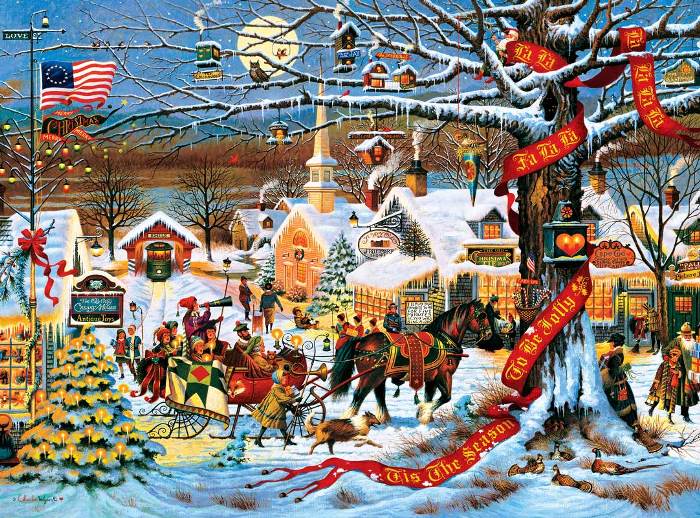 What a can of worms I have opened! Addicting! Why didn't anyone warn me that doing puzzles can be addictive! lol If you enjoy doing puzzles, you probably know what I'm talking about. Maybe it's my love for organizing but I find it very difficult to stop once I start working on it. I find myself saying, "Just one more piece and then I'll stop." Placing each piece and watching this 1,000-piece puzzle come to life is like 1,000 mini-successes, 1,000 little celebrations.
I worked on Small Town Christmas this weekend and here's how far I got. I think one more session and it will be complete.
The puzzle came with a mini-poster to use as a guide. Puzzle-doing is probably more of a winter time activity or one to do in the evening while watching TV or listening to a great book on Audible. It's too pretty out right now, plus the garden awaits.
You know how sometimes you start a new hobby and suddenly you discover there are millions of people already doing it, a huge community of knitters, crocheters, bikers, gardeners, etc…who have been enjoying your new-found hobby for many years? Ordering this Charles Wysocki puzzle has opened a whole new world that I never knew existed.
Apparently, I'm not the only one who enjoys puzzles because there are over 42,000, one-thousand-piece puzzles on eBay alone, and that's just the 1,000-piece size! One site I looked at had a puzzle that was 18,000 pieces! Where would you even assemble a puzzle that size, maybe on the floor of a basement or garage? It would have to be in a really big room because the finished puzzle is over 9 ft x 6 ft!
I would think finding where even one piece goes would be a cause for celebration. I'd want to throw a party, invite friends over and celebrate with champagne! Can you see the invite now? "Hey, I found where another piece of my 18,000-piece puzzle goes so I'm throwing a party on Saturday! Can you come?" 😉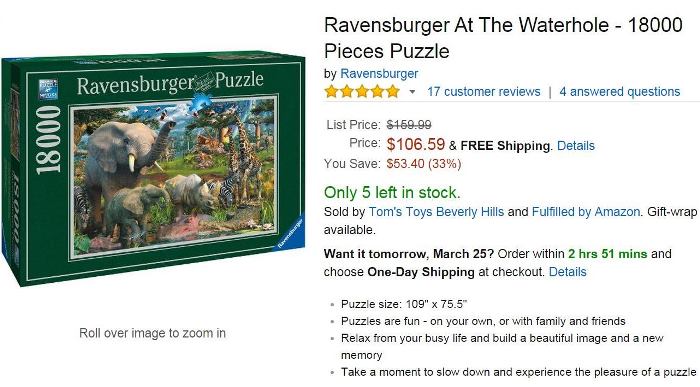 Just for grins I checked to see how much the most expensive 1,000-piece puzzle is on eBay. For just $1,315.86 you can have a one of a kind leaf-shaped puzzle that the ad says you "won't find in Wal-Mart." I had no idea puzzles were such big business!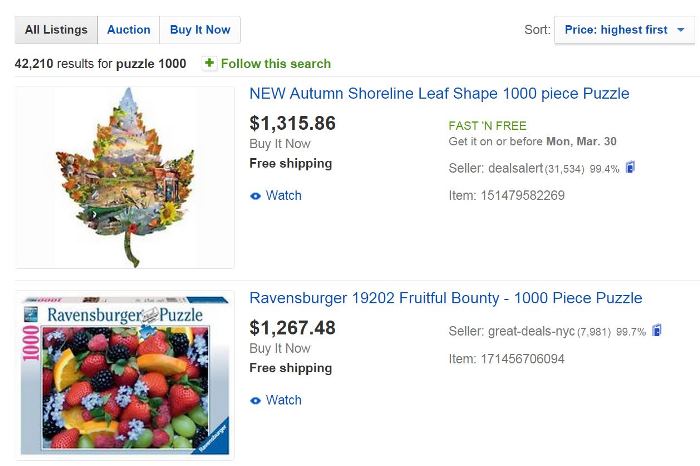 After working on my Small Town Christmas puzzle for several hours on Saturday while listening to Jane Eyre on Audible, I ended up with the worse neck and back pain, ever! Oh. My. Gosh! This puzzle stuff is hard work people! 😉
On Sunday I was thinking, there has to be a better way, there has to be a better way to do a puzzle than hanging over it dying in agony from neck and back pain. I envisioned some kind of tilt board that would let one put a puzzle together without leaning over it. I Googled various phrases and was excited to find, there is!
Before I share the one I found and ordered, here are a few I saw that I thought were interesting. Did you know you can roll up a puzzle that's in progress to store it away when you're done working on it. This let's you do a puzzle on a dining table or coffee table, then clear the table when it's needed for dinner or some other purpose. Who knew?!
There are also "Puzzle Boards" that come in various sizes, again providing a surface on which to do the puzzle and put it away when needed. This one came with sorting trays which is a great way to sort through pieces without losing them.
The one I liked best though is this one. It's an adjustable board that can be tilted to various heights. It has a felt background so the pieces won't slide. Genius! It's available here: Tilt Table-top Puzzle Board.
Update: I purchased this puzzle board and love it! It takes all the strain off your back, no more bending over to do my puzzles.
It also folds down for storage with the unfinished puzzle inside and can fit under a bed, sofa or behind a door. It's designed to fit most 1,000-piece puzzles, which is as big as I would ever have any interest in doing. Yep, they'll be no 18,000-piece puzzle parties going on here!
This puzzle business is huge. HUGE! There is a beautiful puzzle out there for every interest, hobby or love. There are cat and dog puzzles, gardening puzzles, travel puzzles, art puzzles, book puzzles, etc. You name it, there's a puzzle of it somewhere. I bet if I looked, there's probably even a china or dish puzzle!
My new puzzle board is supposed to arrive on Thursday and I have no puzzle for it. So last night I spent some time looking at what's out there and fell for this one. Nancy Drew books will always have a big place in my heart, they were my favorite books growing up. So, I have to do this one out of nostalgia.
Update: Several folks have asked where they can find the Nancy Drew puzzle. I purchased mine here: Nancy Drew Puzzle.
Did you know some folks frame puzzles once they are done? Another new thing I learned in the world of puzzles! I think I may have to frame the Nancy Drew puzzle, we'll see how it looks when complete.
Any puzzle fans out there? If so, what brand is your favorite? Do you frame them once they're completed, give them away for others to enjoy or save them to put together another day?
*If a post is sponsored or a product was provided at no charge, it will be stated in post. Some links may be affiliate links and as an Amazon Associate, I may earn from qualifying purchases. *