Thanks so much for all the awesome suggestions and information you left on Wednesday's post about the bathroom update/renovation I'm starting to plan. It has been so helpful! If you're thinking of updating a bathroom anytime soon, I really recommend you check out the comments on that post because there are tons of great ideas and information about what to avoid in that post. You'll find that post here: Shopping for Bathroom Vanities: A Guest Bath Renovation
This post is going to be a short one…I'm super sick right now. I spent Easter weekend visiting with my son, dil and grandson. On Sunday my son started getting a very sore throat. I think I caught whatever he was getting because on Wednesday evening, I came down with a brutally sore throat.
I thought at first I had breathed in a cleaner I had been using earlier that day that had bleach in it, but when I awoke the next morning, it was obvious it was much more than that. My throat felt like someone had taken a blow torch to it. Then the aches and pains kicked in. So, I think it's a combination cold/virus and it's the pits.
I've been in bed all day but finally got up this evening to eat and drink something. I'm going to bed as soon as I finish this post. Advil Cold and Sinus has helped but nothing really stops the aches. My body just has to fight it off, which means getting a lot of sleep.
Two Cool Things To Share
I have two things that are pretty awesome that I want to share. One is a product the VP of the company that manages my lawn care recommended to me. He was having a terrible time with mildew and mold getting in between the folds of the outdoor curtains he has hanging from his pergola/porch.
So, he cleaned them really good, then sprayed them with a product called Spray and Forget. He said it's amazing and he hasn't had anymore issues. Every so often, he sprays them again.
He said, the best way to use it is to clean whatever it is (deck, outdoor curtains, outdoor furniture, etc…) then after you have it cleaned, spray it with Spray and Forget. You're supposed to let it completely dry before pets walk on it. If you buy this product, be sure and read all the directions on how to use it safely as you would any product.
I had read all these reviews online where folks sprayed it on decks that were in terrible condition. They all said it took several months, but eventually the decks looked awesome again without any scrubbing. I'm not that patient, I know I'd have to clean the decks first. You can read the reviews here: Spray and Forget
Out of curiosity, I decided to try it on a spot on my front porch. As mentioned, I'm impatient, so I knew I probably wouldn't be willing to wait for it to work, but I just wanted to see what it would do.
Here's how a spot on the front porch look before I used it.
Here's how it looked about 5-6 days later. You can definitely see a big improvement. I have friends coming to my home on Monday so I was too impatient to wait for it to work on its own, so I went ahead and cleaned this area with a bleach solution. But if Spray and Forget could improve it as much as it did in just 5-6 days, I think it would have really worked if I had been willing to wait.
I'm think I'll spray that area about once a year as a preventative. Just wanted to share this in case you are having a mildew issue on outdoor cushions/furniture, etc… I think it's supposed to be safe to use on fabric since that's what the person who told me about it used it on, but read all the directions first to make sure. Warning: READ THE DIRECTIONS BEFORE USING THIS OR ANY PRODUCT!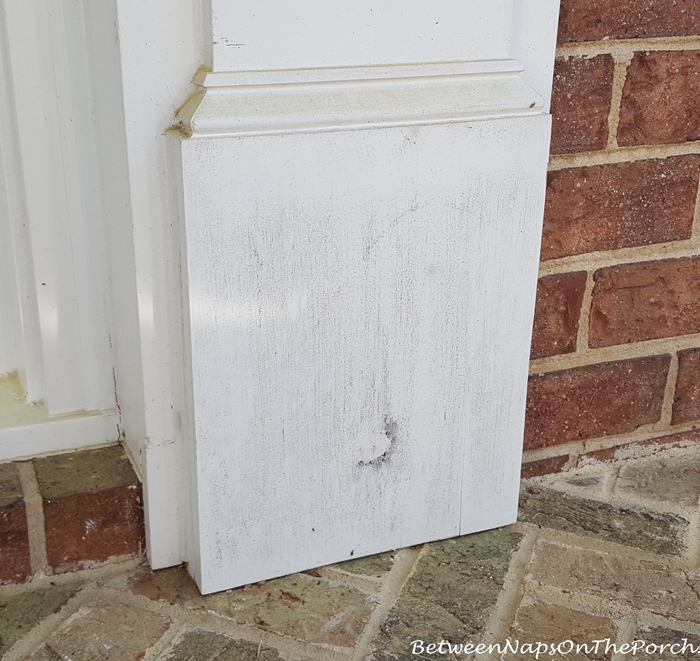 Granite That Looks Similar to Carrara Marble
The other thing I wanted to share is this: Did you know there are a few types of granite out there that have a similar look to Carrara marble? I had no idea! After reading some of the issues you can have with marble in the comments on Wednesday's post and online, I was starting to worry about using it in the bathroom renovation I'm planning.
So I googled for "granite that looks similar to Carrara marble" and found this picture of a granite-covered island at Countertop Specialty. The granite that you see below is called Bianco Romano. Isn't it beautiful! Amazing how much it looks like Carrara marble! I love how white and bright it is. It would be nice to have a countertop in the bathroom that I didn't have to worry about.
Anyway, just wanted to share this with you in case you are thinking about a bathroom renovation and contemplating using marble. You may want to check into some of the lighter granite that somewhat mimics the look of marble.
Okay, I'm going back to bed now, the aches are back in full force. Have a wonderful weekend and stay well out there!
*If a post is sponsored or a product was provided at no charge, it will be stated in post. Some links may be affiliate links and as an Amazon Associate, I may earn from qualifying purchases. *