Welcome to the 528th Tablescape Thursday!
Happy to say I have turned the corner with this yucky cold/virus I caught my last couple of days in Egypt. The fever is gone and I'm finally starting to get my energy back now, which is good since the holidays are upon us!
Thanks so much for all your comments on yesterday's post. I'm so glad you enjoyed our crazy adventure at the Sofitel Legend Old Cataract Hotel. Maybe the experience was in keeping with the "legend" of the hotel…perhaps they have to keep an "air of mystery" going at all times to pay tribute to their most famous guest, Agatha Christie. Ha!
Honestly, we may never know what was going on that night at the Old Cataract Hotel. I would love to return as a guest one day and enjoy the full experience of staying there. Maybe one day!
Tablescape Thursday
A few weeks before I left for Egypt, Elena shared a wonderful Beauty and the Beast birthday table she created for her daughter this past summer. Elena has created B & B tables in the past, but each time her table settings get better and better as she acquires more special pieces to complete the theme.
I love a themed table setting! It makes any celebration or event that much more special, especially birthday parties!
Elena said, "Elle is my favorite Disney princess and I have been collecting a lot of B&B things over the last few years. It's kind of gotten out of hand LOL."
Elena used a variety of dinnerware for this table, even going so far as to paint her own charger plates. The charger plate below is one she painted to coordinate with the salad plates used in this setting. Sooo pretty!
The pierced dinner plate is by Ralph Lauren and the salad plate is from Disneyland in Japan. Elena said she occasionally still sees them available on eBay.
Here's a better photo of the beautiful chargers Elena hand-painted for this B & B birthday celelbration. Elena also hand-sewed all her napkins with fabric she found in Joanne Fabrics.
The beautiful gold napkin rings are from Z Gallerie.
Elena also created her own Beauty and the Beast dinner plates using fabric she added to the back of clear plates. Elena said, "I used your DIY clock plate Modge Podge technique and a Disney World "Be Our Guest" china dinner plate."
You'll find the tutorial Elena is referring to in this previous post: Pottery Barn Clock Plates, Make Your Own.
Over the years, Elena has added to her Beauty and the Beast collection. Elena said, "Of all my Lenox B&B collectibles, my favorite is of Beast and Beauty dancing on a marble floor. This is a limited edition piece I was lucky to find on eBay for only a few hundred dollars. The same thing now sells on eBay for almost $2000 YIKES!"
Wow! I had no idea these pieces were so valuable. They are lovely!
Here are a few additional pieces from Elena's B & B collection. They made such a beautiful centerpiece for this birthday table setting.
I love this one with the sweet little birds! ♥
Cute!
Another one of Elena's favorite pieces from her Beauty and the Beast collection is this one where Beast is asking Beauty to marry him. I love those fun teacups!
Can you believe I've never seen this movie? I was just reading about it at Wikipedia and apparently, it originated as a French fairy tale by Jeanne-Marie Leprince de Beaumont under the exact same name, Beauty and the Beast.
The Wiki info stated that Walt Disney first attempted to adapt B & B into an animated film during the 1930s and 1950s but it didn't work. They finally accomplished it with the release of their Beauty and the Beast film in 1991. That would have been around the time my son was young, but I guess we never saw it or if we did, I don't remember it. Of course, it's been made into a movie again recently in 2017. I never saw that one, either.
Any B & B fans out there? If so, do you have a favorite version either in film or book?
Here are a few more pieces from Elena's Beauty and the Beast collection. If you would like to see more, please let me know in a comment below. Elena shared additional photos of how she decorated a console, her mantle and sideboard for this occasion and I'm happy to create another post sharing more of her beautiful Beauty and the Beast collection.
Thanks so much to Elena for sharing this wonderful birthday celebration table with us for this week's Tablescape Thursday! I know you've inspired a lot of B & B fans to create their own Beauty and Beast table settings!
Looking forward to the beautiful tables linked for this week's Tablescape Thursday!
Pssst: I post almost daily to Instagram. Follow Between Naps on the Porch on Instagram here: Between Naps On The Porch.
If you enjoyed this post, subscribe for free email updates when a new post is up here: Subscribe for post updates.
Tip: Please do not use a Hotmail e-mail address to subscribe if you can avoid it. Hotmail is notorious for filtering out perfectly good emails. I've found Gmail to be awesome, it's what I use and it's free! Plus, they don't filter out good e-mails in error.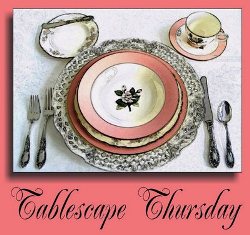 Tablescape Thursday
If you are participating in Tablescape Thursday, please be sure to add your permalink below, and not your general blog address. To get your permalink, click on your post name, then copy and paste the address showing in the address bar, into the "url" box when you link up.
You'll need to include a link in your post back to the party to link up and participate. That's so visitors to your blog will be able to find the party and the other Tablescape Thursday participants. Requiring a link back also prevents businesses and scammers from linking up to sell their products. (Yup, that really happens, unfortunately.)
*If a post is sponsored or a product was provided at no charge, it will be stated in post. Some links may be affiliate links and as an Amazon Associate, I may earn from qualifying purchases. *