During the day on Tuesday, my lights went out three times. They weren't out long, just long enough to get all the clocks in the house flashing away. Later that night as I was getting into bed, they went out and stayed out for good. I have no idea what was going on with the power in our neighborhood that day but when I looked out the window, I could see the whole street was out.
I never felt panicked though because I have several of the Blackout Buddy devices plugged in all around the house. As soon as the power went out, they all lit up. It was so comforting having the house instantly go into "lit" mode. As I got back out of bed and headed down the upstairs hall where a Blackout Buddy was lighting the way, I could see light coming up the stairs from the one I had plugged in the entry downstairs. Light is a beautiful thing when the power goes out!
I was so appreciative of how they worked that night, I immediately went online and ordered two more sets. I've now added one to the office, one to the kitchen, one to the dining room and one to the living room. My daughter-in-law uses the one in her downstairs hallway as a nightlight, so it comes on every evening as soon as it gets dark. They are designed with multiple settings so you can use them different ways.
If you don't already have these in your home, I highly recommend them. They give tremendous peace of mind and also make handy flashlights when needed. You'll find them available here: Blackout Buddy.
Today I just ordered the color version to try as a nightlight in my bathroom. It's motion activated so will be interesting to see how it works. You can see it here: Blackout Buddy Color.
Christmas Tree
You may remember last year I had a hard time finding a Christmas tree I liked. I ordered a very expensive well-known/hyped brand and was very disappointed with how it looked. After returning it, I went on an all-out search for the perfect artificial tree. I'm super, super picky when it comes to Christmas trees, but I was determined to find a good one.
I've had several folks email me this year asking for a link to the post I created about the tree I ended up purchasing. You'll find that post here: It Was Worth the Hunt, Love this Christmas Tree.
I noticed they have changed the tree for this year. Instead of all white lights, it now comes with dual-color lights. Also, instead of 1,000 lights, it has 800 this year. I noticed in the reviews last year, a few folks complained it was too bright. That may be why they reduced the light count. It wasn't too bright to me, so I'm glad I ordered last year. If you are interested in the tree for this year with the changes they've made, you'll find it here: Christmas Tree.
I noticed the 9-ft version still has all white lights and still has 1,150 lights on it. I think I'm going to order one for my bedroom this year before they reduce the light count on it, too. You'll find it available here: 9-ft Christmas Tree.
Christmas Shopping
I'm in serious Christmas shopping mode now and this weekend I've been finding some great sales. I just purchased two of these Sherpa Lined Jackets for my son, along with a sweater and a pair of wooly mocassins. Used to, when trying to find clothing gifts for him, I'd email a picture of something I was thinking of buying in advance to get his thoughts. Inevitably, he would politely let me know he didn't like whatever I had suggested.
Last year I decided to try a new strategy: I bought coats/sweaters, etc…. that I loved, had great reviews and I thought would work well for cold Ohio winters. And guess what, he loved it all! In fact, I ended up ordering more in different patterns/colors because my daughter-in-law told me she was having to wash them all the time because he was wearing them every evening after work and on the weekends. Success!
So I've gotten a bit bolder now when shopping for my son. I love buying clothes for him, especially sweaters and warm winter gear. I don't like winter, but I love the clothes that go with the season, both men's and women's.
So here's what I just ordered for him for Christmas, trying something new that I think he'll love. I have a similar jacket I purchased a couple of years back and love mine, so I'm hoping he'll enjoy wearing these over long sleeves t-shirts on the weekends this winter. Plus, it was 40% off!
I also purchased it in this color, too. You'll find them both available here: Sherpa-lined Flannel Jacket. Don't forget to use the code FALL at checkout to get the sale price.
I also bought him this beautiful zip-up wool blend sweater in the color, Cabernet. It's supposed to be super soft and was listed as a "best seller." It's available here: Sweater.
The sale is a graduated sale so I bought 4 items to get the full 40% off sale. This was the 4th item I purchased. I think he will love slipping into these on the weekends this winter. You'll find them available here: Moccasins.
A couple of years back I purchased this wool "shirt-jacket" from J. Crew. I loved it so much, I bought it a second time so I'd have two. The sales associate told me they had it the year before in another color, a red and navy. I stalked eBay until I found it and bought it in that color, as well. I LOVE these shirt-jackets. They are sooo warm and very flattering on.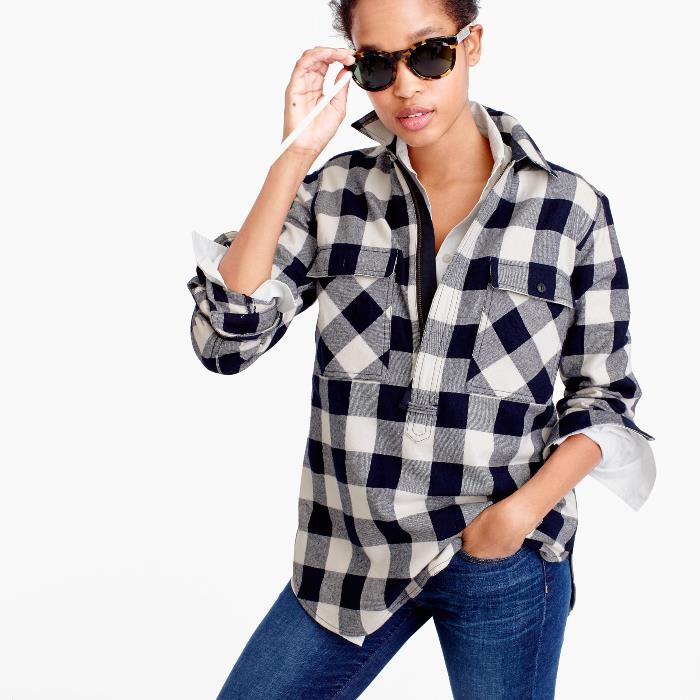 I don't see the wool version on their website this year, but I did find this flannel version and ordered it. It's still on sale, but there are limited sizes now. I normally buy their shirt jackets in a small because they are cut generously. I love wearing these with a long sleeve t-shirt underneath. Jeans, long-sleeve t-shirt and a shirt-jacket is pretty my everyday uniform throughout the winter. It's just so darn comfortable and warm! You'll find this one below available here: Blue/green shirt jacket. Don't forget to use the promo code FESTIVE at checkout for an additional 40% off.
Since I love these so much, I check for them every single year. J. Crew has this style in and on sale right now. I just purchased it in two colors yesterday. You'll find this one available on sale here: Red/blue plaid Shirt Jacket. (Don't forget to use the promo code FESTIVE to save 40% at checkout.)
This was the other one I purchased, it's still on sale here: Gingham Shirt Jacket. (Use promo code FESTIVE for an additional 40% off.) I think it will look so cute with black jeans and a red t-shirt or red turtleneck underneath. She's wearing it tucked in in front, but it's cut long just like all the other shirt-jackets above. Again, I find these shirt jackets to be super comfortable and figure-flattering.
Fair Isle Sweaters
Remember this beautiful Fair Isle sweater I purchased last year? It's much prettier in person, this picture doesn't do it justice.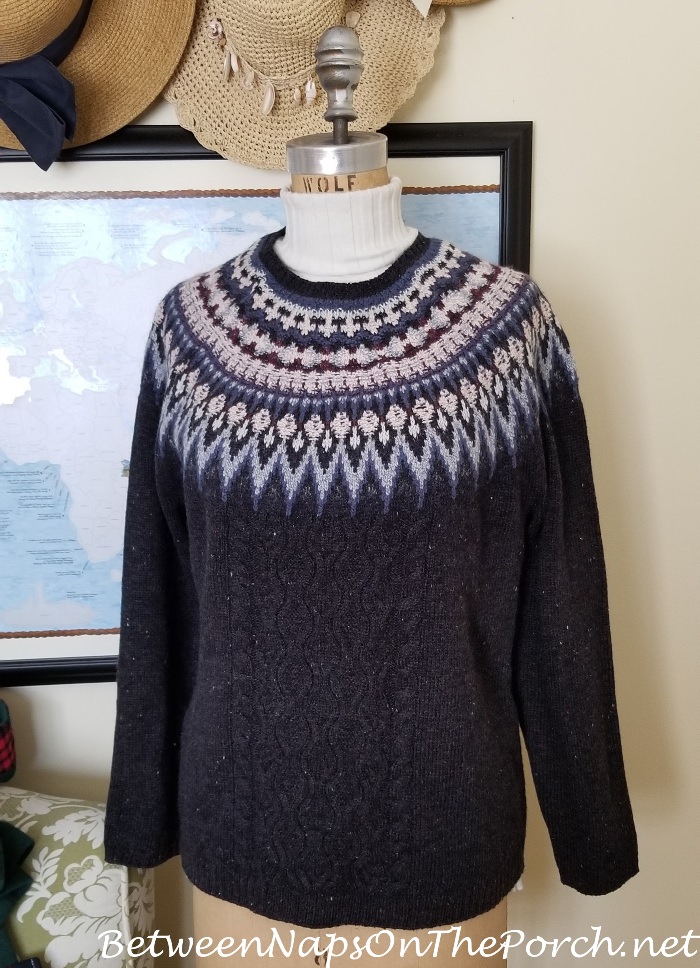 They have a similar one in this year and I think I"m going to add it to my collection. I love, love, love a beautiful Fair Isle sweater! This one is currently on sale with the code Gather30 here: Sweater.
Prevent Cracked Fingers This Winter
Winter is here and my daughter-in-law and I are stocking up on Cutemol. This is the only thing that keeps our fingers from cracking during the winter. It also transforms cracked heels when used a few times a week. We love it!
My dil keeps a tube by the kitchen sink fulltime, even during the summer. It only takes a small amount. Note: You won't be able to use your hands for about 5-10 minutes after using it. It's intense and takes a while to dry, but once it's dry, it creates an amazing barrier to protect your skin and it lasts a long, long time.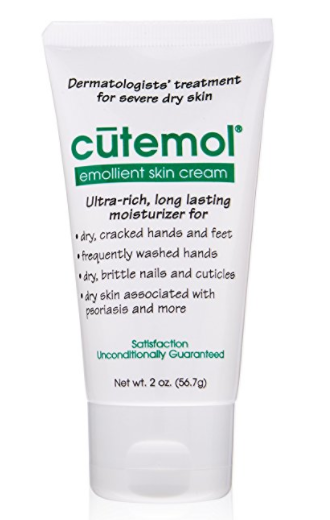 This is the size we use after baths on our heels, etc… It's available in all sizes here: Cutemol.
Have a great Weekend! Stay warm, it's turned really cold here this weekend!
*If a post is sponsored or a product was provided at no charge, it will be stated in post. Some links may be affiliate links and as an Amazon Associate, I may earn from qualifying purchases. *