Welcome to the 763rd Metamorphosis Monday! How was your weekend? I hope you had a great one! Mine was busy and turned out to be quite productive. I started pulling out all of the holiday decor I had stored under the attic eaves, hauling it all two flights of stairs down to the basement.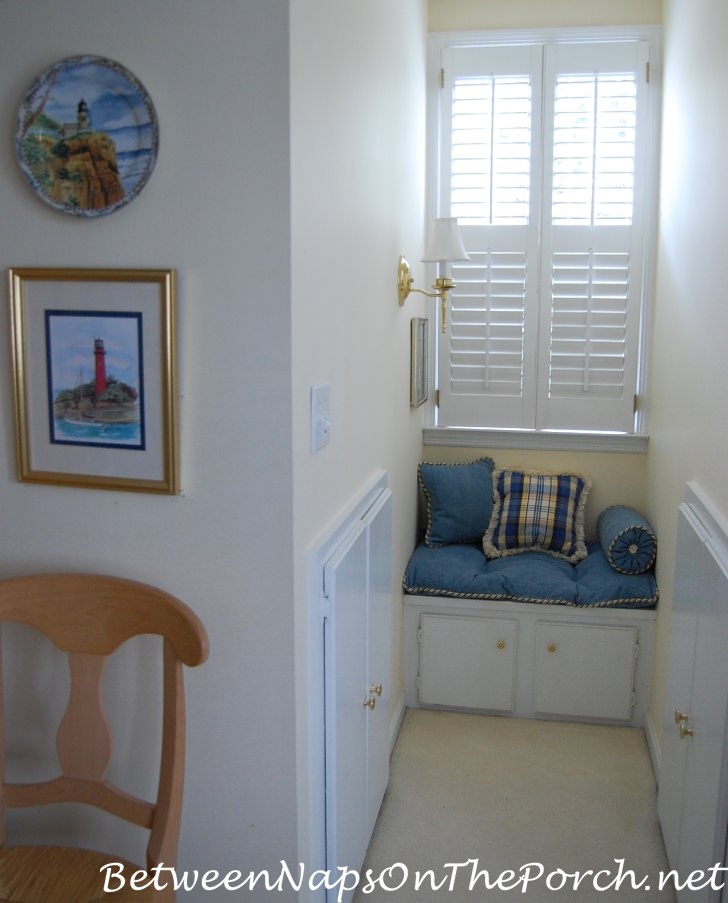 There was a lot stored here on the Christma-storage side. In addition to what you see, there were around 15 wreaths stored here, all hanging on nails on the wall on the left.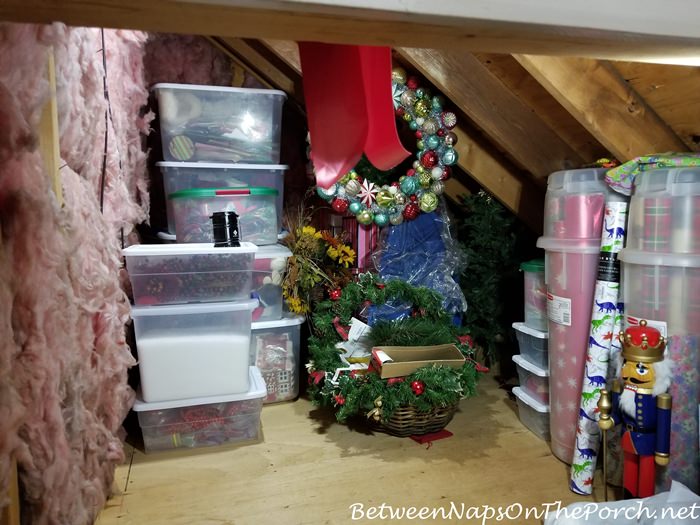 Here's how that area looks now–I had forgotten just how big this storage area is until I saw it empty! I definitely took advantage of this storage space during the past 33 years that I've lived here. The other eave visible in a previous photo of this post, housed a bunch of Halloween decor. It is now empty, too.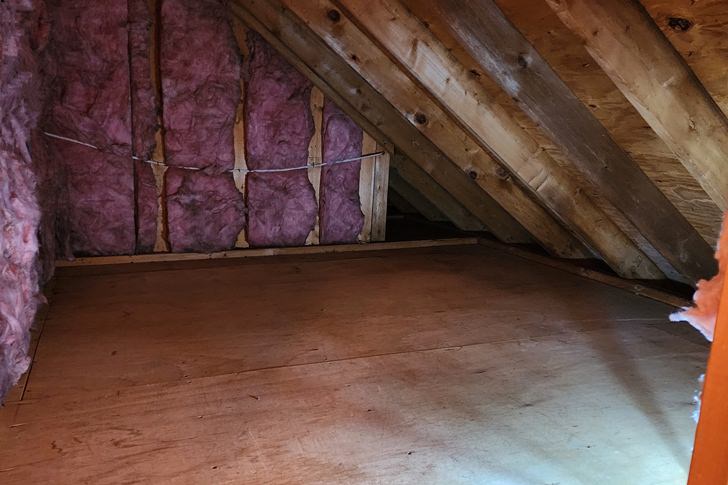 This is how the workroom/storage side of the basement looked before I brought everything down.
It doesn't look like that much in this photo because I did a good clear-out during this process, getting rid of stuff that was worn out or definitely passed its prime. Also, I had already put away a few things when I thought to take a photo.
There were two main reasons I have always stored my holiday decor upstairs under the eaves, including these 13 wreaths that I always hang on my exterior windows at Christmastime.
Seven of the 13 wreaths go on windows that are upstairs, so it made sense to store the wreaths upstairs where more than half would be used. (The dormer windows aren't visible in the photo.)
The second reason was I had not been able to come up with a great hanging or storage system for the wreaths here in the basement.
That has changed! The wreaths are all now tucked away in these awesome wreath storage bags. As I was placing each wreath into its bag, it dawned on me that this will actually be a much easier way to store them. For one, each bag has a little clear plastic slot on the outside where I can add a card or label identifying to which room that wreath goes. Also, the bags are going to make it much easier to transport the wreaths since they have handles. In the past, I'd hang several wreaths over my arm which always led to lots of scratches on my arms. Come Christmas, I'm going to end up wishing I had done this sooner.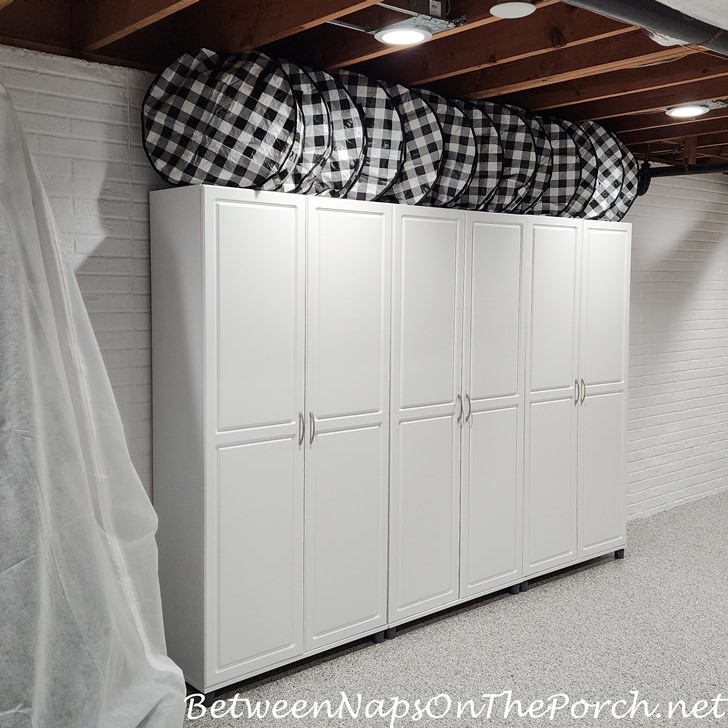 My exterior window wreaths are around 22 inches wide so I ordered three sets of these 24″ size bags. (Bags are available here: Buffalo Plaid Wreath Storage Bags, Set of 4.)
They also come in this pretty red and black Buffalo check color that I really like, but I went with black and white since I felt that color scheme would be better for the basement storage room. (Red/black Buffalo wreath storage bags are available here: Buffalo Plaid Wreath Storage Bags, Set of 4.)
I also purchased a set that came with two 30-inch size bags for two larger wreaths I often use at Christmastime. (Those are visible below.) That set included two 30-inch bags and two 24-inch bags. (That set is available here: Buffalo Plaid Wreath Storage Bag, Set of 4 (two 30-inch and two 24-inch)
As mentioned in a previous post, I've ordered two more cabinets for this wall. Those should be delivered next Friday. Hopefully, I can get those assembled next weekend and that will finish up this storage project for good.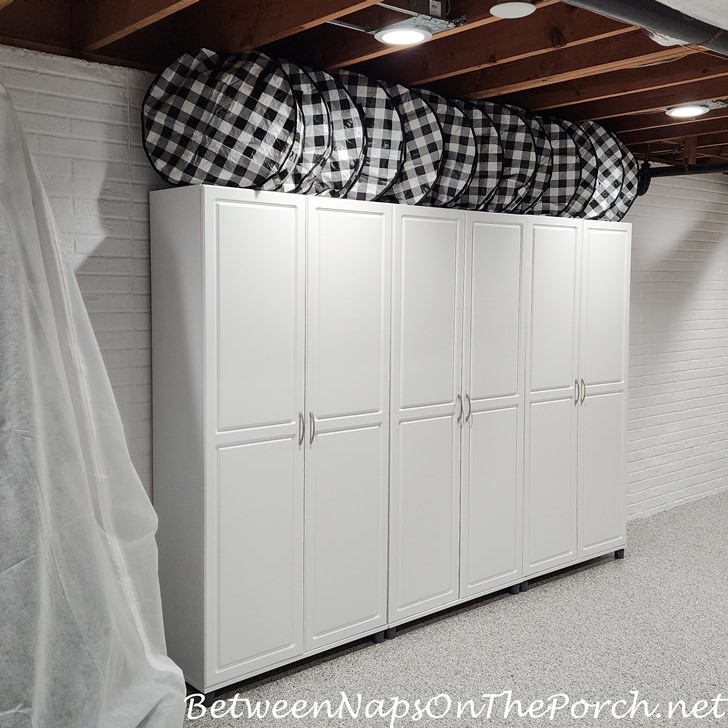 I've also ordered new faux wood blinds for the two French doors and the 7 windows here in the basement. You can't tell it in the photo below, but the blinds have yellowed pretty badly after being down here for over 25 years. I can't wait to get rid of all the strings, too! The new blinds will be the newer style without all the strings for raising and opening. They are from a local company here in Atlanta and should be ready in 5-6 weeks. Looking forward to having those installed in a few weeks, along with some other updates I'll be sharing real soon.
Looking forward to all the great Before and Afters linked for this week's Met Monday!
Pssst: Did you know Between Naps On The Porch is on Instagram? You'll find me on Instagram here: Between Naps On The Porch. Like to know when a new blog post is up? Subscribe for email updates (it's free) and your e-mail will never be shared. Subscribe for free post updates here: Subscribe.
Metamorphosis Monday: Metamorphosis Monday is a party that's all about Before and Afters. Please link up your Before and After projects like DIY projects, room makeovers, craft projects even recipes. Please do not link up Table Settings, save those for our Tablescape Thursday party on Thursday. If you are participating in Met Monday, you'll need to link your post to the party using the "permalink" to your MM post and not your general blog address. To get your permalink, click on the name of your post, then copy and paste the address that shows in the address bar at the top of your blog, into the "url" box for InLinkz when prompted. NOTE: Please do not link up more than 3 posts from your blog. In order to link up, you'll need to include a link in your post back to the party so your readers can find the other party participants. When linking up to the party, give the InLinkz system time to find the link in your post to avoid having your link held for moderation/approval. Thanks!
You are invited to the Inlinkz link party!
*If a post is sponsored or a product was provided at no charge, it will be stated in post. Some links may be affiliate links and as an Amazon Associate, I may earn from qualifying purchases. *