Welcome to the 418th Metamorphosis Monday!
This past summer when I was out digging and planting shrubs every day, I was coming in and out of my front door a lot.
The front door is normally the door I go out when I'm checking the mail or doing any gardening in the front yard, including vacuuming up acorns. 🙂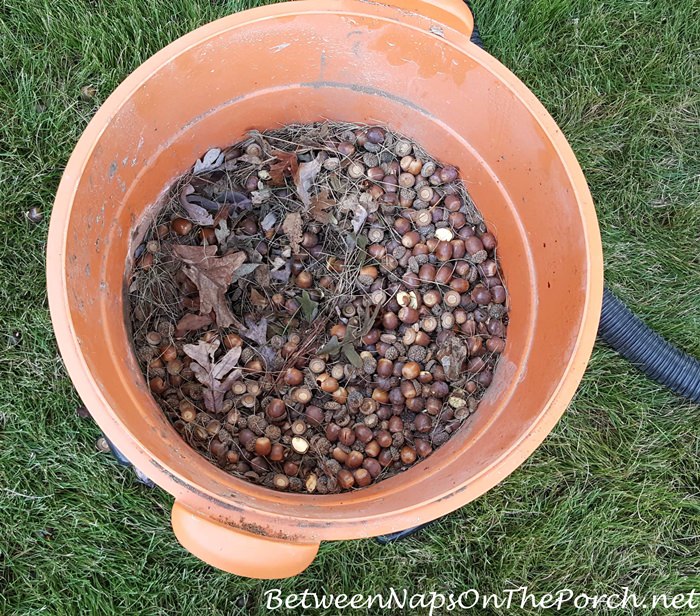 During all that gardening this past summer, I began to notice a lot more dirt around the house and realized pretty quickly that I was tracking it all in from the garden on my sloggers and gardening boots.
Since then, I've been thinking seriously about adding a shoe/boot tray to my front entry. Boot trays are great ways to keep entrances open and clear, plus they add a nice design element to a mud room or entry.
There are a couple of places in my front entry where I think one would work. I could place one underneath the shell niche where you see all those leaves on the floor. (Photo is from Christmas a few years back.)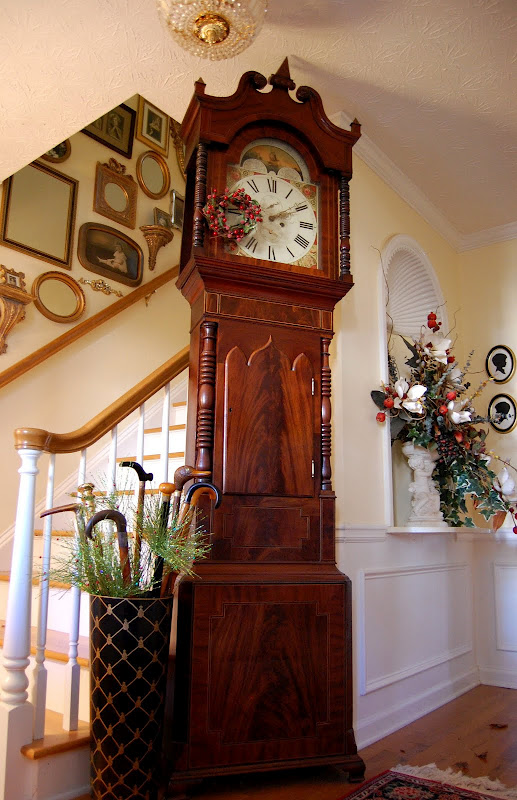 Or, I could place it across from the niche underneath the door bell chimes.
There are so many cute ones available, I'm having trouble picking one. This one isn't really very appropriate for my house, but wouldn't it be cute for a beach cottage or a home near the water. It's available here: Seashore Boot Tray.
This is the one I'm leaning toward for my entry. I love the pine cone design and Georgia is known for its Pine trees. I especially like the decorative edge…very pretty! It's available here: Pine Cone Boot Tray.
Here's how it looks on a back porch. Cute!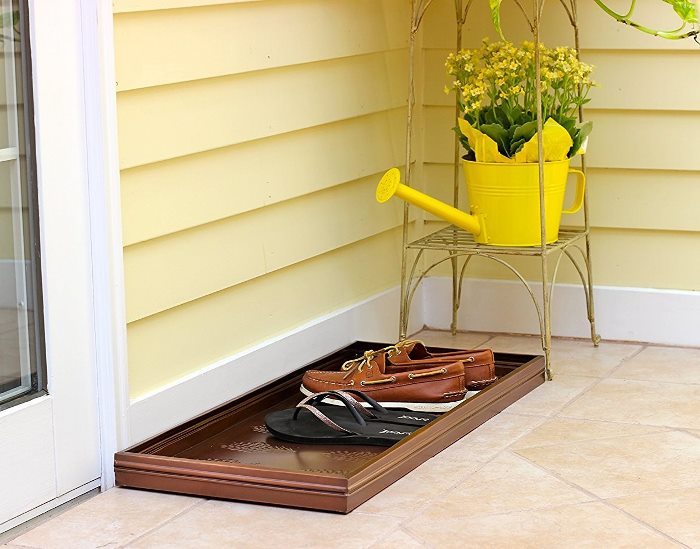 They even show it being used to keep a doggie's food bowls neat. Wish I had thought about this back when I had a dog many years ago.

Love this star boot tray, too! It has that same nice finished edge that I like. It's available here: Star Boot Tray.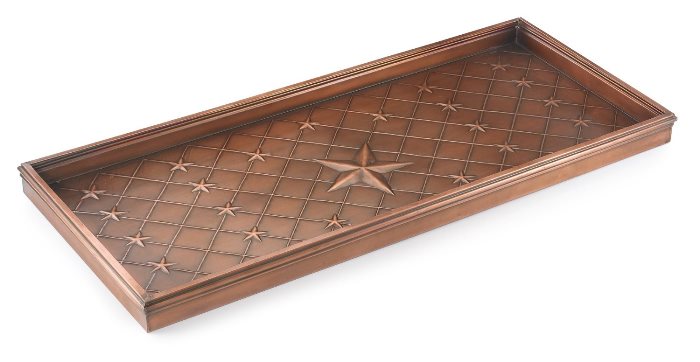 Isn't this bear/woodland boot tray adorable! It would be so cute in a cabin or lake house! It's available here: Bear Boot Tray
I like this understated black rubber boot tray.
I especially like that it is suited for outdoor use, too. It's available here: Black Boot Tray for Indoor or Outdoor.
This zinc boot tray has a liner. I like that a lot…gives the water some place to drain off and evaporate. It's available here: Boot Tray with Liner.
I love how it looks on this old painted porch floor.
And I love how it looks in this mudroom. I love the copper-colored boot trays on wood floors, but I like the zinc tray better for the porch above and the mud room below. The color is perfect in those two spots.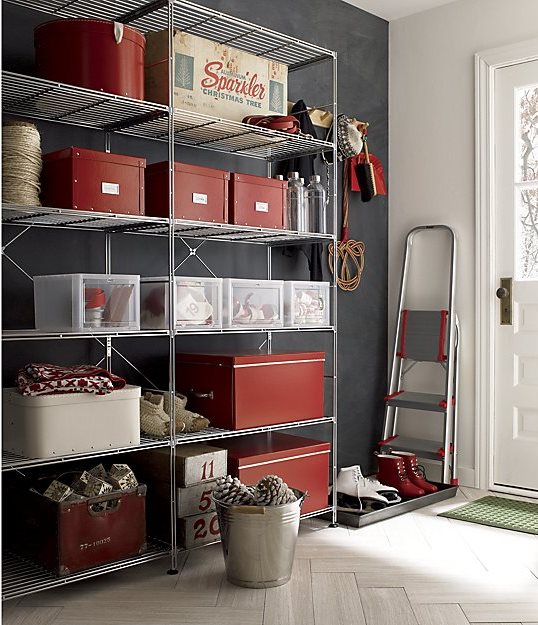 They even have corner boot trays for entrances or mudrooms where that shape works better. You'll find this one available here: Corner Boot Tray.
This white one would be good for a room with a white floor. It would blend right in, although the mud/dirt on the tray would be more visible. It's available here: White Boot Tray.
If you love all things French, this Fleur-de-lis, copper-finish, boot tray would make a stylish addition to an entrance or mud room. It's available here: Fleur-de-lis Boot Tray.
Another cute copper designed tray…it's available here: Copper Boot Tray.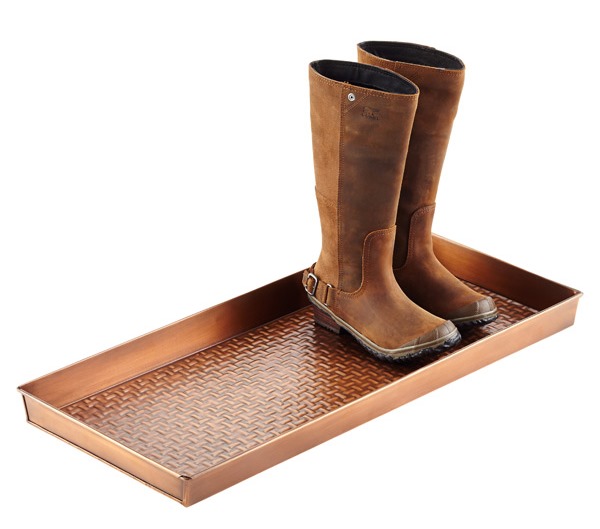 I'm tempted to order a boot tray for the screened porch, too. I have the perfect spot for one just outside the kitchen door under the little window there.
It would fit in this spot that I decorated for Christmas one year.
Do you have a boot tray? If so, where do you have it? Is it in your front entry? A mud room?
Looking forward to all the fabulous Before and Afters for this Met Monday!
Metamorphosis Monday
Metamorphosis Monday is a party that's all about Before and Afters. If you are participating in Met Monday, please link up using the "permalink" to your MM post and not your general blog address.
To get your permalink, click on your post name, then just copy and paste the address that shows up in the address bar at the top of your blog, into the "url" box for InLinkz.
In order to link up, you'll need to include a link in your MM post back to the party so the other participants will have an opportunity to receive visits from your wonderful blog readers.
Please observe these few rules:
Only link up Before and After posts that are home, gardening, crafting, painting, sewing, cooking or DIY related.
Do not link up to the party if you're doing so to promote a website or sell a product.

*If a post is sponsored or a product was provided at no charge, it will be stated in post. Some links may be affiliate links and as an Amazon Associate, I may earn from qualifying purchases. *