This girl is whipped right now! lol I've been clearing out the two attic eaves for the last two days and wow, I had forgotten just how large that area is and how much stuff (holiday decor) was stored under there. I have everything out now and have carried around 3/4ths of it down to the basement. Just a little bit more to go and I'll have it all downstairs. It's been quite the job carrying everything down two flights of stairs; I've definitely been getting some good exercise the last few days! I'll be spending the weekend hauling the rest down to the basement and vacuuming out under the eaves. It really feels good to have this long-overdue project underway.
I have been loving these toile, straight-leg jeans I purchased recently during an awesome sale. I can highly recommend them, they are covered in flowers and butterflies and are adorable! They are still on sale, plus they are an extra 30% off the sale price. I think they would be great to wear this fall and of course, wonderful to pull out when the cool temps of spring come around. You'll find them here: Toile Butterfly Denim Jeans.
During the month of August, I have really enjoyed wearing a perfume I purchased recently–Solaris by Penhaligon's. It's beautiful–perfect for summer but really, any time of year. I can tell I'll be going through this bottle pretty quickly so I hope it stays in stock. Thankfully, Penhaligon's is now finally available in a few stores here in the U.S. You'll find it available here: Penhaligon's Solaris.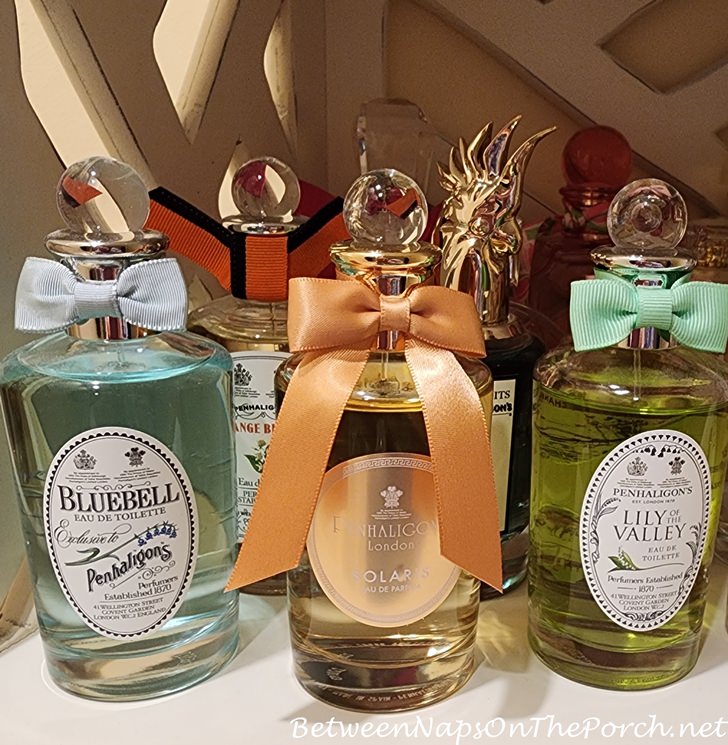 My other go-to perfume this past month has been Miss Dior Blooming Bouquet. I love this fragrance soooo much! If you like very feminine, elegant, pretty fragrances, I think you would enjoy this beautiful fragrance. It's one I will be buying again and again because I always want to keep it on hand. You'll find it available here: Miss Dior Blooming Bouquet.
Several months ago I purchased this surge protector/extension outlet/USB charging station for my desk here in my home office. I have really enjoyed having it here because I can keep my keyboard easily charged up, along with my Bose Noise-Canceling earbuds that I use often throughout the week.
I also have one of these outlet/charging stations here on my workbench in the basement.
I had an extra 4-gang outlet installed in the basement when I renovated it recently, and though that outlet is in a convenient spot for charging my DeWalt batteries and such, I found it awkward to use when using my hot glue gun since it's so low down on the wall. This extension outlet is perfect here on my workbench. The one I originally had here was 5-ft and that worked well, but in August I discovered they make it in a 6-ft length, too. So I ordered it again in the 6-ft version so I'd have some extra length to move it around on top of the workbench, as needed. I really, really love this thing! It has made my life so much easier!
I ended up placing the 5-ft one that had been in the basement here on the little desk in my dressing room.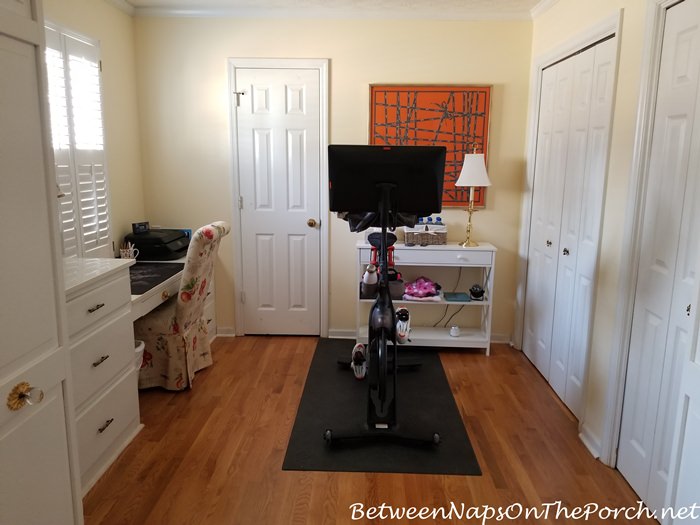 It's perfect for plugging in my laptop and the Bose Sport earbuds I use when riding my bike. I really like the abundance of outlets and the USB ports which are great for charging my sweater shaver and other electronics. Having this many outlets and USB charging ports available right on top of my desk and workbench where I need them, is so convenient! You can tell when I really like something because I always buy it multiple times. If you could use a surge protector outlet with USB ports, you'll find this one here in various lengths: Surge Protector Power Strip with USB Ports.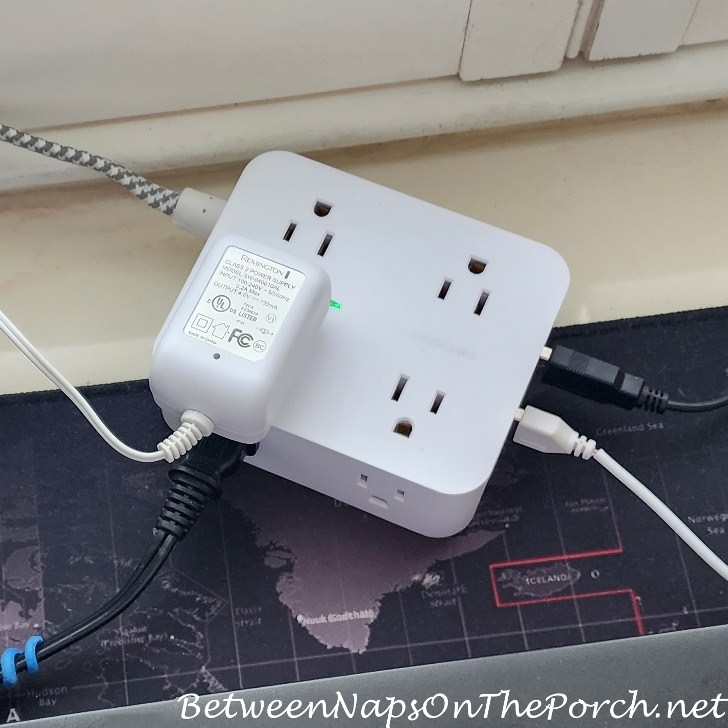 Do you like carbonated drinks? I love them and in an attempt to not drink too many Cokes, I have been buying this S. Pellegrino Mineral water the last few months. I really like this Blood Orange and Black Raspberry Flavor and buy it almost every month. It's available here: S. Pellegrino Orange/Black Raspberry.
I also like this sample pack that gives you two different flavors and unflavored sparkling. I find it really satisfies that carbonated-drink craving that I get from time to time. You'll find this sample pack here: S. Pellegrino Lemon and Dark Morello Cherry/Pomegranate/Sparkling.
This wasn't an August purchase but I've enjoyed using it this past month so thought I'd share it. It's what Yeti calls their beverage bucket, although a lot of people buy it to use as an ice bucket. It's not quite tall enough to hold a full-size bottle of water, but canned drinks and shorter water bottles will fit inside with no issue. I ended up buying one for my son and daughter-in-love and had it monogrammed with their first name initials on either side of the H in the center. Periodically throughout the year, Yeti offers free monogramming. If you are looking for a special Christmas gift or even a wedding gift, I think this is a unique gift that almost anyone would love to have. It's available here: Rambler Beverage Bucket.
Still enjoying these storage pitchers/containers that I purchased to hold dried mealworms and peanuts/bird seed. They are working just as I hope they would and are available here: Pet Food or Seed Storage.
I love fans! I have one in my office throughout the summer months and fall asleep to one every night. I've always wanted an excuse to purchase one of these big, high-velocity fans. Lately, I've been exercising a lot in my basement, so I decided to splurge on one. I'm too lazy to go down to the basement to take a photo but here's how it looks. This fan is 24 inches across and can be easily wheeled to where you need it. They are great for workshops, garages, and places where you need to have some good air circulation to keep things from getting too hot. It's a bit loud, not from the motor noise, but from the wind sound it makes moving the air. It has three speeds and the top speed is definitely high velocity! When I'm exercising, I'm usually listening to a podcast on my phone via my Bose Noise-Canceling earbuds, so the wind noise doesn't bother me. I love how much air it moves!
Okay, I got my tired body up and went to the basement to capture a photo. It gave me a good excuse to take down yet another box of decorations. I measured it while I was down there and it measures 30 inches in height–counting the stand, and 30 inches in width counting the knobs on the side that you use to adjust the tilt. I love its bright sunshine color! If you could use a powerful fan for your workshop, garage, etc…. you'll find this one here: High Velocity, Heavy-Duty Fan.
One last favorite that's sadly coming to an end. Last November/December, I purchased around 10 cartons of Publix Peppermint Stick Ice Cream. It's my favorite Peppermint Ice Cream (next to Graeter's Peppermint Ice Cream) and is only available around Thanksgiving and Christmas each year. I had just purchased a freezer around that time last year, so I finally had the space to stock up while it was available. When I shared this ice cream on Instagram, someone left a comment saying that ice cream only keeps in the freezer for 6 months, or something like that.
Maybe that's the case in a regular refrigerator that goes through a defrost cycle, but I'm happy to say that it has kept beautifully for 10-11 months in the GE freezer I purchased for the basement last year. This was my last carton that I opened up a couple of weeks ago and it was just as wonderful as the first. I only have to survive through the month of October 😉 before it should be available in the stores again. I think I'll buy a dozen this time around. Ha!
If you have a Publix grocery store in your area, you may want to keep your eye out for their Limited Edition ice creams that start appearing in the stores sometime around the beginning of November. They have several that are amazing including Eggnog, Pumpkin Pie, and Santa's White Christmas which is described on the Publix website as, "The classic flavor of Barnie's® Santa's White Christmas® coffee delightfully mixed with cocoa espresso flakes." Yum!
Happy Fri-yay to you! I'm off to move more boxes to the basement! The end is in sight!
*If a post is sponsored or a product was provided at no charge, it will be stated in post. Some links may be affiliate links and as an Amazon Associate, I may earn from qualifying purchases. *