Welcome to the 499th Metamorphosis Monday!
Ever pass by a beautiful home, a home that's solid and well-built but just feels like something is missing? Here in the south we have a lot of clay soil, so brick homes are everywhere. You'll find entire neighborhoods filled with homes made of brick in many different shades and colors. Sometimes the brick will vary greatly in color and add so much interest and personality to the home. Other times, the brick will be one color and unfortunately, very one-dimensional.
When a young couple came across this lovely brick home in Charlotte, North Carolina, they knew they had discovered a jewel in the rough. It was solidly built and in a great neighborhood, but the exterior was very ho-hum. It was just waiting for someone to come along and transform its plain exterior into something truly special.
Architects Paul Bates and Jeremy Corkem of Bates Corkern Studio had a beautiful vision for this home, a vision that would completely transform the curb appeal of this 1920's brick home.
Can you believe this is the same house! Wow! This makeover blew me away!
How did Bates Corkern Studio accomplish this amazing transformation? The biggest part of the transformation was accomplished by the application of a limewash to the brick. A limewash is paint diluted with water and mixed with sand. I love it! The home also got a new slate roof which works beautifully with the limewash.
I love, love, love this front door! Soo beautiful! This grand 9-foot limestone entryway lets tons of light into the home and foyer. The doors are 7-foot French doors topped off with a beautiful leaded-glass transom. Just look at that gorgeous lantern!
I'm obsessed with the beautiful Palladian-style shutters! I love the green color, too! The color is Artichoke by Pratt and Lambert. The lighter, cream color used for the trim is another Pratt and Lambert color called Lambswool. Such cute paint color names.
Doesn't the entry feel old-world, like's it been here forever? Love that!
To give the home more depth and character, Paul and Jermy added a beautiful bay window to the front of the home. Did you notice the change in the first exterior photo? The architects felt traditional window panes would look too heavy for the bay window, so they went with leaded-glass windows using a wavy restoration-style glass.
I love the copper roof with the darling finial topping it off. It's those special details that truly give a home its personality.
Remember the plain siding on this end of the home? Look at it now! Love the pretty, circular window added to this part of the home. It beautifully balances out all the other architectural features incorporated into this amazing transformation. The gardens look amazing, too! I love a potted-boxwood topiary! Boxwood shrubs are my favorite foundation plant.
The garage doors got an unexpected, whimsical treatment in the same beautiful Pratt and Lambert Atichoke and Lambswool paint.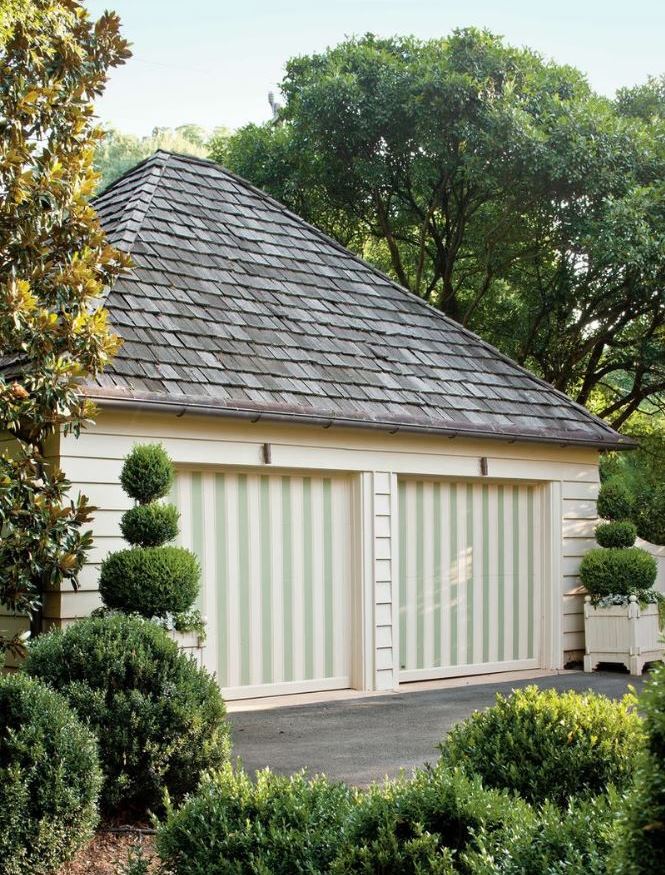 Thanks so much to Karen who shared this beautiful transformation with me a while back. You can read more about how the Bates Corkern Studio worked their magic on this beautiful home in this article where these photos were found: A Charming Exterior Restoration.
Psst: Next week is our 500th Metamorphosis Monday! How would you like to celebrate? How about a post sharing and linking back to your top 5 Favorite "Before and Afters" that you've featured on your blog?
Metamorphosis Monday
Metamorphosis Monday is a party that's all about Before and Afters. If you are participating in Met Monday, please link up using the "permalink" to your MM post and not your general blog address. To get your permalink, click on your post name, then just copy and paste the address that shows up in the address bar at the top of your blog, into the "url" box for InLinkz.
In order to link up, you'll need to include a link in your MM post back to the party so the other participants will have an opportunity to receive visits from your wonderful blog readers.
Please observe these few rules:
Please link up Before and After posts that are home, gardening, decorating, crafting, painting, sewing, cooking, fashion or DIY related.
Be sure to include a link back to the party in your post, so your readers will be able to find and visit the other bloggers who are participating.
Do not link up to the party if you're only doing so to promote or sell a product.
To those who are linking up: If you notice a shop or online store linking up to sell products (yes, unfortunately, that does happen) please let me know so I can remove their link and block them from participating in future parties. No one wants to click a link expecting a Before and After, only to find a spam link to an online business/store.
*If a post is sponsored or a product was provided at no charge, it will be stated in post. Some links may be affiliate links and as an Amazon Associate, I may earn from qualifying purchases. *