Welcome to the 440th Metamorphosis Monday!
Around a year ago I shared a post about five projects I had thought about doing in my home some day, but for various reasons figured I never would. (Read that post here: 5 Projects I Want To Do In My Home, But Probably Never Will.)
I guess I should never say never because I did add a small refrigerator to the upstairs part of my home and now it looks like I may follow through on a second project by adding some additional storage space to my garage.
In my previous post, I shared this photo. I really liked the tall cabinets with doors, that's what I had in mind for the garage. Unfortunately, when I went to look at this cabinetry below in person, the sample cabinets on display at the big box store were literally broken and falling apart. That worried me so I decided to just wait in the hopes that I would eventually come across better cabinetry.
When I set this table for last week's Tablescape Thursday, I could only find five sunflower plates. (See more of that table here: 4th of July Table Setting.)
For some time now, I've been hoping to better organize my dish collection so everything I need would be together in one place in stead of spread out in various cabinets, closets and china cabinets.
My flatware storage is organized, but it's difficult to reach because it's on the very top shelf of a closet I turned into a small dish pantry many years ago. (See that DIY post here: Dish Pantry.)
I store napkin rings in a drawer now so those bins contain flatware as my collection has continued to grow over the last 4-5 years. It's primarily my holiday dishware that I would like to store all together.
I'd also like to store my tablecloths and placemats in some place other than my upstairs linen closet where they tend to be out of sight and out of mind. Plus, they are taking up space I could use for other linen storage.
In my research a few nights ago, I came across these cabinets online. The reviews for them are pretty good and the ones that aren't so good seem to be mostly about the product arriving damaged or a screw hole being off.
After much indecision, I took the plunge and ordered two. I really like how they are up off the floor. I think that will be helpful since they will be in the garage. I'm a little concerned they won't hold as much weight as I need for heavy dishes, probably won't know for sure until they arrive. I did read where one person said it's possible to reinforce the shelves from underneath. I may try to do that at some point.
One thing I do like about these shelves is the back is supposed to be particle board and not cardboard like so many cabinets have these days. These cabinets are available here: Storage Cabinet with Doors.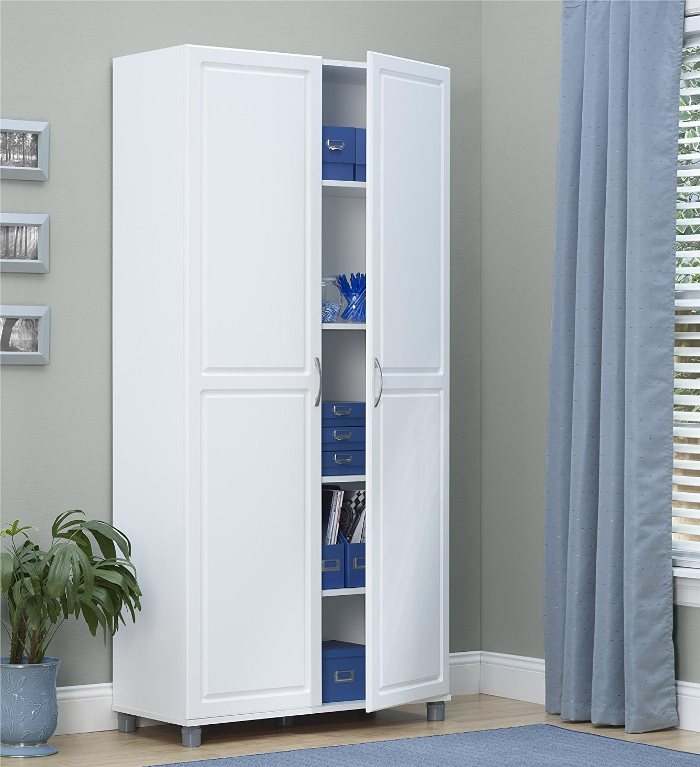 I also ordered one of these cabinets. I thought the drawers would come in handy for storing away tablecloths, placemats and napkins, although as many napkins as I have, I may need two units like this. This cabinet with the drawers is available here: Cabinet With Two Drawers.
Currently, I'm storing my napkins in the chest that was in my son's old bedroom before I turned it into my home office. (See that transition here: Bedroom Becomes Home Office.)
The chest is visible in the top two photos of the collage below. I've been using the bookcase for some dishes that I rarely use and the TV unit has come in handy for storing away some of my chargers.
My son and dil are thinking of using this furniture some day soon for their sons, so that's another good reason to find alternative storage.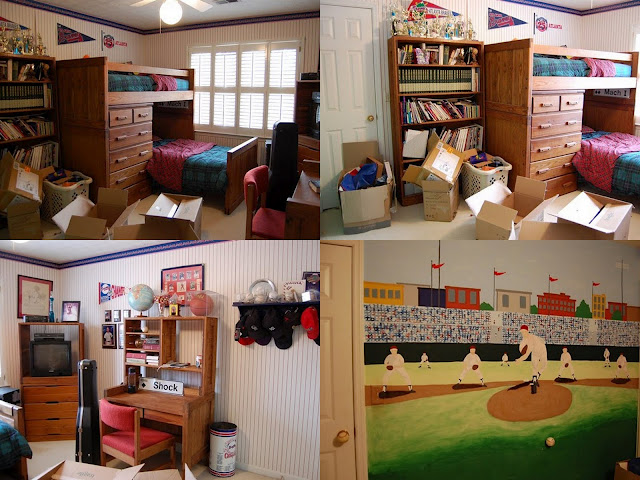 But in the end, I just mainly think it would be wonderful to have storage close at hand for my holiday dishware, a place where it can all be together instead of spread out in various cabinets and closets. Would definitely make planning a table setting a lot easier.
The wall I would like to use these on in my garage will hold five cabinets. I'm going to start with three: 2 regular cabinets, as seen on the left below, and one cabinet with drawers, as seen on the right below. I'll see how much they hold and how well that works, then I can decide if I want to add two more and which style.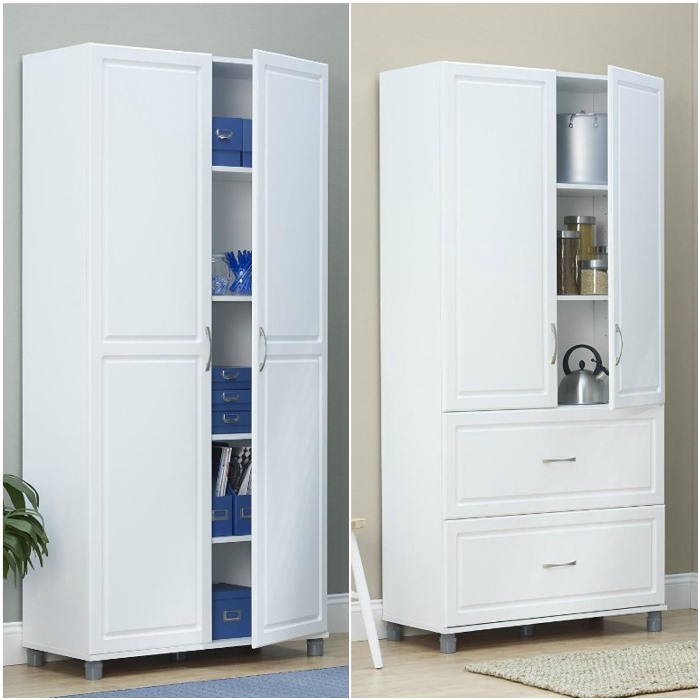 I was disappointed to read that you're not supposed to put anything across the top of the cabinets. I was hoping to store my really tall candlesticks on the top of the units. They aren't very heavy. I read a comment where someone mentioned a way to reinforce the shelves so they will hold even more weight. Maybe I can do that to the top, as well.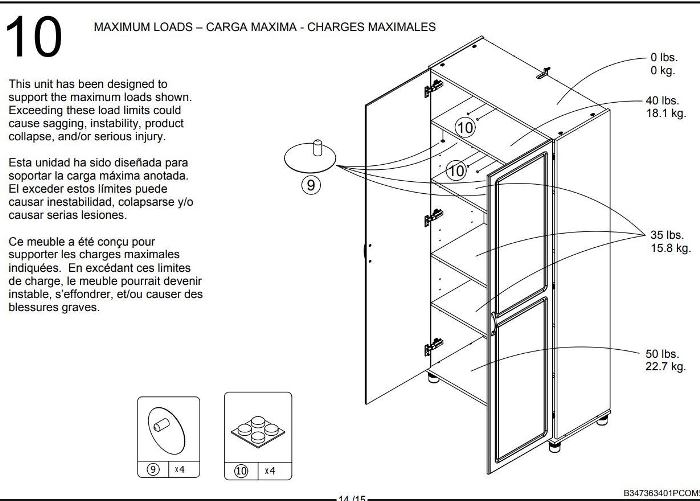 Here's an example photo of some of the configurations one can assemble in a garage. They make a lot of different units and there are so many great ways to use these! You'll find these cabinets here: Storage Cabinets.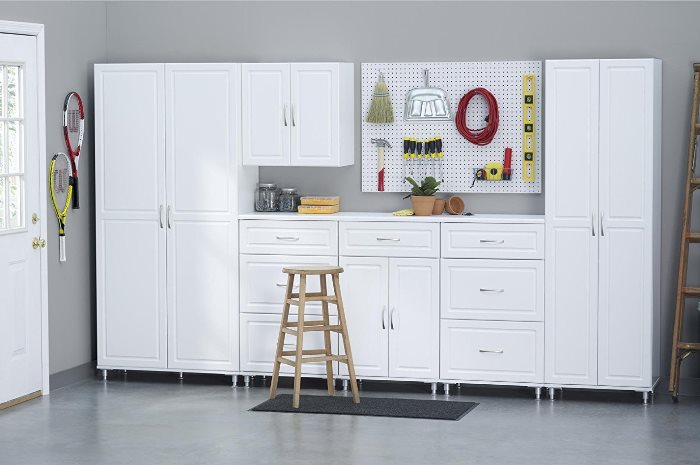 The regular cabinets will arrive this week and the one with the drawers will arrive on Friday. So you know what I'll be doing this week: assembling cabinets and maybe moving dishes if all goes as planned. I'll be sure to take pics of the process and will share the results, just hope they don't arrive damaged and that I can put them together without any big glitches.
If they don't work out for dish storage, at least they will work for other storage. They could even end up in my basement for general storage down there. Will keep you posted either way.
A friend reminded me today that Pottery Barn is giving a 15% discount on in-store purchases for active and retired military personnel and their families. It excludes some merchandise and I'm not exactly sure when that discount ends, but you can read more about it here: Discount for Military.
I post almost daily to Instagram. Follow Between Naps on the Porch on Instagram here: Between Naps On The Porch.
Looking forward to all the great Before and Afters linked for this week's Metamorphosis Monday!
Metamorphosis Monday
Metamorphosis Monday is a party that's all about Before and Afters. If you are participating in Met Monday, please link up using the "permalink" to your MM post and not your general blog address.
To get your permalink, click on your post name, then just copy and paste the address that shows up in the address bar at the top of your blog, into the "url" box for InLinkz.
In order to link up, you'll need to include a link in your MM post back to the party so the other participants will have an opportunity to receive visits from your wonderful blog readers.
Please observe these few rules:
Please link up Before and After posts that are home, gardening, decorating, crafting, painting, sewing, cooking, fashion or DIY related.
Be sure to include a link back to the party in your post, so your readers will be able to find and visit the other bloggers who are participating.
Do not link up to the party if you're doing so to promote or sell a product.
To those who are linking up: If you notice a shop or store linking up to sell products (yes, unfortunately that does happen) please let me know so I can remove their link from the party. No one wants to click a link expecting a Before and After, only to find a spam link to an online business/store.
*If a post is sponsored or a product was provided at no charge, it will be stated in post. Some links may be affiliate links and as an Amazon Associate, I may earn from qualifying purchases. *