Welcome to the 694th Metamorphosis Monday!
I have a dressing room right off of my master bedroom. Many years ago that room was a 5th bedroom but the first owners of my home walled off the door in the hallway to that room and cut a big opening in the master bedroom wall into that bedroom next door.
I sometimes wonder if when I move one day, if the future owners of this home will turn that room back into a bedroom. Probably not since it gives the master bedroom a lot of usable closet and drawer space.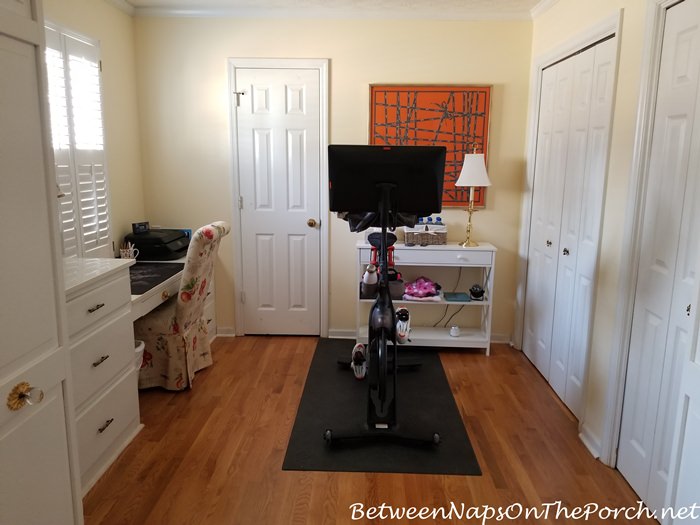 This room is also where my Peloton cycle lives. I really enjoy taking spin classes and guided scenic rides on this bike. Lately, I've been trying some of the other classes they offer, although the spin classes are still my favorite.
If there's one thing I've always wished I could modify on this bike, it's the distance from the seat to the handlebars. If you are a taller woman or man or you don't mind leaning forward into the handlebars when you bike, you probably don't notice how far away the seat is from the handlebars. This bike is sort of a one-size-fits-all, although it is possible to move the seat of the bike forward a bit–and the height of the handlebars can be adjusted, too.
Even with the seat as far forward as it will go, I've always wished I didn't have to lean forward as much as I do in order to reach the handlebars. I would like to be able to sit more upright while taking a spin class. My daughter-in-law who is a few inches shorter than I am doesn't mind leaning forward at all–so I guess it's just an individual preference thing. Anyway, I started wondering if someone had come out with an attachment that could be added to the handlebars for those of us who would prefer to sit more upright when biking.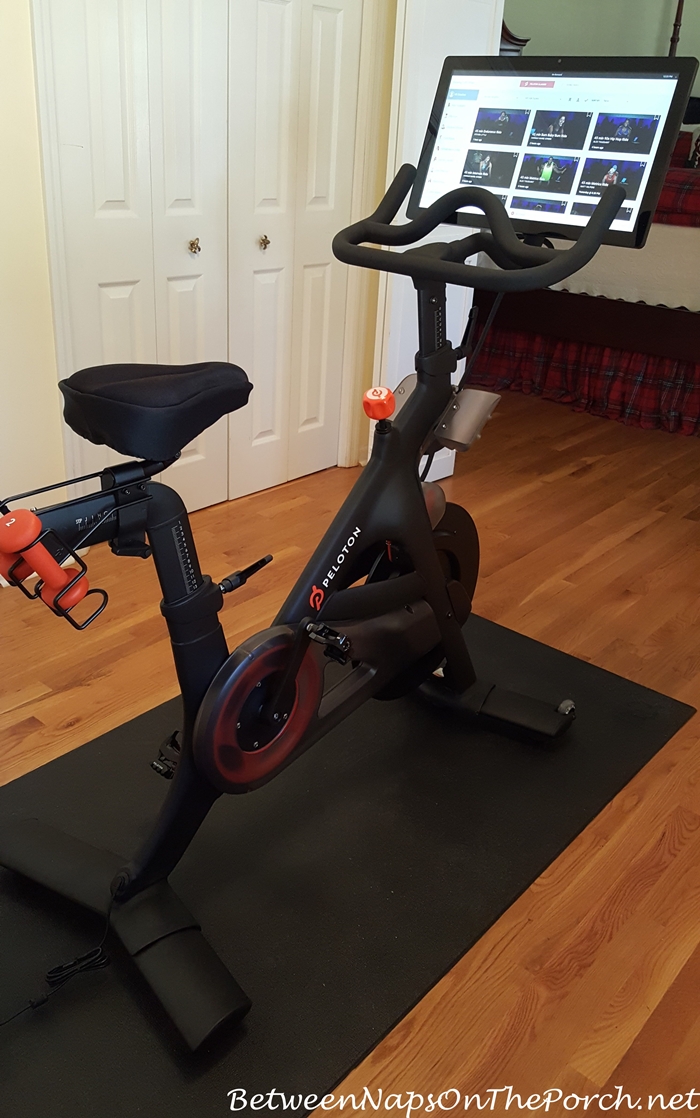 Surprisingly, I ended up finding something even better! It's a device that can be added to the vertical handlebar stem of the bike that allows the handlebars to be moved several inches forward or backward, whichever is needed. The handlebars adjuster is the horizontal piece you see there in the center of the photo below.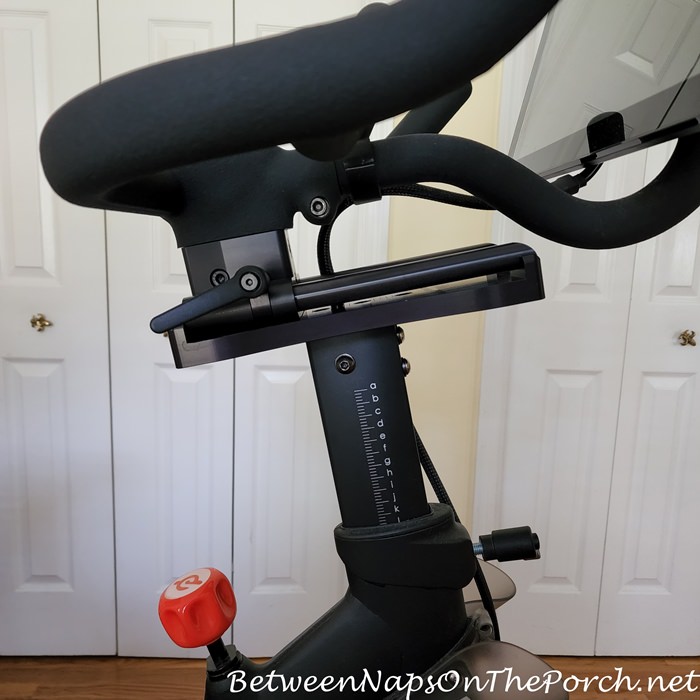 Since returns were free if it didn't work out, I decided to give it a try and ordered one. I would not have ordered it if it required disconnecting any of the wires or the electronics on the bike, but in watching the installation video prior to ordering, I could see that wasn't going to be necessary at any point during the installation. All that was needed was a Hex Wrench, aka Allen Wrench, which came with the adjuster.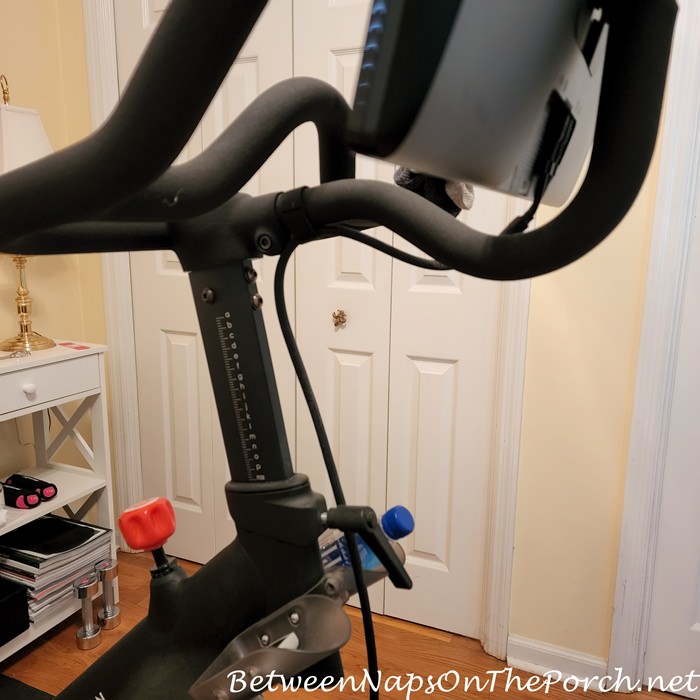 To install the adjuster, I needed to unscrew 4 screws on this vertical column on the bike: the two you see facing forward (behind the cable) and a screw located on each side. You can see one of the side screws in this photo below. Those screws must have been put on with an electric screwdriver because they were on really tight. At first, I couldn't get them to budge.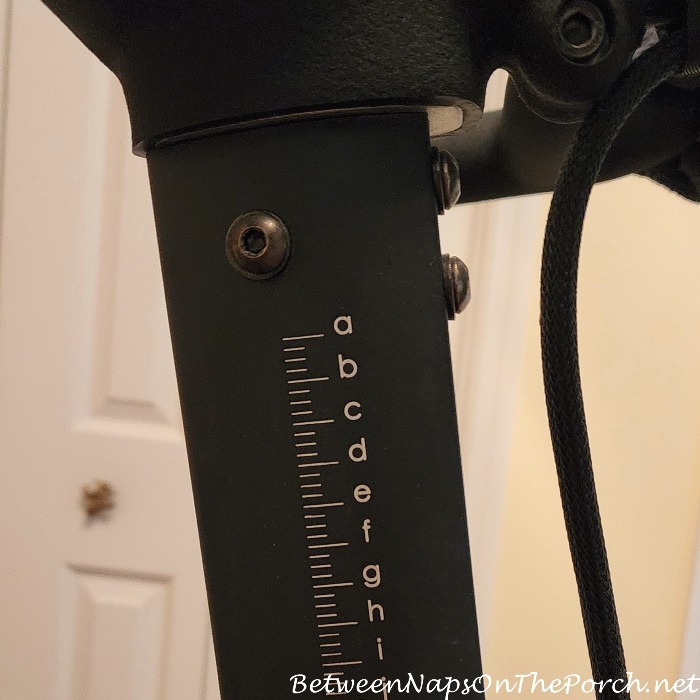 I remembered a hex wrench set with a ratcheting handle I had purchased a few years back when I had some deck furniture to assemble. It worked great and gave me the leverage I needed. Using one of the hex wrenches with the handle attached, I was easily able to loosen and remove the screws. If you find you need to use an Allen wrench from time to time, I def recommend picking up this set available here: Hex Key Wrench Set. It makes assembly anything that requires an Allen wrench so much easier/faster!
After loosening and removing those four screws, I lifted the monitor off the vertical post of the bike and gently placed it in a chair I had pulled over to hold it.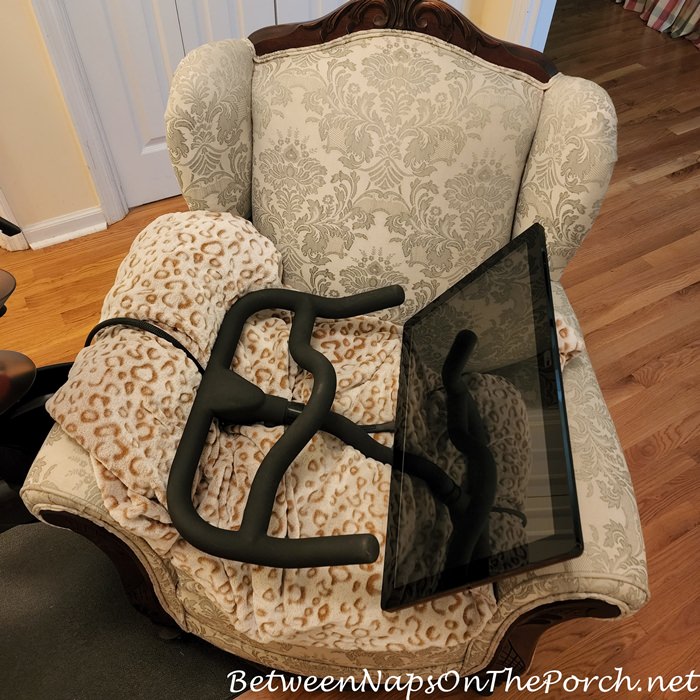 Then I placed the handlebar extender/adjuster into the opening on the vertical column that had previously held the handlebars/monitor. See that oblong hole/opening on the top of the adjuster–that's where the handlebars fit back onto the bike.
Once the handlebars were back in place, they are held tightly in place atop the new handlebar adjuster with 4 screws that came with the adjuster. You can see one of those 4 screws on the left in the photo below.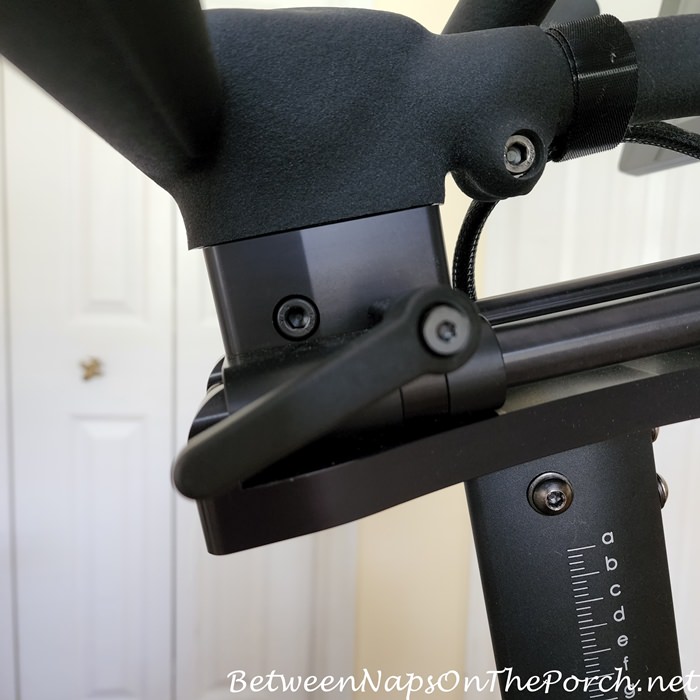 Here's how the handlebar adjuster looks in place. I hopped onto the bike, loosened the handle on the extender, slid the handlebars toward me, and then turned the handle to lock the handlebars back into place. I have to say, I absolutely LOVE this thing! I can now sit fully upright while taking a spin class–no more leaning my weight forward onto my hands/wrists to ride. I also love being able to look directly at the screen without my neck canted upward to see it. The extender in no way blocks the ability to stand up on the bike when the instructor calls for that and it doesn't interfere with how anything else functions on the bike. The only adjustment I made to my previous settings was to lower the height of the handlebars by a couple of inches since the adjuster adds a couple of inches to the height.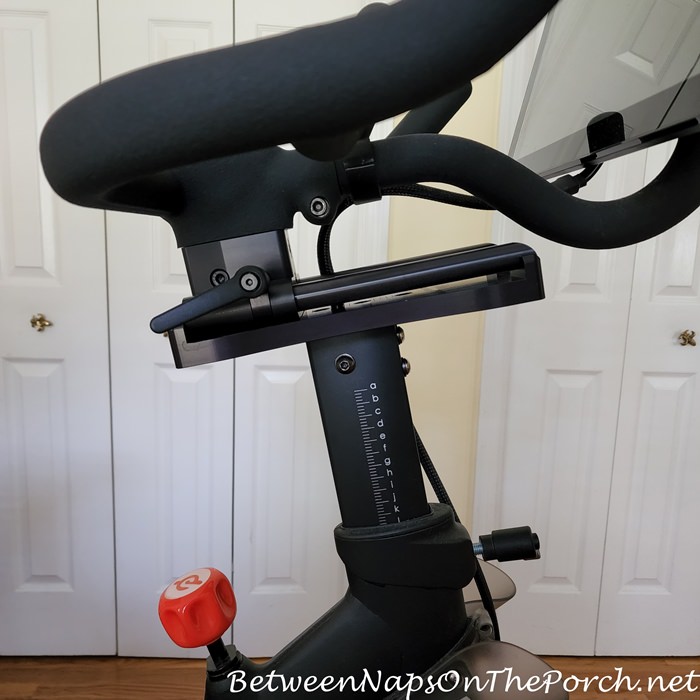 You can see in this photo how the adjuster let me move the handlebars 2-3 inches forward–definitely a game changer!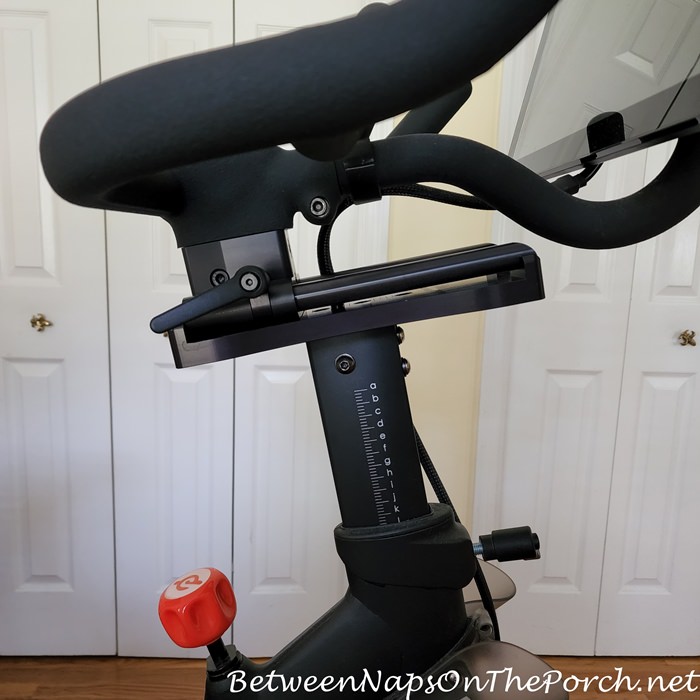 Here's how the adjuster looks when looking down on it. You can see all the different levels it can be adjusted forward and backward.
I'm not sure how long this device has been available but I wish I had known about it way before now! It was super easy to install, took me about 15 minutes. If you have a Peloton Bike and find the handlebars are further away from you than you would like when riding, I very much recommend this device! It's not super inexpensive, but it feels nice and heavy/sturdy, and it does exactly what it claims to do. I also love that it's made right here in the U.S. (I purchased this handlebar extender here: Handlebar Adjuster for Peloton Cycle/Bike.)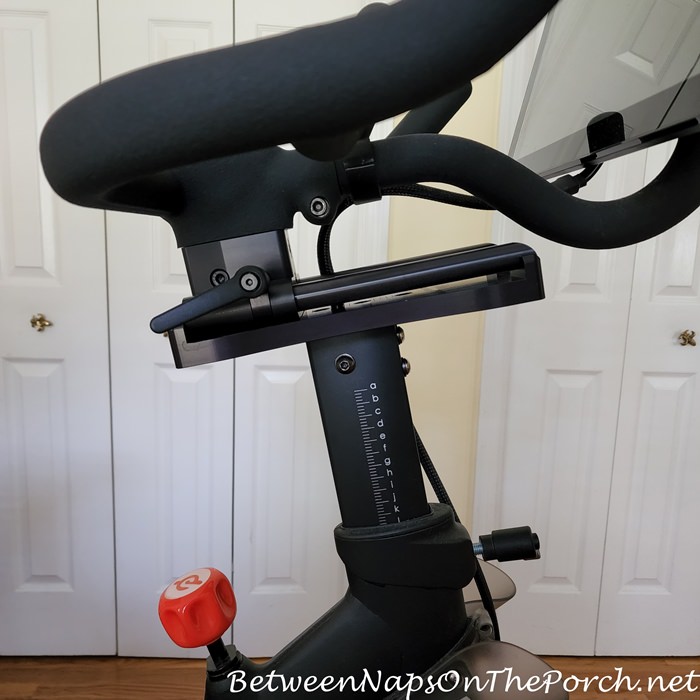 Looking forward to all the wonderful Before and Afters linked for this week's Met Monday!
Pssst: Did you know Between Naps On The Porch is on Instagram? You'll find me on Instagram here: Between Naps On The Porch.
Like to know when a new blog post is up and available to read? Subscribe for email updates, it's free and your email will never be shared. Subscribe for free post updates via email here: Subscribe.
Metamorphosis Monday
Metamorphosis Monday is a party that's all about Before and Afters. Please link up your Before and After projects like DIY projects, room makeovers, craft projects even recipes. Any Before and After is great! Please do not link up Table Settings, save those for our Tablescape Thursday party on Thursday.
If you are participating in Met Monday, you'll need to link your post to the party using the "permalink" to your MM post and not your general blog address. To get your permalink, click on the name of your post, then copy and paste the address that shows in the address bar at the top of your blog, into the "url" box for InLinkz when prompted.
NOTE: Please do not link up more than 3 posts from your blog. In order to link up, you'll need to include a link in your post back to the party so visitors to your blog can find the other party participants. Thanks!
This party has ended, click button below for the links to all who participated.
*If a post is sponsored or a product was provided at no charge, it will be stated in post. Some links may be affiliate links and as an Amazon Associate, I may earn from qualifying purchases. *