Welcome to the 678th Metamorphosis Monday!
There's a new addition here in my office. It may not be the most aesthetically pleasing piece that I've added to this room, but I'm definitely enjoying it. Recently, I was thinking how nice it would be if I had a smallish treadmill here in the office so when I was in the mood to watch a YouTube video or anything online, I could also be "out for a walk" at the same time. I didn't want to spend a lot and didn't want anything really, really big that would take up a lot of space in this room.
Initially, I purchased a different treadmill, one that did not have arms/handrails. It was listed as an "under the desk treadmill" but the ad also included a video showing it being used in the center of a room for walking and running. After it arrived, I quickly discovered that I do not like walking on a treadmill that has no arms or anything by which you can gauge where you are on the treadmill. I found myself looking down every few seconds because I never felt like I knew exactly where I was–was I too far back or too far forward? Was I about to step on the front of the treadmill or slip off the back?
Since I wanted the treadmill for the purpose of being able to walk while watching a video on my computer monitor, having to continuously look down to see how close I was to the front or back edge was not going to work. I returned that treadmill after trying it just a couple of times. After my experience, I would never recommend buying a treadmill that has no arms or anything to touch/hold unless you are strictly using it in front of a desk.
This is the treadmill I purchased next and it is so much better! It takes up no more floor space than the first one I tried and was right around the same price. Actually, it's on sale now, so even better. (Note: I think the photo below must be taken at a weird angle or the woman is photoshopped in because when walking on the treadmill, the desk is much lower down than it appears in the photo below.)
The big difference between it and the previous treadmill is it has a built-in desk space that easily holds a laptop, iPad, or phone. I can lightly rest my hands on the handles and feel completely comfortable watching a video on the large computer monitor on my desk without ever having to look down to see where I am, or how close I am to the front or the back.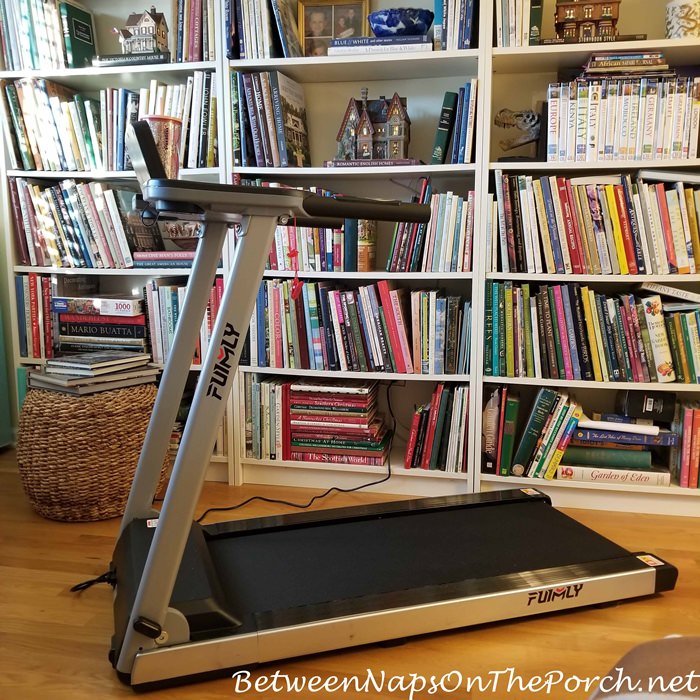 I could push it over closer to the bookcases in this room, but it's perfect in this spot and doesn't heed my path to my desk.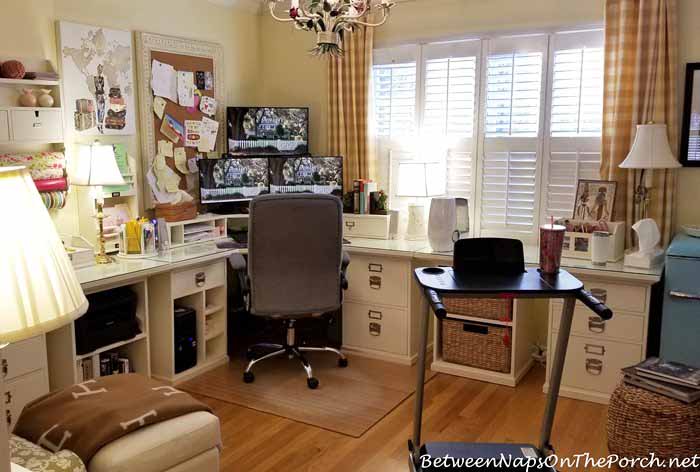 I love how it keeps track of how long I've been walking, my speed, the number of steps I've taken, the distance I've walked, and the calories I've burned. All that is displayed on the monitor that you see sticking up. I didn't think to turn it on when I took my photos, but you can see the display here: Display on Treadmill. It's also very quiet so I can easily hear whatever I'm watching while I'm walking.
Another big difference with this treadmill over the previous one is when I'm done and I turn it off, it slows down gradually. The other treadmill stopped suddenly and almost threw me off with that sudden stop. Didn't like that at all! This one is awesome–it gradually starts with a countdown so you're ready when it starts and gradually slows down when you're done. So far, it's perfect–exactly what I was hoping for in a treadmill. You can see more photos and read more about it here: Treadmill with Desk.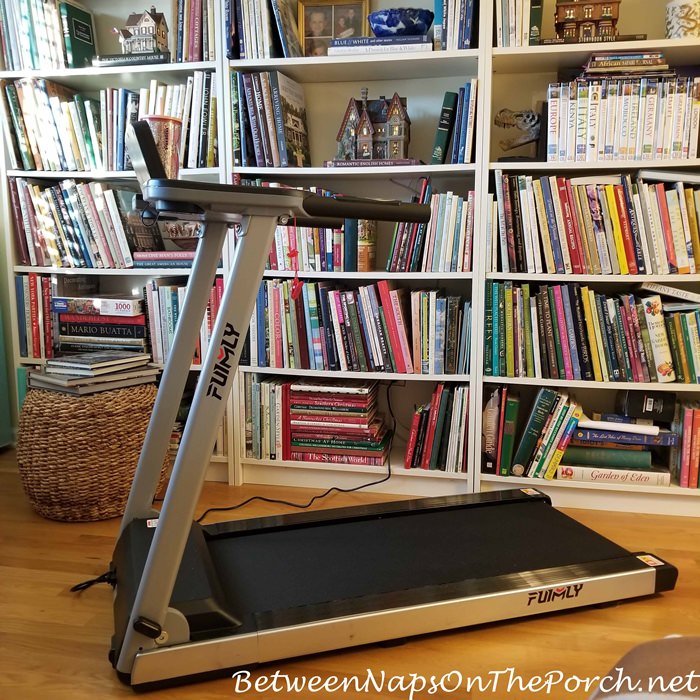 Happy Monday! I hope your week is off to a great start!
Looking forward to all the wonderful Before and Afters linked for this week's Met Monday!
Pssst: Did you know Between Naps On The Porch is on Instagram? You'll find me on Instagram here: Between Naps On The Porch.
Like to know when a new blog post is up and available to read? Subscribe for email updates, it's free and your email will never be shared.
Subscribe for free post updates via email here: Subscribe.
Metamorphosis Monday
Metamorphosis Monday is a party that's all about Before and Afters. Please link up your Before and After projects like DIY projects, room makeovers, craft projects even recipes. Any Before and After is great! Please do not link up Table Settings, save those for our Tablescape Thursday party on Thursday.
If you are participating in Met Monday, please link up using the "permalink" to your MM post and not your general blog address. To get your permalink, click on your post name, then just copy and paste the address that shows up in the address bar at the top of your blog, into the "url" box for InLinkz when prompted.
In order to link up, you'll need to include a link in your MM post back to the party so the other participants will have an opportunity to receive visits from your wonderful blog readers.
This party has ended, click button below for the links to all who participated.
*If a post is sponsored or a product was provided at no charge, it will be stated in post. Some links may be affiliate links and as an Amazon Associate, I may earn from qualifying purchases. *