Welcome to the 332nd Metamorphosis Monday!
Suzy who blogs at Worthing Court , moved last summer into a home built in the mid-90's. It was in need of some updating so gradually she's been renovating it room-by-room. One of the rooms Suzy couldn't wait to makeover was her screened-in porch. Initially, it was a mixture of miscellaneous outdoor furniture that Suzy had left over from her previous house.
Suzy said, "The before picture was taken right after we moved in last September. Once the cold weather and pollen season were over, I started the process of freshening everything up with paint and new cushions."
Suzy described how she furnished and decorated her porch saying, "The porch is decorated with a mixture of furnishings from the outdoor spaces at our old house."
"The cushions on the two armchairs flanking the chest used to be faded red, but I gave them two coats of chalk paint instead of going to the expense of replacing them. Now they're good as new."
"The bi-fold doors behind the gray chest were a score from Goodwill."
"Other than a few small accessory purchases, the only other new item on the porch is the indoor/outdoor rug."
"The art above the chest is made from a free printable and a frame that I already had."
Suzy's favorite spot on the porch is in the chair to the right of the potted ferns. Suzy said, "It gives me a view of the backyard and a view of the feeders on the deck. Two poufs (from Target) give me a way to put my feet up and also serve as extra seating for my granddaughters."
Suzy also included a cozy spot for dining on the porch, so perfect for breakfast each morning. I can't think of a better way to start the day than listening to the birds and enjoying the garden!
Suzy said, "A 40′ long deck is accessed through a screen door so it makes grill-to-table eating so easy. I wanted our porch to feel like an outdoor room instead of just a wide open space. The addition of a large grapevine wreath on one wall and wicker trays on the wall behind the chairs, help to give the space definition."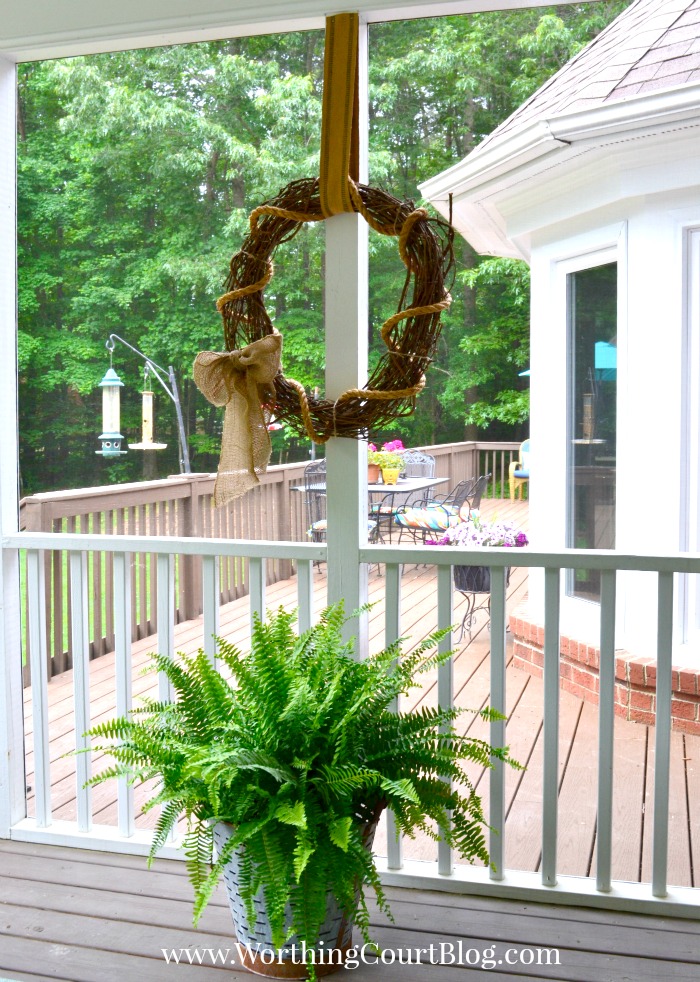 Suzy said, "The screen porch was one of the things that sold us on this house. It's perfectly situated at one end of the house so that it catches all of the breezes that come through. Hands-down, the porch is our favorite place to be! We never miss a chance to enjoy it and have lived on it constantly now that winter is over. We eat many of our meals out here and especially love it when we include friends and family."
Suzy, thanks so much for a tour of your wonderful screened porch and sharing how much enjoyment it brings into your life each day. Porches truly hold a special place in our hearts.
Be sure and check out Suzy's Blog, Worthing Court, for additional pictures and information about the renovation of her home and porch.
Looking forward to all the fabulous Before and Afters for this Met Monday!
Metamorphosis Monday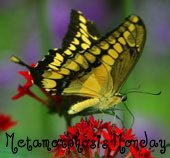 If you are participating in Metamorphosis Monday, please link up using the "permalink" to your MM post and not your general blog address. To get your permalink, click on your post name, then just copy and paste the address that shows up in the address bar at the top of your blog, into the "url" box for InLinkz.
In order to link up, you'll need to include a link in your MM post back to the party so the other participants will have an opportunity to receive visits from your wonderful blog readers.
Please observe these few rules:
Only link up Before and After posts that are home, gardening, crafting, painting, sewing, cooking, DIY related.
Do not link up if you're doing so to promote a website or product.
Do not link up a post that was just linked last week since a lot of readers will have already seen that post.
*If a post is sponsored or a product was provided at no charge, it will be stated in post. Some links may be affiliate links and as an Amazon Associate, I may earn from qualifying purchases. *