Welcome to the 174th Metamorphosis Monday!
Greetings! Hope your weekend was great! I'm really excited about a change I made recently here in the office. Did you guess what it was from the hint I left a few days ago?
Not long after I moved into this house twenty+ years ago, I purchased plantation shutters for all the windows. In hindsight, that was one of the best purchases I've ever made for my home. If you're interested in knowing more about plantation shutters and what features are important when shopping for shutters, check out this previous post: Plantation Shutters.
I've really enjoyed having shutters here in the office, especially during the winter months when the leaves fall from the trees and privacy is more of an issue. In the evening, I usually just close the lower louvers unless it's really cold outside. Then I close them all.
It takes me a long time to finish/decorate a room. I sometimes wonder if this blog should be called "The Accidental Decorator" because it seems like the rooms in my home evolve through lots of happy little accidents.

Country Curtains has been carrying pretty buffalo check curtains for years. I know because I've been stalking them for years. (They are also available in a black/white and a red/white combination.) I've often thought of buying them for either the living room "someday library" or for the dining room. But since the someday library hasn't come to fruition yet and I don't think they are quite right for my red dining room, I've just admired them from afar. Until now.
My love for this style fabric goes all the way back to the first time I came across this beautiful room designed by Mary Douglas Drysdale. The draperies are silk taffeta. Absolutely gorgeous!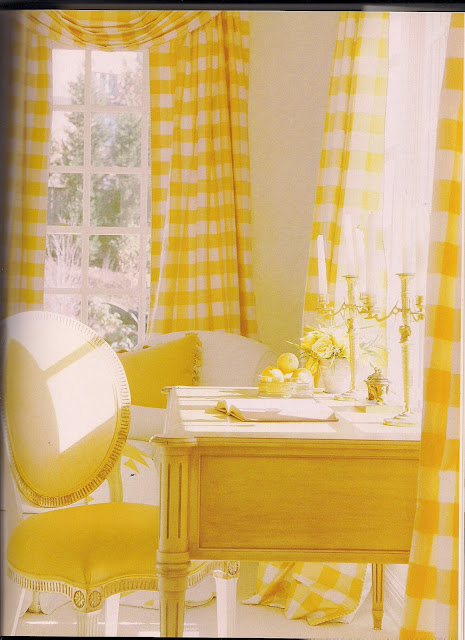 It took my curtains almost a full month to arrive since I asked Country Curtains to line them. They will also make them to a specific length, but it costs a fair amount more per their representative.
I purchased a curtain rod that would blend right into the office walls. I wanted it to just basically disappear. I found a beige/cream Martha Stewart rod at Home Depot. It's the color of the finials in this picture.
I installed all the brackets up nice and high because hanging curtains higher than the window tends to pull the eye upward, sometimes making the windows and room feel a bit bigger. I pre-drilled the holes and used the little plastic wall anchors that came with the rod. The curtain rod was supposed to stretch to 84 inches in length. I pulled it out a tad further, stretching it to 86 inches.
So here's how they look "installed" in the office. The buffalo check draperies come in 4 lengths at Country Curtains: 63″, 84″, 96″ and 108″. I wanted the curtains to reach the floor so that nixed the 63″ size. 108″ would have been way too tall. So my choices were 84″ or 96″. If I had gone with 84 inches, they would have started just barely there above the window molding. Since I wanted to hang them higher than that, I went with the 96″ length. I knew that would be a bit too long for my 8 ft. ceilings, but I figured the extra length would be hidden behind the desk and could just puddle on the floor. Also, I thought the extra length might come in handy if I ever move and have higher ceilings. Just thinking ahead…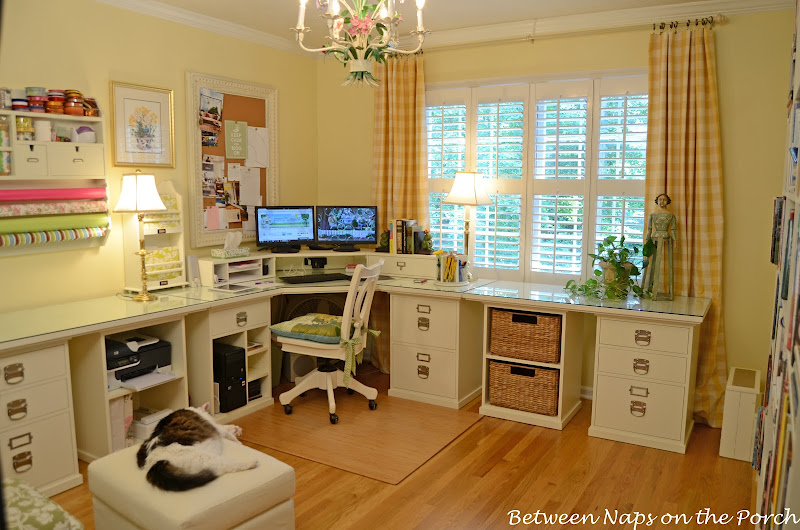 As mentioned, Country Curtains will also line your draperies. They use a nice heavy cotton fabric for that. The additional cost depends on the size curtain you purchase. It ran around $30 per panel for the 96″ curtain. I like the way curtains hang when they are lined, they just feel and look more substantial. I felt like it was worth it to pay a bit more and have them lined.
Two cautions about having them lined: 1. If you don't like them, you can't return them 2. It takes almost a full month to get them. Those concerns didn't deter me. It was worth the wait to me to have them custom lined and I figured if I didn't like the way they looked here in the office, I'd just buy one more pair and use them in my "someday library."
I have to tell you, though…I absolutely love these curtains. The fabric is so nice. They are 82% cotton and 18% acrylic, and they feel and look like a nice heavy linen/cotton. Having them lined definitely gave them a "custom drapery" feel. My cost before shipping was a little over $200.00. I can't remember what shipping was now (couldn't find my receipt this evening) but it wasn't that much. I remember it was reasonable.
The colors in the fabric are a gold/yellow, a soft wheat color and a soft white. It works well with the wall color, Duron, Sugar Cookie.
The curtains also tie in nicely with the gold color in my fave Ballard Designs bee pillow (outlet bargain) and the dress form on the other side of the room. I just realized I can see the curtains in the mirror. Like that! Update: The mirror was recently changed to one that's a better fit for the chest. You'll find the new mirror in this post: A New Mirror for the Office.
Max has all but abandoned sleeping on the top of the desk since I added this ottoman to the office. He loves HIS ottoman! I had to de-fur it before I took pics for this post. lol It's usually covered in kitty fur.
For comparison, here's a view of the pillow against the curtains. I love how the sweet Santos looks against the backdrop of the curtains.
The colors in the cushion of the desk chair sort of pull all the colors in the room together.
This photo most accurately shows the colors in the curtains and the wall color since the camera wasn't pointed directly into the bright light coming in through the windows.
The only thing this room needs now is a new lamp or two. I have all brass lamps in here because that's what I just happen to already have when the room was being "assembled." Though I do like brass lamps (I know I'm a minority) I'd like a little more variety in here. I've been looking whenever I'm out shopping. I can find bases I like, but I never like the shades. So this "accidental decorator" will continue to be on the look out.
I will probably replace the picture hanging above the file organizer with a slightly smaller one, but I do kind of like how the frame looks with the new curtains.
So that's it for my metamorphosis this week. Can't wait to see all the great Before and Afters linked up for this Metamorphosis Monday!
Pssst: If you are new to reading BNOTP, you'll find the full metamorphosis of this office from child's bedroom to office/craft/sewing room in this post: Pottery Barn Bedford Office Addition
Receive BNOTP updates right in your Inbox:
To receive the latest posts, as well as updates about upcoming blog parties, subscribe To BNOTP posts via an RSS Reader. Or, have BNOTP delivered right to your Inbox. You'll find links to subscribe via RSS and e-mail on the top ride sidebar of the BNOTP home page, OR click HERE to subscribe via RSS Reader and HERE to subscribe via e-mail.
Reading this post via e-mail or RSS feed?
*If you are reading this via email or RSS feed, to view all the Before and Afters linked for Metamorphosis Monday, click HERE.

Metamorphosis Monday:
If you are participating in Metamorphosis Monday you will need to link up the "permalink" to your MM post and not your general blog address. To get your permalink, click on your post name, then just copy and paste the address that shows up in the address bar at the top of your blog, into the "url" box for InLinkz.
In order to link up, you'll need to include a link in your MM post back to the party.
If you'd like to include the MM button in your post, just copy and paste the Met Monday button to your computer and unload it as you do your other photos to your post.
PLEASE DO NOT type in all caps…it spreads the links waaaay out. Thanks!
Let's try something fun today! Please visit the person who linked before you and after you…that way everyone will get some visits. Hope you'll visit more, of course.
*If a post is sponsored or a product was provided at no charge, it will be stated in post. Some links may be affiliate links and as an Amazon Associate, I may earn from qualifying purchases. *