Recently, I asked BNOTP readers if they had any questions and they did! I've grouped the questions and answers into several categories: Porch, Paint and Tablescaping.
Please do read through the FAQ below to see if your question is answered here in this post. If not, just drop me an email at betweennapsontheporchatgmaildotcom, and I'll be glad to answer any questions you might have.
It may take me a few days to get back to you due to the volume of e-mails I receive. If you don't receive a response, e-mail me again. I always try to answer all e-mails so if you don't get a response, please e-mail me again.
Porch Questions: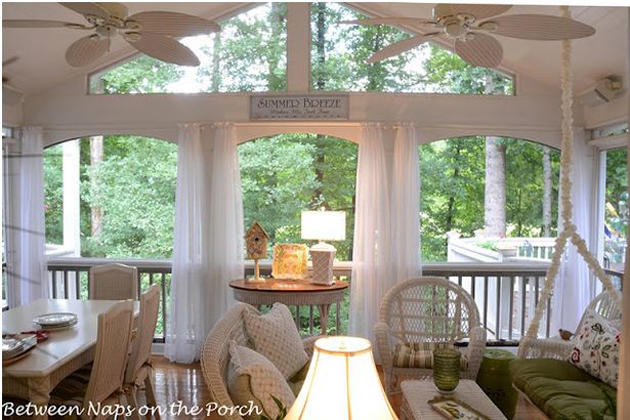 Q. What size is the porch?
A. The porch is 18 feet wide and 14 feet deep. The ceiling reaches 12 feet at its highest point.
Q. How is your porch floor constructed?
A. The porch floor is a tongue and groove, pressured treated pine floor called KDAT, which stands for Kiln Dried After Treatment. You can read more about KDAT, HERE. My contractor had it professionally installed, then it was sanded and coated with two coats of polyurethane. He had a very thick, heavy duty subflooring installed and the KDAT flooring is both nailed and glued to the subflooring. Here's a photo showing the subflooring. I wanted a solid flooring (not decking) to ensure bugs and mosquitoes couldn't sneak in. If you go with deck flooring, bugs will sometimes come in through the spaces between the decking, unless you screen underneath the deck. Then debris gets caught in the screening. I wanted to avoid all those issues so I went with KDAT flooring.
The porch is around 4 years old and the flooring has held up well. I've had a teeny bit of cupping on one edge of the flooring, but not enough to be a problem or to even be noticeable. My contractor initially recommended a tile floor but I really wanted a porch with that old fashioned porch feel. Initially, I planned to paint the floor a porch gray. I decided in the end I wanted the transition to the decks on either side to be seamless, so the porch floor is stained with the same stain I chose for the decks, Cabot's Heartwood.
Q. Do you have problems with rain on your floor or on your furniture on the porch?
A. I have a fairly large overhang so when it rains it rarely comes in on the floor. Occasionally, when we have strong, blowing rains, the floor will get wet a few feet in on the front side. The flooring is made to be outdoors on porches so this has not been a problem. The only furniture that gets wet is the oval table nearest the screens, and since it's wicker with a heavily polyurethane top, this hasn't been a problem.
Q. How do you keep your porch so clean?
A. The porch is a full story up off the ground…that probably helps keep it a bit cleaner than if it were on ground level. From April to around November, I vacuum it about once a month and give it a general dusting…takes about 15-20 minutes. It's a porch, so I don't worry too much if it's a little dusty or dirty, but I do enjoy cleaning it which is weird since I never really enjoy cleaning inside. The only really bad time is during pollen season. During those few weeks, I take the cushions in (if I can remember) and just wipe the porch down about once a week until pollen season passes. I'm always very glad when that's over, because the pollen is INTENSE here.
Q. I have a question, I wanted to know on your screen porch, did you use an outdoor paint on your hutch. My house we had in the city, had a screen in porch across the back and pollen and mildew were an issue. Just wondering what you do to prevent this. But your porch is much larger, you may not have this problem. Before we add a porch on the back, I want to be prepared!
A. Yes, I did use an exterior grade paint on the green hutch, even though it's in a protected location on the porch.
I used exterior grade because the paint store recommended it as an extra precaution for the temperature fluctuations and humidity. You'll find a tutorial showing how I painted the hutch along with the paint color/formula in this post: How to paint a Dark Stained Hutch
For the most part, humidity/mold/mildew have not been a problem on the porch. The swing and seating group are all "outdoor" wicker and are meant to withstand weather shifts. The wicker coffee table is real wicker but was very inexpensive ($22 from a local thrift/antique store) so I won't mind too much if it begins to show some wear. So far it looks great but again, it never gets rained on directly.
The dining table and chairs are probably meant for indoor use, but I took a chance and they have lasted through four winters beautifully. The only piece on the porch I've had any problem with is the oval wicker table that's close to the screened windows. It occasionally shows spots of mildew/mold so I use a water solution with just a hint of of bleach or 409 to wipe down the legs about once a year.
Q. Where did you find the Summer Breeze sign?
A. I found this one at a local thrift/antique store for $35. You can also find them online for around the same price by Googling the phrase, "Summer Breeze Make Me Feel Fine sign."
Q. Do you have plans or blueprints I could borrow?
A. No, sorry, I do not have any plans or blueprints.
Q. Where did you purchase the furniture on your screened in porch?
A. Dining set came from Pier 1; Swing came from Wicker Paradise, HERE; the outdoor wicker seating group came from Pier 1. I think they have it in again this spring/summer (2012). The coffee table came from a local antique/thrift shop; the oval wicker table is old and came from a local antique shop.
Q. What kind of fans do you have on the porch and where did they come from?
A. The fans are outdoor grade and are made by Hunter. I special ordered them through Lowe's. They were perfect for the porch because the finish is done to mimic white wicker. Exterior grade ceiling fans is one of the nine features you'll find mentioned in this post: 9 Great Features for Your Screened-in Porch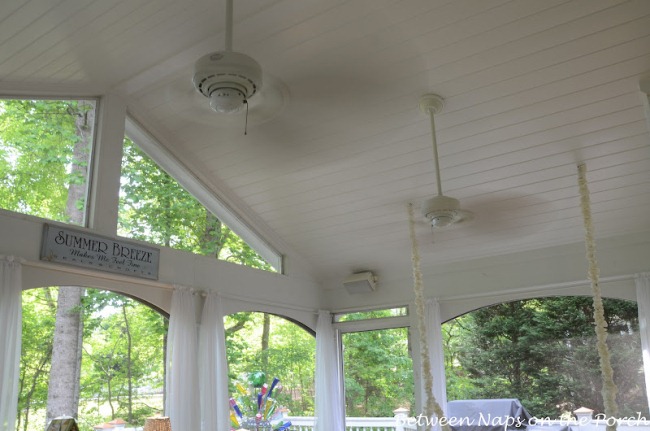 Q. What is the ceiling made of on the front porch and the screened-in porch?
A. I'm not real sure. I believe it came in sheets and was kind of bead-board product. It has a narrow bead board look on one side and a wider plank look on the other. I chose to show the narrow, bead board side on the front porch ceiling and the wider, plank look on the screened-in porch ceiling. Here's a photo of it right after it was installed on the screened-in porch. Wish I had been blogging back when it was built. I would have taken lots more pics and gotten a bit more info on all the little details. Hopefully by seeing this in the raw, if you're interested in having a ceiling like this, a Lowes associate should be able to identify it since I'm pretty sure my contractor bought everything at Lowes.
If you're thinking about adding a screened-in porch to your home, here are some past posts you may be interested in checking out:
9 Great Features for Your Screened-in Porch
Hiding Ugly Swing Chains
Painted Hutch for Porch
Information about the front porch addition can be found here: How Much Does It Cost To Build a Front Porch Addition
Paint Questions:
Paint Brand and Colors Used Inside My Home:
Entry, Kitchen, Office and Master Bedroom: Duron, Sugar Cookie. Home Depot or Sherwin Williams can mix this color now that Duron stores are closed. You'll also find the exact formula in THIS post.
Dining Room: Benjamin Moore, Raspberry Truffle
Guest Room: The yellow was a custom color mixed to match the yellow in the Sanderson floral pillow fabric.
Upstairs Family Room: Duron, Tea Biscuit. Home Depot or Sherwin Williams can mix this color now that Duron stores are closed. You'll find the paint formula in THIS post.
Tablescaping Questions:
Q. How can I find all the past tablescapes you've posted for Tablescape Thursday?
A. Just click on the category heading "Tablescapes" Category at the top of BNOTP and you'll find past tablescapes grouped according to seasons, holiday, etc…
Q. Where do you keep all those dishes?
A. I recently turned a rarely used coat closet into a china closet and the other storage areas can be seen in THIS post.
Q. Do you actually eat at the tables you create for Tablescape Thursday?
A. The answer is yes and no. I have taken pics of tables I've created for family, friends and dinner parties and later shared those tables on BNOTP for Tablescape Thursday. I also create table settings just for Tablescape Thursday.
Q. Isn't it hard to see and talk to the other guests over a tall table centerpiece during the meal?
A. If the table has been decorated with a tall centerpiece or floral arrangement, just move it from the table to a sideboard or another surface when guests sit down for dinner. Imagine how boring our table settings would be if we limited ourselves to using just short, stubby things for the center of our table settings. There would never be any elegant, tall floral arrangements. Well, good news, you can create tables you love and use whatever you like! Simply place the taller elements of the centerpiece (like a tall floral arrangement) on your sideboard or display them in another location when it's time to sit down.
Q. I adore the white lace chargers you purchased from Horchow a few years ago, you said. I went on their web site and they were not there. They had some white type chargers but not the same ones you have. I like yours much better. Any ideas on where to find them?
A. I ordered the pierced chargers from Horchow in February 2008, before I ever began blogging. Unfortunately, there are no markings/brand name on the chargers themselves. (Fall table setting below can be viewed here: Autumn Table Setting
I bought a dozen of the lacy ones (see above) and a dozen of the white chargers (see below) thinking that if I had off white and white chargers, I'd have chargers for almost any dishware I used in a table setting. I have seen the white ones come back again on Horchow, but they weren't there long before they were gone again.
Halloween table setting below can be viewed here: Halloween Table Setting with Mercury Glass Pumpkins and Crow Centerpiece
Q. "I'm wondering how many place settings you would recommend buying when you find a pattern you like? I always feel like I should buy 6 or 8 of each pattern but then I don't have a whole lot of storage. Is there a number that seems to work out best for you?"
A. Click HERE for a post I've written about this subject.