Welcome to the 236th Metamorphosis Monday!
Hope you had a wonderful weekend! I spent all day Friday and Saturday at the Haven Conference in Atlanta. On Sunday, I finished putting out another 25 bags of mulch. That brings the total to 102 bags of mulch! Normally it wouldn't take that much mulch but many of the beds/islands are empty, awaiting shrubs this fall.
Today I'm taking you into the yard to share a few close-ups and to share how the Zeon Zoysia sod looks after being on the ground for 4-5 days. Even after my landscaper installed 4 additional pallets of sod, bringing the pallet count to 16, we still could have used a bit more.
Come, let's take a walk around and I'll share some of the changes.
The island that's always been in front of the house was reduced in size a good bit when the yard was sodded. Toward this end (the right end) of the island, I left an area in front of the shrubs to plant a few annuals throughout the year.
In this overhead view looking down into the yard from an upstairs window, you can see how the island curves outward in front of the shrubs on this end. I've built that area up with a bit of topsoil so the flowers will be easier to see from the road.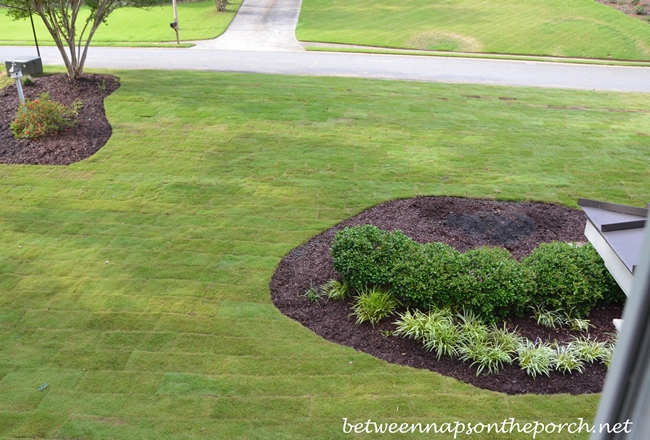 I left a nice little area in front of the shrubs, just in case I decide to go back and add in some daylilies or other flowers later on. Right now, it makes a great pathway for pulling my big flower cart. Wish I had thought to take a picture of that cart because it is my most favorite gardening tool. I couldn't live without it! In a future post I'll share it with you in case it's helpful.
The grass is starting to settle in now. I've been watering it a good bit, encouraging those roots to grow, grow, grow!
If you are thinking of sodding your yard with Zeon Zoysia, or really any zoysia, I wanted to share something I didn't know but wish I had known. Did you know that different farms cut their sod in different lengths? All my Zeon Zoysia came from one source, Sod Atlanta, but apparently they use different types of cutting machines on the various sod farms where they grow the grass. The first 12 pallets my landscaper installed were this size.
When we realized we needed more, the next four pallets that were delivered arrived this size…much, much longer. I like the longer size a lot better because there are less seams to have to grow together and it just looked better right after installation. So, the moral of this story is, when you're buying sod, ask the landscaper to request the sod be cut from a farm that's using machinery that cuts longer pieces, if you have a choice in the matter. You may not have a choice but it doesn't hurt to ask.
I have a few suspect pieces up near the road that may or may not have to be replaced. They appear to have some green growing in the center so they may be okay…it's a little too soon to tell. My landscaper said it's pretty common to have a few pieces that don't do well and he'll come back and replace those. What do you think…think those blackish looking pieces are going to be okay or are they gonners?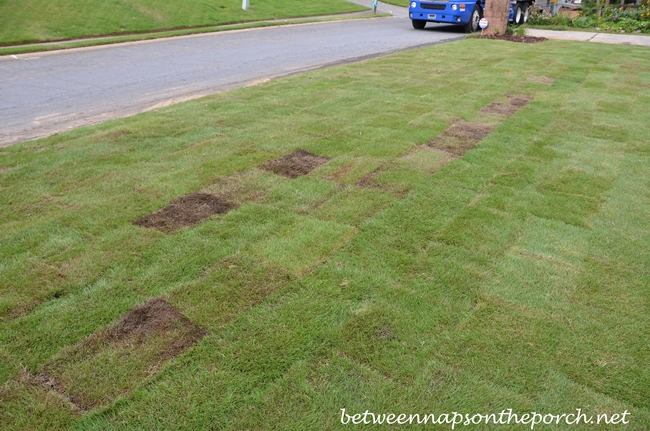 One big change that I'm loving is having the grass going all the way up to the walkway on this end of the island. In the past, the island stretched out all the way to the walkway since there was a River Birch planted at this end. There was also a cluster of small nandinas on this end which weren't doing too well due to the birch tree. With the removal of the birch, I shortened the island and now there's grass right up to the walkway. I love how it opened the area up where you can see the magnolia and another annual bed I have along the walkway. Let's walk over a little closer and you check out my little bird girl.
Remember the book, Midnight in the Garden of Good and Evil? Clint Eastwood later made a movie based on the book. I loved the little bird-feeder girl pictured on the front of the book and found a small one years ago for my little annual garden in front of the magnolia. The original bird girl used to stand in Bonaventure Cemetery, a beautiful, historic cemetery located just east of Savannah, Georgia.
Unfortunately, she had to be removed from the cemetery. When the book (and later, the movie) came out, folks flocked to Bonaventure to tour some of the places mentioned in the book/movie and folks were chipping off pieces of her to take as a souvenir. 🙁
So the family had to remove her from Bonaventure to a safer place. Not sure where she ended up, maybe in a family garden perhaps?
Update: The sweet Bird Girl can now be found in the Telfair Museum in Savannah.
If you ever visit Savannah, be sure to tour Bonaventure. It is absolutely beautiful! Bonaventure is located along side the the Wilmington River and it is truly a gorgeous place. The statuary throughout is also wonderful!
My little bird girl watches over one of my annual beds. Sadly, it has no flowers at the moment.
Isn't she sweet? Just love her each time I see her here in the garden.
Here's an older photo of her from when the Blackeyed Stella daylilies and the Magnolia tree were blooming. Pssst: You can take a tour of Mercer House from the movie, Midnight in the Garden of Good and Evil here: Midnight in the Garden of Good and Evil, Touring Mercer House
Remember when the walkway from the driveway to the house looked like this?
Here's how it looks today. Just around the curve is where you'll find my little bird girl waiting to greet you.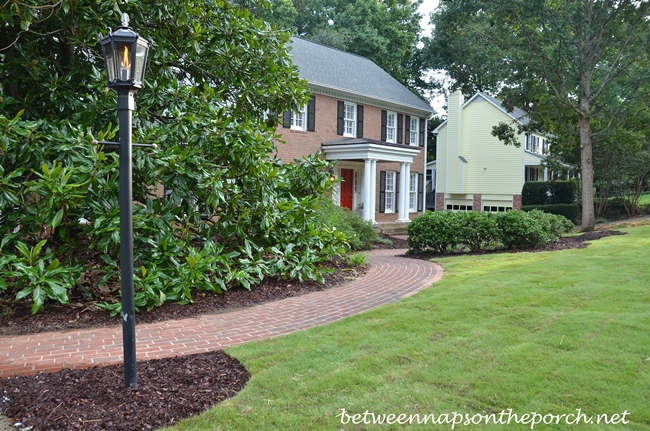 There is still sooooo much to be done here in the yard. So much! I'm trying to just focus on one project at the time so it doesn't feel too overwhelming. It's time to add some color to the beds…stay tuned, that's coming soon! 🙂
Update: I've made a change to how the links will display for Met Monday. They will display randomly each time you visit BNOTP so all participants will have a chance to have their link displayed near the top of the group of links. You'll be able to easily tell which links you've already visited since those links will change color once visited. Looking forward to the Before and Afters posted for this Metamorphosis Monday!
Metamorphosis Monday: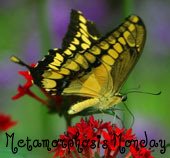 If you are participating in Metamorphosis Monday you will need to link up the "permalink" to your MM post and not your general blog address. To get your permalink, click on your post name, then just copy and paste the address that shows up in the address bar at the top of your blog, into the "url" box for InLinkz.
In order to link up, you'll need to include a link in your MM post back to the party so the other participants will have an opportunity to receive visits from your wonderful blog readers.
Please observe these few rules:
Only link up Before and After posts that are home, gardening, crafting, painting, sewing, cooking, DIY related.
Do not link up if you're doing so to promote a website or product.
Do not link up a post that was just linked last week since a lot of readers will have already seen that post.
Do not type in ALL CAPS. It spreads the links waaaay out.
Let's try something fun today! Please visit the person who linked before you and after you…that way everyone will get some visits.




Welcome! Thanks for coming to the party!
*If a post is sponsored or a product was provided at no charge, it will be stated in post. Some links may be affiliate links and as an Amazon Associate, I may earn from qualifying purchases. *