Welcome to the 498th Metamorphosis Monday!
I've been away the past few days visiting family. As I was thinking about what I might share with you today, I remembered a fascinating stop we made during my trip across Ireland last year. I think it was on the same day we visited Blarney Castle.
As we were heading back to our manor home for the night, we stopped for a little shopping excursion inside the Newbridge Silverware Factory. We saw a lot of beautiful silver wares, but I resisted purchasing anything during that stop.
In a separate area, but attached to the factory & store, we viewed the most unexpected exhibit: the Newbridge Silverware "Icons of Style Museum." I took a lot of photos inside, too many to share in one post, so there will need to be a Part II, for sure
On display throughout the museum were clothing and costumes worn by celebrities in movies and/or famous individuals during very important events.
There were so many beautiful dresses and articles of clothing on display, including this pink cocktail dress worn by Audrey Hepburn in the movie, Breakfast at Tiffany's.
Remember this hat? It was designed by Givenchy and Audrey wore it in the movie, Funny Face as she sings "How Long Has This Been Going On."
This beautiful dress was worn by Princess Diana
Often displayed beside the item was a photo of the person who wore it. I always feel sad when I see beautiful photos of Princess Diana whose life was way too brief. 🙁 Wish she could be here to see her beautiful grandchildren.
Princess Diana's Wedding Gown Toile was also on display. Here's a bit of information about what a Toile is and why it was created for Princess Diana's wedding dress.
This is the actual wedding toile below. It definitely resembles the final dress she wore on her wedding day.
A little more information about the process that went into making Princess Diana's wedding dress.
There were so many different types of clothing-costumes on display. This white silk shirt belonged to Michael Jackson and was worn during his performance of the song, Black or White at the Apollo in 2002.
If you are an Elvis fan, you may remember this red jacket. Elvis wore it and the white t-shirt underneath in the movie, Speedway in 1968.
Can you guess who wore this beautiful yellow dress?
Designer Roberto Cavalli, seen in this photo with the Beckhams, designed the dress for Victoria Beckham to wear during a pre-world cup party she and her husband, David hosted in their home in Hertfordshire in 2006.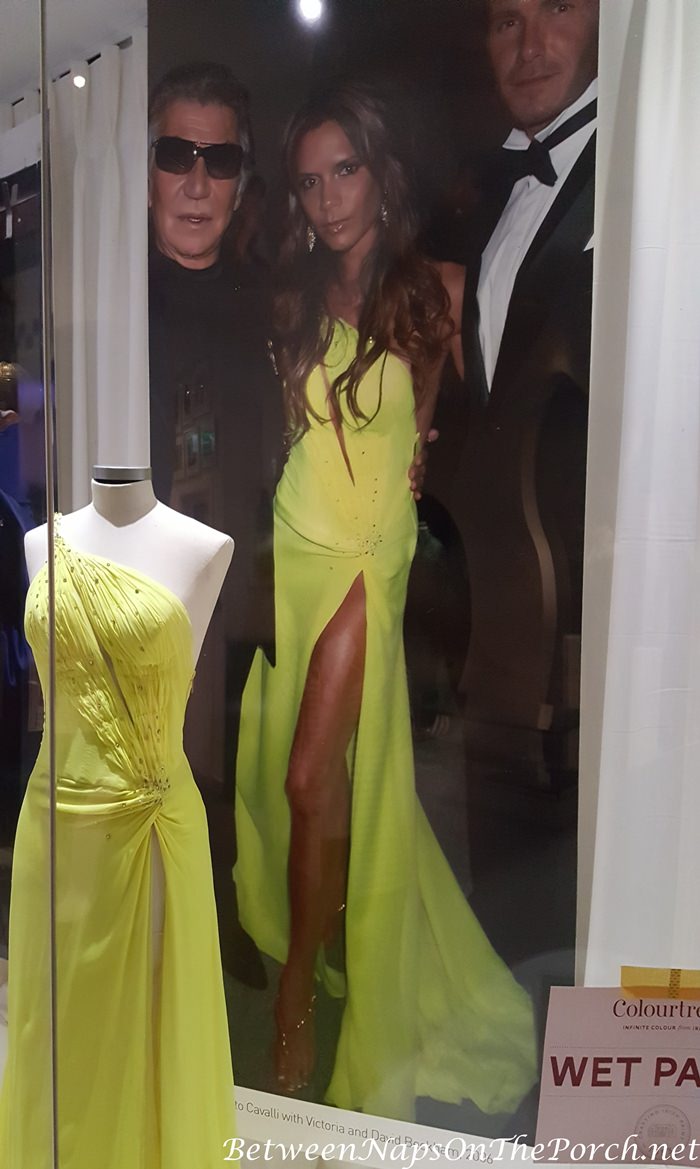 I'm looking forward to sharing more from the Museum of Style Icons soon. Many of the costumes on display are from some of the most iconic movies, just couldn't fit them all into one post, but will share them soon!
Looking forward to all the great Before and Afters for this week's Metamorphosis Monday!
I post regularly on Instagram. Follow Between Naps on the Porch on Instagram here: Between Naps On The Porch.
If you enjoyed this post, subscribe for free email updates when a new post is up here: Subscribe for post updates.
Tip: Please do NOT use a Hotmail email address to subscribe. Hotmail is notorious for filtering out perfectly good emails. Google and you'll find tons of people complaining about this. I regularly hear from subscribers who used a Hotmail address to subscribe and are not getting blog post updates, so please use another email to subscribe. Gmail is awesome, their email is great and it's free.
Metamorphosis Monday
Metamorphosis Monday is a party that's all about Before and Afters. If you are participating in Met Monday, please link up using the "permalink" to your MM post and not your general blog address. To get your permalink, click on your post name, then just copy and paste the address that shows up in the address bar at the top of your blog, into the "url" box for InLinkz.
In order to link up, you'll need to include a link in your MM post back to the party so the other participants will have an opportunity to receive visits from your wonderful blog readers.
Please observe these few rules:
Please link up Before and After posts that are home, gardening, decorating, crafting, painting, sewing, cooking, fashion or DIY related.
Be sure to include a link back to the party in your post, so your readers will be able to find and visit the other bloggers who are participating.
Do not link up to the party if you're only doing so to promote or sell a product.
To those who are linking up: If you notice a shop or online store linking up to sell products (yes, unfortunately, that does happen) please let me know so I can remove their link and block them from participating in future parties. No one wants to click a link expecting a Before and After, only to find a spam link to an online business/store.

*If a post is sponsored or a product was provided at no charge, it will be stated in post. Some links may be affiliate links and as an Amazon Associate, I may earn from qualifying purchases. *