Welcome to the 515th Tablescape Thursday!
The Limelight hydrangeas in front of my home are still blooming, so I couldn't resist using them again in a summer table setting here on the screened porch.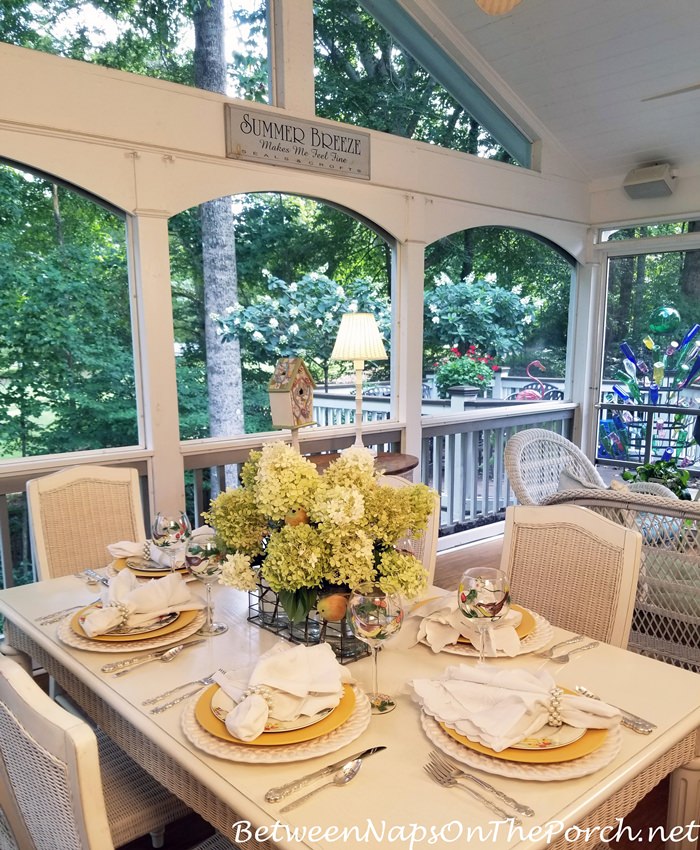 See that big gap, one hydrangea fell over and I didn't notice it until I was done taking pictures.
While I was setting the table, little birds flew in and nested down inside the hydrangeas! 😉
So you may see sweet little faces peeking out from the centerpiece in this summer table setting.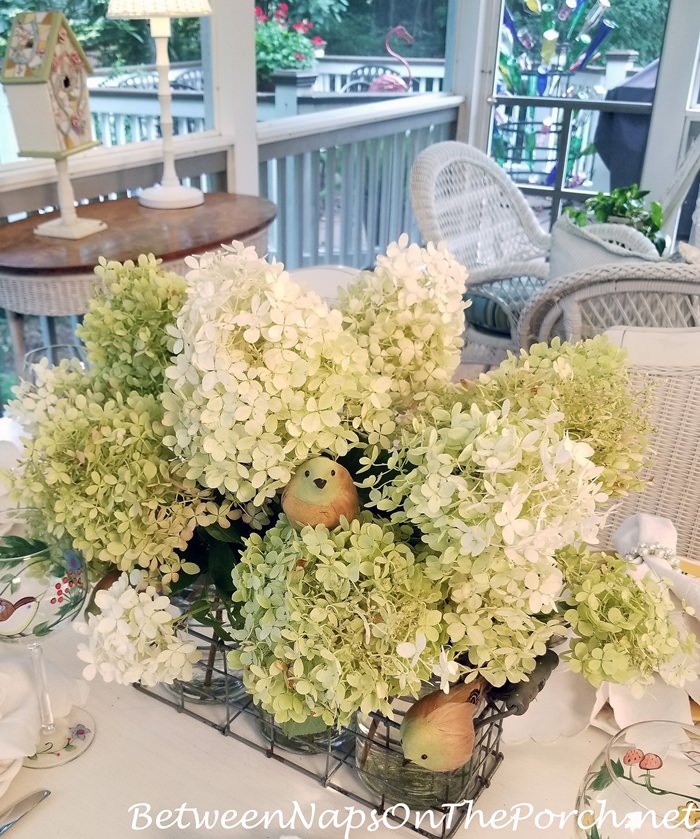 At this point during the summer, the white blossoms are in the process of turning that soft, green color from whence they take their name. Such a gorgeous color!
For this centerpiece, I placed the hydrangeas inside a rustic wire container found in Marshalls many years ago. The wire container holds three glass jars and each jar has a criss-cross type metal top that's perfect for creating a floral arrangement.
Here's a photo from an older post showing one of the jars.
Here's a better view of the container filled with honeysuckle in this previous table setting: Easter Table with Honeysuckle Centerpiece.
I just Googled to find the name of those little criss-cross style tops and I found some that can be placed on top of mason jars for this same purpose…for floral arranging. You'll find those here: Floral Arranging Inserts. Had no idea you could buy the tops until I found those this evening. Cool idea!
The white chargers were a find on Horchw online back in 2008. On back, they are hallmarked: Vintage Garden, Ambiance Collections.
I did something with the napkins in this tablescape that I've never done before.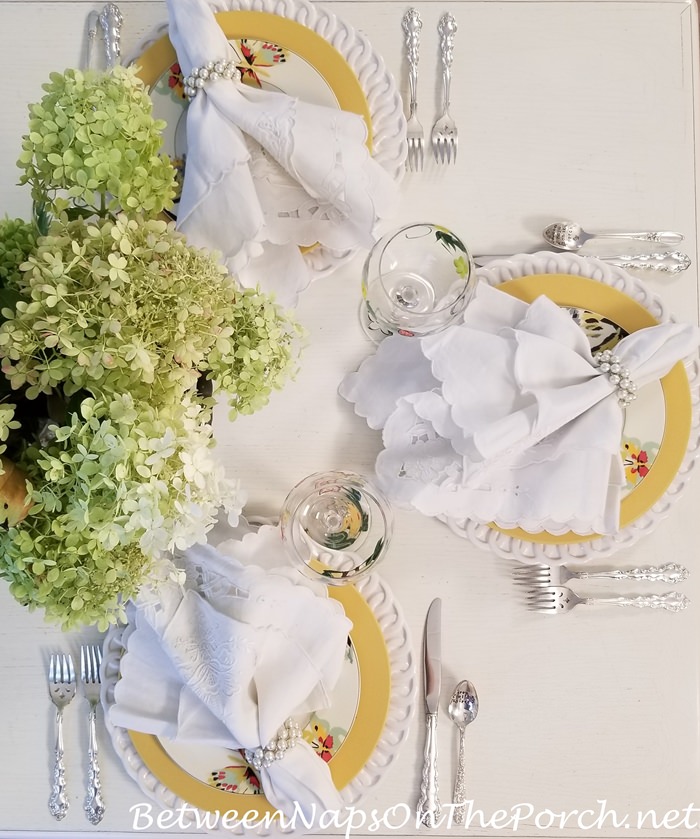 I had a really hard time choosing the napkins to use for this table setting. I finally settled on white, vintage, linen napkins with a beautiful embroidered design. The linen was so well pressed and flat, it wasn't filling out my napkin rings very well. So I layered two white napkins together, each with their own embroidered design. That worked much better.
You can see the two different embroidered patterns in the photo below. This is the first time I've ever layered white with white and I kinda like it! I'd like to think anyone dining at this table would feel totally spoiled with not one, but two embroidered napkins to use. One of the napkins was a fair amount smaller, so guests could place the larger one across their lap and use the smaller one as needed.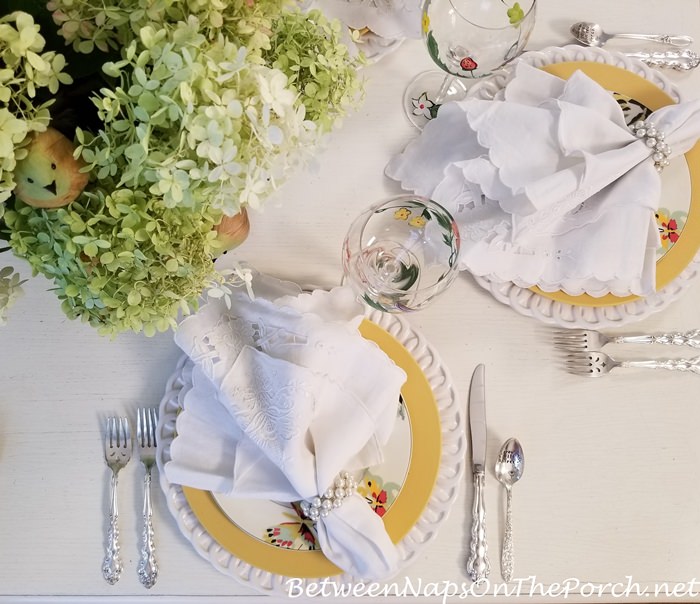 The pretty butterfly salad plates are a Mikasa pattern called, Modern Butterfly.
Unfortunately, I don't think this pattern is still available.
You may remember these sunny-yellow dinner plates, I've used them several times for Tablescape Thursday. Noritake sent those to me many years ago and I love using them during the summer and fall months. They are part of Noritake's Colorwave Collection and are available here: Yellow Colorwave. The Colorwave Collection comes in many different colors—find those here: Colorwave Collection.
The faux-pearl napkin rings are from Old Time Pottery, a steal at only $1 each.
Many years ago I came across these painted wine stems in Old Time Pottery.
I loved the sweet bird designs and collected as many different designs as I could find.
So far, I've managed to not break any, which is a miracle since these are the wine glasses I use the most often during the summer months.
For this table setting, I'm using vintage, silverplate flatware purchased on eBay many, many years ago. I've forgotten the name of the pattern, now, but it's a popular one. Anyone recognize it? It will probably hit me tomorrow, long after this post is up. lol That's about the way my brain works.
Instead of using the matching teaspoon in this pattern, I decided to use these sweet "message" spoons. This one says, "Grow wild and free" which seemed appropriate in a summer table with a floral centerpiece.
I need to buy more spoons with summery sayings. This one reflects my love for travel with the message: Let's go on an adventure. I guess that works for a summer table since summertime is a popular time for travel and vacations.
I ordered this one with a saying from one of my favorite books. Can you guess the book? Bonus points if you can name the author. 🙂
Of course, I had to have one made with this wording. Since I love watching the birds from the porch as they come to the feeders, I requested a couple of sweet birds, too. I love these little spoons so much!
This one is really more beach-themed. It says, Mermaid kisses, Starfish wishes. I need to order a few more spoons with beachy sayings, would love to use those in a future beach-themed table.
I purchased all these sweet message spoons here: Message Silverplate Spoons. I love that they can be personalized with your own favorite saying, as long as it will fit on a spoon. I think they make the best gifts when combined with a beautiful mug.
Hope you enjoyed this summertime table here on the porch! I'm looking forward to all the beautiful tables linked for today's Tablescape Thursday!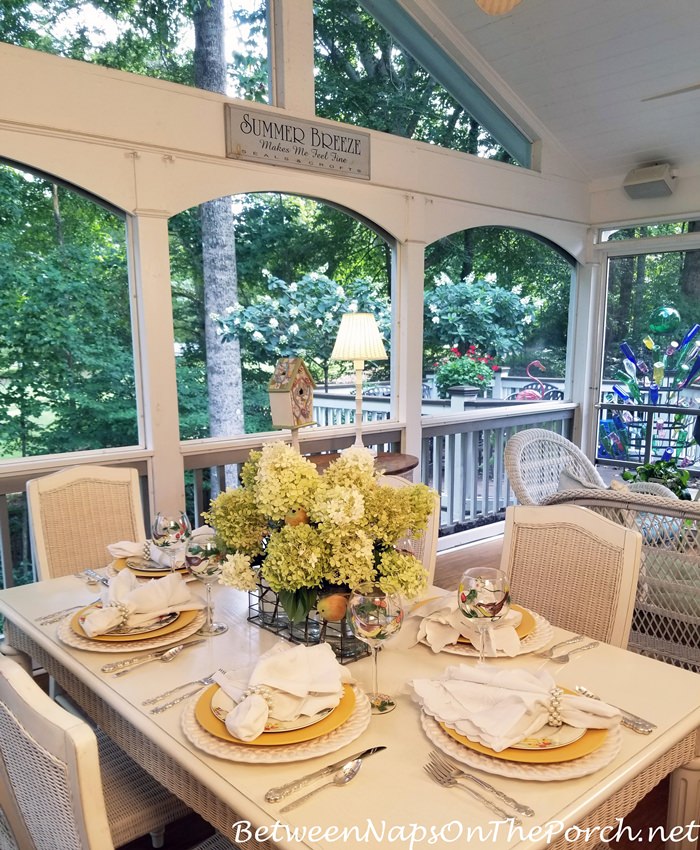 Pssst: I post almost daily to Instagram. Follow Between Naps on the Porch on Instagram here: Between Naps On The Porch.
If you enjoyed this post, subscribe for free email updates when a new post is up here: Subscribe for post updates.
Tip: Please do not use a Hotmail e-mail address to subscribe. Hotmail is notorious for filtering out perfectly good emails. Google and you'll find tons of people complaining about this. I regularly hear from subscribers who used a Hotmail address to subscribe and are not getting blog post updates, so please use another email to subscribe if possible. I've found Gmail to be awesome, it's what I use and it's free! Plus, they don't filter out the e-mails you want in error like Hotmail does.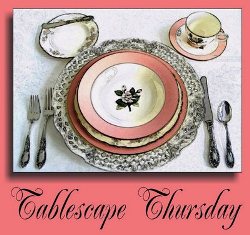 Tablescape Thursday
If you are participating in Tablescape Thursday, please be sure to add your permalink below, and not your general blog address.To get your permalink, click on your post name, then copy and paste the address showing in the address bar, into the "url" box when you link up.
You'll need to include a link in your post back to the party to link up and participate. That's so visitors to your blog will be able to find the party and the other Tablescape Thursday participants. Requiring a link back also prevents businesses and scammers from linking up to sell their products. (Yup, that really happens, unfortunately.)
*If a post is sponsored or a product was provided at no charge, it will be stated in post. Some links may be affiliate links and as an Amazon Associate, I may earn from qualifying purchases. *