So, I have this outdoor outlet that's been bugging me. When ever I take pics of the front porch for zay blog, it always sticks out like the proverbial sore thumb. The outlet that was original to the house had quit working.
When I purchased a new outlet, I thought a white outlet would be a nice change and look good with the white porch. Bad idea. I now realize I basically want the outlet to just disappear, not coordinate to the porch. It doesn't look that bad in this photo below but in person, it's really obvious. (Christmas porch post can be viewed here: Christmas Porch with Triple Wreaths: Inspired by Grandinroad)
Sometimes I photoshop it out of photos just to make it go away.

It can really stand out when I'm trying to snag a close-up.
Update: Some folks have asked about the garland on the columns…tutorial for making the garland can be found here: Tutorial: Make Your Own Pottery Barn Inspired Christmas Garland
Once again, photoshopped out…much better.
Last Christmas I somehow managed to break one of the little lids off. I was trying to fit a big outdoor extension-cord plug in there for my Christmas lights and it popped off. Since then, I've had the lid sort of wedged on there as a temporary fix to keep the rain out, but recently it fell off again. Time to come up with a more permanent fix.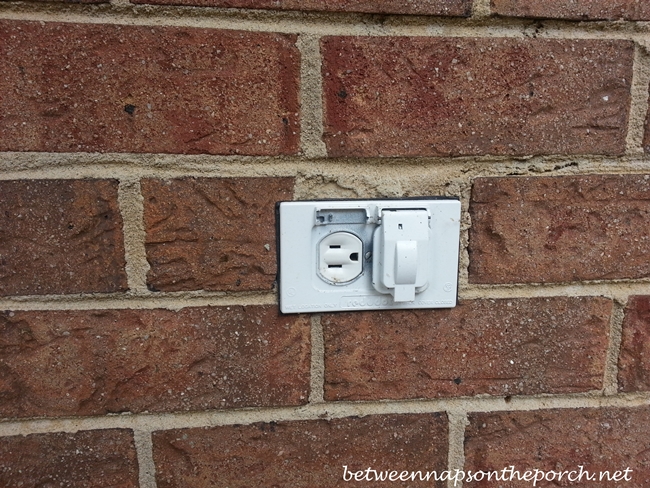 I decided to try this outdoor outlet cover this time around. It comes in gray, white and brown. I went with brown thinking it would better blend into the brick. The front will also expand outward to accommodate bigger plugs so hopefully I won't break the top off again. I like how it has a nice big hole in one corner to allow for the cord.
Installation was a breeze. Just to be safe, I turned off the electricity to the outlet. To do that, I plugged a hairdryer into the outlet, brought the dryer inside to the foyer, turned it on, went downstairs to the panel in the basement and started flipping switches until I heard the hairdryer go off. Once back upstairs, I tested the outlet again with the dryer to make sure it was really dead. Electricity scares the willies out of me!
To install the new cover, all I did was loosen the screws on the existing outlet. The outlet cover came with two long screws but my outlet already had long screws so I didn't need to use the ones that came with the outlet. In the photo below, I had unscrewed the existing screws out a good ways.
After I loosened the screws out, I slid the outlet cover down over the screws and tightened them back down nice and snug. That's it!
Here's how it looks closed. Now I want to replace the outlet itself to a brown one so it will blend even better.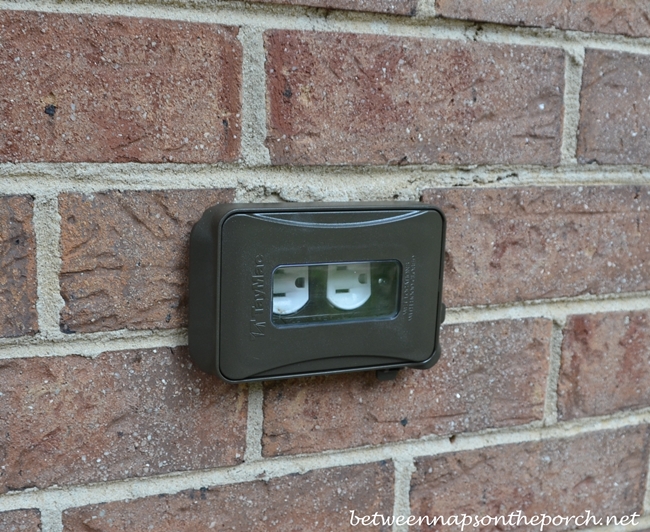 It's a bit less "in your face" than the stark white outlet was against the brick. Would look even better with a brown outlet inside, though…not that I'm perfectionist or anything. 😉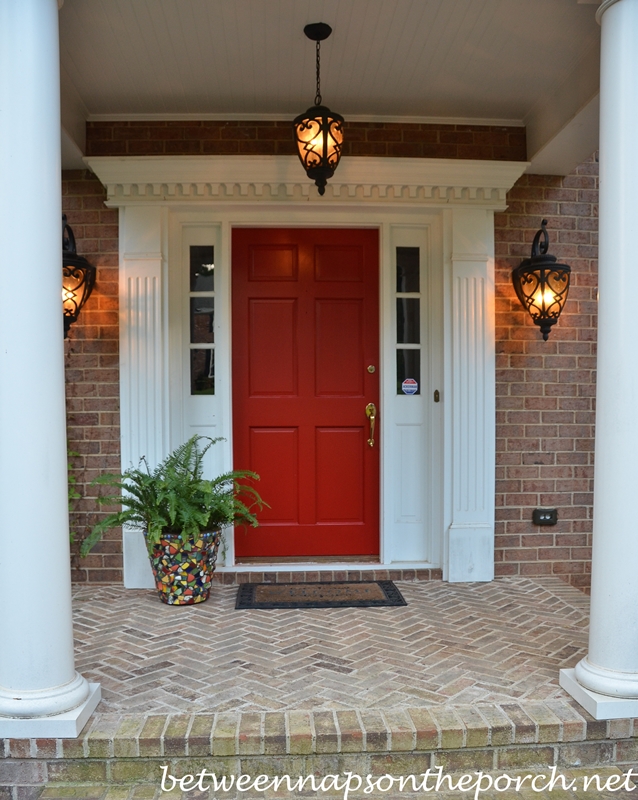 You may remember I mentioned the door was getting a fresh coat of red paint. I decided to remove the brass kickplate that was at the bottom, visible in the Christmas picture above. I still love brass so I didn't remove it for that reason. I just felt like the kickplate shortened the door.
I will be putting a doorknocker back on the door, just need to find one I like. The original one was 35+ years old and was looking pretty rough. Over the years, I've had it polished and re-lacquered twice. The last time the brass guy was in the hospital and his helper friend did it and he did a terrible job. He refused to redo it, saying they were closing the business so I was stuck with a bad lacquer job with runs.
I think I'll go with another brass door knocker, I'm not too crazy about the oil rubbed bronze door knockers I've found online. I love the brass against the red door and I like how it looks with the black lanterns. I've been eyeing some of the cute brass fox doorknockers, but wow, they are expensive! I'll let you know what I ultimately go with but I'll definitely be adding a door knocker of some type back.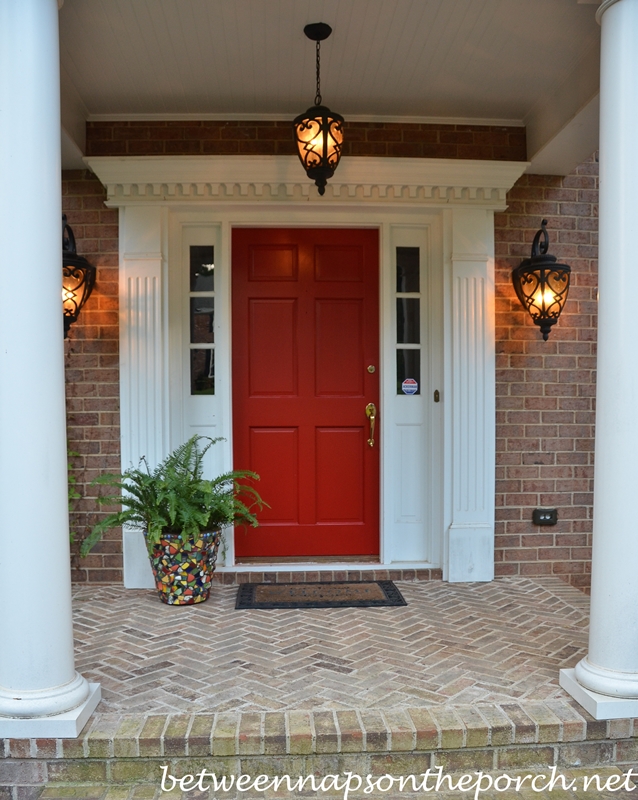 Here's what I'd really like to be adding…an old door like this! Too much going on in the yard right now to focus on a new door, but maybe some day.
SOD is on Rain Delay
I had hoped to be posting all about the new sod that was supposed to be installed today, but there's been a rain delay. 🙁 My sod guy called yesterday morning to say the sod farm can't cut the sod because it's too wet from all this blooming rain we've been getting. So, now the sod is supposed to go in on Thursday. If it happens on Thursday, I'll post about it on Friday so you can see how it turned out.
In the meantime, the delay gave me more time to think mulch. Thank you for all your suggestions yesterday! I decided to give the Scotts Earthgro a try. It's a pine mulch that supposedly will keep its color for one full year. It comes in red, black and brown. I wanted something that would look as natural as possible so I went with brown. I read online, mulches are colored with vegetable dyes and are supposed to be safe. Hope that's accurate since I was breathing a bunch in while spreading it yesterday. I think I'll wear a mask today.
I just started putting it out, you can see some at the top of the picture and some of it at the bottom right corner. It's a nice rich brown color. I purchased 26 bags yesterday, all my SUV would hold. I'm going to buy more today because 26 isn't near enough to cover all the islands. I'm getting some good exercise putting it all out. I've been listening to podcasts while spreading it so it's actually kind of fun.
Keep your fingers crossed for some rain-free days! Thanks again for all your mulch suggestions. I will be referring back to your comments in yesterday's post in the future, especially if I'm not thrilled with how this mulch holds up and retains its color. Will let you know how that goes. Remind me in about six months to give an update, if I forget.
Okay, I'm off to the doctor for an appointment. I think I've got a sinus infection, probably from all the rain.
XO
*If a post is sponsored or a product was provided at no charge, it will be stated in post. Some links may be affiliate links and as an Amazon Associate, I may earn from qualifying purchases. *