Welcome to the 382nd Metamorphosis Monday!
See that chart below? Yay, for sunshine! Finally, the re-varnishing of the screened porch floor can start tomorrow. It was scheduled for almost two weeks ago, but the weather has not cooperated. Finally, we have sunny days ahead.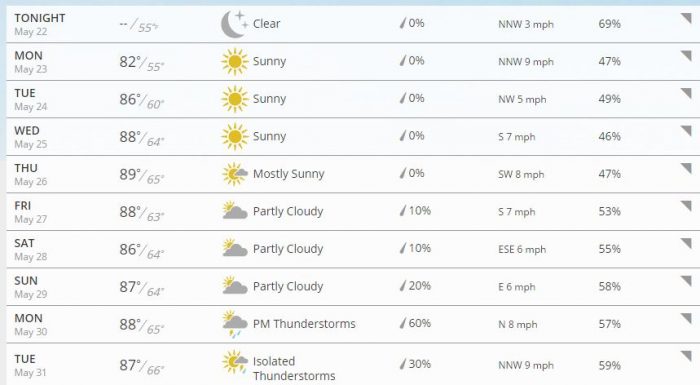 Boxwood Shrubs for the Front Yard Landscape
While I've been awaiting sunny days, my focus has returned to the front yard. Remember this photo of Frances Schultz's adorable house, Bee Cottage? I had a landscape plan done a few years back for the front yard shrubs, but after I saw the elegant simplicity of Frances's front landscape, I've decided to focus mainly on using boxwood shrubs for the front of my home. This is sort of the look I'm going for, shrub wise. (Take a tour of Bee Cottage in this post: Bee Cottage)
Normally I like to let bushes and trees do their own thing and grow in a more free-form style, but since my home is traditional and pretty formal in appearance, I want the boxwoods kept in this cute ball shape. It's looks simple, elegant and maybe just a little whimsical.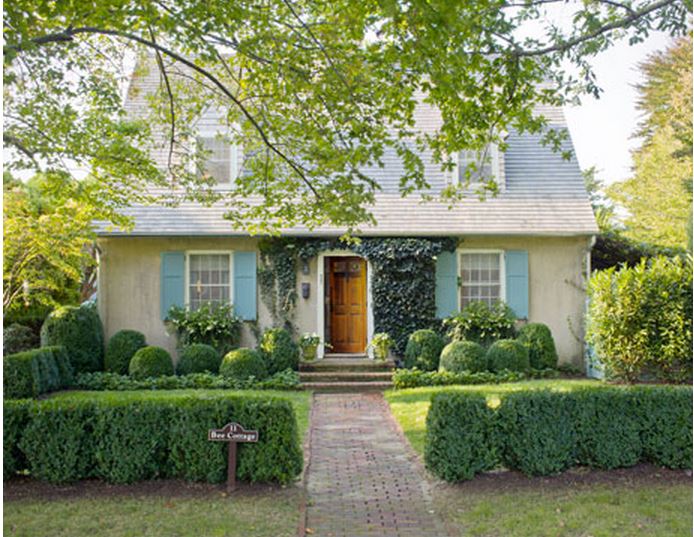 Over the past couple of years I've been trying to find big boxwood shrubs. Boxwoods grow slowly and I was concerned about buying little ones and having to wait forever for them to grow in. Each time I called all the nurseries in the area, I was told the same thing, that they rarely if ever got in large boxwood shrubs. All they ever had in stock were 5 and 7 gallon sizes.
This past weekend I drove over to one of the garden nurseries to look around and they had two huge, 24″ ball and burlap, Green Beauty boxwood shrubs. One measured 27 inches tall and the other measured around 32 inches tall. They were already round, but but by the time they are cut totally round, they would be a couple of inches shorter.
They are shipping in more from another one of their locations for me in case I do want to go with those, but I'm starting to wonder if they will be too big. I read online that Green Beauty can grow to be 4-6 feet tall if left unpruned. They won't be left unpruned, but I'm just not sure if it will be a lot of work keeping them around the height they are now which is what I'll need on the left side of the house.
I also saw a boxwood shrub called Baby Gem that's supposed to stay around 3 feet in height from what I've read online, but they are only around 17 inches tall at the moment. I'm wondering if they will look way too small for several years. I think I'll go buy one today and bring it home to see how it looks.
The other issue is that the Baby Gem boxwood may be too small (even when at their mature height) for the right side of the house where the ground slopes off due to the daylight basement on that end. I'm not thrilled about mixing the two varieties in front, although they do look very similar.
I'll be making a decision this week. If you are familiar with Green Beauty boxwood shrubs, let me know your experience with keeping them pruned to size.
The Waterfall Japanese Maple visible on the left of the photo was transplanted to another location in the yard last fall and is doing great!
Here's how it looks today. I'm so happy it survived the transplant.
Front Porch Update:
Another update I have in the works is for the front porch.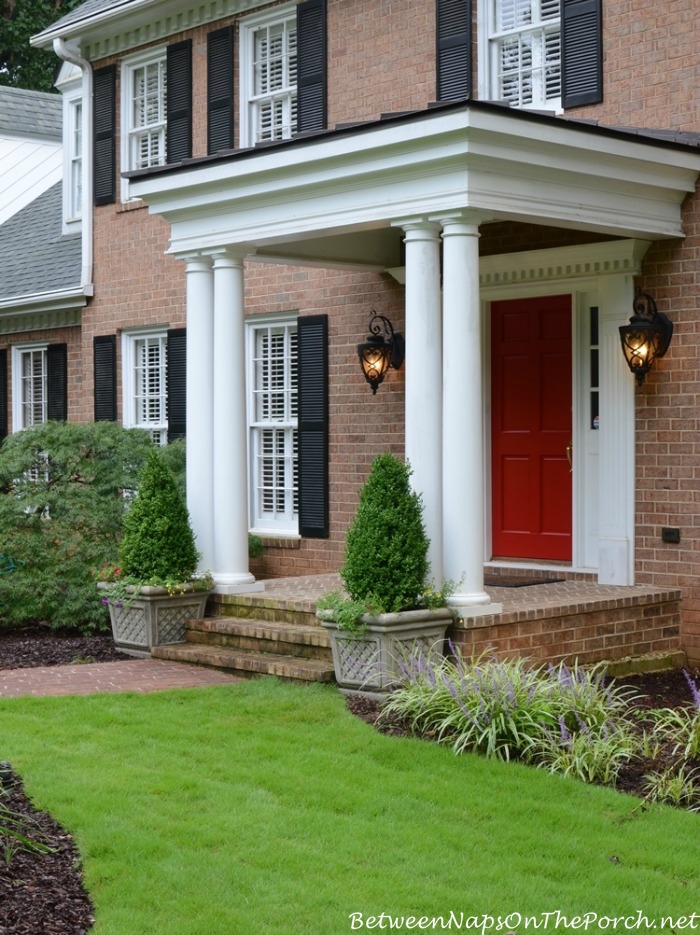 You may remember from previous posts that this porch pictured below was the inspiration for my front porch. I found it in a Southern Homes magazine (miss that magazine!) and my contractor did his best to duplicate it for my home. (Read about the addition of this porch and how much it cost to build here: How Much Does It Cost To Add On A Front Porch)
Notice the benches on the inspiration porch. I've always loved how those looked but wasn't sure my porch was big enough for benches.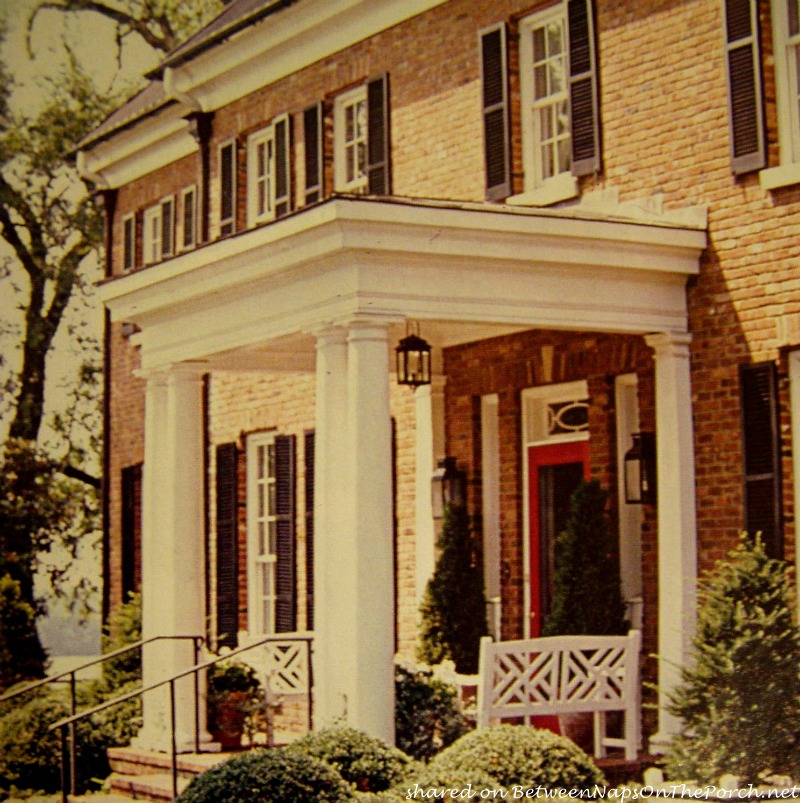 Update: Just found benches that look a lot like the ones on the inspiration porch with the cute Chippendale back. They are available here: White Bench with Chippendale Back. Umm, they are a little smaller so they might actually work better for my porch.
It has always bugged me how the porch just ends there on the sides. Even though the porch isn't that high up, it feels like there needs to be something on the sides, something sort of enclosing the sides of the porch.
I've always though shrubs would do that once they were installed, but I'm starting to realize shrubs may not be big enough or tall enough to accomplish that comfy, enclosed feeling. So I've been rethinking the bench thing and wondering if they would work for my front porch, too.
I've been keeping an eye on the Luciana Bench at Grandinroad, I think they had it available last year, too. I've been stalking it for a while. Recently it was marked down from $399 to $299. This weekend Grandinroad had a sitewide sale: 25% off everything. That brought the cost down to $224, so I went for it. I ordered two benches, one for each side of the porch. Once they arrive, which should be this week, if I don't absolutely love how they look on the porch or if they look too big, they will be going back.
It kind of kills me to order them in black because they come in so many fun colors: red, orange, blue, yellow and lime green. They've even had them in purple before because I saw a review on their site where the reviewer mentioned how cute her purple bench was in her garden. If I were placing one of these in a backyard garden, I'd have to go with purple, although I don't think that color is available this year.
I think the black benches will work better for my somewhat formal style home, especially since I have black shutters.
I think they will work well with the black lanterns on the porch, too.
The black color should also work well with the doormat, another purchase from Grandinroad last year around Christmastime.
I briefly considered ordering them in red, but I like the door being the only red on the porch. It makes it a nice focal point. Plus, if I ever want to paint the door a different color, black benches would work with any color I'd choose.
The benches will go on either side of the porch (behind the columns facing inward) just like the benches in the inspiration photo. I measured and they will fit, just hope the porch doesn't feel too crowded. Right now it feels too open when you're standing on the porch, so hopefully the benches will fix that.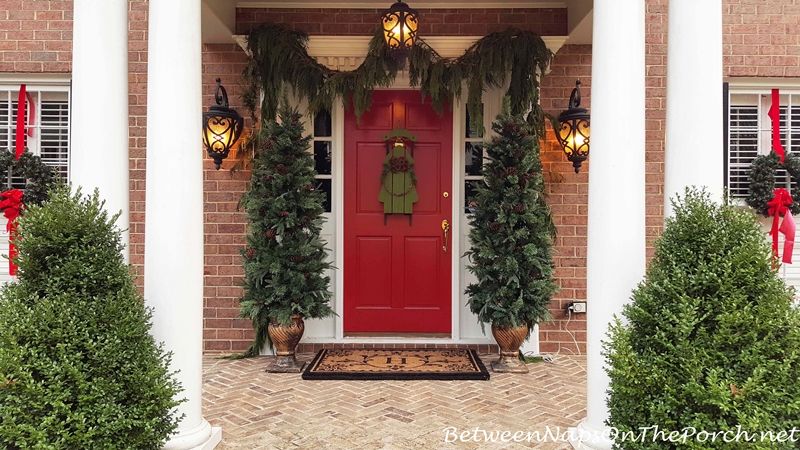 Here are some other garden benches that have stolen my heart while I've been shopping online:
Love the back design of this bench! It's available here: Garden Bench in White
This one is perfect for corners or places where a straight back bench won't work. It's available here: Curved Bench
This one with built-in storage would be great for a deck or patio where storage is needed for cushions. It's available here: Bench With Storage
While we're talking gardening, had to share this adorable potting table I came across recently. It's made of cedar, which is very good, perfect for outdoors. I love the style of it and thought the price was great at $199. It's available here: Potting Table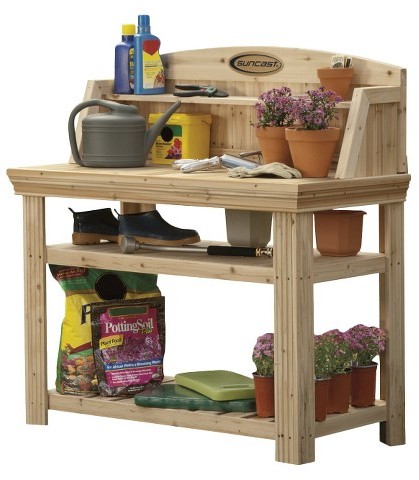 So, that's what is cooking around here these days. I hope to have some updates for you soon.
Looking forward to all the wonderful Before and Afters for this Metamorphosis Monday!
If you are participating in Metamorphosis Monday, please link up using the "permalink" to your MM post and not your general blog address. To get your permalink, click on your post name, then just copy and paste the address that shows up in the address bar at the top of your blog, into the "url" box for InLinkz.
In order to link up, you'll need to include a link in your MM post back to the party so the other participants will have an opportunity to receive visits from your wonderful blog readers.
Please observe these few rules:
Only link up Before and After posts that are home, gardening, crafting, painting, sewing, cooking or DIY related.
Do not link up to the party if you're doing so to promote a website or sell a product.
Do not link up a post that was just linked up last week since readers would have already seen that post.
Please do not link up more than 3 posts per week.
*If a post is sponsored or a product was provided at no charge, it will be stated in post. Some links may be affiliate links and as an Amazon Associate, I may earn from qualifying purchases. *