Welcome to the 240th Metamorphosis Monday!
How's your Labor Day weekend going? I hope you're having a fun one!
Well, it took some doing but I finally found a couple of matching boxwoods for the planters I purchased recently for the front porch area. Remember these large containers I purchased a couple of weeks ago? They replaced the too-small concrete pots that had been there for years.
Amazingly, these lattice-styled containers fit the area on either side of the steps like they had been designed to go there! They are 24 inches square and that's the size of the area on either side of the steps. Lucky break, there!
The tricky part came when I went shopping for boxwoods in a pyramidal shape. Nurseries are kind of low on stock in mid-August since no one in their right mind plants shrubs in Georgia in August! 😉 Well, almost no one.
About a week ago I called a nursery I hadn't visited in ages that's located about 30 minutes from my home. They had 3 boxwoods. I only needed two but was glad they had three from which to choose. Recently, I found two boxwoods in another nursery but they were not remotely "matching" in size. Since these were going to be displayed symmetrically on either side of the porch, they really needed to be very similar in size.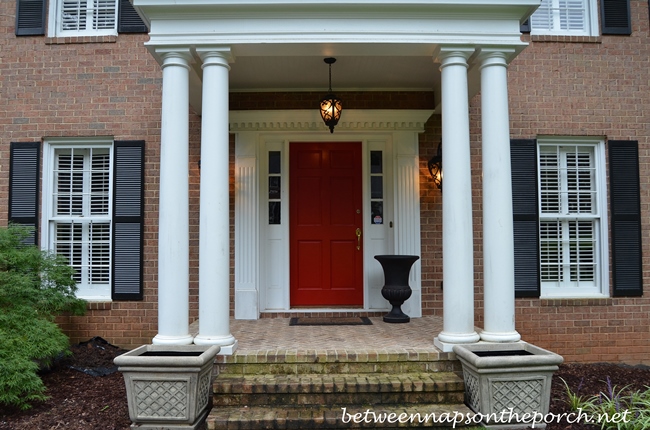 I drove out to the nursery, picked them up and headed back home. I had already taken one out and loaded it onto my trusty garden cart when I took this photo.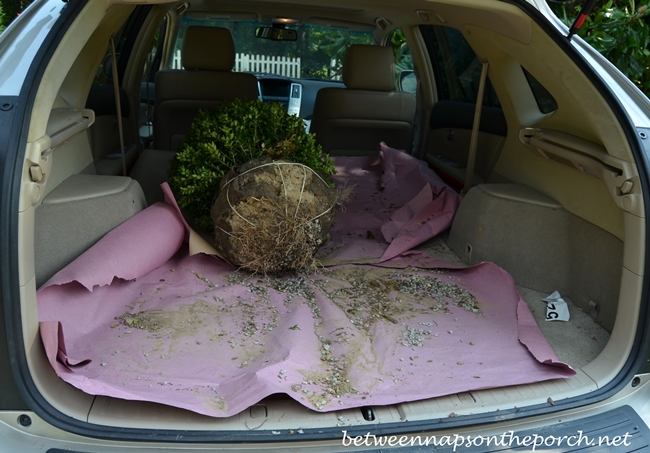 I also purchased this professional grade potting soil since the folks at the nursery said it was the best for container gardening.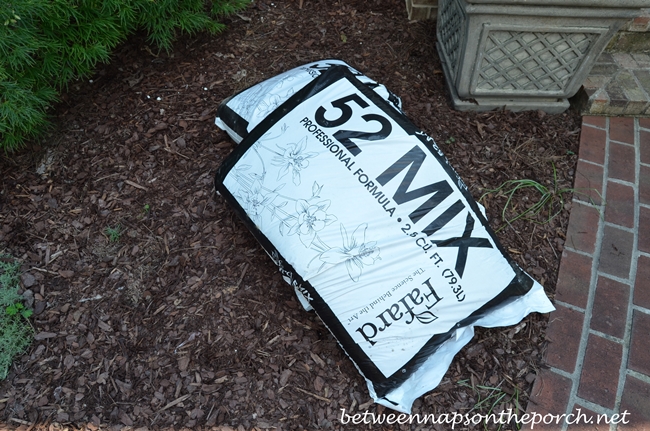 I knew I needed to drill holes in my containers; I had read that online and the folks at the nursery mentioned it, too. I drilled 4 holes with the biggest drill bit I had. I also moved the drill bit around a good bit while drilling in an attempt to widen the holes as much as I could. They looked bigger in person but they look pretty small in this picture. I hope they are big enough, otherwise I'm going to have some unhappy boxwoods.
Since I couldn't make them quite as big as I would have like, I drilled four holes instead of the suggested three. I know it doesn't look like it, but they are about the size of quarters. What do you think? Are they are big enough? I hope so since it would be a pain to dig the boxwoods back out and dump all the dirt out to make them larger.
Once the holes were drilled, I started adding the awesome potting soil.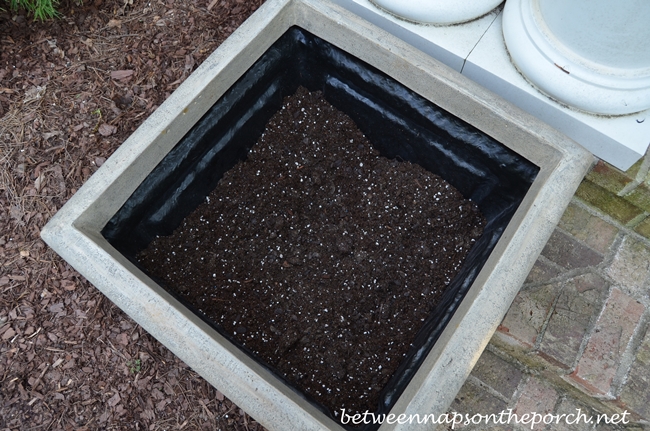 Then it was time to plant the boxwoods. The boxwoods were balled and burlapped so once I got them into the dirt, I cut away the twine that had held the burlap, as well as the burlap from around the very top. The burlap will naturally rot away but the nursery recommended cutting it away from the top saying occasionally a piece of burlap will end up sticking up out of the dirt and showing if you don't.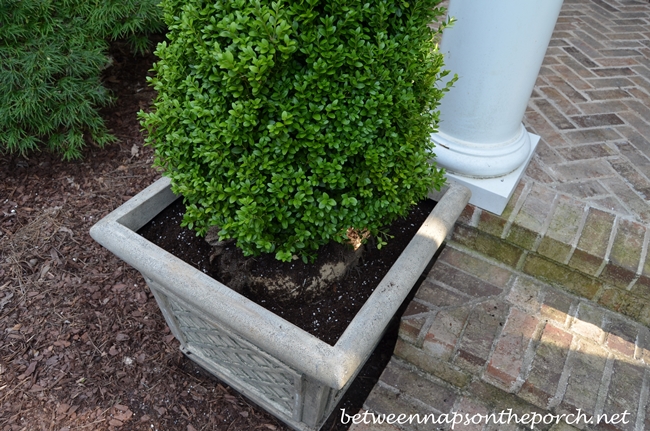 Here's how the container on the left turned out. I added a few annuals around the base of the boxwood for some color. This is a Green Mountain Boxwood (Buxus x 'Green Mountain'). You can read more about it at the Monrovia website. One of the things I really liked about this boxwood is it retains it's color through winter without a lot of bronzing.
Ivy would be beautiful around the bottom too, wouldn't it? Although, I wouldn't want to put anything in that would create a lot of competition for the boxwood.
And here's the container on the right side of the porch.
The view coming down the walkway…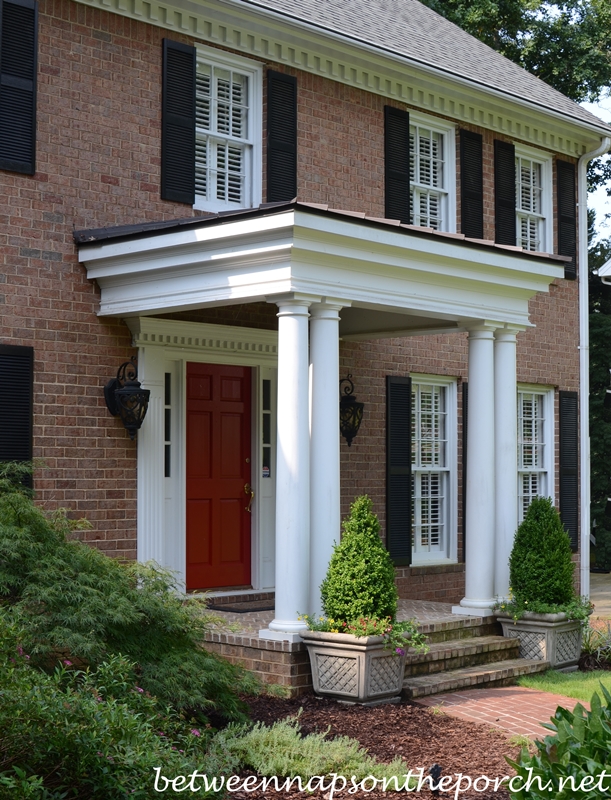 The view from the other direction…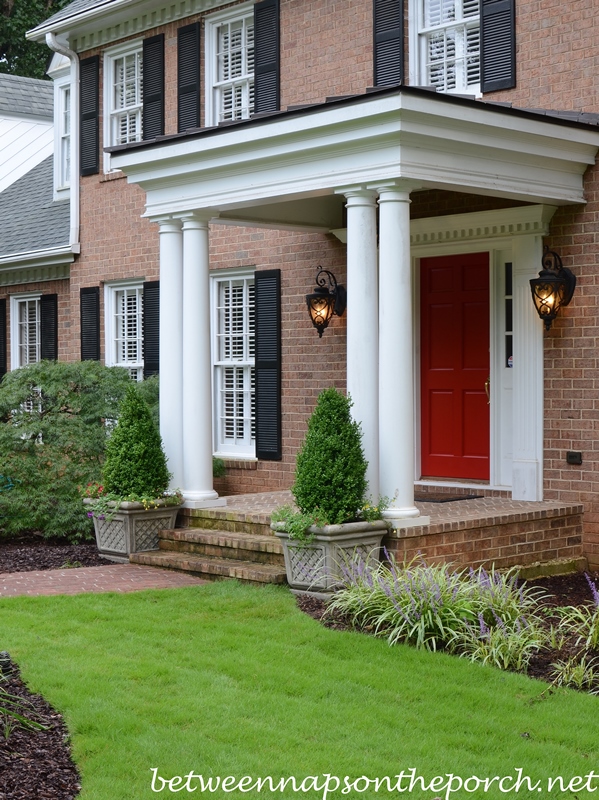 I considered going with spiral topiaries or some other fancy shape, but ultimately I decided on a simple pyramidal shape. I felt like a classic Christmas tree shape would be the best look for the porch since there are columns right behind the containers. It will be so much prettier once the shrubs go in sometime in the next month or so. I can't wait to see this front area completed!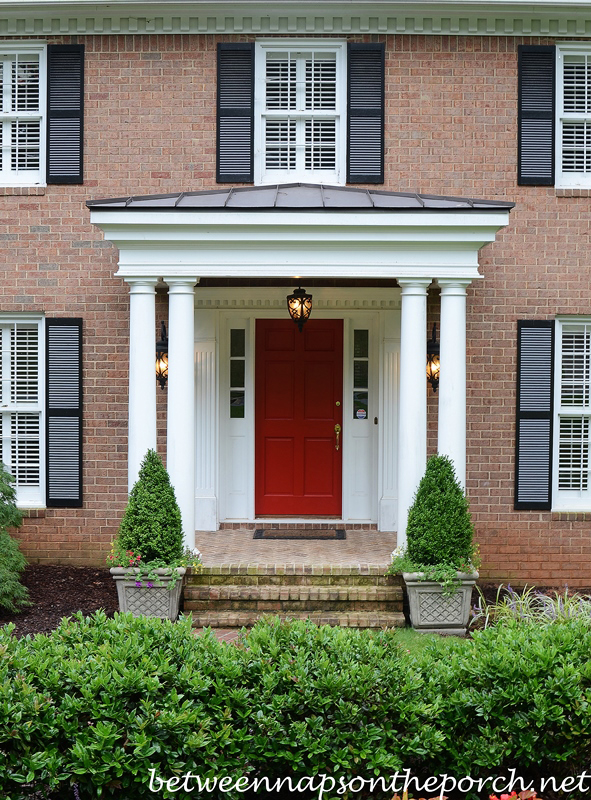 So, do you think those holes I drilled were big enough? There are four and each hole is about the size of a quarter.
Looking forward to the Before and Afters linked for this Met Monday!
Update: Recently, I made a change in how links will display for Metamorphosis Monday. Each time you visit, the links will rotate and display randomly. This ensures all participants will have a chance to have their link displayed at or near the top. You'll easily be able to tell which links you've already visited since the links will change color, once clicked.
If you are participating in Metamorphosis Monday you will need to link up the "permalink" to your MM post and not your general blog address. To get your permalink, click on your post name, then just copy and paste the address that shows up in the address bar at the top of your blog, into the "url" box for InLinkz.
In order to link up, you'll need to include a link in your MM post back to the party so the other participants will have an opportunity to receive visits from your wonderful blog readers.
Please observe these few rules:
Only link up Before and After posts that are home, gardening, crafting, painting, sewing, cooking, DIY related.
Do not link up if you're doing so to promote a website or product.
Do not link up a post that was just linked last week since a lot of readers will have already seen that post.
Do not type in ALL CAPS. It spreads the links waaaay out.




Welcome! Thanks for coming to the party!
*If a post is sponsored or a product was provided at no charge, it will be stated in post. Some links may be affiliate links and as an Amazon Associate, I may earn from qualifying purchases. *