Welcome to the 785th Tablescape Thursday. It's gettin' chilly around here so I had to take advantage of the warmer weather today for at least one more table setting here on the porch.
This table is similar to the one I set for Halloween last year except for a few changes in the tablecloth, glassware, centerpiece, and its location here on the porch.
The arched-back, black-cat stemware is from Overstock a few years back.
The spider and bat tablecloth is an older purchase from 2019. Just checked and it's still available here: Spider-Bat Lace Tablecloth.
I like mixing buffalo check napkins with other napkin designs. Buffalo check kinda acts like a neutral–the way it works so well with other patterns. The orange and black check napkins are still available here: Buffalo Check Napkins.
The black and white Halloween-themed napkins were a 2017 find here: Halloween Napkins. Not sure the napkins are still available but it looks like they still have the coordinating tablecloths.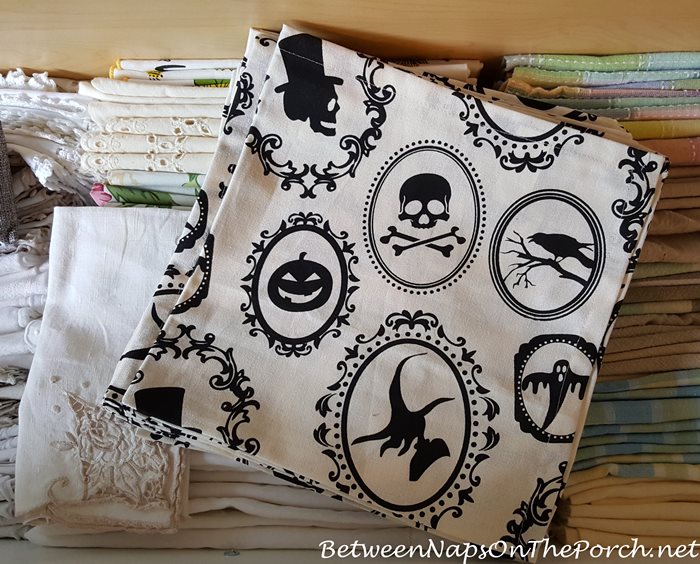 One of my favorite Halloween decorations is these ravens I came across in Hobby Lobby several years back. They are just the right amount of spooky without being too scary. I kinda have a pet crow right now. Ha! Every day a single crow visits me–he sits in a tree in my backyard, or, sometimes on my deck pegola and caws until I come outside and put out peanuts and mealworms for him. Once in a while, he brings a few friends, but usually, they fly away as soon as I come out–but not him. He has me trained well. Crows are such fascinating birds! I've read that they can remember a human's face and recognize them up to three years later.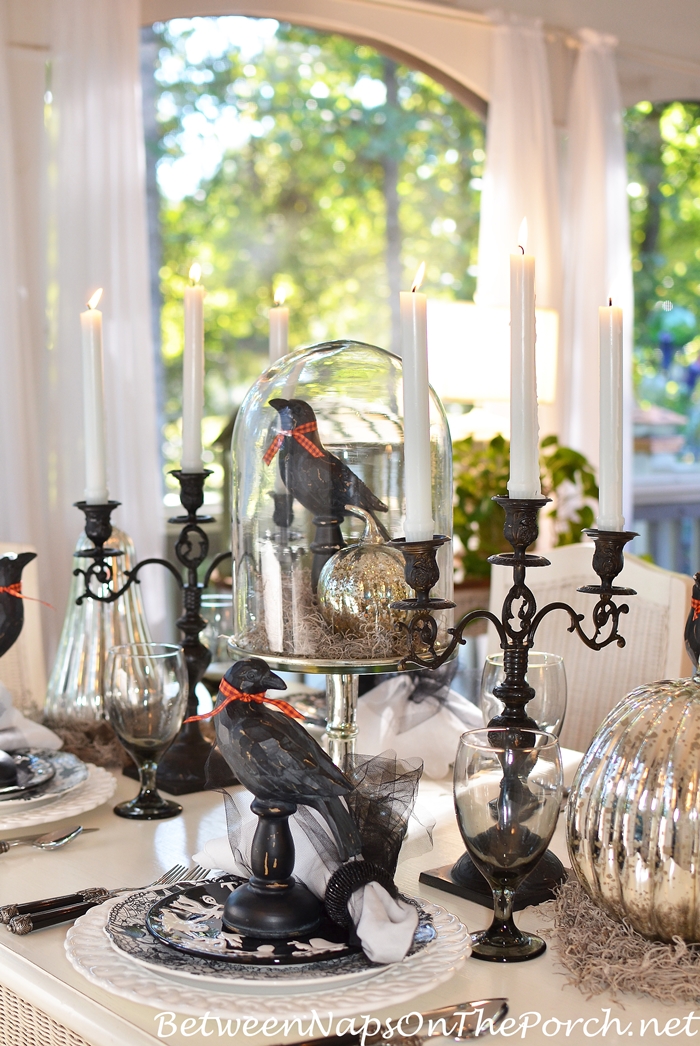 It was love at first sight when I came across this raven dinnerware online last year.
It's no longer in production but you can still find a fair amount of it available here: Raven/Crow Porcelain China.
I currently have 8 place settings–very tempted to add another 4 to my collection.
A few weeks ago I moved all my Christmas and Halloween decorations from the eave storage space off of my upstairs family room down to the basement. In the process, I came across all these fun Fitz and Floyd serving pieces purchased around 35-40 years ago.
I managed to include one of the pitchers in the centerpiece of this week's table setting. It's acting as a vase for the roses.
Beware of the black roses!
They are teeming with spiders! Eeek!
Yikes! A few of the spiders in the tablecloth have escaped and they've climbed their way right up to the top of the candles.
I snapped a few photos just as it was starting to get dark out.
Hope this table setting gave you a few ideas for your Halloween fun this year.
Looking forward to the beautiful tables linked for this week's Tablescape Thursday! (If you enjoyed this post, subscribe for email updates when a new post is up here: Subscribe for post updates.)
Tablescape Thursday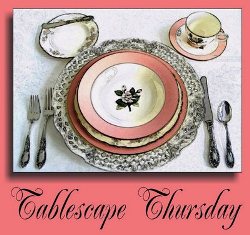 If you are participating in Tablescape Thursday, please be sure to add your permalink below, and not your general blog address. To get your permalink, click on your post name, then copy and paste the address showing in the address bar, into the "url" box when you link up. You'll need to include a link in your post back to the party to link up and participate. That's so visitors to your blog will be able to find the party and the other Tablescape Thursday participants. Please link up table-setting-related posts only for Tablescape Thursday. Please link up table-setting-related posts only for Tablescape Thursday.
You are invited to the Inlinkz link party!
*If a post is sponsored or a product was provided at no charge, it will be stated in post. Some links may be affiliate links and as an Amazon Associate, I may earn from qualifying purchases. *