Welcome to the 769th Metamorphosis Monday! When I was growing up, I never had a dollhouse. Did you have one when you were little? I never even remember seeing a dollhouse when I was little, I guess none of my friends had them, either. I didn't really become aware of dollhouses until I was much older, but once I did become aware of them, it made me really wish I had had one growing up.
One day many years ago while I was out antiquing, I came across an adorable dollhouse that was all decked out for Christmas. I didn't purchase it that day, but I could not get it out of my head.
You know when something haunts you and you can't stop thinking about it? Well, I think that's a good sign that it's meant to be yours. I'm so glad I went back for it. It was decorated for Christmas but the wreaths and garland were all badly deteriorated, so I redid those. But it really needs a full renovation inside, too.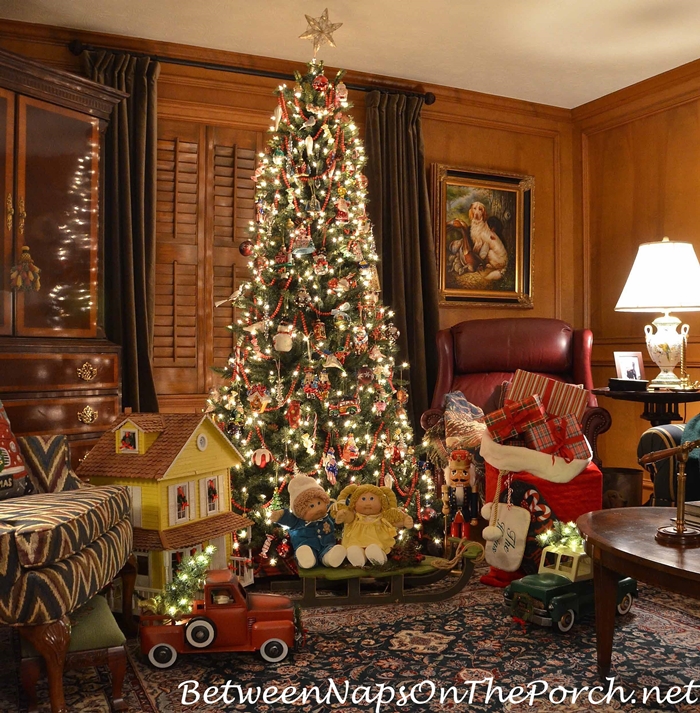 When Elena, a lovely BNOTP reader, contacted me a few months back to say that she was about to start the process of renovating her childhood dollhouse, my ears definitely perked up. I couldn't wait to see the house and what she had planned for it! Elena said, "After I made the bookstore book nook, I decided to pull the old doll house out of the garage where it was stored uncovered for decades. Mice and bugs had been living in it and although I had boxed up the furniture and accessories, the mice destroyed several pieces of furniture and some decorative items."
Bookstore Book Nook is available here: Bookstore Book Nook. See my post about the book nook here: Building a Cozy Bookstore Book Nook for My Bookshelves.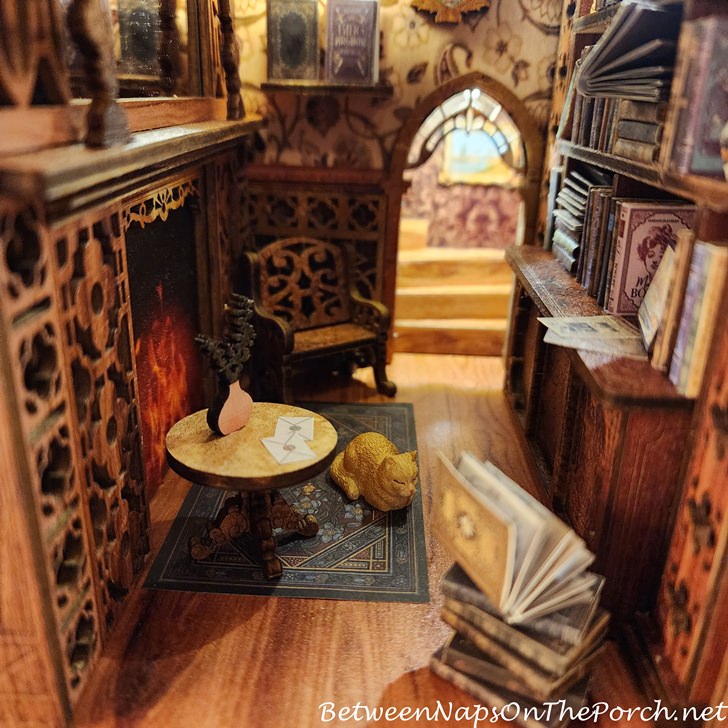 Elena said, "I started collecting miniatures when I was ten or so. I used to display them on the bookshelves in my room. As I collected more and more, they were taking over all the shelves so my father decided to build a doll house for me. It was probably mid-seventies. He built most of it by hand, so much of it is not quite to scale. It never had exterior doors due to that fact, but I did manage to find some things that worked out." (Photo below of Elena's dollhouse back in the day.)
When Elena started thinking about how she wanted to renovate/restore her childhood dollhouse, she initially thought she would purchase all new furniture for it. Elena said, "I was going to use some new furniture, but when I put it in the house (a new dining room set) it made me really sad. I decided to keep it all original, maybe I will add more decorative items but I am keeping most of it the same including the dolls. These are the photos from when it was new–I probably took the photos in the late 70's, early 80's."
It looks like the dad is working hard churning butter in the kitchen.
The dining room as it appeared when the house was new in the 1970s… Notice the wallpaper as we go through the photos of how her dollhouse looked when originally built by Elena's dad.
I think this may be the living room because I see fireplace tools there alongside the fireplace. I like the pretty damask wallpaper.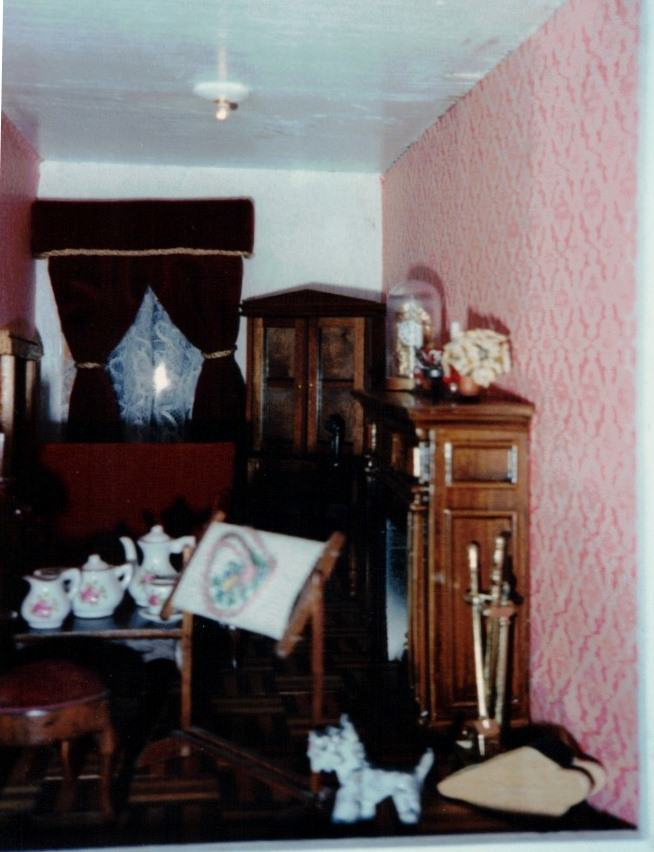 An upstairs bedroom…awww, I see a kitty on the bed. ♥
Here's the nursery…notice in the corner there's a spiral staircase leading up to the attic rooms above.
As Elena mentioned, the dollhouse had been stored away in her garage for many years, so there were a lot of repairs to be made.
Here's a view of the other side of the house. Elena said, "The front of the roof swings up but has no brace piece to leave up, so there are no other photos of that area."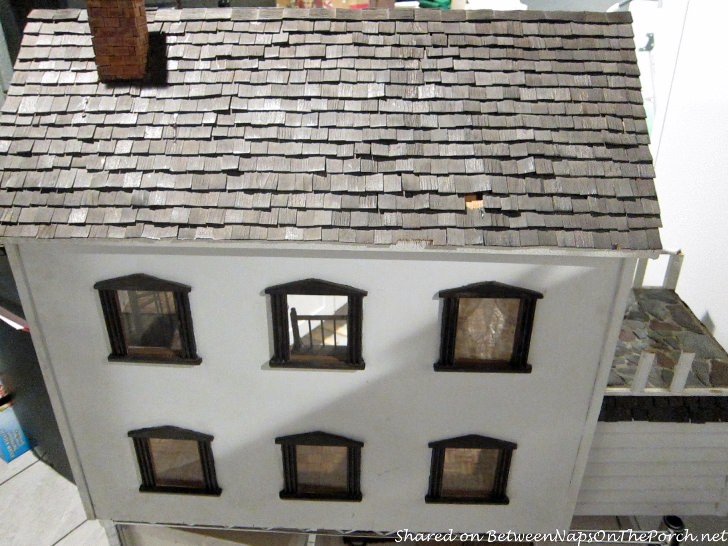 Elena opened the top and shared this photo of two of the attic rooms.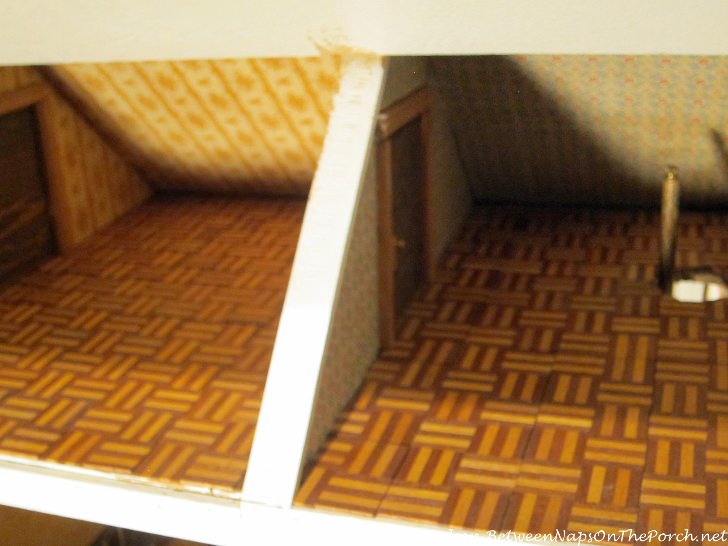 The photo below shows how the house looked before Elena began restoring it. Looks like the wallpaper is starting to come off in all the rooms, and the staircase has lost some of its balusters.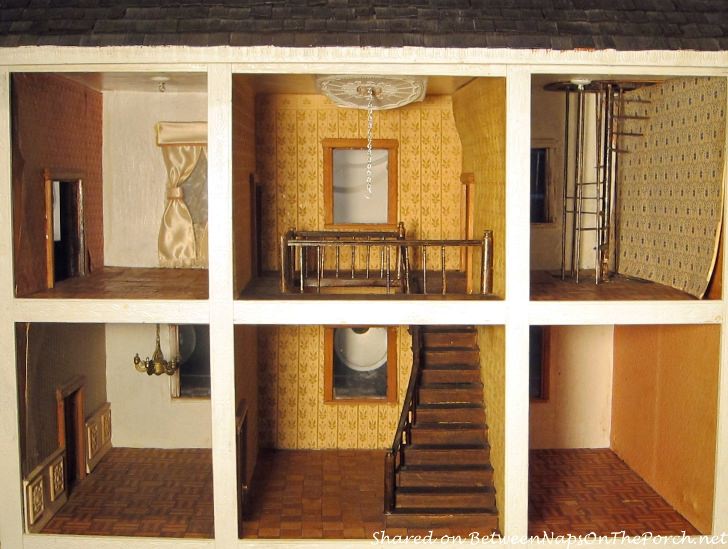 Elena began the demo process of removing the wallpaper.
Elena said, "I thought the wallpaper would be difficult to remove, but all I had to do was sponge some water/white vinegar on it and it came right off! I picked the wallpaper I used in the dining room because I thought that the chair rails would not come off. My father used a lot of epoxy so I had no clue that they would just come right off!"
Elena removed the old staircase railing that was missing balusters and the ceiling medallion that was on the verge of falling off. She had already removed some of the wallpaper in this room, as well.
Elena said, "The floors were wood so I used Murphy's oil soap to wash it out and some stiff brushes to clean the roof. Especially glad I found something to fit in the door and French door openings!"
Remember the circular staircase? Elena said, "My 12-year-old mind was upset when there was no way to get up to the third floor. My father placated me by building a circular stair. It was falling apart and every time I went to do something, it got worse. So I had to remove it.
Later Elena wrote, "I have completed the kitchen, dining room, and girl's bedroom. The center hall is almost done, waiting on my husband and son to wire in a replacement chandelier and glue in a replacement ceiling medallion. About the circular staircase, Elena said, "The circular stair was a hoot! My father made one by hand with dowels and slats. I think it was to appease my 12-year-old mind, "but HOW are they going to get up to the third floor?" Well, it totally fell apart so I found a vintage kit on eBay and made one myself!"
These are the parts Elena planned to use to rebuild the circular staircase.
Here's how the staircase looked as she was constructing it.
Next, she gilded the details of the staircase.
Elena said, "I have to be insane to have done this–the detail in the chair rail was so nice, but you could not see it. I painted it by hand with a fine detail brush."
Wow, amazing how it's coming to life!
Beautiful! Can't wait to see it in the house!
Behind the wainscotting, you can see the wallpaper that will be going above it in the same room. I have so many photos of the finished house to show you, I will need to share those in a separate post tomorrow. Please stop by tomorrow morning to see the finished house–it turned out beautifully! Looking forward to all the great Before and Afters linked for this week's Met Monday!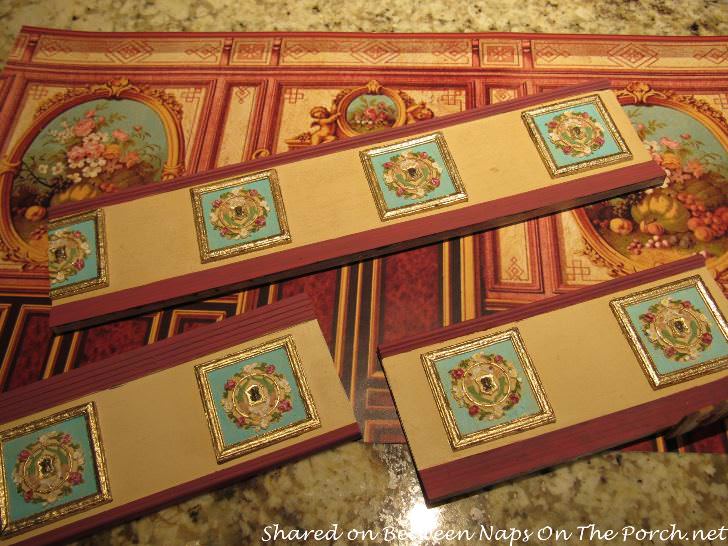 Pssst: Did you know Between Naps On The Porch is on Instagram? You'll find me on Instagram here: Between Naps On The Porch. Like to know when a new blog post is up? Subscribe for email updates (it's free) and your e-mail will never be shared. Subscribe for free post updates here: Subscribe.
Metamorphosis Monday: Metamorphosis Monday is a party that's all about Before and Afters. Please link up your Before and After projects like DIY projects, room makeovers, craft projects even recipes. Please do not link up Table Settings, save those for our Tablescape Thursday party on Thursday. If you are participating in Met Monday, you'll need to link your post to the party using the "permalink" to your MM post and not your general blog address. To get your permalink, click on the name of your post, then copy and paste the address that shows in the address bar at the top of your blog, into the "url" box for InLinkz when prompted.

You are invited to the Inlinkz link party!
*If a post is sponsored or a product was provided at no charge, it will be stated in post. Some links may be affiliate links and as an Amazon Associate, I may earn from qualifying purchases. *