I should have known when I purchased a book nook kit I wouldn't be able to leave it alone until it was finished. I'm the same way when doing a puzzle. I'm always so eager to see it completed, it calls my name and haunts me until it's done. When I last shared this Bookstore Book Nook that I had just started, it was only this far along: a few pictures and a couple of shelves on one side wall, and a cute window scene on the back wall.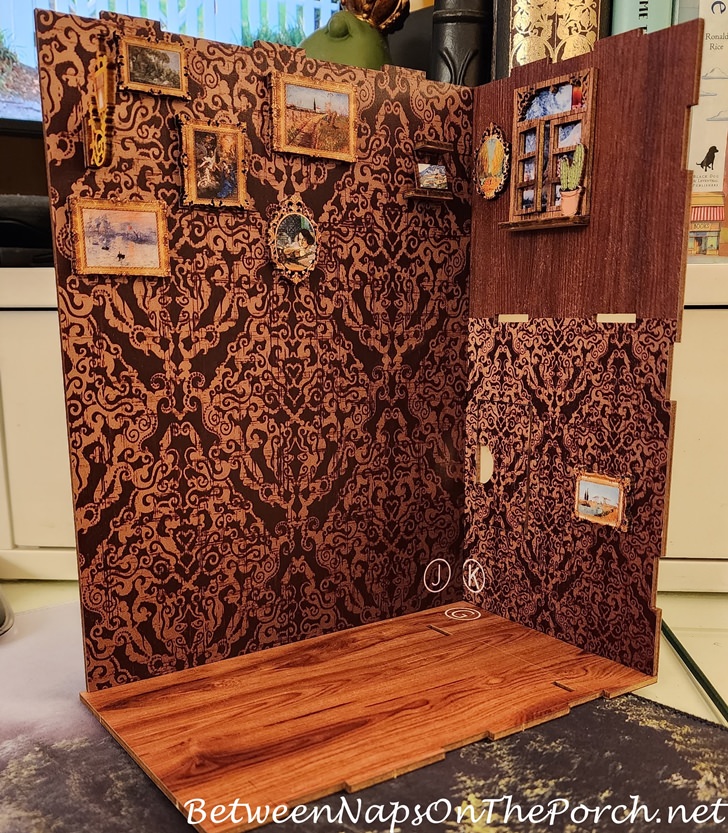 I had just a few more parts to go. Ha!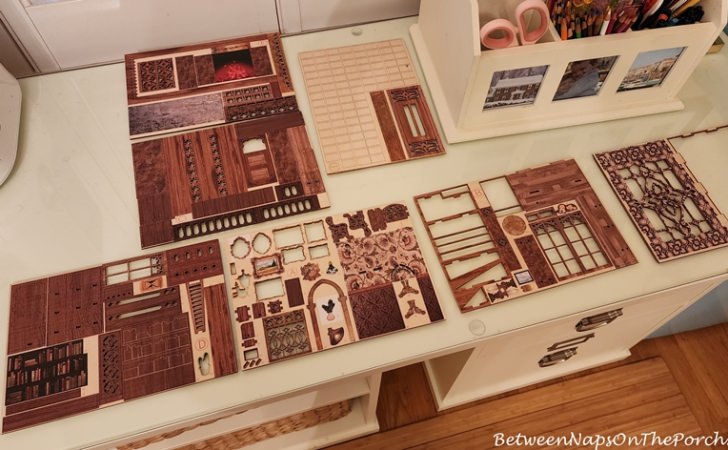 Progress was made and in this photo, the wiring was well underway, a desk and bookshelf were finished and installed upstairs, the fireplace downstairs was assembled and in place, and the staircase visible through the arched opening was built. I also had a few pieces of furniture assembled. The small bookshelf (sitting on my desk just off to the right) was also complete.
This may not look like much, but it represents quite a few hours of work, especially since I was super picky about sanding (and restaining) the raised white spots that show from where the pieces are snapped out of the kit. That may be the most time-consuming part. I don't think most people would take the time to do as much sanding/restaining as I did, but those white spots were bugging the heck out of me, so they had to get hidden. See that black/red wire sticking out in the center of the photo? Man, I wish I'd known then what I think I know now. More on that in just a sec.
Here's another little close-up of the upstairs, mid-assembly. I should have taken a close-up of that bookshelf on the right. I put my heart and soul into making and arranging all the books in that bookcase. I found the parts where you get to decorate and arrange things yourself to be the most fun part of creating a book nook.
This section/wall ends up opposite the fireplace. The top bookcase comes with the books already fixed in place, but the sides, top, bottom, and doors all have to be assembled and attached. The top portion actually ends up being in the upstairs part of the bookstore when the book nook is pulled all together at the end. After putting together the bottom bookcase, it was a lot of fun to arrange the books and add decorative pieces to the shelves.
Here's how this cozy bookstore book nook looked tucked into one of the shelves here in my office during the daytime with the lights turned off inside. It is surrounded by some of my favorite books–books that are all about books, bookstores, book collectors, and decorating with books. (At the end of this post, I've linked to where you'll find all of these books available.)
Let's take a peek inside with the lights on.
It's like an opening or portal to another little world, isn't it? I wish I could shrink myself down to the size of a fairy or an elf and meander right inside.
This photo below was taken while the book nook was still sitting on my desk. You can see my monitor's wallpaper through the beautiful ceiling and it almost looks like there's a house just across the street from the bookstore.
Here's a closer view of the upstairs where you will see the bookcase where I painstakingly chose the placement of each book. In this kit, you actually make all of the books and there are two styles that you create. One style is a small, slender book that is formed by covering a hard block of wood with a book cover. The other type of book that gets made is the style where the book fans open. You can see one of the fanned open-style books atop the desk on the left and another just inside the bookcase on the right about halfway down. The fanned open books look so much bigger in these photos but they are actually the same size as the closed books because they both get the same size cover when making them.
So about that wiring that you saw sticking out: Either my kit was defective or I somehow goofed–because that wire ended up being too short to reach where it was meant to go. It ended up in the top right corner front of the nook and it was supposed to stretch all the way over to the center of the front opening–so about another 2 inches. By the time that became apparent, I had already added the final side wall so it was too late to attempt to fix it. I almost want to buy this kit again just to see if I could have separated/ripped that wire away from all the shorter wires to which it was attached–then it def would have reached a lot farther. I'm lucky it at least made it all the way to the front of the nook. This was my first time creating a book nook. If I ever do another one, there are a number of things I will know to watch for and can hopefully do better.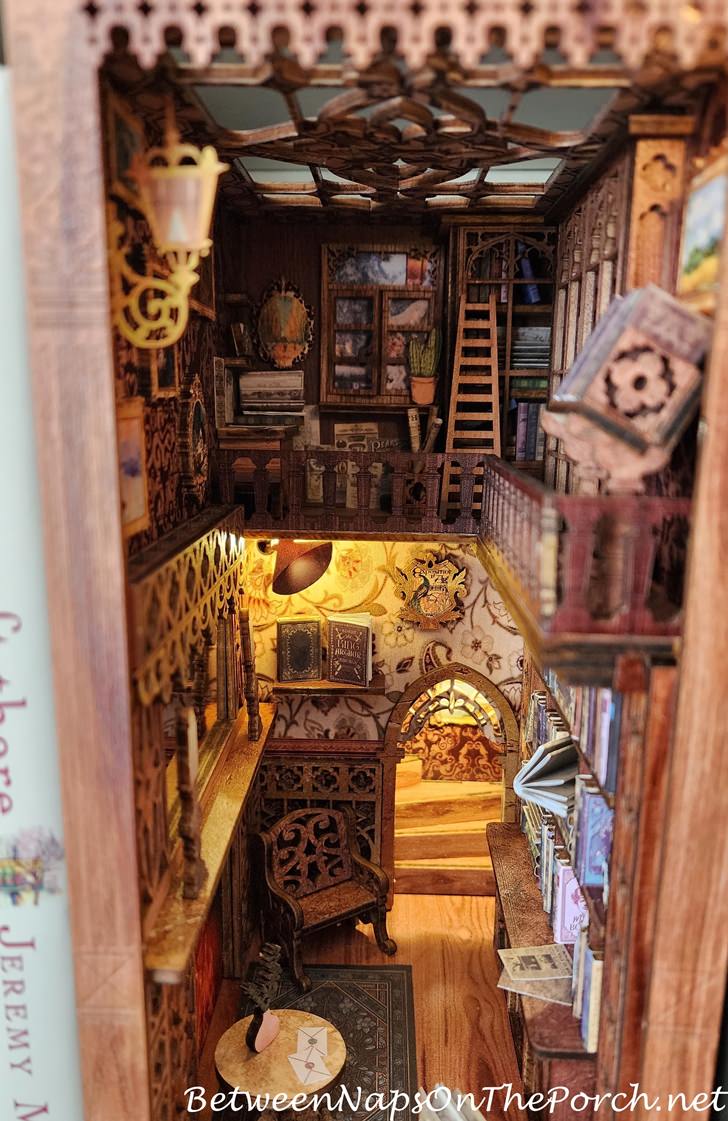 In this photo, you can see the light I'm talking about over in the top, right front corner. That light was supposed to end up in the center of the opening, not over in the corner. In the center, I think it definitely would have better lit some of the bookcases further back.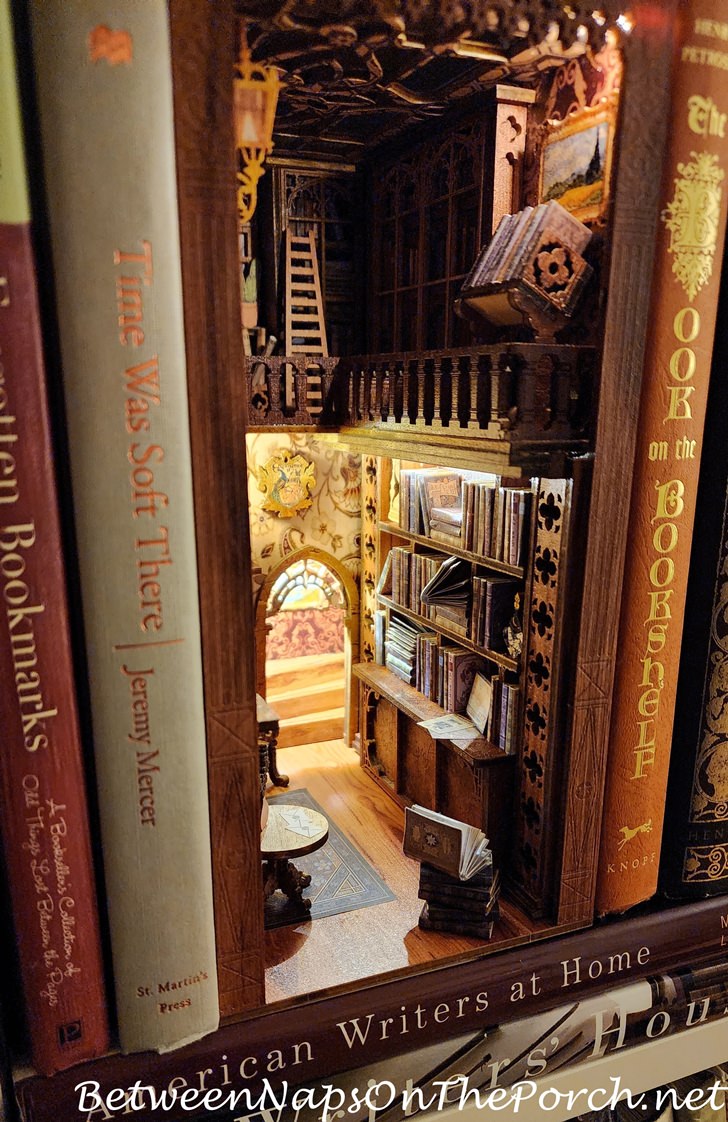 I think this nook really needs a cozy, red wingback chair there in the corner near the fireplace.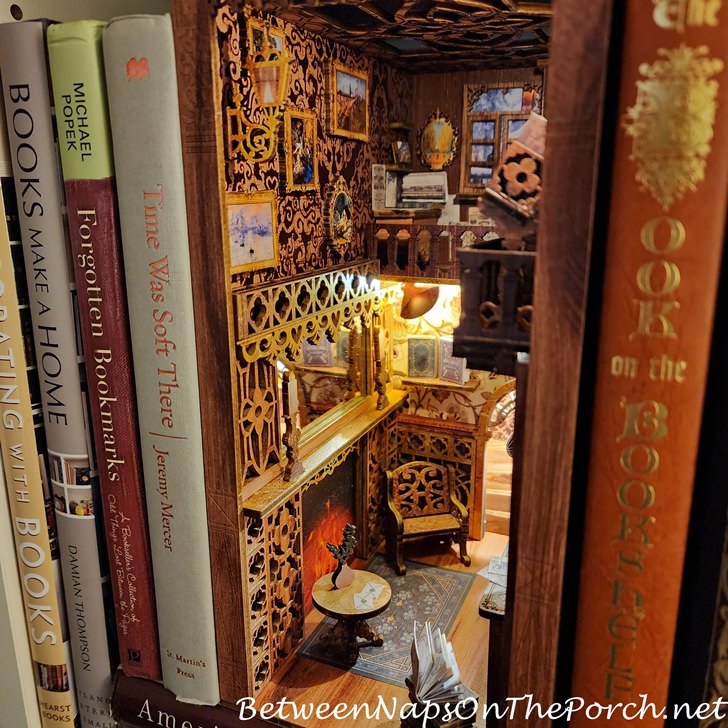 I may have to make a tiny seat cushion and pillow to soften up the existing chair. lol
One more look toward the right wall…love the little standing bookcase upstairs under the painting. The books in that stand are more of the books that get made during the book-making process. I think I ended up making around 75-80 books.
Remember these lower bookshelves that were so much fun to arrange and decorate?
Here's how they looked once inside the nook.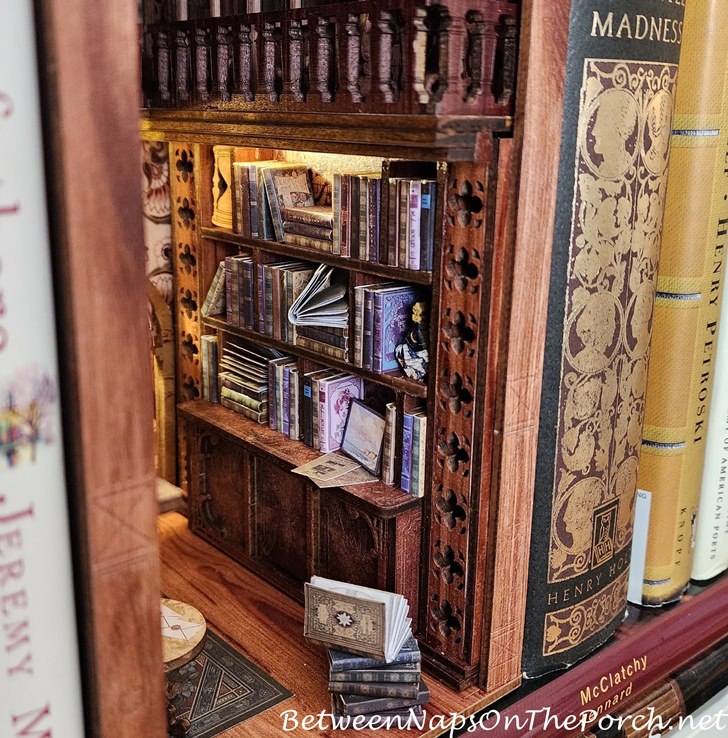 When you're putting the nook together, some things are a bit of a mystery, but once assembled, it all comes together and makes sense.
So what do you think? Would you enjoy making a book nook for your bookshelves? I think it's a great project for those cold winter days when we just want to stay snuggled up and warm inside. (This bookstore book nook is available here: Bookstore Book Nook.)
Update: A sweet kitty came by the bookstore one day and made himself right at home in front of the fire. He liked it so much here, he decided to stay. We named him, Hemmingway. 🐈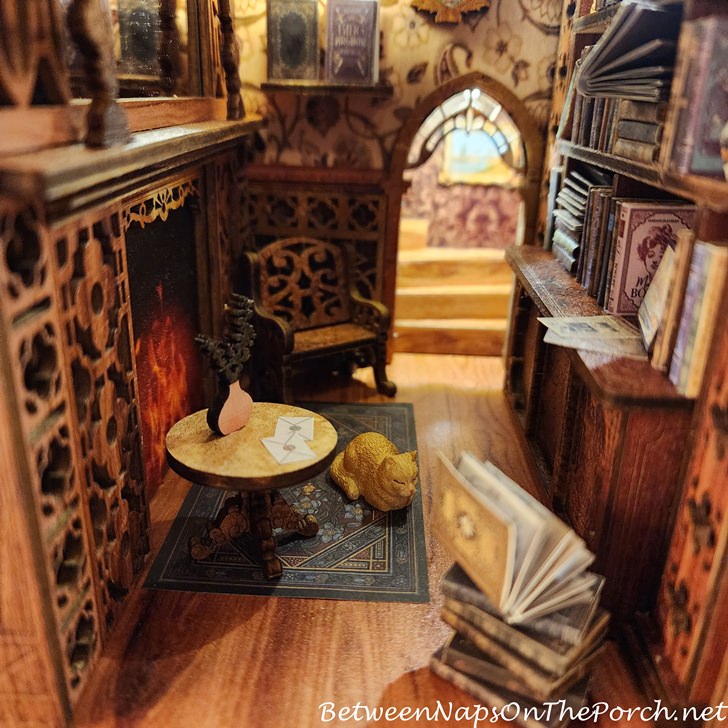 Books Surrounding The Bookstore Book Nook
My Bookstore: Writers Celebrate Their Favorite Place to Browse, Read, and Shop
A Gentle Madness: Bibliophiles, Bibliomanes and the Eternal Passion for Books
Decorating with Books (House Beautiful)
The Book on the Bookshelf
Time Was Soft There: A Paris Sojourn at Shakespeare & Co.
At Home with Books: How Booklovers Live with and Care for Their Libraries
Writers' Houses
American Writers at Home
Books Make a Home: Elegant Ideas for Storing and Displaying
Forgotten Bookmarks: A Bookseller's Collection of Odd Things Lost Between the Pages
Committed to Memory: 100 Best Poems to Memorize
Wishing you a cozy warm weekend!
*If a post is sponsored or a product was provided at no charge, it will be stated in post. Some links may be affiliate links and as an Amazon Associate, I may earn from qualifying purchases. *