Happy Weekend! It has been quite chilly here the last few nights although I think we're going to warm up a little this week–just in time for Halloween. I've noticed the leaves are definitely changing now and starting to fall. The cooler temps have had me dreaming of cozy evenings inside, burning candles while sipping yummy hot chocolate. Every season has its own special moments, doesn't it? Though I'm always sad to see summer ending, as fall moves in I begin to remember all the things I love about this time of year and I find myself giving in to its charms.
With the cooler days and chilly nights here, I've put together a list of some of my favorites that always get me through the cold days that I know lie ahead, and at the very top of the list is a purchase I made back in 2020 that I still love as much today as I did when I first installed it–a heated toilet seat. Hey, don't laugh until you've tried it! Ha! It is the best thing ever on cold mornings, or for that matter, cold days! If mine ever stops working, I will be online buying another one, pronto! Best purchase ever!
When I first purchased a heated seat, since I didn't have an outlet anywhere near the toilet, I ran an extension cord to it. That worked fine but this past year when I was adding/replacing lights in the garage, basement, and upstairs hall, while the electrician was here, I went ahead and had an outlet added to that area of the bathroom. It was surprisingly inexpensive to have that done.
If you really want to spoil yourself this winter, I can't recommend anything better than a heated toilet seat. I'm linking the one I purchased below since it's still working beautifully 3 years later. I love the night light that's built into it also, perfect for those occasional middle-of-the-night trips to the bathroom. You'll find the one I have (and love!) here: Heated Toilet Seat with Night Light. It has 4.7 stars after 3273 reviews! The reviews are so much fun to read, I remember one reviewer said that she loves to just go sit whenever she's cold to warm up. Ha!
I'm so glad I went ahead and had an outlet added in that area of my bathroom because this past year I made another purchase that required an outlet–a Towel Warmer. I love, love, love my towel warmer, and use it every single time I take a shower. My showers are usually pretty short, so I turn on the towel warmer about 10 minutes before I hop into the shower, that way my towels are toasty warm by the time I've finished showering. This is the towel warmer I purchased and it's still going strong. You'll find it available here: Towel Warmer.
Always high on my Winter Survival List is Cutemol. I really use Cutemol all year because it's so good for dry skin, but in the winter, I use it even more. My daughter-in-law and I swear by it! We NEVER let ourselves run out, especially in the wintertime when we both have trouble with splitting fingertips. Ever since I started using Cutemol on my hands during the wintertime, I haven't had a single split on any of my fingers. It's also a miracle worker of dry heels. Seriously! It's amazing! A large container is a bit pricey, but it lasts a long time. A large container will probably last all winter because it only takes a very small amount of Cutemol to protect your hands. Note: Read the directions because it explains that it works its best when applied to hands that have just been washed and are still slightly moist. It seals that moisture in…amazing product! You'll find it available in a couple of different sizes here: Cutemol.
You are probably tired of hearing me sing the praises of these merino wool socks! I purchased several packs of them a few years back and they have held up beautifully. I wash and dry them just like you would any socks and they are truly the warmest socks I've ever worn. Plus, they aren't so thick that your shoes don't fit as they normally would. Love these and still very much recommend them! You'll find the women's version here: Merino Wool Socks, Not Scratchey and Super Warm. The men's version is available here: Merino Wool Socks for Men.
Winter definitely calls for a cozy throw! This one has great reviews and is very reasonably priced. It sounds super cozy and soft. You'll find it here: Fleece Microfiber Throw.
I burn a lot of candles during the wintertime and my favorite is by Woodwick. I love the crackly "fireplace" sound that they make as they burn–it's such a soothing, comforting sound. ♥ My favorite scent is Fireside, but really all their scents are wonderful. You'll find Fireside with a crackling wick here: Woodwick Fireside Candle. I want to try their Warm Woods Trilogy, that sounds wonderful! You'll find a bunch of their other scents available here: Woodwick Candles.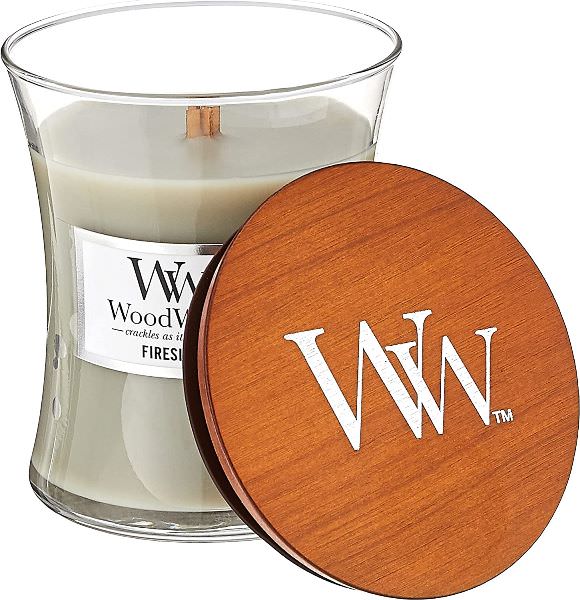 I'm not a "hot" beverage drinker but one hot beverage I do enjoy during the fall and winter is hot chocolate. This salted caramel and chocolate cocoa sounds delish and has great reviews. You'll find it here: Land O Lakes Salted Caramel & Chocolate Cocoa.
I just ordered this Chocolate & Cocoa combo for my son, Dil, and grandsons. I'll be visiting them very soon, so I'm looking forward to trying it while I'm there. Ghirardelli is famous for their rich, delicious chocolate, and the reviews looked really good for their hot chocolate. I love how it comes with its own scoop! You'll find this Ghirardelli Chocolate & Cocoa here: Ghirardelli Chocolate & Cocoa.
Warm gloves are a must for winter and I really like these thermal gloves that are designed to work well with cell phones. Plus, they have an anti-slip side which means they should work well when driving. There's currently a 30% off coupon available so I purchased a pair for my son. These would also make a great Christmas gift or stocking stuffer. You'll find these available here: Thermal Gloves, Anti-slip, Work with Phones (30% off Coupon).
Talbots has an awesome 30% off sale going on right now and it includes free shipping! So I stopped by their website to see what they have in stock for fall/winter. I love this turtleneck with the button detail on the sleeves. I have one of these from many years ago and have always loved this style! This top is available in 8 different colors and on sale 30% off here: Turtleneck with Button Sleeves.
Cute, cute sweater! Love the deer design. ♥ You'll find it on sale 30% off here: Deer Sweater.
Beautiful cashmere sweater set! It's available in 3 different colors, I think the red is definitely my favorite. This would be perfect to wear to a Christmas party. You'll find it on sale 30% off here: Cashmere Sweater Set.
I love a cable knit cardigan and this one looks extra cozy. I really like this soft cream color that would go with anything. I need this for my wardrobe! You'll find it on sale 30% off here: Cable Cardigan in 3 Beautiful Colors.
One of the styles that Talbots offers almost every year are either jeans or corduroy pants with an adorable embroidered design. Over the years I've purchased jeans with embroidered umbrellas, hearts, bows, and corduroy pants with acorns and leaves. I love them so much! This year they have these gorgeous emerald green cords with embroidered Christmas design. Sooo cute! As soon as this post goes up, I'm shopping the sale and ordering these along with a few other things. You'll find these embroidered corduroy pants on sale 30% off here: Green Corduroy Pants with Embroidered Christmas Designs.
One more thing to check out…their stretch corduroy jeggings. I live in these during the winter months! You'll find them on sale and available in 6 colors here: Stretch Corduroy Jeggings.
I'm off to shop the sale, I'm afraid it may end tonight…hope not! Happy shopping!
*If a post is sponsored or a product was provided at no charge, it will be stated in post. Some links may be affiliate links and as an Amazon Associate, I may earn from qualifying purchases. *