In December of last year, I posted about a magical place called Giraffe Manor. Ever since then I've been obsessed with the idea of one day visiting the manor and seeing the endangered Rothschild giraffes in person.
How much fun would it be to breakfast with giraffes! I've actually thought about it so much, I've started dreaming about it! Have you ever thought about a place so much you, you visited it in your dreams?
In about three weeks my dreams will become reality when I visit Africa in person. Getting there and back home is going to be as much an adventure as the trip itself. Talk about planes, trains and automobiles!
Actually it will be more like automobile, plane, another plane, another automobile, yet another automobile, another plane and finally, a jeep…and that's just the getting there part!
Breaking that down, I'll be flying via a major airline to Paris, where I'll have a short wait in the airport before flying via another major airline on to Africa. After arriving in Nairobi, I'll be transported to a hotel where I'll spend the night. After breakfast the following morning, I'll be driven to another airport where I'll board a small airplane referred to on my itinerary as "light aircraft." That airplane will take me to Maasai Mara where our runway will be a grass strip.
I'm pretty excited about the grass strip landing. The last time I landed on a grass strip was as a sophomore in college. After soloing several times, my instructor decided it was time we went on a cross-country trip.
At one point during the trip, we landed on a grass strip. It was so exciting! I remember how hard it was just finding the landing strip, well…for me, not my instructor. It completely blended into the surrounding landscape.
I can't wait to experience that again! This trip will be an adventure from start to finish and I'm going to take you with me through it all!
After landing, rumor has it a guide will be there to meet us with a glass of champagne, at least that's what the reviews say on TripAdvisor. I think the champagne is to steel you for the very bumpy, 45-minute jeep ride ahead. They advise you wear a sports bra for the ride…no kidding! Why does this conjure up images in my head of Nicole Kidman en route to Faraway Downs in the movie, Australia? 😉
That ride will be my first safari since it's not unusual to see animals along the way. When we arrive I'll find myself in a fantasy world called Mahali Mzuri, pronounced Ma-ha-lee Missouri, Swahili for "beautiful place."
Mahali Mzuri is owned by Sir Richard Branson, ala Virgin Atlantic Airlines fame. I'll be staying in one of 12 "tents" perched high on the edge of a ridge overlooking the Olare Motorogi Conservancy.
The Olare Motorogi Conservancy is on the edge of the famous Maasai Mara National Reserve.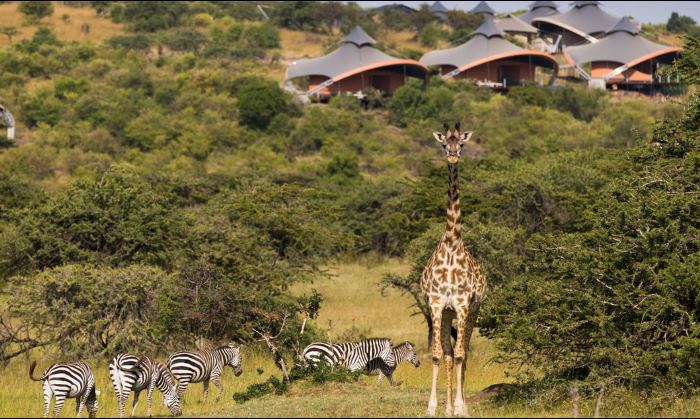 Each day we'll go out on safari, one in the early morning just before dawn, and another late in the day, toward evening time. They also offer a nighttime safari since some animals are nocturnal and can only be seen after dark.
I plan to post every day while I'm there so I can share this experience with you. My phone company, Verizon, doesn't offer service in Africa but Mahali Mzuri is supposed to have pretty good wifi. Hoping that's true!
On two days our safari trips will take us deep into the Olare Motorogi Conservancy. One day we'll venture into the famous Maasai Mara Conservancy for a safari.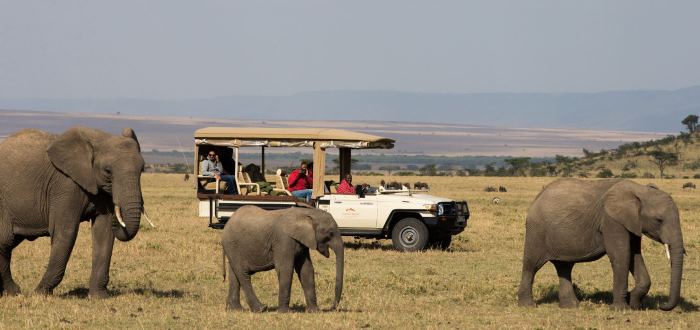 Mahali Mzuri was built in 2013 so the tents are all still fairly new. See that room on the right…that's the bathroom. You can just make out the tub.
The tents are like something out of a Spielberg movie, with views that go on forever.
You're right in the conservancy and there are no fences, so sometimes wildlife viewing happens right from your tent.
Each tent has its own bath complete with a rubber ducky dressed in Maasai tribal dress. 🙂
The main center tent is a lodge of sort, complete with a library, fireplace and a bar where all the drinks are on the house.
There's an infinity pool for those who need a little relief from the heat of the day.
I'm looking forward to sharing a romantic tablescape with you all the way from Africa!
I chose this time to go because the great Wildebeest migration will still be taking place in the Masai Mara plains during the time I'm there. If you're not familiar with the famous Wildebeest migration, check out the animation below. You can read more about this amazing event here: Wildebeest Migration
It's not unusual to see animals roaming about right below your tent, especially at night. You're not allowed to walk to and from the main tent alone after dark. Security guards stand watch and accompany you, supposedly with spear in hand. I can't wait to share it all with you! If you're not following BNOTP on Instagram, this would be a good time to start. 🙂
After 3 nights/4 days at Mahali Mzuri, we'll head back to the grass airstrip where we'll take off and land at another small airport not too far from Giraffe Manor. From there I'll be transported to Giraffe Manor for my final evening in Africa.
I'm scheduled to stay in one of the rooms with a balcony.
I'm hoping some tall visitors will come by the room to see me while I'm there. 🙂
After breakfasting with the giraffes the following morning, I'll be picked up by a guide/driver who will show me some of the sights around Nairobi until it's time for my flight that evening. This time the long trek back home will be by way of Amsterdam.
Watch a short, magical video about Giraffe Manor here: Magical Giraffe Manor.
It's going to be interesting packing for this trip because I'm not allowed to take any hard-sided luggage or any luggage with wheels. All bags have to be soft/squishy (like duffel bags) so they can be easily loaded into the luggage compartments of the small planes I'll be traveling in for part of the trip. I think I have it figured out and I'll share what I'm taking in a future post.
On Monday I'll be getting all the vaccines I'll need for the trip. For sure I'll be getting a Yellow Fever and Hepatitis A vaccine, along with a prescription for Malaria that I'll take just before leaving and again after I return. Not sure if I'll get a Typhoid vaccine, I'll see what they recommend.
Read more about Mahali Mzuri and Giraffe Manor at their websites where these pictures were found: Mahali Mzuri and Giraffe Manor.
I booked my trip through Mahlatini Travel Specialists. If this sounds like a trip you would love to take one day, contact Greg or Claire at [email protected]. Mahali Mzuri is having a special right now, buy two nights, get the third free, so it's a great time to go!
*If a post is sponsored or a product was provided at no charge, it will be stated in post. Some links may be affiliate links and as an Amazon Associate, I may earn from qualifying purchases. *