It feels so good to be back home! I got back in yesterday afternoon and after catching up on some email and doing a bit of unpacking, I was sound asleep by 8:30 PM. That was 1:30 AM, Ireland time and was as long as I could force myself to stay up. I awoke at 4:00 AM and spent the day unpacking, washing clothes and picking up/sorting mail/packages that were being held. I have some delicious books to share with you very soon!
Ten days is the perfect length for a trip. We saw so much during those 10 days, I don't think my brain has fully processed it all. I'll create some posts over the next few weeks sharing those places/events that I think you'll find really interesting or beautiful. If you were following BNOTP on Instagram HERE, I hope you enjoyed the 30+ photos and 3 videos that I shared there.
You guys were right! Everyone who left a comment on a previous post saying Ireland is a wonderful place to visit, was right! The people of Ireland are warm and friendly and they do seem to be happy to have travelers visiting their lovely country. I would love to go back again one day to see those things I missed. It's impossible to see it all in just one trip, but we did see a lot!
Packing…A Request
Just before I left, I received an email from a BNOTP reader who asked that I show exactly how I pack. She specifically asked if would show the clothes I'm takings "in stacks" ready to go in the suitcase and then show them in the suitcase. Hope she sees this post since I couldn't find her email today when I looked for it.
Before I packed, I checked the weather one last time. It didn't appear that it was going to be terribly cold, but I remembered the comments on a prior post where a few BNOTP readers had reported being super cold in both June and August, especially while in windy areas. Since I knew we would be visiting some high, windy places like the Hill of Tara and The Cliffs of Moher, I decided to bring lots of clothes that would easily layer.
My favorite way to layer is: soft t-shirt–like the ones I buy at Wal-mart in the fall/winter for $6-7 on sale, followed by a long sleeve shirt that the sleeves can be rolled up if needed, followed by a sweater, followed by a raincoat with a hood. I don't like taking umbrellas when I travel since I'm always using my hands to take photos, unless it's absolutely pouring.
This is the suitcase I always take: a plaid suitcase by London Fog, purchased long ago in HomeGoods. It's been to Key West, Cozumel, Holland, Belgium, Morocco and now to Ireland. I can't remember if I purchased it before the Italy trip or not. I may have…I think I did. So add Italy to that list. This suitcase is the largest size Delta Airlines will allow for a checked bag. I get one free checked bag since I have a Delta Skymiles Card.
This was what I planned to place inside. Starting on the left:
Stack 1: Sweaters
Stack 2: Jeans, jeggings, pair of dressy slacks and thermal underwear (just in case)
Stack 3: Eight shirts and lots of socks
Stack 4: Pajamas and three dressy shirts (in case I wanted to dress up a little for dinner) and one velvet jacket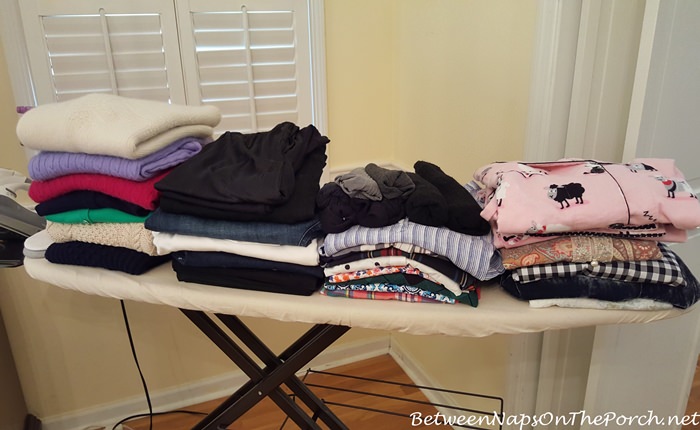 I decided to wear this on the flight over, along with a pair of navy jeggings. I knew the jeggings would be comfortable since they are stretchy. Also, I tend to be cold on planes so figured this knit sweater would help with that. I was really glad I had it! I (and the couple sitting beside me) were freezing in our center bulkhead seats, even with blankets. I purchased the striped knit sweater with hood at Talbots HERE during their recent summer clearance sale just a few days before leaving for Ireland.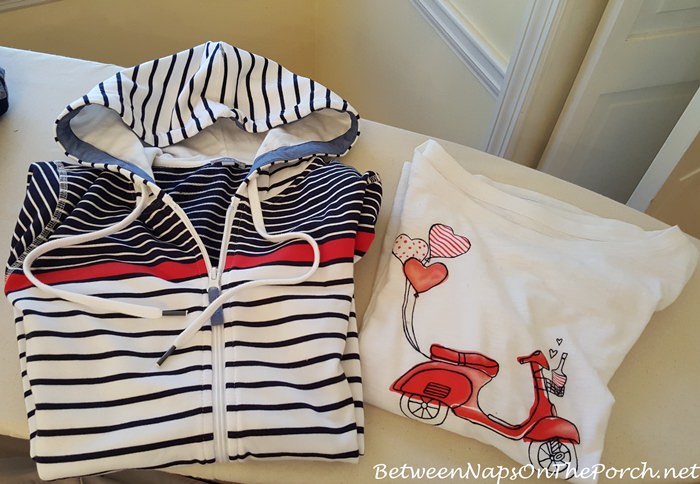 These are the shoes I took on this trip: Waterproof Boots, Adidas Sneakers and my Sperry Duck Boots. I also wore a pair of Sperry Topsiders during the flight over.
I later added this outfit to my suitcase, in case I wanted to wear a dress one night for dinner. The maxi dress I ordered from Talbots turned out to be a bad fit, but I found a very light, flowy, maxi dress marked way down on clearance at Steinmart for just $23. It was so light, it took up almost no room in the suitcase.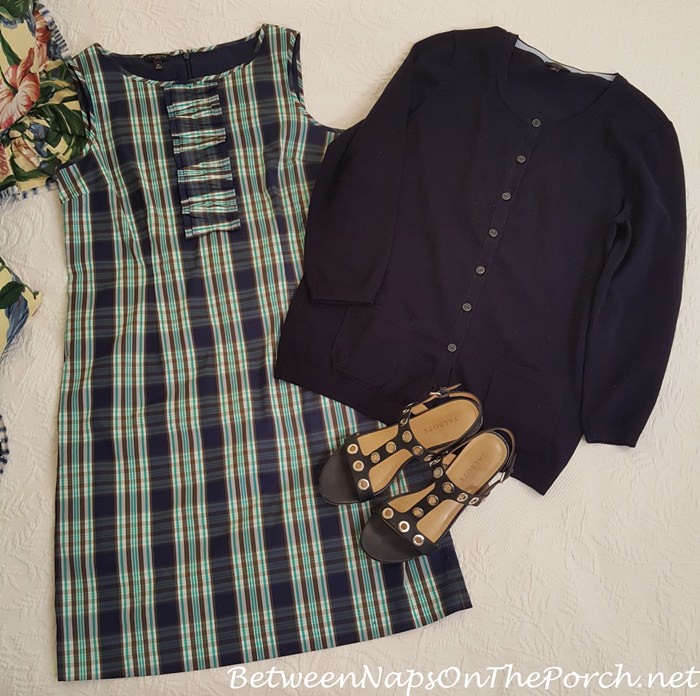 I always pack one "outfit" in my carry-on bag, just in case my suitcase never shows up. For this trip it was a pair of jeggings, a shirt and a cashmere sweater.
With the outfit I wear on the plane and one spare outfit in my carry-on, at least I'll have two outfits to wear during a trip (until I can purchase more) if my suitcase goes missing. So far, my suitcase has never been lost, hope that continues to be the case!
I also packed my laptop, mouse, voltage converter, hair curler/dryer, toiletries and other such items in my carry-on bag.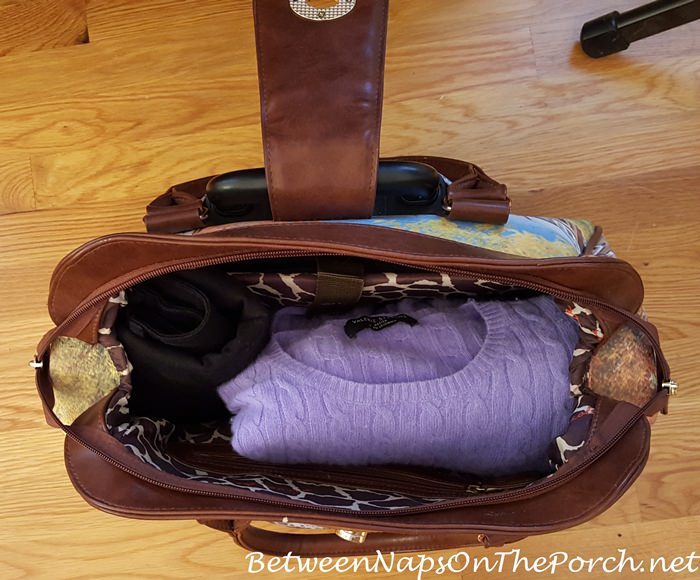 This was the outfit I wore when I traveled back home: Navy jeggings, t-shirt, plaid, shirt-jacket and topsiders. I almost wore it on the flight over, that's why the buffalo-plaid, shirt-jacket isn't in the original stack of clothing.
I love wearing topsiders when traveling/flying. I always take at least one pair when I travel.. They are super comfortable and are great for walking on non-rainy days while traveling. I've learned to not wear boots while flying on long flights, even ankle boots. If you're feet swell even a little, they quickly become very uncomfortable.
These are the pajamas I took. I had planned to take another pair of my P.J. Salvage pajamas but these arrived right before I left. I washed them the night before and packed them the morning of the trip.
They are hilarious! So many funny scenes across them, my favorite being the ones where sheep are knitting sweaters right on their fellow sheep. lol Pefect for Ireland!
I found these on eBay and it appears there are a few still left here: Sheep Pajamas and here: Sheep Pajamas. For reference, I always buy a small…they are pretty generously cut, I think.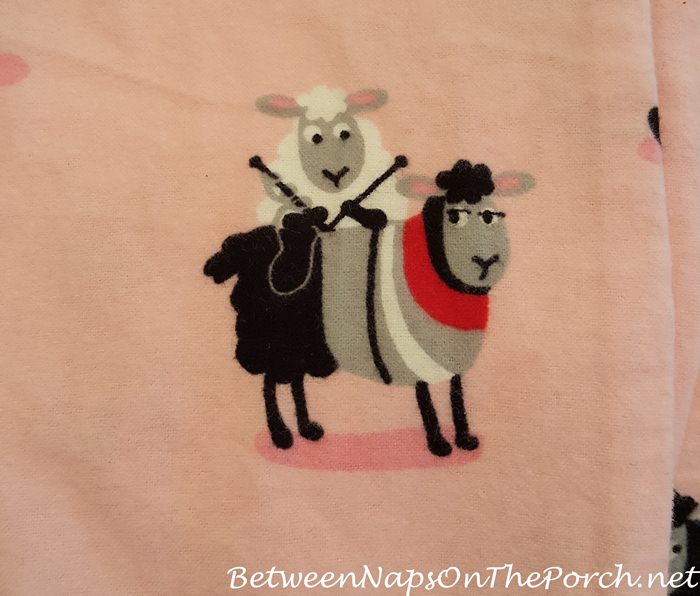 I also packed a pair of light-weight thermal/long underwear. In the photo below, you can see how sheer they are. I wanted something super lightweight that I could wear under jeggings or straight legged jeans. I love these!
I purchased a medium since they are quite thin. I didn't want to risk tearing them while putting them on and I don't like thermal underwear to be even the least bit snug in the waist. They were perfect…maybe a tad big, but very comfortable.
I only ended up wearing them one day…I think the day we visited the Hill of Tara. It was super rainy and I was worried I'd be cold. Unfortunately, it appears they've gone up from $29.99, which is what I paid on August 17th, to $38.99. You'll find them here: Thermasilk Pants. Maybe the price will go down again.
I also took THIS pair of thermal underwear, I wanted to be prepared after reading all your comments about freezing in Ireland! lol The price is still the same for those, $27.99 and it includes a full set, not just the bottoms. They are very light-weight, also–and super comfortable.
So here's how I packed: My duck boots and the stack of pants went in first. Notice how much room is still left above the pants.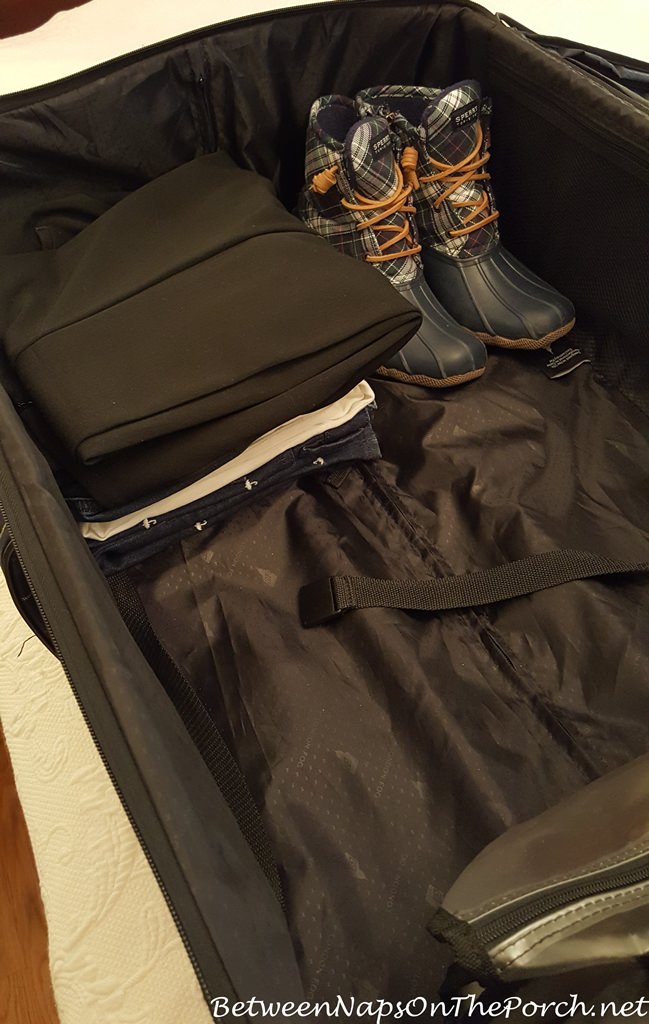 The sneakers and the stack of sweaters went in next. Oh, and I also did what I always do, I stuffed all my boots and shoes with underwear and socks to: 1. Use that available space and 2. To keep the shoes/boots from being squished out of shape.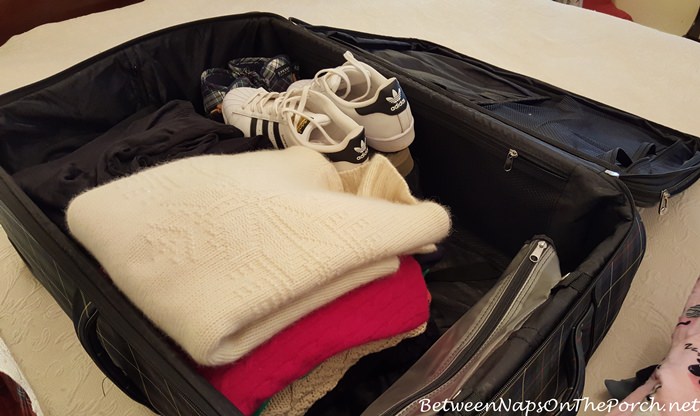 I ended up moving the sneakers to the space on the right of the sweaters to fill that small spot. I placed my P.J.s atop the pants stack. Then the shirt stack went across the back of the suitcase, in front of the duck boots.
I added my little fleece slipper socks atop the tennis shoes. They are still available here: Slipper Socks. I also have them in this pattern: Slipper Socks. It's my fave with the cute deer.
See that heavy, cream-colored sweater in the middle? I never wore it, but I took it in case we had a day that was super cold. Really, light-weight cashmere sweaters are ideal if you have them. They don't take up much space in a suitcase. I took two with me (a pink one and a lavender one) and I ended up wearing both.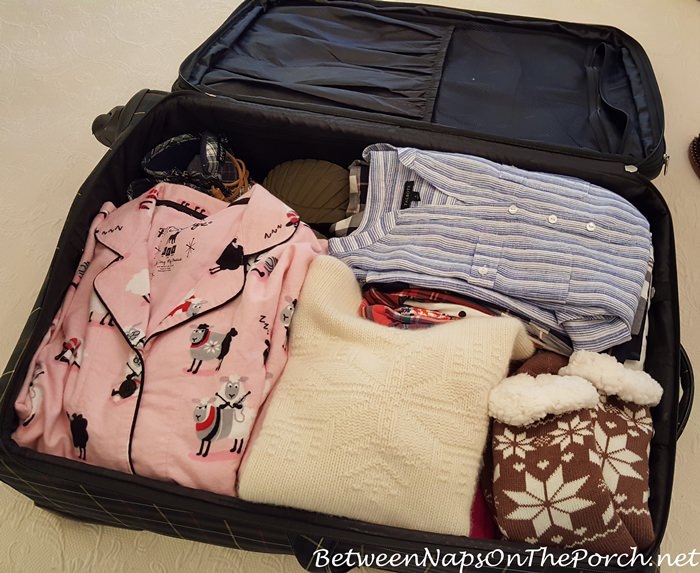 There was still room for another layer of clothing and I ended up adding in a few more things after I took these photos…mostly more sweaters.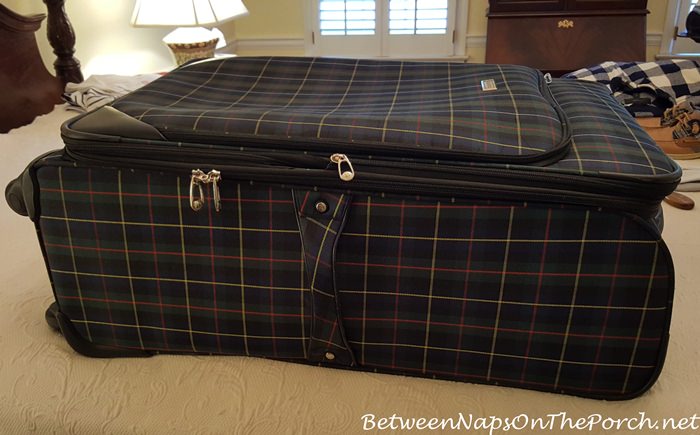 Here's everything gathered together: the big suitcase that would be checked at the curb when I arrived at the Atlanta airport, my rolling carry-on bag and my travel handbag. I ended up not taking my new Frye Leather Bag because the rainy forecast had me worried. I didn't want to risk it getting wet since I hadn't yet taken the time to treat it with the Frye weather-proofing cream.
Oh, and I did take my yellow, Barbour rain coat…it was folded and in the large. zipped, outside pocket on the outside of the suitcase. I wore it for the first 4-5 days of the trip and the tan coat you see on the suitcase the last few days. I absolutely loved wearing both. I could probably have left one at home but I really wanted to try them both on this trip.
Update: I've had a few emails asking where I got my rolling carry-on bag. I purchased it here and love it…have used it on every trip! Rolling Carry-On Bag. By the way, the measurements they show at Amazon for this bag are wrong. It's measures 18 inches wide x 16 inches tall and is 8 inches in depth from front to back. The padded computer pocket inside easily holds my 13 inch laptop that goes with me on all my trips…so it's obviously larger than the 13.5 inches they state on Amazon. They need to correct that misinformation.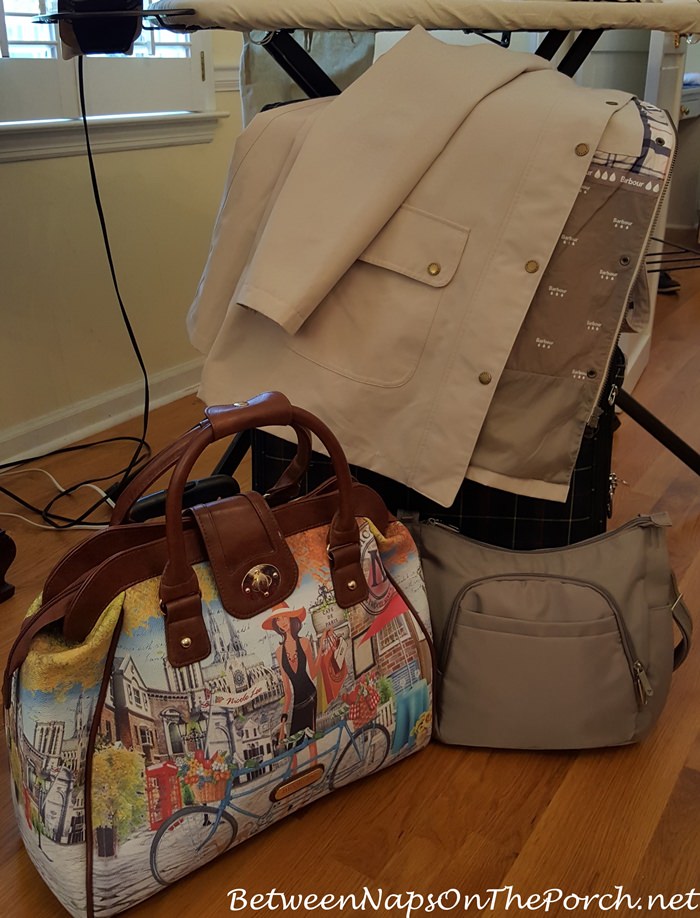 Before I added more sweaters later, the suitcase was at 33 lbs. I should have probably stopped there because I purchased a good many souvenirs/sweaters on this trip. Note: when traveling to a country that's known for making/having something you LOVE like sweaters/scarves, etc…, leave some room in your suitcase for those goodies! I should have known I would buy several fluffy sweaters! lol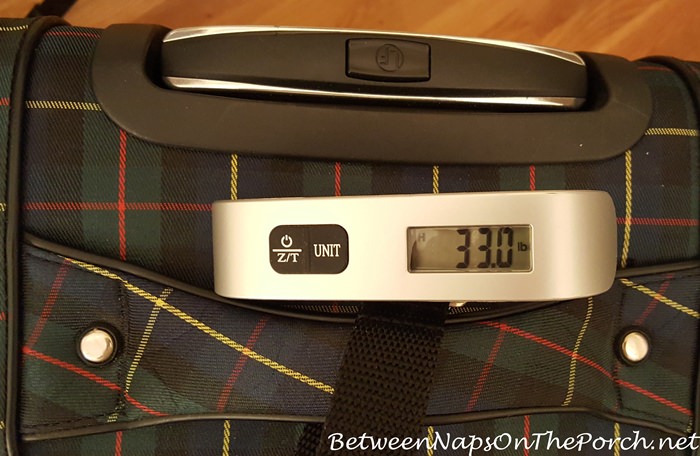 Inside my travel handbag, I had my travel pillow, phone, phone charger, sunglasses, Bose headphones, passport, credit cards/cash, travel insurance documentation and a few other things that I knew I'd need on the flight over.
Tip: Never, ever pack anything in your checked bag that you would be in major trouble if it were lost or stolen–like prescription medications, laptop, camera, jewelry, eye glasses, ID's, important documents or valuables.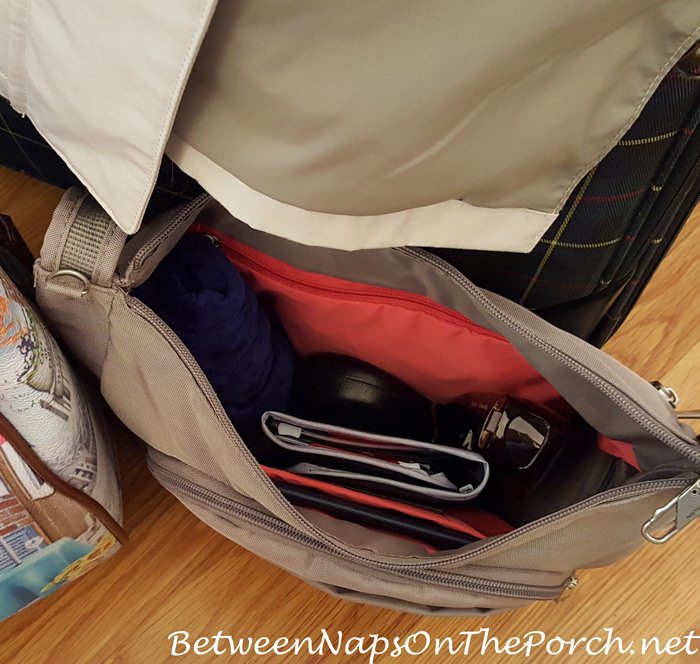 In the airport, I purchased these in the Kiehl's store. I thought it would be helpful for those windy days in Ireland when lips can become chapped. I LOVE this stuff. It goes on so smooth and adds a small amount of color to your lips. And it has sunscreen! Will definitely buy more when this gets used up. It's available here for the same price I paid at the airport: Kiehl's Butterstick Lip Treatment. It comes in a non-tinted version here: Non-tinted Butterstick.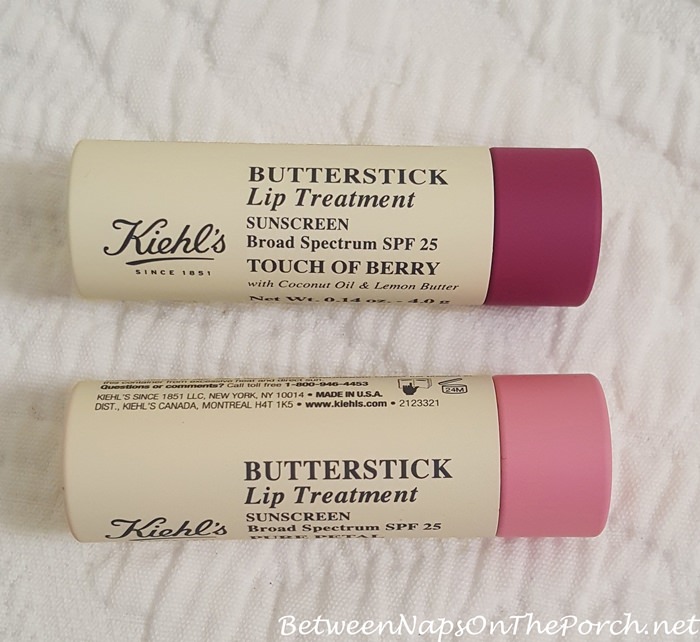 Hope this post proves helpful for anyone contemplating a trip to a locale where the temperature is unpredictable and sometimes rainy/cold. Can't wait to share more of Ireland with you, especially the castles! 🙂
See you tomorrow for Tablescape Thursday!
*If a post is sponsored or a product was provided at no charge, it will be stated in post. Some links may be affiliate links and as an Amazon Associate, I may earn from qualifying purchases. *