Welcome to the 361st Tablescape Thursday!
I don't often have the opportunity to post table settings created for a baby shower, so I'm so excited to share the wonderful tables Elena recently put together in celebration of the birth of her 2 month old niece, Iris Maria.
Elena said, "I went over the top with a girly-girl pink princess baby shower. By the way, both men and women were invited to this girly girl event."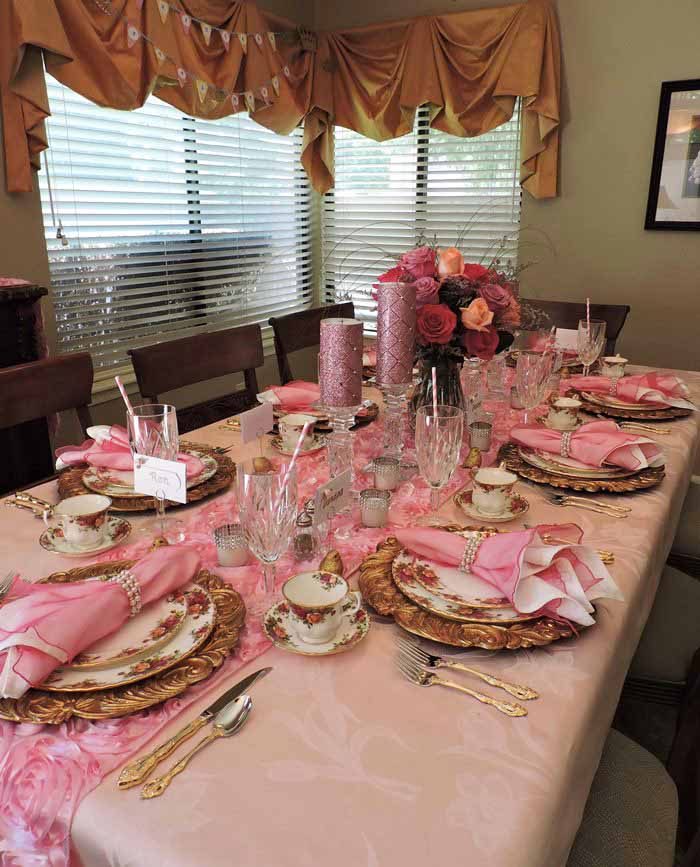 "I set three tables and all were festooned with real roses to match my "Old Country Roses" china, pink rose-embossed tablecloths and table runners, and sprinkling of large and small pink and clear diamonds."
On two of the tables, Elena used her beautiful "Old Country Roses" china.
Elena found gorgeous roses at the Phoenix flower market to match her china!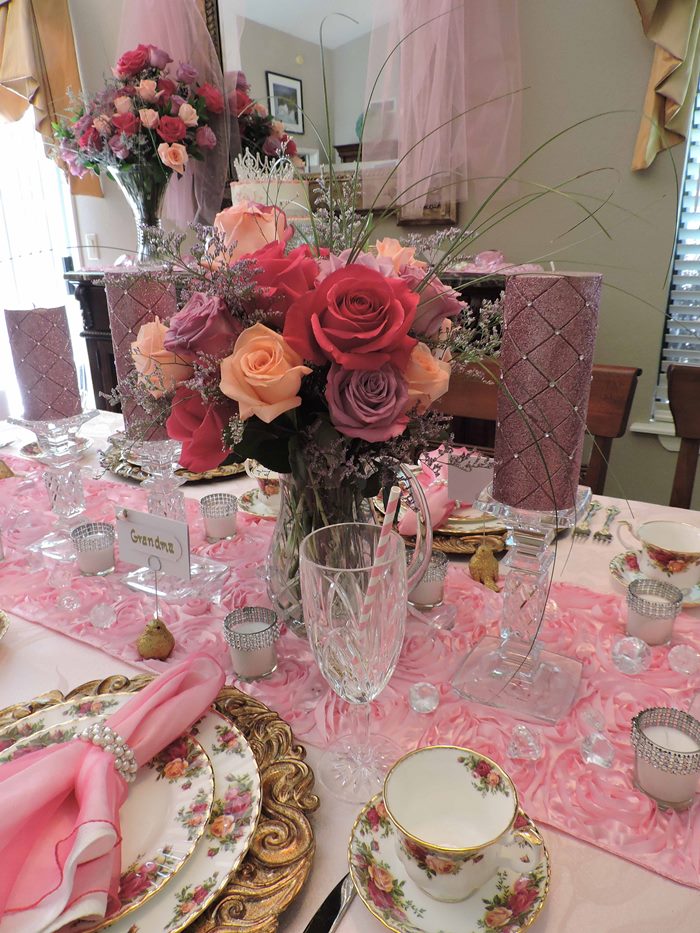 What a stunning bouquet! The colors are so perfect!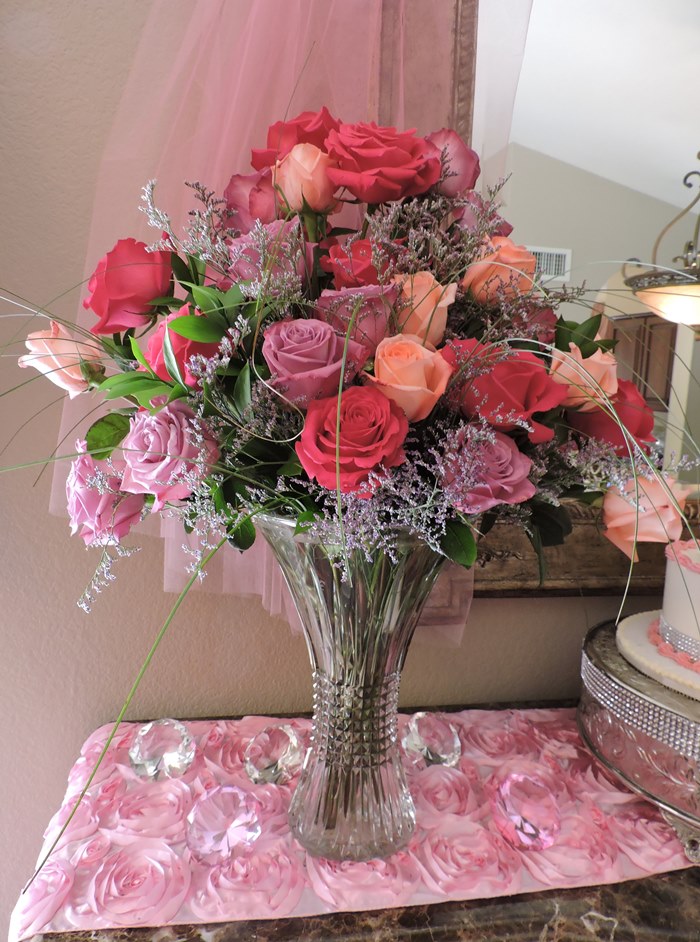 I've always admired this pattern, Royal Albert Old Country Roses. The best price I've been able to find for it is here: Royal Albert Old Country Roses 20-Piece Dinnerware Set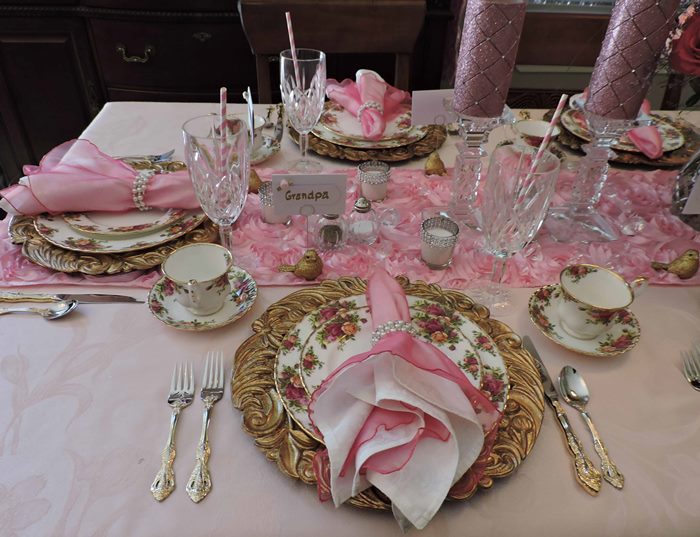 Elena said, "I didn't have enough Old Country Roses for all three tables, so for one of the tables I used a Disney Princess Theme. I found some Beauty and the Beast china which is sold only at the Beauty and the Beast gift shop in Disney World."
"For this table I found Disney princess cotton and sewed napkins out of the material. I used Disney Beauty and the Beast cotton fabric to make the charger plates." This dishware would be so perfect for a little girl's birthday celebration, too!
Elena decorated the mirror and sideboard so beautifully for the shower!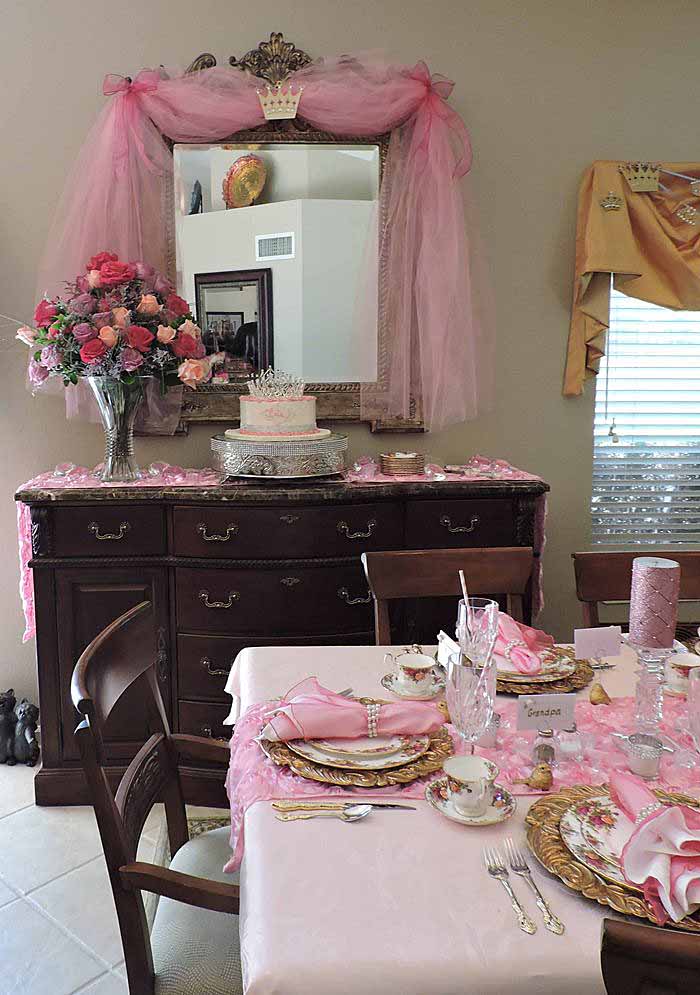 The cake is absolutely wonderful! Elena added a tiara to the top that she found on eBay. It's an actual pageant crown…so fun! I know Elena's family and friends must have been blown away by all the special little details Elena created for this lovely event!
Elena said, "I had a lot of fun with the beverage table because it featured Mr. Sharkie (from Pottery Barn) in a pink tutu with a crystal brooch and pink ribbons on his head. Grandson was very unhappy that I had dressed "his" sharkie up with girl clothes, but he sucked it up like a big boy because I asked him to. As soon as the guests left, he insisted on immediately removing the brooch and tutu from Mr. Sharkie. LOL :0)
Because he's such a great beverage holder and conversation piece, I've been using Mr. Sharkie for many different occasions. For Halloween, he will have a costume, for Christmas I will probably put a Santa hat on him. I have been calling him, "A Shark For All Seasons."" (Mr. Sharkie is currently on sale at Pottery Barn here: Shark Beverage Cooler )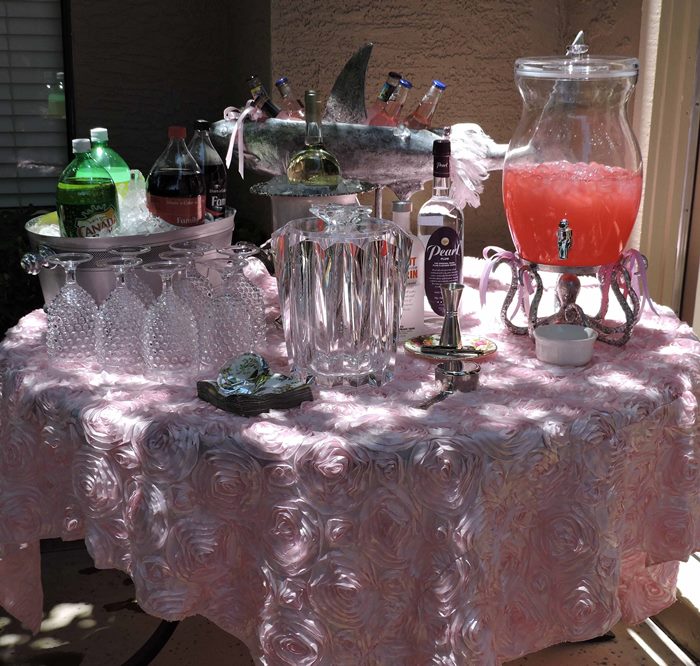 Elena found the cute Octopus drink dispenser stand at Pottery Barn. I just noticed it's on sale at Pottery Barn here: Octopus Stand
Thanks so much to Elena for sharing such a beautiful celebration with all of us. Everything was absolutely perfect!
Resource list:
Pink tablecloth for main table—Bed Bath and Beyond
Pink satin rosebud ribbon-embossed runners and tablecloths—eBay
China on main table and small table in kitchen—Old Country Roses
Clear crystal stemmed goblets on main table, Waterford
Crystal pitcher centerpiece (holding flowers on main table) Waterford Lismore from ShopNBC/Evine
Main table flatware—Oneida Michelangelo with gold electroplate
Gold embossed charger plates from Bed Bath and Beyond
Crystal candle holders—Marquis by Waterford, from Evine
White damask napkins on main table—Waterford pattern, from HomeGoods
Bright pink organza napkin wraps—from Always Elegant on eBay
Pearl and crystal napkin holders from Bed Bath and Beyond
Pink glitter pillar candles—At Home
Pink stripe paper straws—from Michaels
Glittery gold bird place card holders—Pier One
Pink tulle and ribbons decorating the side board mirror—from JoAnn Fabrics
Fresh roses on the side board in Waterford Lismore Diamond 14" vase, from Evine
Princess cake tiara (this is a real pageant crown from eBay LOL)
Silverplate 18" cake pedestal—from eBay
Fresh roses and greenery from the Phoenix Flower Market
Cake by Honeymoon Sweets Bakery in Tempe Arizona
Glitter ribbon for cake pedestal and cake—David Tutera wedding accessories found at Jo Ann fabrics
Large/small pink and clear crystal "diamonds" scattered on tables and sideboard—from Micheal's
Glitter ribbon votive candle holders—glass holders from Wal Mart, decorated by hand with David Tutera glitter ribbon
On Disney Princess table:
Pink damask tablecloth from Bed Bath and BeyondDisney princess napkins—made by hand from fabric from JoAnn's
White organza napkin sheaths—from Always Elegant on eBay
Pearl and crystal napkin rings—from Bed Bath and Beyond
White and gold-trimmed Beauty and the Beast porcelain plates—from Walt Disney World gift shop
Lavender Beauty and the Beast charger plates—made by hand with glass plates from Wal Mart and Beauty and the Beast fabric from eBay
Lavender beverage glasses—Waterford from Evine
On the third table (not pictured) I used the Old Country Roses China with pink Waterford beverage glasses
Mr. Sharkie hammered aluminum beverage holder—available here: Pottery Barn
Miss OctoP octopus beverage container stand—from Pottery Barn
Pink Tutu and head brooch for Mr. Sharkie, and ribbons for Miss OctoP—from Jo Ann fabrics
Looking forward to the wonderful tables posted for this Tablescape Thursday!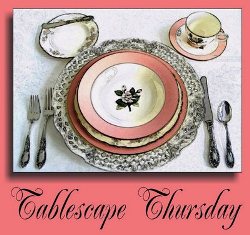 If you are participating in Tablescape Thursday, please be sure to add your permalink below, and not your general blog address.
To get your permalink, click on your post name, then copy and paste the address showing in the address bar, into the "url" box when you link up. You'll need to include a link in your post back to the party to link up and participate.
That's so visitors to your blog will be able to find the party and the other Tablescape Thursday participants. Requiring a link back also prevents businesses from linking up to sell their products. (Yep, that really happens, unfortunately.)
Please, don't add your post name/blog name ALL IN CAPS…it tends to create big spaces between the rows of links.
Please do not link up table settings that were just recently shared in the last few weeks for Tablescape Thursday.
*If a post is sponsored or a product was provided at no charge, it will be stated in post. Some links may be affiliate links and as an Amazon Associate, I may earn from qualifying purchases. *