Welcome to the 573rd Metamorphosis Monday!
Recently I was chatting via email with Selma whose beautiful table setting I featured a few weeks ago. During our email conversation, Selma asked if in a future post I'd share some ways we can brighten our home during these cold winter months. I know our homes can sometimes feel a bit empty and sad after we've put away all our festive holiday decorations.
One of the most fun ways I've seen for keeping our homes bright and cheerful during the holidays is something my friend, Marie, does all year round. She has a white tree in a corner of her kitchen/breakfast area and she decorates it all throughout the year, including for Valentine's Day as shown below.
I just took a quick look around online and found white trees on sale/clearance in several places including HERE, HERE and HERE. If you've ever thought of putting up a white tree to decorate throughout the year, January is a great time to shop for them since most are on sale right now.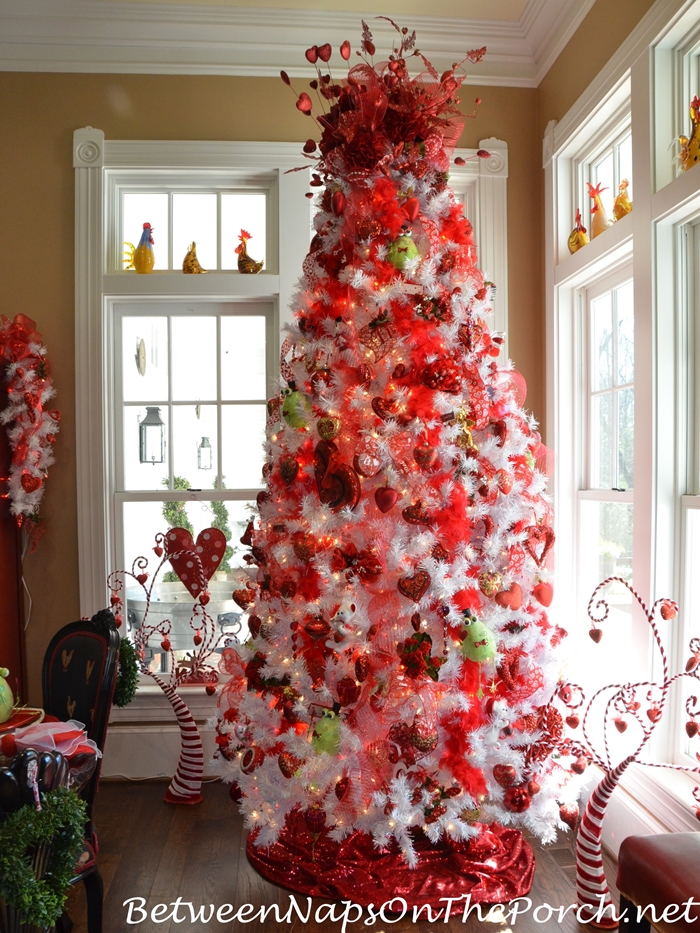 I have a little, white feather tree that I sometimes decorate for Valentine's Day. I found it many years ago in Michael's. I don't see any feather trees at their website, but they have a lot of cute tinsel trees in varying colors on sale here: Tinsel Trees.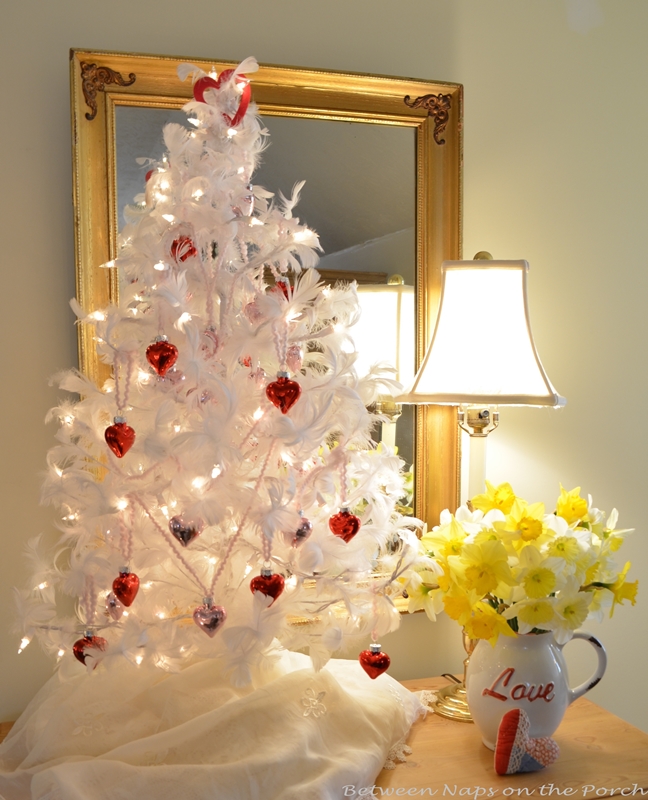 Candlelight
Another way I keep my home feeling merry and bright through the cold winter months is with copious amounts of candlelight. I love, love, love candles! I purchased this one during my trip through Ireland where we stayed in castles throughout the trip. This candle came from Ballynahinch Castle. Oh, how I would love to go back one day! Check out these posts below to see more of Ballynahinch Castle:
A Beautiful Bedroom in Ballynahinch Castle
Inside Ballynahinch Castle: Take a Tour of this Romantic Irish Castle
Hiking the Grounds of Beautiful Ballynahinch Castle
My favorite candle(s) since I discovered them last year are the ones with the wicks that make a crackling sound like a wood-burning fireplace. Love them so much!
I keep one burning on my desk here in my office during the evening throughout the year, not just during wintertime. My favorite scent is Fireside, but I really love them all! They last for a very, very long time since they are such big candles. You'll find them available HERE. It appears they are currently on sale HERE.
If you are concerned about having a real burning candle in your home or don't care for scented candles, check out some of the super-realistic ones that are available now. These are made of wax and have a flickering/moving flame! You'll find this beautiful set here: Real Wax Pillar Candles with Dancing Flame. They come with a remote to make turning them on super easy.
This set includes even more candles. It doesn't have a flickering light like the set above, but the price is amazing for that many candles! It comes with a remote, also. You'll find it here: Real Wax Candles with Timer and Remote.
Lamp Light
Another way I keep my home bright during these gray, winter months is with lamps. I love lamps and love having a lot of them in the rooms in my home since I don't really care for overhead lighting. Nothing makes a room feel more inviting and cozy than soft lamplight all around the room. In my living room below, you'll see five lamps positioned throughout the room. Overhead lighting can feel so harsh, so go for lamplight whenever you can.
On the other side of the room on the built-in bookcases, I have two additional lamps. (Older photo so please excuse the blurriness.) With the invention of LED lightbulbs, it costs pennies to burn our lamps these days, so enjoy lighting up those rooms with soft, warm, cozy lamplight. Just be sure to purchase the bulbs that are designed for a cozy room atmosphere and not task lighting.
I've done the same thing with the lighting here in my home office. In the photo below, you'll see 4 lamps. The one in front of the windows is hard to see but it's a castle lamp from the Ireland trip.
I added little Dept. 56 lit houses to the bookcases in my office to brighten that side of the room. They are all on a timer so they come on automatically in the evening. I love walking into my office in the evening and seeing them aglow. They make my heart so happy and even the doldrums of winter can't take that away!
The houses are all from Dept. 56's "Literary Classics" collection so they were perfect for the bookcases. Dept. 56 has discontinued this collection so the only place I've found them now is on eBay here: Dept. 56 Literary Classics. that's where I purchased mine, too.
Green Plants
If you have a green thumb, having a few live plants in your home can help brighten things up when it's looking bare and dismal outside. I love to buy shamrocks as it gets closer to St. Patrick's Day. I do okay with outdoor plants but don't have the best luck with my indoor plants. This table in my breakfast area gets the best light during the winter months.
Focus on a Spring or Summertime Project
Another way to brighten our spirits during these long winter months is to focus on the warmer days ahead. If it's too cold to be outside, perhaps you can use that time to build a potting table. When I built this one, I had never, ever built anything from scratch before. So if I can build a potting table, I know anyone can! lol You'll find the two posts I shared on how I built this potting table here:
Build a Potting Table, Great for Parties, Too!
Dimensions and Cut List for a Pottery Barn Inspired Potting Table
Plan for Your Spring/Summer Garden
Another way to fight the winter doldrums is by spending your evenings planning your garden updates for spring/summer. I love to pour over my gardening books and seed catalogs, just dreaming of beautiful gardens and the spring garden tours ahead.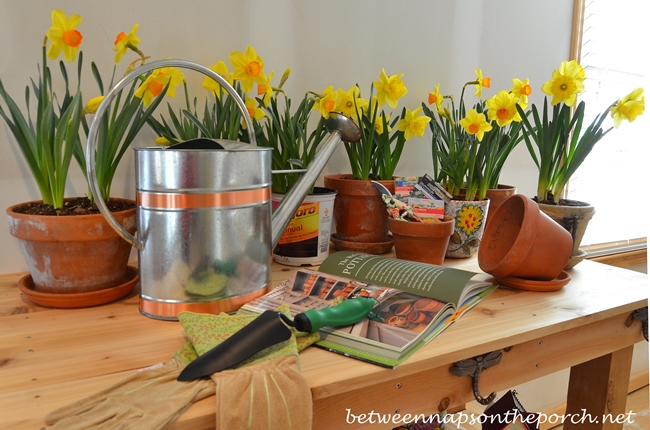 If building a potting bench sounds like more than you would like to take on, get one like that's pre-made and just needs some assembling. I purchased this one a few years back and had so much fun assembling and painting it a whimsical periwinkle blue. I keep it in my garage since I don't want it to weather too much. It comes in handy for potting up plants I use indoors like the shamrocks seen earlier.
This bench is still being made and you'll find it available here: Potting Bench.
One More Project to Keep You Focused on the Sunny Days Ahead
Another winter project that will help you pass the cold winter months and focused on spring is making a tiered planter for your spring flowers. You'll find a detailed tutorial for making this plant stand here: How to Make a Tiered Planter From Terra Cotta Saucers.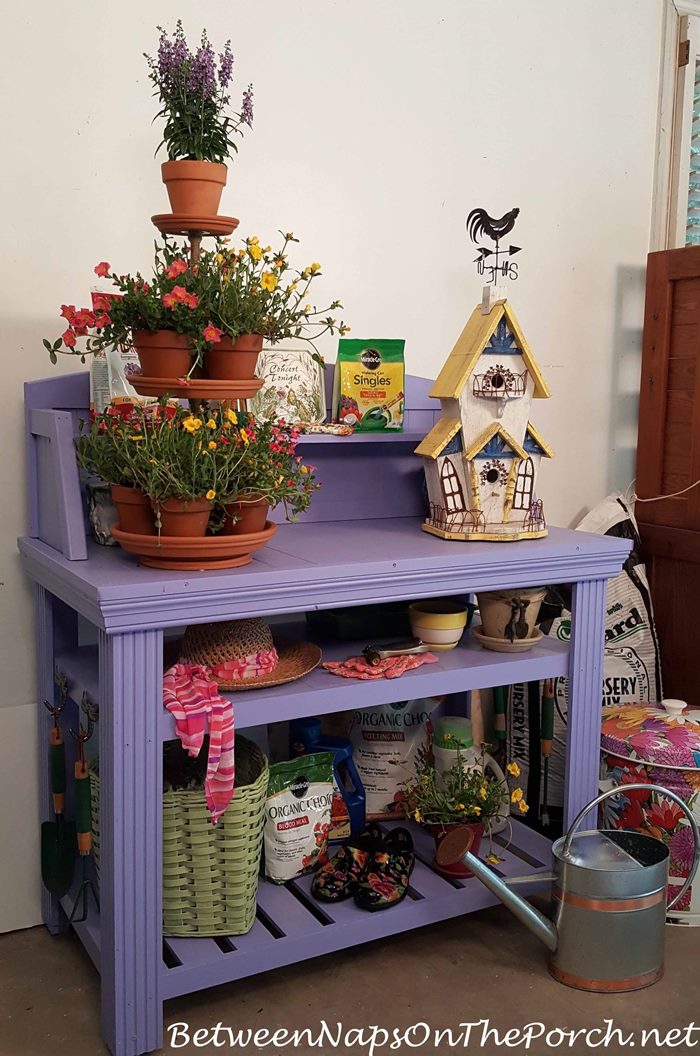 Here's how the planter looked in one of my summer table settings the year I made it.
Plan a Summer Trip or Vacation
Another way to brighten your spirits this winter is by planning a summer trip or vacation!
The travel bug hit me 4 years ago and I've had so much fun exploring this big 'ol world! If you plan a trip, I promise no matter how cold/ugly winter gets, the dream of that trip this summer will keep your spirits happy and bright.
Bonus Idea
Wintertime is a great time to curl up with a great decorating book and plan some new decor projects for spring. You'll find over 100 of my favorites here: Favorite Decor Books.
Hope you find these ideas helpful for passing these cold winter months. We're almost through January, so that really just leaves two more months before springtime arrives. I noticed this weekend, the daylight is already staying with us a little longer each day. Have you noticed that? It makes me so happy because I know spring will be here before we know it! In the meantime, I hope this post makes you happy and gives you a few ideas for brightening your home (and spirit) on those cold winter days!
Looking forward to all the wonderful Before and Afters linked for this week's Met Monday!
Pssst: Did you know Between Naps On The Porch is on Instagram? You'll find me on Instagram here: Between Naps On The Porch.
Like to know when a new blog post is up and available to read? Subscribe for email updates, it's free and your email will never be shared.
Subscribe here: Subscribe for free post updates via email here: Subscribe.
Metamorphosis Monday
Metamorphosis Monday is a party that's all about Before and Afters. If you are participating in Met Monday, please link up using the "permalink" to your MM post and not your general blog address. To get your permalink, click on your post name, then just copy and paste the address that shows up in the address bar at the top of your blog, into the "url" box for InLinkz when prompted.
In order to link up, you'll need to include a link in your MM post back to the party so the other participants will have an opportunity to receive visits from your wonderful blog readers.
This party has ended, click button below for the links to all who participated.
*If a post is sponsored or a product was provided at no charge, it will be stated in post. Some links may be affiliate links and as an Amazon Associate, I may earn from qualifying purchases. *