As the years pass things wear out, my ideas for a room in my home may change, or I find something better for a space than what's currently there. Does that happen in your home, too? It gives us an opportunity to "freshen up" and revive our rooms, giving them new life.
A while back, just for fun, I created a "wish list" board at Pinterest. It's a virtual pin board where I can store a picture or idea for a product or item I may wish to purchase or make some day for my home/garden. It may even be a product I'd love to find for an upcoming party or table setting I have planned. I created the board fairly recently, so it's pretty empty right now. Over time, items will be added and I'm sure some things will be removed.
Do you have a virtual pin board or a physical file for storing away pics of products you are thinking of purchasing one day for your home? I guess you could call my Pinterest "Wish List" board my virtual Sears Roebuck Catalog. It's filled with dogeared pages, red crayon marks and little notes scribbled into the margins.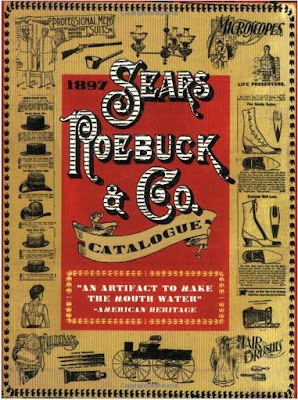 Garden Seats or Stools:
Many years ago, long before decorating blogs existed, I devoured each issue of Traditional Home magazine when it arrived in my mailbox. Often, I'd see beautiful rooms with pretty garden seats/garden stools. I thought about adding one to my home, but they weren't very easy to find back then and when you did, they were pretty pricey.
Not so, now. Garden seats are back in a big way, even appearing front and center on the cover of some magazines and many are very affordable. Of course, if you buy an antique garden seat, you'll have to spend the big bucks, but you can find new ones for very reasonable prices.
You may remember seeing this ceramic garden stool in our tour of the Southern Living Idea House in Senoia, Georgia.


A little history about garden seats: Originally garden stools came from China and were indeed used in gardens. The barrel-shaped design, similar to the one you see above in the SL Idea House, dates back to over 1,000 years. It's thought this barrel or rounded shape may even date back to Buddhist garden tradition where you would have seen tree stumps acting as seating for the garden. It's so amazing that a design dating so far back is still being used in home decorating today! Love that!
If you follow BNOTP on Facebook, you know I recently located an item I had posted on my Pinterest "Wish List" pin board. I finally found a garden seat that met my two biggest criteria: 1. Affordable and 2. A style/design I really liked. These days, I have to really, really like an item before I buy it or bring it home.
It all started when I saw this cute seat over on One Kings Lane. Unfortunately, it was available back in February and had long since sold out. So I added it to my "Wish List" pinboard, and that was that.
I shared a pic of it on the BNOTP Facebook HERE and lamented missing the sale since I really liked the cut out (reticulated) quatrefoil design. Cindy who blogs at Beaux R'eves commented she had found a very similar one at HomeGoods back in January. I visited her blog and she was so right. It was very much like the one I'd seen at One Kings Lane, only I liked her garden seat even better! I was pretty sure the price would be better as well because you can rarely beat HG pricing.
I visited a HomeGoods that's about 5 minutes from my home and alas, no garden stools. A couple of days later, on a day I hadn't planned to go anywhere, intuition hit. I don't know why but I just suddenly had this feeling I should go check another HomeGoods that's about 15 minutes away. Do you think there are decorating angels who guide us? lol I have no idea why that urgency hit, but I decided to go with it.
I could not believe my eyes! They had the very one I wanted. I bought it to go on the porch, but I thought I'd share some of the different places/ways it could be used.
In the guest room….
…it could be a little side table for this reading corner.
Umm, I may have to buy a second one some day.
I'm loving the way this looks here.
Wonder how it would look here in the upstairs family room?
Where might I use it in here?
Maybe a little side table for the window seat?
Or, how about beside the sofa to hold a bowl of seashells?
For now it's living life large out here on the porch.
I have a feeling it will get moved around out here, depending on if it's needed as extra seating, or to hold a plant or glass of sweet iced tea. Update: This garden seat is back upstairs now in the guest room, I just loved how it looked there. I found a green garden seat for the porch and you can see it, HERE.
Do you have a ceramic garden seat? If so, where in your home or garden does it live? Is it acting as a small table or as extra seating? Please share. I'd love to know how you use yours or if you are planning on adding one to your home or garden this summer.
*If a post is sponsored or a product was provided at no charge, it will be stated in post. Some links may be affiliate links and as an Amazon Associate, I may earn from qualifying purchases. *