You know those days when you run and work, work and run, but at the end of the day you're not real sure what you've gotten accomplished. Lately some of my days are feeling that way. I'm kind of in never-never land or maybe a better term is landscaping limbo.
I have about forty-eleven projects running through my head and some require decision making, some require additional money and some require input from other sources. In the meantime, I'm working on the things I can do right now while the others simmer on the back burner.
One thing I've been actively pursuing was some new planters for the porch. In this photo of the porch two Christmases ago, you'll see some concrete planters on either side of the steps. I've never been crazy about how they look, even when they have flowers growing in them.
You can see them a bit better in this evening photo taken 3 Christmases ago. They just don't work here. They fill the gap on either side of the steps but they are too small and just not the look I'd like.
I pulled all the dirt out of them and wrestled them onto my garden cart. Did I mention they way 2 tons each? They are still sitting on the cart because I don't want to remove them until I know where they are going. lol
The main reason I wanted to show you this picture (below) is because this little cart may be the most important garden tool I own, next to my shovel. I use it ALL. THE. TIME! I put that all in caps but maybe I should bold it, too. This cart is that important.
It came with sides which were removal; I have them stored in the garage. This cart is how I managed to get 110 bags of mulch spread. I loaded this baby down with 5-6 huge bags of mulch and pulled the mulch to wherever it needed to go. When I buy bedding plants or new shrubs, I load them onto the cart and pull them to where they will be planted.
I've even used it to unload heavy furniture from my SUV. I'll pull it up to the back bumper of the SUV and drag whatever thing I've brought home onto the cart, then I use the cart to pull the furniture to the kitchen door or the front door, depending on where the piece is going. Or, I can use it as a transition for pulling something large onto the garage floor like I did when I purchased a tool chest in this post: Getting Organized: It's the Garage This Time
I'm not sure now where I bought it, I've had it so many years. I'm guessing it was a local hardware store. Every so often I pump up the tires again since it's easiest to pull when they are full. Other than that, it's a workhorse! Just wanted to share in case you find it helpful for your needs. Hopefully it is still being made.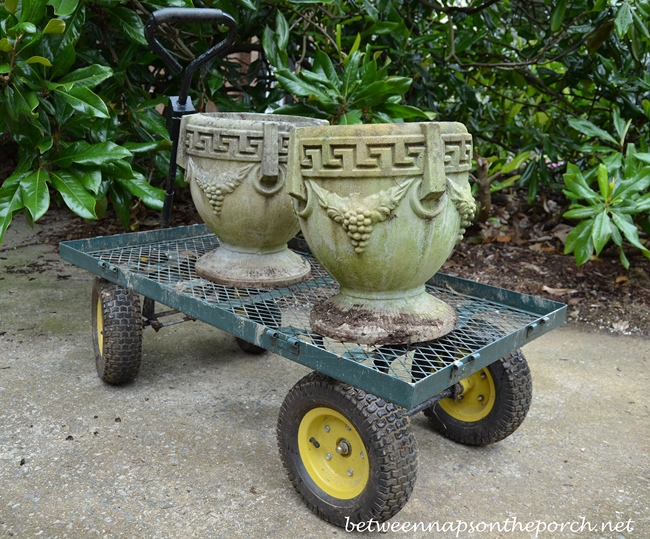 So what did I put back where the small concrete urns had been? Two large "Square, Lattice" planters. These are much lighter since they are made of a blend of natural stone and resin. They perfectly fit in the square spot at the end of the porch. You would think they were designed for that area.
Okay, try to imagine big shrubs on either side of the porch, so lots of pretty green around the porch. Then imagine some type of evergreen, pyramidal-shaped, dwarf tree planted in the new planters with annual flowers (like wave petunias or pansies) planted around the dwarf trees. Maybe something that looks like THIS ONE I pinned to a new board I just started on Pinterest. I haven't put any dirt in them yet because I'm still trying to decide if I like this idea.
Ignore the black urn on the porch. I had been hoping to put two tall urns on the porch with ferns in them–saw that somewhere online and liked how it looked. But I really don't like this particular urn. It isn't fluted all the way around and is just kind of ugly in person. So it and the other one I purchased are going back. Sorry about the greenish steps. Now that the giant oak tree is gone that loomed over the porch, I need to clean all the mossy stuff off the steps. Update: Happy to say the steps have been cleaned. Got out there and scrubed them down this evening.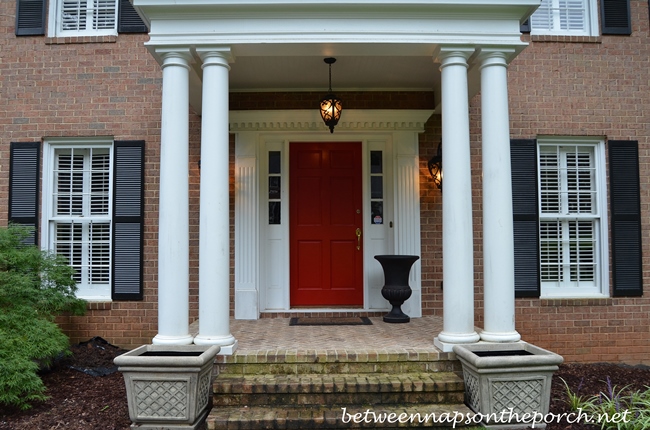 I've also been digging out liriope and transplanting it to other areas to make way for a small perennial bed.
Remember the little area to the left of the walkway? I decided to make it a perennial bed…you can see all the perennials awaiting planting in the pic below. I got those all planted last night and will share how they look for Met Monday.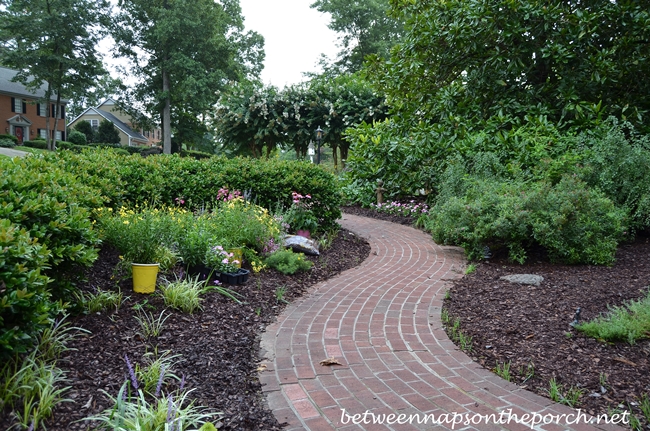 I've also been digging up these guys. They are baby grape hyacinths. I used to have grape hyacinths growing along the walkway down one side (the left side in the pic above.) Over the years some have vanished, maybe eaten by critters. They have popped up in other areas; I guess they spread by seed because I found them on the other side of the walkway. I transplanted bunches of those this weekend, so hopefully next spring they will decorate the walkway once again.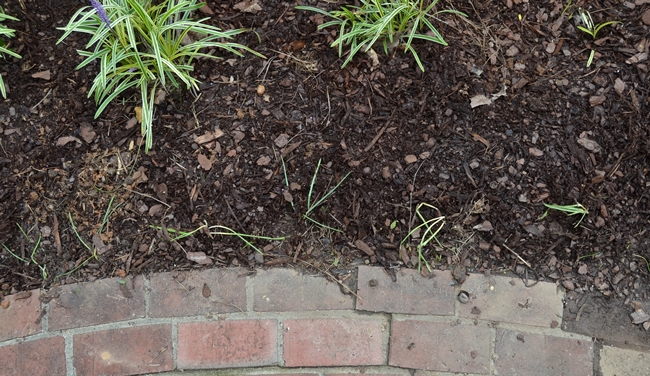 Here's how they look…I love them! They are so pretty lining the walkway each spring.
(Picture above and below are from Wikipedia.)

Changing gears (I do that a lot these days) you may remember I have outdoor speakers on the porch. Well, when I had the porch pressured washed on the outside a few months ago, the pressure washing company hit the speaker with one of their hose thingies. At least that's what I think happened since I found it dripping in water when they finished and it hasn't worked since that day. They are outdoor speakers but they are meant to be hosed down with pressure washers. 🙁
I pretty much cropped it out, but you can just barely see the wire hanging down from where I un-installed the non-working speaker (note arrow) and sent it off for repair. (Beach themed tablescape can be viewed here: Lobster and Crab Fest)
The speaker company just e-mailed and said they are going to replace both speakers under warranty so they want the other one, too. They sent me a prepaid shipping label and it's ready to go. I've had the speakers for 5 years but the warranty was for 10 or something like that. I'm surprised they are replacing them, but grateful.
So, that's a bit of what I've been working on here. What will you be doing this weekend? Anything fun planned?
*If a post is sponsored or a product was provided at no charge, it will be stated in post. Some links may be affiliate links and as an Amazon Associate, I may earn from qualifying purchases. *