When I moved into my current home around 23 years ago, I knew almost nothing about decorating or furnishing a home. When first moving into a home, it can feel overwhelming and even a little intimidating trying to decide how to decorate all those empty or half-empty rooms.
The room that challenged me and perhaps taught me the most about decorating was my family room. I had never bought furniture for a room with judges paneling and it was definitely a learning process discovering what fabrics and wood tones looked best with the room's honey-brown walls.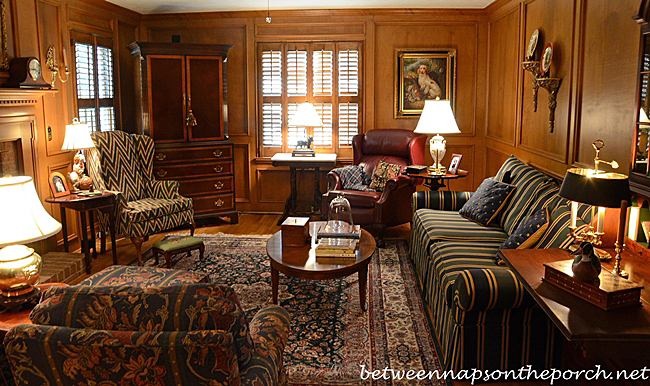 What I discovered was the red tones you find in furniture made from cherry wood were a total no-go while furniture in warm brown tones, like those seen in this Villa Clare Armoire from Havertys, looked great in my family room.
Villa Clare Armoire
Furniture upholstered in jewel tone fabrics like emerald-green, navy blue and burgundy were perfect for the room.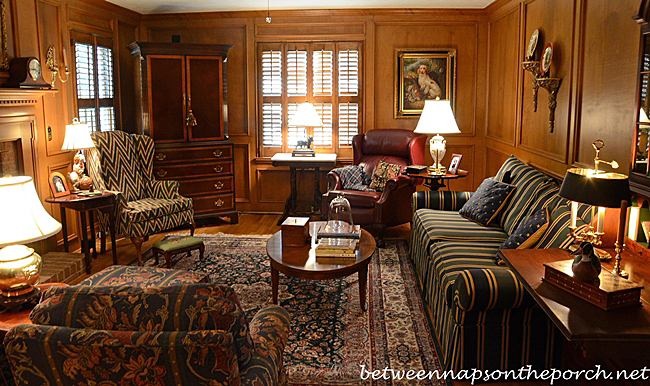 A leather wingback added a different dimension and interest to the space.
A club chair like this would have worked great in this room, as well.
Cagney Chair
I love a comfy, leather club chair for a living room or den.
Lacey Accent Chair
I've been thinking a lot lately about the kind of home I'd like to live in when I move one day. I'm leaning strongly in the direction of a storybook cottage, something like this adorable playhouse below, only grown-up size. I love a cute cottage and it would be so much fun to decorate! I know the living room would call for very different furniture than what I currently have in my existing family room.
I would like for the furniture and fabrics to be light, maybe a neutral-colored sofa that I could change up with different pillows and throws for the seasons and holidays. I found several online at Havertys that are along the lines of what I would like.
Jessica Sofa
Seascape Sofa
The Veranda is probably the most traditional looking of the four I most like.
Veranda Sofa
I like all of these so it would be hard to choose! Which do you like of these four?
Melody Sofa
I've always loved how the designer Charles Faudree incorporated a bit of bamboo furniture into all of his homes, so the Hoko Bamboo floor lamp caught my eye. It would work well in both a traditional or cottage style home.
Of course, I'd need a few chairs to go with my sofa. The Melody Accent chair has that cottage feel I love.
Melody Accent Chair
I love the color of this chair, such a pretty soft-yellow. Reminds me of one of my favorite paint colors for walls which is a soft, buttery yellow.
Coral Bay Chair
I know we are continually bombarded with the latest furniture styles/trends on TV and in all the magazines. When I'm shopping for those pieces that are going to be a significant to a room, those that I know I won't be replacing anytime soon like a sofa or an armoire, I try to stick with classic styles that I've loved in the past and know I'll love for years to come.
I have never been one to worry about the latest trends when it comes to furniture or how I decorate my home. But if that is something you enjoy or feel is important and you don't necessarily have the budget to support it, consider updating your room with a new chair, a lamp or maybe some new pillows. You can really transform the look of a room with just a few changes, especially if the larger furniture pieces in the room are classic, never-goes-out-of-style pieces.
Lauralie Wing Chair
Every cottage living room needs a side table to go alongside the sofa or beside a chair. I love the shape of this accent table. It's not too traditional and not too trendy, just right for a cottage home or even a beach house. It kind of reminds me of that fabulous table in Erica's bedroom in the movie, Something's Gotta Give. Do you remember that table?
Kensington Accent Table
Those are just a few of the ideas and dreams I have for the living room of that cottage home I see myself living in one day. Do you have plans for a dream cottage or dream room in your heart? Leave me a comment and tell me how it would look. I bet you have it furnished down to the last pillow and picture frame! 🙂
I just noticed this evening, Havertys has a big sale going on for the 4th of July, it runs through July 6th.
Havertys helps you bring your vision to life. Visit Havertys.com to find a store near you, detailed product information and design tools to guide you in your home decor purchases.
This is a sponsored conversation written by me on behalf of Havertys. The opinions and text are all mine.
*If a post is sponsored or a product was provided at no charge, it will be stated in post. Some links may be affiliate links and as an Amazon Associate, I may earn from qualifying purchases. *