Take a look at the following five bedrooms. Notice anything they all have in common? I'll wait while you scroll down and view each one.
The first three bedrooms were designed by Mario Buatta. The fourth is a bedroom in the home of Designer, Bunny Williams. I'm not sure who designed the last bedroom, wish I knew.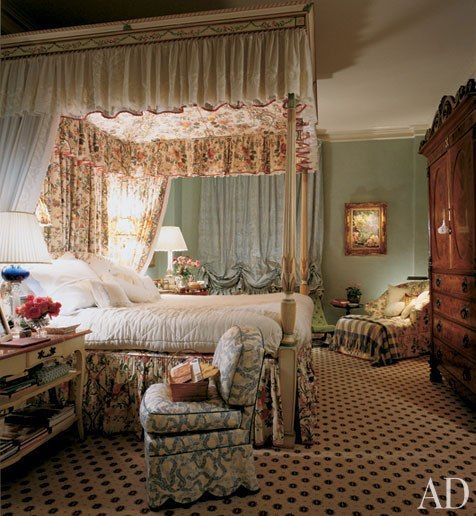 Did you notice anything common to all five bedrooms?
The chair. Each bedroom has a pretty chair positioned right beside the bed. See it there near the foot of the bed facing back toward the wall? The chair is located on the left side of the bed in all of the rooms designed by Mario, as well as in this bedroom below in Bunny's home.
Source
It's located on the right side of the bed in this room.
Source Unknown
So what do you think?
Is this a well-known design element, maybe something dating back in English design? I have to admit, I kind of like how it looks there. 🙂
I don't think the chair is there as a place to sit while putting on or taking off shoes because all of the above rooms have plenty of other seating areas. It's not needed to hold bedtime reading because each bed has bedside tables.
Is it a place where a visitor might sit if they stop by and the man or lady of the house is still in bed? I remember once reading about a somewhat eccentric lady of the house in Savannah who regularly entertained visiting guests from her bed. She was notorious for it and her guests apparently loved it. Was that story in the book, Midnight in the Garden of Good and Evil. Anyone remember?
Is it a place to sit and enjoy a morning cup of coffee? I don't think I'd care to sit facing a wall, though.
Ummm, I'm leaning toward a place where a visitor could sit because it's facing back in the general direction of the head of the bed.
It would take some getting used to, having a chair right beside the bed. I can just imagine getting up for a drink of water in the middle of the night and still half asleep, running straight into it. Guess that would only happen once, after which one would always remember to make a wide berth around the chair. 😉
So, what do you think? What purpose does the mystery chair serve?
I bet Bunny Williams or Mario Buatta could tell us.
Love beautiful bedrooms? You'll find more here: Mario Buatta: Fifty Years of American Interior Decoration
*If a post is sponsored or a product was provided at no charge, it will be stated in post. Some links may be affiliate links and as an Amazon Associate, I may earn from qualifying purchases. *