Happy Friday and Happy Weekend!
When I awoke today, I was in the mood to move forward on the drapery project I recently started here in the family room. You may remember this photo where I had draped the green, velvet draperies I found recently in a Ballard Designs Outlet over the tops of my plantation shutters to get an idea how they would work in this room.
The Velvet Dilemma: Ballard Designs Speaks
Question: Which way is the right way to sew velvet, with the nap going up or down?
Answer: Whichever way you want.
So, remember a week or two ago when I took my draperies to a local seamstress to get a quote on having them hemmed, and she told me that they had been made incorrectly with the nap going upward instead of down? Back home, I googled and found this information below.

That made me feel somewhat better, but several folks left comments on that post saying velvet was supposed to always be sewn with the nap going downward. (Read that previous post here: Sewing Velvet: Are My Curtains Sewn Backwards?)
Ummm, since this whole velvet-sewing-dilemma kept nagging at me, I decided to go to the source and ask them. I called the home office for Ballard Designs and talked with one of their product specialists. She was very helpful and told me that my draperies were sewn correctly. She said that Ballard Designs contracts with specific companies to make their draperies and that the designers who work for Ballard Designs instruct them exactly how they want their draperies to be made.
She said Ballard Designs has all of their velvet draperies made with the nap going up (not down) because they feel it gives the curtains a much richer appearance and it helps avoid the sheen that velvet sometimes has.
She said that once upon a time it was thought velvet should always be sewn with the nap going down, and that's still the best way when making velvet clothing. But for draperies she said the rules have changed, and it's not unusual to see the nap running upward for a richer look.
After learning all this, I'm glad they choose to make them with the nap going up because I love the idea of the draperies having a richer, deeper, velvety appearance. You don't have to worry about wear with draperies since they aren't like clothes that are being worn.
So if you have velvet draperies from Ballard Designs (and I know some of you said that you do) per Ballard Designs, they are not sewn incorrectly if the nap is going upward. They were designed that way on purpose by the designers at Ballard Designs.
The Drapery Rod Choice: Thanks for your input in my previous post!
It seems like there are so many decisions one has to make when hanging draperies. Thinking it through, I have decided to go ahead and install the dark, metal curtain rods I recently purchased at Lowes.
Thanks so much for your suggestions and ideas when I asked if you thought wood rods or metal rods would work best. I didn't do a tally but you guys seemed to be pretty evenly split on which would look best in my paneled living room.
The reason(s) I finally decided to stick with the dark metal rods I had already purchased is because I'm concerned I'll have trouble finding a wood rod that would look right with the judges paneling in this room. Early on, I learned that not all wood tones work with these walls. For example, Cherry furniture or wood furniture with a reddish tone, looks terrible in here.
As I read your comments on that previous post, it occurred to me that the metal drapery rod may work well with the antique bronze/oil-rubbed bronze finish of the doggie lamp on the table in front of the window.
So today I set out to purchase drapery rings so I could go ahead and hang the curtains to get an idea how much they would need to be hemmed.
You may remember, the velvet draperies are designed with little loops sewn across the top.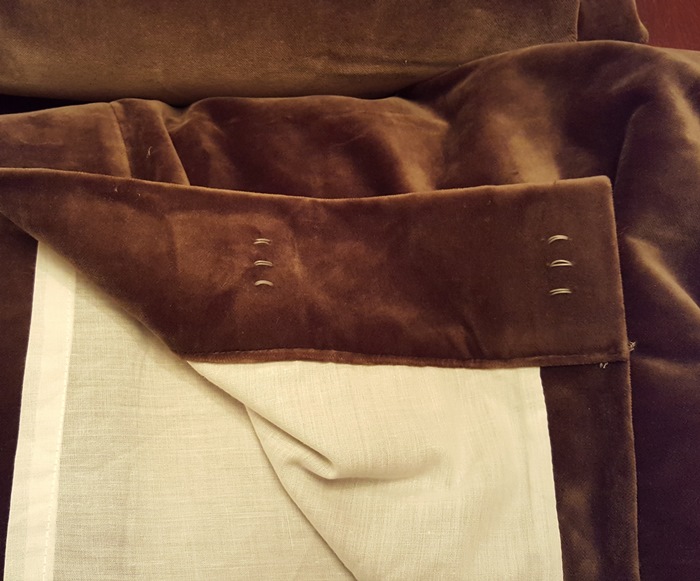 That's so they can be hung like this, which is very close to the exact same way I hung draperies in my dining room back in November 2012.
When I hung them in the dining room, I hadn't seen that picture above. I had just figured it out on my own when I came across the some "special" drapery rings in Home Depot. Note that word special, I was very lucky the first time when I found the drapery clip rings that I used…more on that in a sec.
The draperies in the dining room didn't have the little loops sewn in like you see in the photo above so I just inserted the drapery pins into the pleats on the back of those curtains, and then hooked the pin through the a hook on the drapery ring.
Since the velvet drapes I'm hanging now do have the loops as shown below, this method is perfect for hanging them. But today I ran into a stumbling block.
When I got to Home Depot today, I couldn't remember the exact brand of rings I purchased last time. Home Depot only had one style and they looked pretty much the same, so I purchased those and headed home.
Once back home I had two problems. The first problem was that the rings I purchased were a hair too small for the curtain rods I'm using in the living room. Drat! They would almost fit over the rod, but not quite.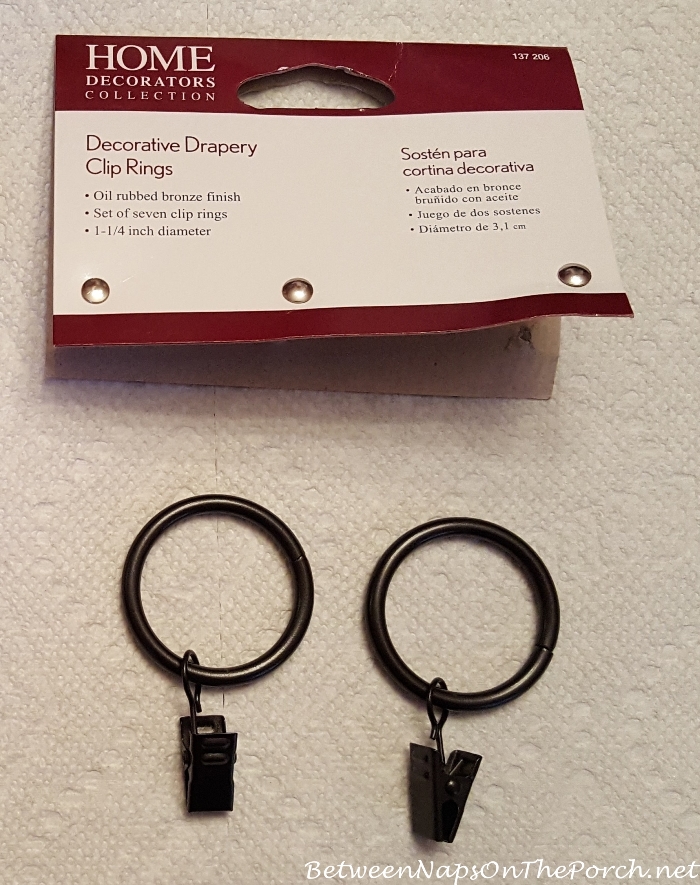 I discovered that the rings I purchased for the dining room curtains, did fit. So, I started the messy process of taking down the curtains in the dining room to swap the drapery rings. The new drapery rings I purchased today would easily fit over the skinnier rod in the dining room and the dining room drapery rings were just barely large enough to go over the new rods in the living room. Arggg. Are you following me, here? lol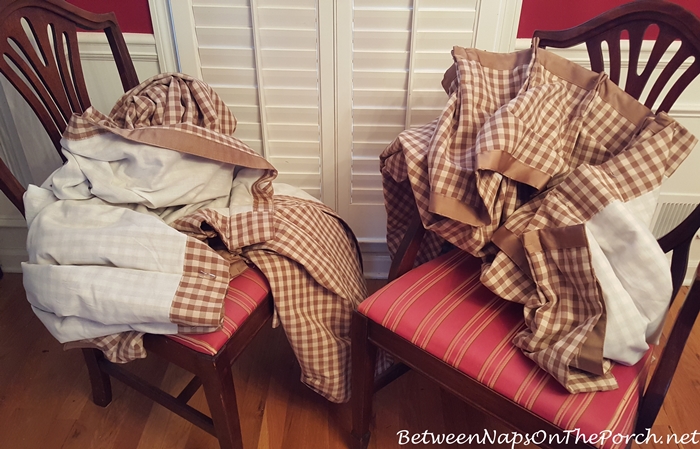 Once I removed all the drapery rings from one window in the dining room and began reinstalling them with the new drapery rings I purchased today at Home Depot, I realized I had a problem. I searched the house and finally found the few rings I had left over from when I had previously hung the dining room curtains. They were still in their original package and it turned out they were by Levolor. The ones I bought today are from the "Home Decorator Collection."
I learned today that not all drapery clip rings ARE created equal. Do you see the problem…the difference between these two brands of drapery rings? The Levolor drapery rings are far superior (in my opinion) because they have a feature that the Home Decorators Collection drapery rings do not have.
They have a little loop built into the drapery ring…note where the arrow is pointing.
The Home Decorators Collection drapery clip rings do not have that loop. That loop is super important for hanging draperies in the method I mentioned earlier.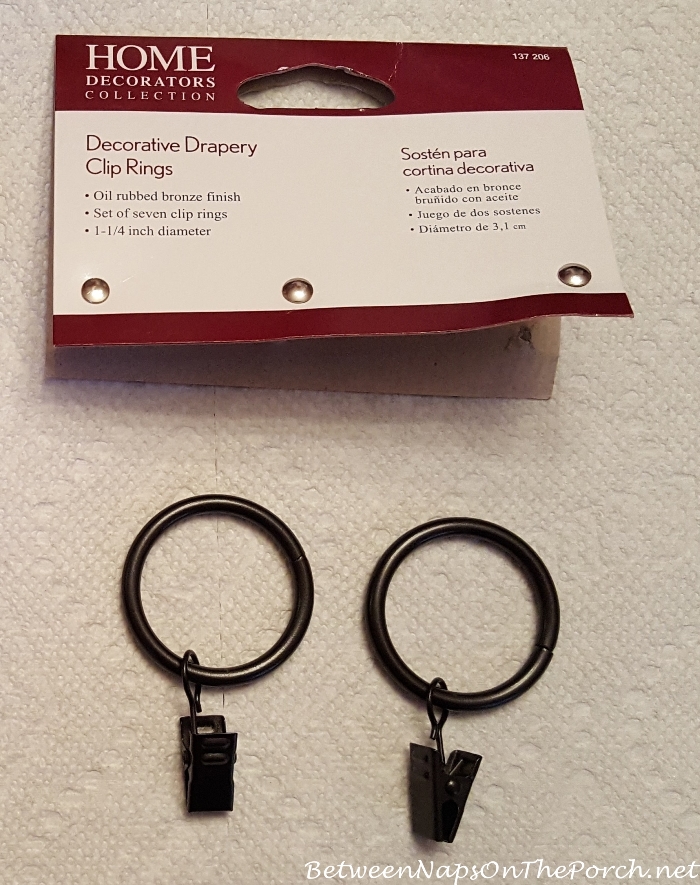 When you attempt to hang curtains using this method shown below (which is the same method I used for my dining room draperies) with the Home Decorators drapery clip rings, it doesn't work.
It may look like the loop at the top of the clip is closed up, but it's not. If you hook a drapery pin through the top loop, it pulls right through the crack. ~~~sigh~~~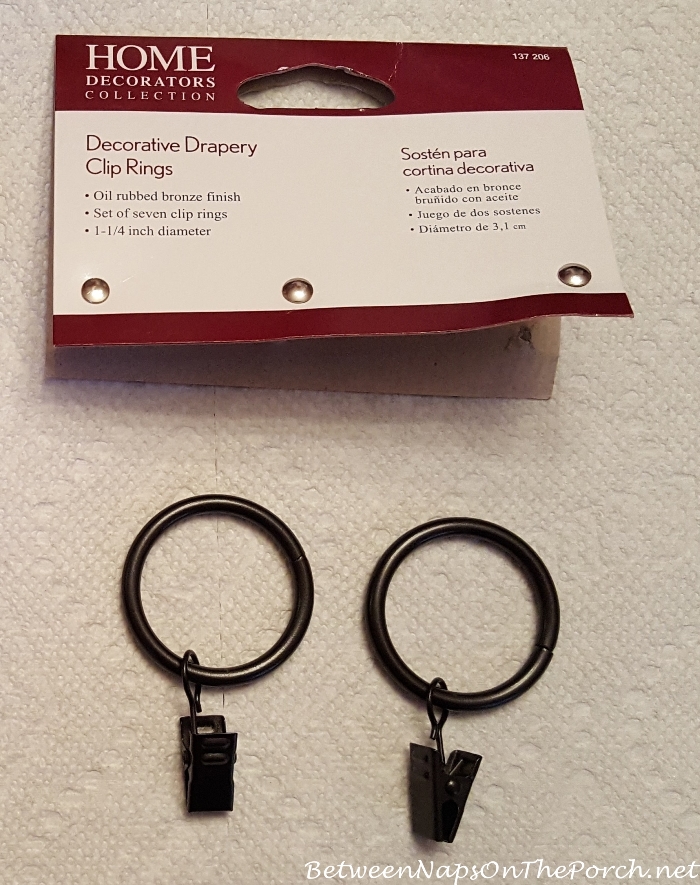 Don't you hate it when companies change and quit carrying something that worked so great before! The drapery rings above are the only ones Home Depot had today, they no longer had any by Levolor.
So I Googled this afternoon and thankfully found them on Amazon here: Levolor Drapery Rings. I ordered 5 bags, enough to hang the 4 velvet panels in the living room. They should arrive on Monday. Once they arrive, I'll hang the draperies, give them a few days to settle, then measure so I'll know exactly what length they need to be hemmed.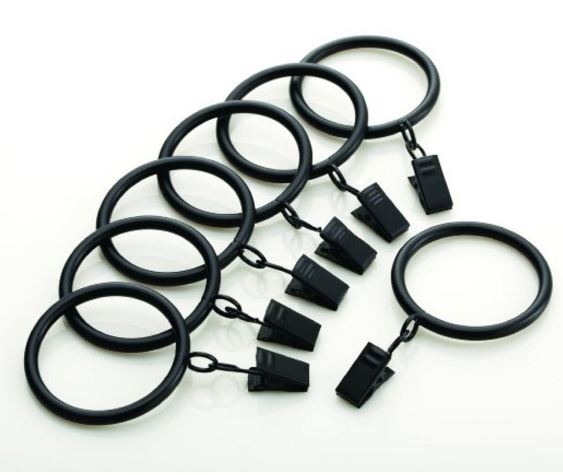 Just wanted to share this with you so if you ever wish to hang draperies using this method below…
…be sure to purchase drapery rings with the little closed-off loop, like the Levolor drapery ring clips have below. It will save you tons of frustration!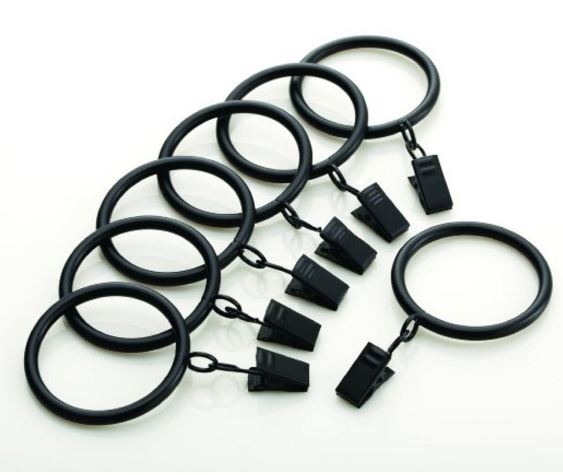 Okay, I'm off to rehang the dining room drapes, hopefully for the last time! 🙂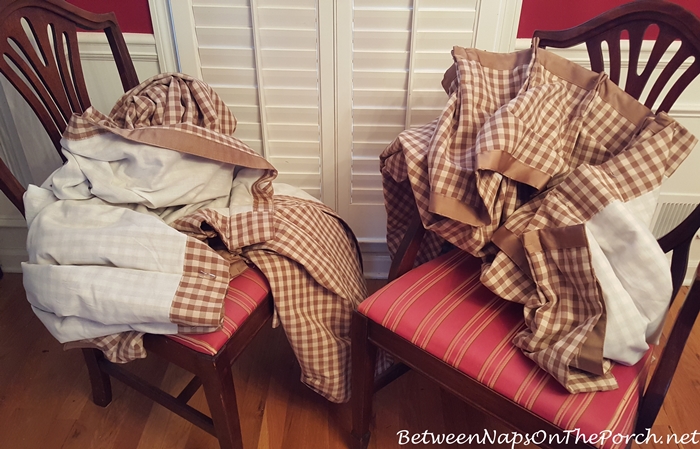 *If a post is sponsored or a product was provided at no charge, it will be stated in post. Some links may be affiliate links and as an Amazon Associate, I may earn from qualifying purchases. *