Welcome to the 531st Tablescape Thursday!
Just before I left to fly north for Thanksgiving, I stopped into Pottery Barn to scope out all their Christmas dinnerware. They always have such fun holiday dinnerware. I love seeing it all and it really gets me excited for the holidays.
Since Thanksgiving was just a few days away, they no longer had Thanksgiving dinnerware on display. I just noticed today, all of the Thanksgiving dinnerware is on sale right now, so this is a great time to buy for next year. You can see it all here: Thanksgiving Dinnerware.
As soon as I walked through the door, the rich reds of this table pulled me over.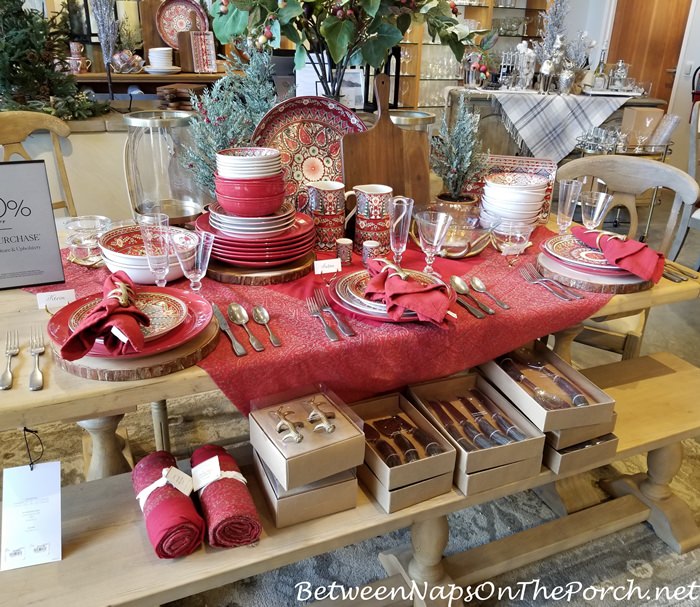 The neat thing about this dishware is that it's not just for Christmas. The colors would work any time throughout the year, especially for fall and winter. This rich patterned dinnerware can be found here: Holiday Dinnerware.
Pottery Barn had this pattern last year and I almost bought it then.
I love the reindeer circling the plate and each one has its own personality. Sooo cute!
Here's a close up of how it looked on the table. All of this adorable reindeer dishware can be found here: Christmas Reindeer Dinnerware.
The sherpa placemats add a warm, cozy feeling…love that for winter! Normally I'd be nervous about these placemats, thinking they would get dirty quickly, but I purchased a PB throw for my daughter-in-law and for myself 2-3 years ago that was all sherpa on one side. I've never needed to wash mine but with two little ones, my dil has washed her throw several times and it still looks great. So I would think these would wash well, too.
I'm going to keep an eye on them, and if they go on sale I think I'll get some. You can read more about them here: Sherpa Placemat. I would love to see them in a setting with the bark-edged chargers I love to use this time of year!
I came extremely close to buying some of their plaid dinnerware this year. I can not resist THE PLAID! lol I'm thrilled to say it's all currently still on sale. Is that the universe saying, do it!? It is very different from the other tartan/plaid patterns I have. Ummm, I can see a whole table done in plaids. It would be challenging but could make for a beautiful table!
You'll find the plaid dinner plates shown below on sale here: Plaid Dinner Plate. The whimsical Santa salad plates below are available here: Santa Salad Plates. The matching dinner plates can be found here: Santa Dinner Plates and the whole set(16 Piece Set) can be purchased here: Santa on Christmas Eve.
I'd also love a set of the "antique" silver chargers. Love how those look any time of year! They are available here: Chargers.
Love the platter that goes with this whimsical Santa dinnerware.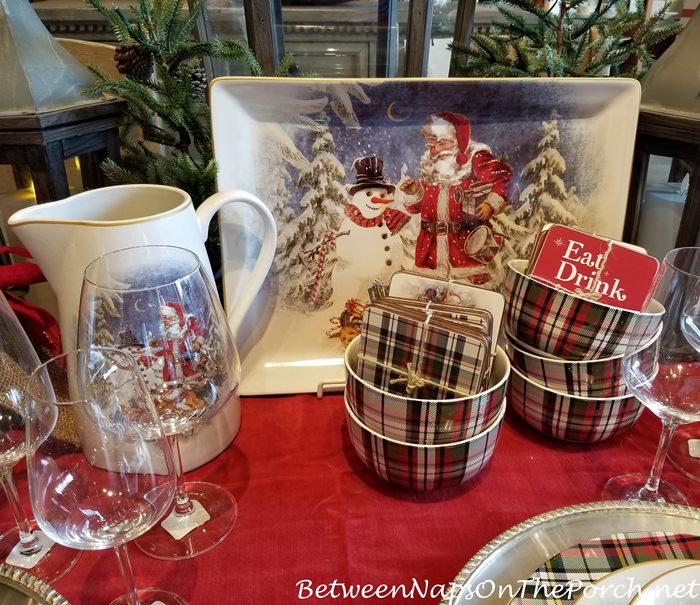 These are the matching salad plates in the plaid pattern. They are also on sale here: Plaid Salad Plate. See all of this pattern including serving pieces here: Plaid Dinnerware.
Update: I just ordered these! Can't wait to see how they pair with my other Christmas patterns. Will definitely have to put together a table with these this year!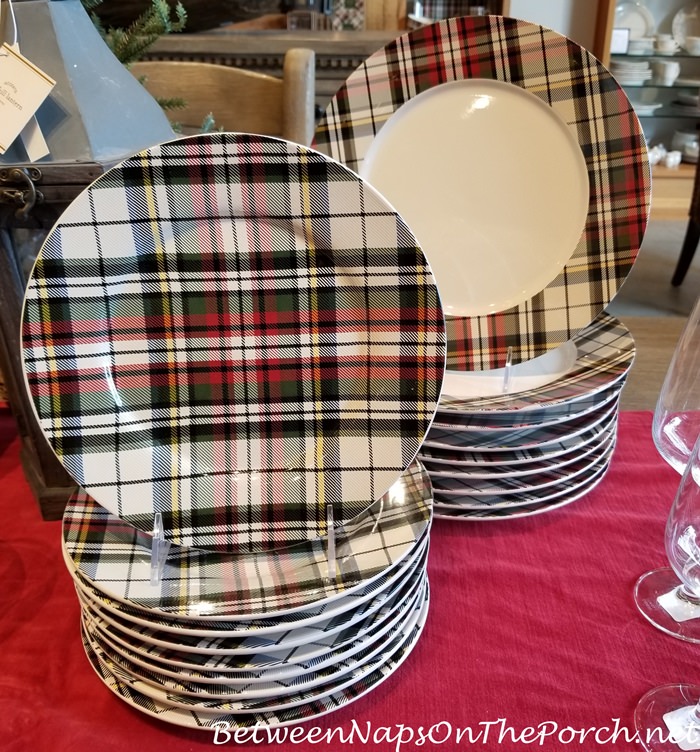 Every year when I see these glasses, I want them! I picked one up and I love how they feel in your hand. You can actually feel the reindeer…love that! They are available here: Reindeer Glasses.
I did a quick pass through the bedding before I left. If I didn't already have tartan bedding, I would have to get this! You'll find the duvet which is currently on sale, here: Duvet.
It pairs so well with all their Ski Lodge bedding…such an adorable pattern! My son would have loved this growing up since he loved skiing! The Ski Lodge bedding is available here: Ski Lodge. You can really see how beautiful and rich the plaid duvet/pillow shams are in this picture below. Sooo pretty!
I'm going to work on putting the tree up today. But first I want to put out my mini-snack center for all my delivery folks. I would have put it out a lot earlier if I had not been out of town for Thanksgiving. I think I'm going to use a smaller box this year. This one was kinda heavy once I had it filled with goodies. I can't wait to go shopping for the treats! I had so much fun putting this together last year!
You'll find the post I wrote about this and a link to print out the sign in this post: A Treat for Your Delivery Person. I reprinted my sign for this year since I have a color printer now. I'll share a photo of my little snack center once I get it put together. I need to get cracking on decorating the front porch, too!
Happy Holiday season to you! Looking forward to sharing Christmas preparations with you soon!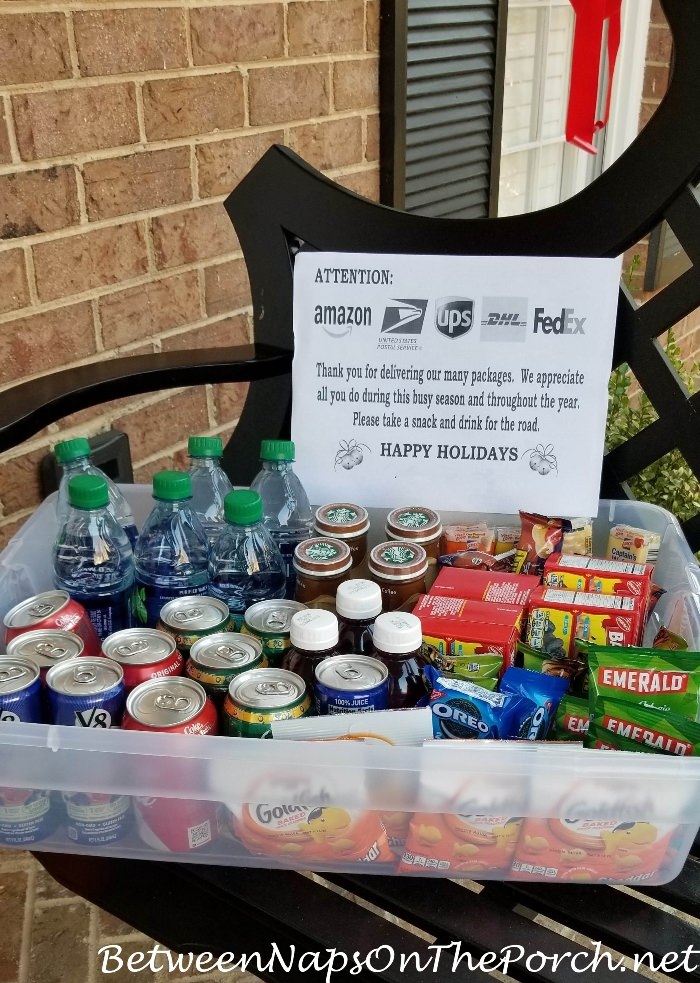 Looking forward to the beautiful tables linked for this week's Tablescape Thursday!
Pssst: I post almost daily to Instagram. Follow Between Naps on the Porch on Instagram here: Between Naps On The Porch.
If you enjoyed this post, subscribe for free email updates when a new post is up here: Subscribe for post updates.
Tip: Please do not use a Hotmail e-mail address to subscribe if you can avoid it. Hotmail is notorious for filtering out perfectly good emails. I've found Gmail to be awesome, it's what I use and it's free! Plus, they don't filter out good e-mails in error.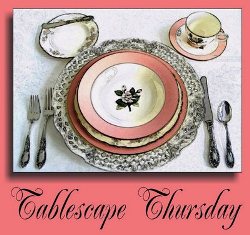 Tablescape Thursday
If you are participating in Tablescape Thursday, please be sure to add your permalink below, and not your general blog address. To get your permalink, click on your post name, then copy and paste the address showing in the address bar, into the "url" box when you link up.
You'll need to include a link in your post back to the party to link up and participate. That's so visitors to your blog will be able to find the party and the other Tablescape Thursday participants. Requiring a link back also prevents businesses and scammers from linking up to sell their products. (Yup, that really happens, unfortunately.)
*If a post is sponsored or a product was provided at no charge, it will be stated in post. Some links may be affiliate links and as an Amazon Associate, I may earn from qualifying purchases. *