A few days ago in THIS post, I shared this really neat idea I saw on Instagram, a way to say "thanks" during the holiday season to those hard-working folks who deliver packages to our door so frequently during this time of year. I'm not sure who started this idea, but I think it may have been Linette at the Instagram account shown below. I order a lot of items online to avoid getting out into the Atlanta traffic any more than necessary, so this idea really appealed to me.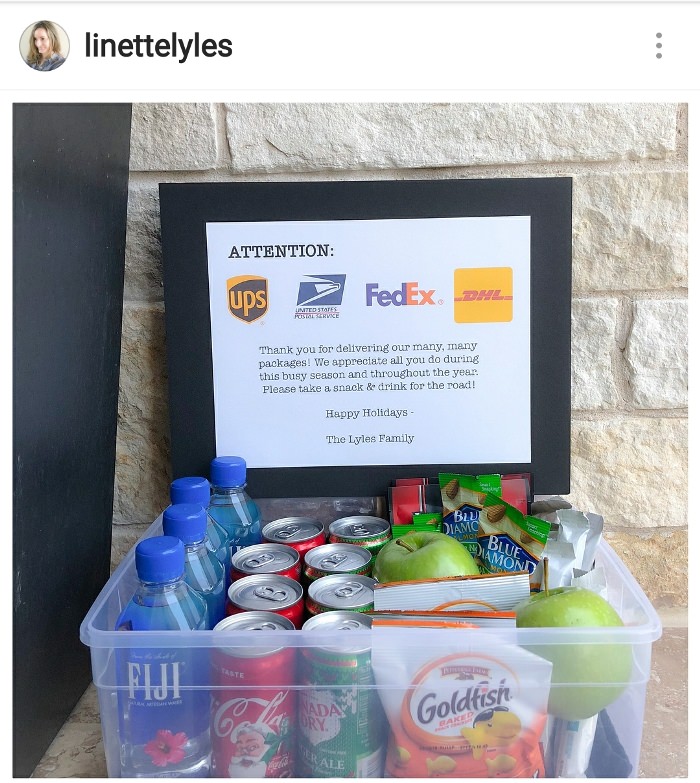 I stopped by the grocery store yesterday morning and picked up a few things. I also picked up a clear, shallow plastic container in which to put everything. Ignore the pumpkin. I'm getting ready to decorate the porch for Christmas so it will get removed as soon as the Christmas decorations go up this year.
Brenda, a lovely dearheart who reads BNOTP, made up a similar sign like those I had seen on Instagram. She's made it available for anyone who wants to print it out on her Pinterest page here: Snack Sign.
At that page above, just click on the word "Open" and the sign will open up larger for printing.
Thanks so much to Brenda for taking time to do that! I don't have a color printer since I rarely print in color, but the sign works great in black and white, too. I had a tallish piece of cardboard stashed away in my office closet. I taped my little sign to the top half of the cardboard and stuck the bottom half down into the back of the container. That's working great, so far.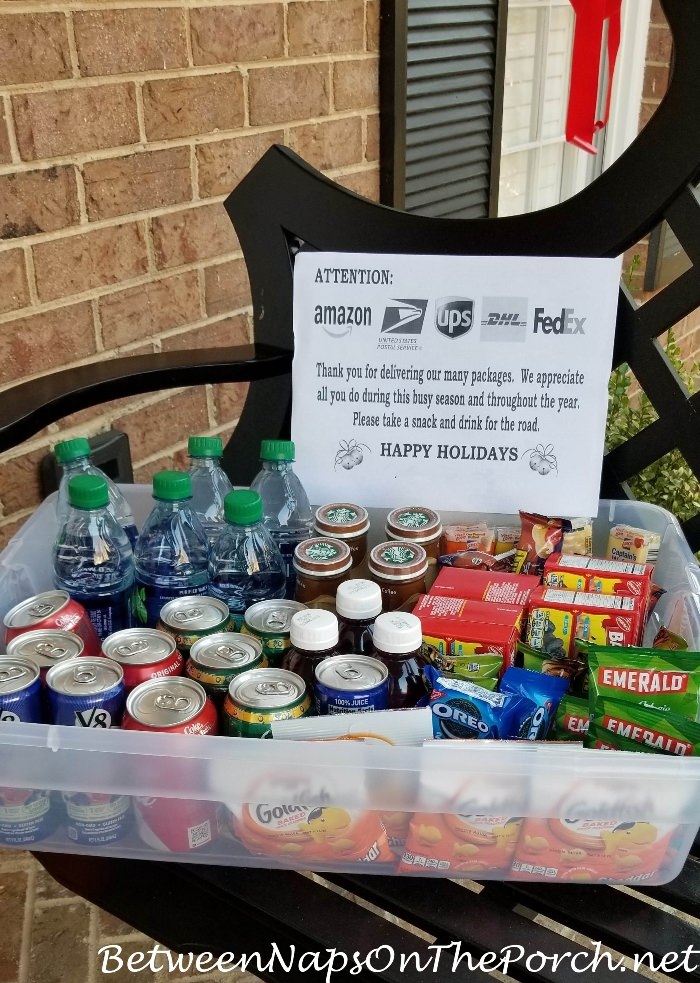 Some of the drinks I included in this little snack bar are: Water, Cokes, Gingerale, Starbucks Coffee, V8 juice and Cranberry juice.
On the snack side there's a variety of crackers, Goldfish, granola bars, trail mix bars, Oreo packets, almond packets and animal crackers. It's been many years since I packed a lunch for a little one and had the need to shop for little individual servings/snacks, but there's a lot to choose from in the grocery store. I had so much fun putting this together!
When I placed this container out on the bench on the front porch, I wondered if my delivery folks would notice it and hopefully, enjoy it. I had two deliveries yesterday. The folks who deliver my packages rarely ring the bell when they make a delivery. UPS does, but most of the other services do not. So I've gotten in the habit of just glancing out the sidelight on days I'm expecting a package, to see if it has arrived.
Yesterday I had two packages delivered at two different times during the day: one mid afternoon and one late in the evening after dark. Mid afternoon I noticed a package on the porch. As I retrieved it, I glanced over hoping my delivery person had noticed the goodies on the bench nearby. I noticed a Coke and a box of the animal crackers was gone and my heart sang. I can't tell you how happy that made me feel, that I could hopefully brighten the day just a little for someone who is out fighting this crazy Atlanta traffic. Another Coke was gone after the evening delivery, not sure if they enjoyed a snack since I have so many in the little bin, but I hope they did.
So if you're wondering (like I was) if your delivery folks will appreciate your snack bar and use it, the answer is, Yes! 🙂 I plan on doing this during the holiday season each year and I think I'll start it earlier next year, maybe a week or so before Thanksgiving.
I brought the container in last night and put it back out first thing this morning. Since everything is sealed off, I don't think the little chipmunks who sometimes hang out on the porch steps will try to get into anything, but I'll update you and let you know if that happens. So far this little set up is working great, so I'm optimistic.
Pssst: I post almost daily to Instagram. Follow Between Naps on the Porch on Instagram here: Between Naps On The Porch. If you enjoyed this post, subscribe for free email updates when a new post is up here: Subscribe for post updates.
*If a post is sponsored or a product was provided at no charge, it will be stated in post. Some links may be affiliate links and as an Amazon Associate, I may earn from qualifying purchases. *