My day had a not-so-great start. I awoke, turned on my computer and it began making an odd whirring sound. I think the fan in the CPU tower has gone out. Again. ~~~sigh~~~ It shut down by itself and made a terrible "siren" sound when I attempted to restart it.
So I'll be packing a lunch (because it takes that long to get there and back!) and driving to the other side of Atlanta today to leave it for repairs at the store where I purchased it. Before I start my journey across Atlanta, I thought I'd share the little snack station I put together last night for all the delivery people who will be dropping off packages this holiday season.
I would like to have put this little snack center out well before Thanksgiving, but I left to go out of town several days ahead of Thanksgiving, so I just couldn't make that happen for this year.
Before I share the changes I made for this year, here's a photo of last year's snack station below.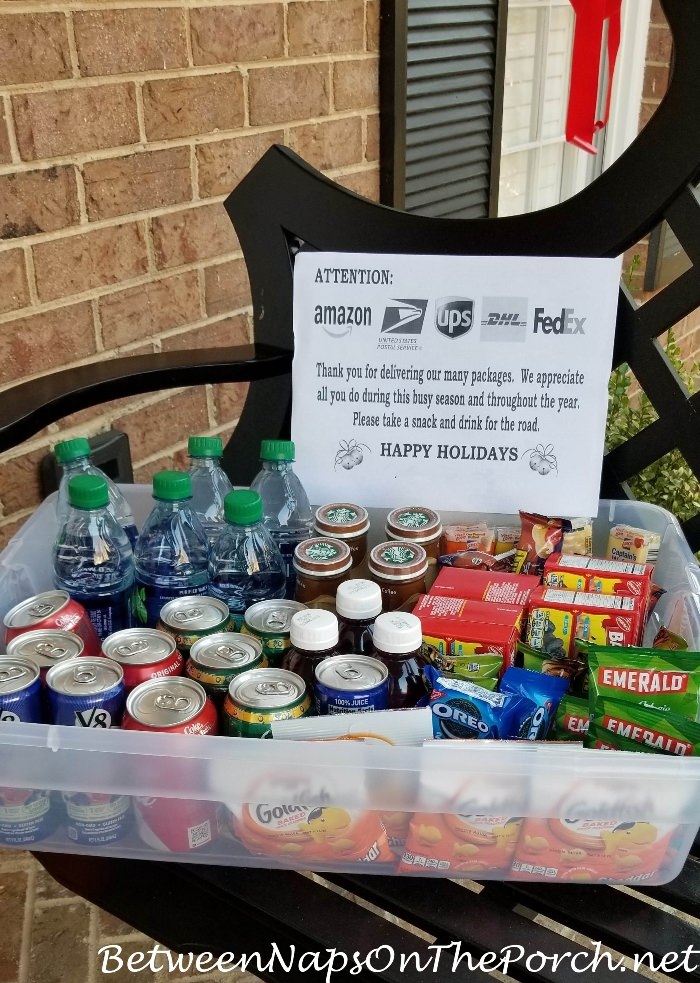 The first change I made for this year was I printed the sign in color since I now have a color printer. I still use my Brother laser printer (love it!) but I like having the color printer for those odd color jobs.
Another change I made was instead of having everything in one large bin, I purchased two smaller bins for this year: one for drinks and one for snacks. The large bin I used last year (when filled) was a bit heavy to lift each morning to put out and each night to bring back inside. Two smaller bins are a lot easier to handle and less awkward.
I had a delivery early this morning and when I stepped outside to take these pictures, it made my heart sing to see one of the waters is gone. I hope they took a few snacks with them, too. I have so many in the snack bin, it's hard to tell.
Last year I put out Starbucks Coffee, the kind in glass bottles that don't require refrigeration. Those were not a popular choice, I think maybe one was taken. So this year I left those out of the drink bin.
This year I filled the drink bin with A & W Root Beer, Fiji Water, Cokes (regular and diet) and Sprite. You may want to add some juice boxes or V-8 to your bin for variety, although I don't remember those being that popular last year when I had them in my bin. Mostly my delivery folks chose either a water or soda.
I may need to add some ice to the bin this year because it has turned pretty warm again. Normally it's cold enough out, the drinks stay plenty cold.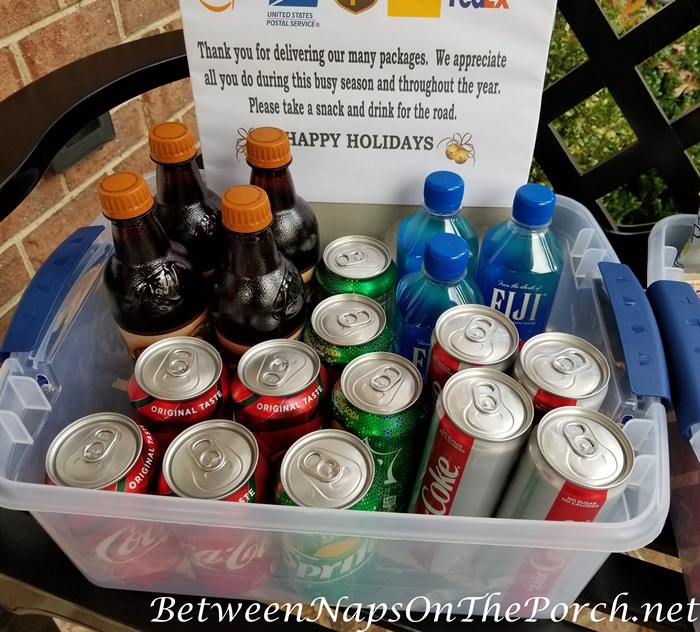 For the snacks, I put out a pretty big variety. I remembered the boxes of Animal Crackers were a big hit last year, so I bought more of those this year. The snack bin this year includes:
Apples
Skinny Popcorn
Animal Crackers
Ritz Cheese Crackers
Snickers Bars
Assorted Lance Crackers (Peanut Butter, Toasted Cheese, etc…)
Goldfish Crackers
Emerald Mixed nuts (Cashews, Almonds, Cranberries)
Planters Nutrition Mix (Peanuts, Almonds, Pistachios, Pecan, Walnuts)
Snickers Bars
Chips Ahoy Cookies
Gardetto's Original Snack Mix
Nutter Butter Bites
Bugles
Chex Mix (Traditional and Cheddar)
Some of the snack items above came in large variety packs, so if you put together a snack center, look for the variety packs. The only thing I don't like about the variety packs is sometimes the snacks inside are in smaller bags than I would like.
I'm tempted to staple a couple of packs together so they'll have a decent size snack when they choose those, although that may look weird. Maybe I can paper clip them together so they'll know to take more than one pack.
Cute Story: Back during the summer I was outside retrieving my mail from my mailbox when a UPS driver was delivering packages across the street. He stopped to tell me how much his sidekick/helper who had been riding with him during the holiday season last year had appreciated the snacks. He said every morning he would ask him if they had any packages for the house with the snacks. 🙂 That was so nice of him to let me know, it made my day! I told him I would definitely be doing it again this year.
If you would like to print out the sign below to use in your snack center, you'll find a link to where you can print it out in this previous post: Snack Center for Your Delivery Folks.
Before I close out this post, have to share these amazing fleece-lined tights I've been wearing under dresses and jeans. They are so incredibly warm! I'll be putting together a stocking stuffer/gift suggestion post soon and these will be on it, for sure. They are available here in several colors if you dislike being cold as much as I do: Tights.
I'm off to take my computer to the doctor. I'll be working on my Christmas decorating this weekend, looking forward to sharing that with you soon!
*If a post is sponsored or a product was provided at no charge, it will be stated in post. Some links may be affiliate links and as an Amazon Associate, I may earn from qualifying purchases. *