Beautiful Christmas Centerpiece or Table Decoration, Ready in 15 Minutes:
To get you in the mood for a little holiday decorating, I'm sharing a super easy and inexpensive decorating idea. In fact, this is so simple and easy to do, you could create it the day of your holiday party or family gathering in just 15 minutes using a few items available at the grocery store and from your yard. Ya gotta love that!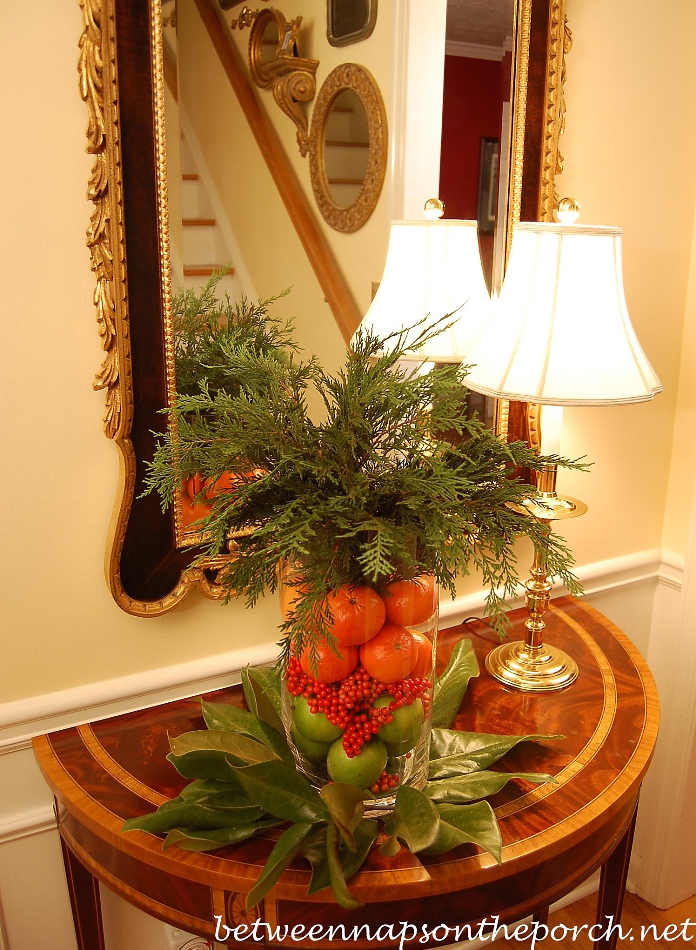 To make this table decoration or centerpiece, you'll need a glass container or vase, some small oranges, small green apples, red berries and a little greenery.
You can use tangerines instead of regular oranges. That's what I did since they were a deeper orange color. Also, you can substitute limes for the green apples, if you like…or use cranberries instead of berries from the yard. My nandina had very few berries this year…not sure why. I had just barely enough to create the arrangement.
For greenery, if you put up a fresh tree each year, save the scraps that you cut off from the bottom. Or, ask for extra scraps when you are purchasing your tree. If you have artificial trees (like I do now) visit one of the places that sells the fresh trees and ask for their scraps. They are always happy to share since the scraps are just going to get mulched or burned up anyway. Also, Home Depot sell "boughs" in bundles for reasonable prices.
This arrangement doesn't have water inside, so your greenery may only last 2-3 days. It is best put together the morning you wish to use it. It's super fast and easy and only took me 15 minutes.
I used a glass container I already had. It measures approximately 7 inches wide and 14 inches tall. I used 9 small green apples, 11 small tangeries and all the berries I could find on my sparse nandinas.
Just layer your apples (or limes) in the bottom. Add your berries next and top it off with your oranges. You could mix the layers however you wish…so play around with it. Then just add your greenery to the top. I also tucked a few magnolia leaves under the bottom.
So easy, inexpensive, and beautiful! And done in 15 minutes!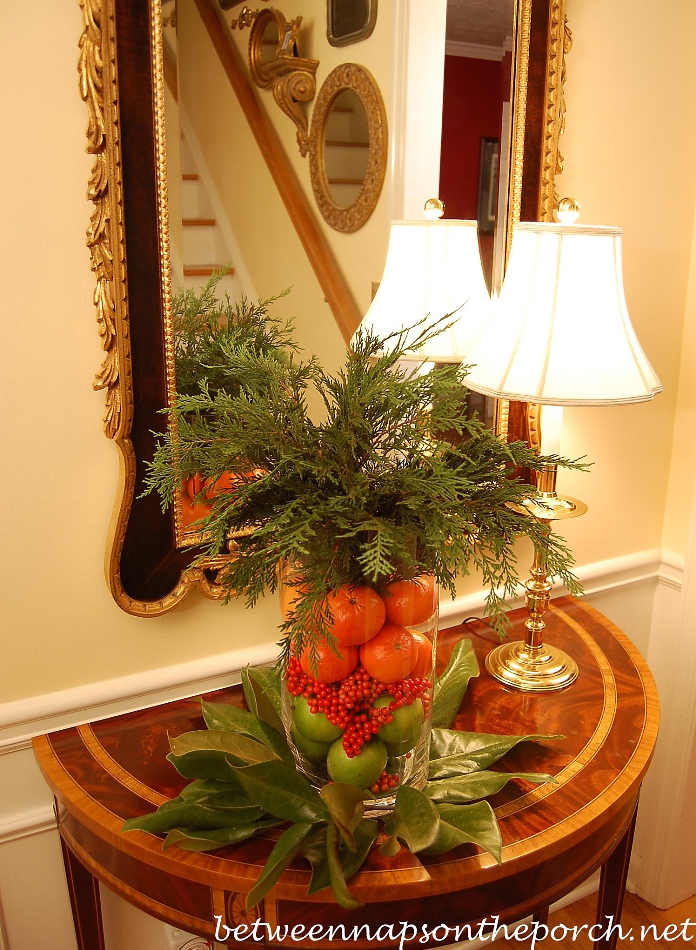 *If a post is sponsored or a product was provided at no charge, it will be stated in post. Some links may be affiliate links and as an Amazon Associate, I may earn from qualifying purchases. *