A few years back, the Christmas tree I had been using for many years lost a big section of lights. I spent hours and hours over several days trying everything to get the lights working, replacing fuses, using a little handheld device to try and detect which light or lights were not working, all to no avail. Since the tree was pretty old, I guess the lighting has just deteriorated over the years. Realizing I was going to have to have to replace it, I decided to spend some $$$ to get the most realistic faux tree I could find.
I purchased a very expensive tree I had seen heavily advertised on TV and by a lot of bloggers/influencers who had been given the tree as a gift. Once it arrived, I was shocked and dismayed by how it was designed, especially how it had been wired. I spent hours trying to separate out the branches before finally giving up and reboxing it to send back. In the photo below, you can see how it looked after hours of trying to spread out the lower 2/3rds of the tree. I never tried to spread out the top part since I knew there was no way I was keeping it.
I've never had trouble spreading out the branches on a faux Christmas tree, but the way this one was wired, I found it impossible to separate out the branches to fill in the open spaces/gaps on the tree. I don't know if I was sent a poorly strung or defective tree or if all the trees by that brand are designed that way, but it was a nightmare! Thankfully, I was able to get my money back, although they tried to withhold the shipping cost, as I recall. Eventually, after speaking with management, that was refunded too. If you would like to see more photos of the issues I had with this tree, you'll find those in this previous post: This Fraser Fir Christmas Tree Isn't What I Expected.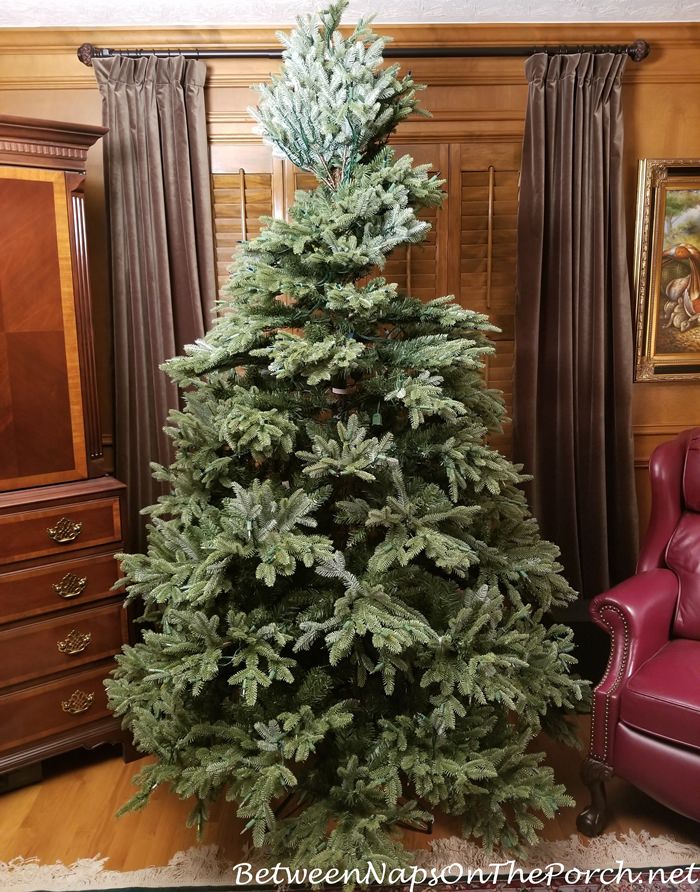 The tree search started all over again and I ended up visiting five stores in metro Atlanta in search of the perfect tree. I was surprised to find a tree I absolutely loved right here close to home in my local Home Depot. It was much less expensive, too! The tree I chose was the GE "Canadian Just Cut" tree.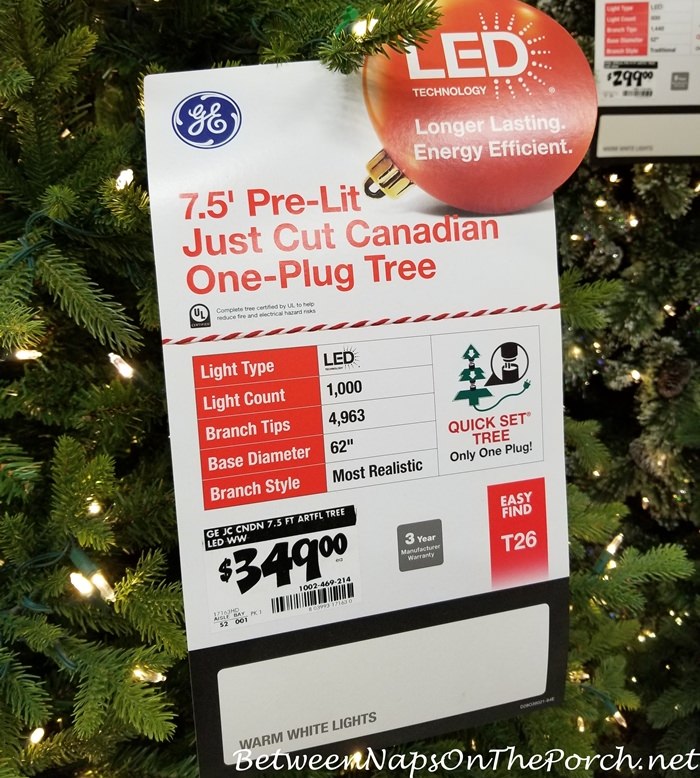 The best way to really judge a tree is to see it completely naked, void of any decorations or ornaments. This tree met and exceeded all my expectations! I was easily able to spread out all the branches to fill the tree out beautifully. Later, after posting this photo, I discovered I had missed spreading out a few branches, so it was actually even prettier and fuller than it appears below! (See the post where I first shared photos of this tree and read more about it here in this post: It Was Worth the Hunt, Love This Christmas Tree! )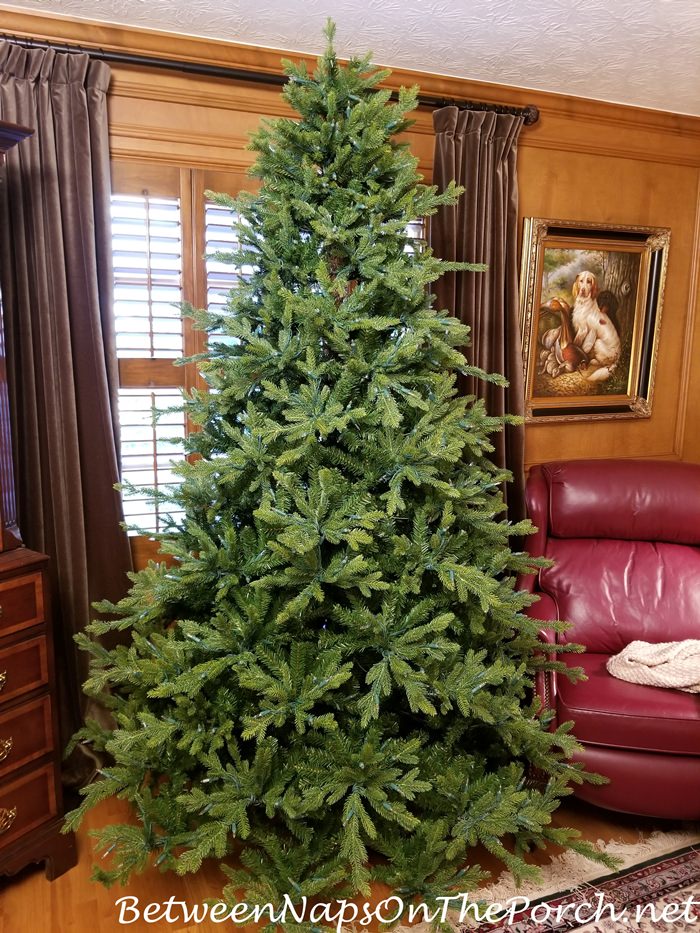 Here's how it looked once decorated.
And here's how it looked the following year.
I haven't decorated it yet this year, although I do have it in place in the living room. Happily, the lights are all working fine. Yay! There's always that moment each year when you bring out the tree, put it together, and with fear and trepidation hit the "On" switch. It's such a happy moment when the lights all come on just as they should!
I wanted to share this story again today to emphasize that it is not necessary to spend a fortune to find a beautiful, realistic-looking Christmas tree. I think the best places to start are probably your local Home Depot or Lowes. I've seen beautiful trees there already this year.
And, just to make it clear, this post is not sponsored and neither Lowes nor Home Depot knows who I am. I've just had great luck shopping there and I've seen some very nice trees in both stores over the years, although the closer it gets to Thanksgiving, the less stock they have available. I've learned that the hard way in previous years.
If you are interested in hanging wreaths on your exterior windows this year…
…I have shared in detail how I hang mine in this previous post: How to Hang Christmas Wreaths on Exterior Windows.
Before I end this post and get back to decorating, I wanted to share that I did go ahead and order the painting, The Governor's Party for my bedroom. The painting depicts the Governor's Palace in Colonial Williamsburg, Virginia as the artist, Chuck Pinson, envisioned it looking back in the day when the Governor hosted a Christmas party. I remember touring this beautiful home and going through the wonderful maze behind it during one of my visits to Colonial Williamsburg many years ago.
In researching where to buy the painting, I discovered Mr. Pinson lives right here in the Atlanta area and has his own website where his beautiful paintings are available to purchase. So I went ahead and purchased it directly from his website here: Chuck Pinson.
I'm hoping the painting will work above my bed, although, I'm a little worried about how much blue there is in the painting since I don't have any blue in my bedding That may actually turn out to be a good thing since I wouldn't want everything in the painting to be a direct match to the bedding. I think that would be too boring and too "same-same." If it doesn't work above my bed, I think it will work in my dining room.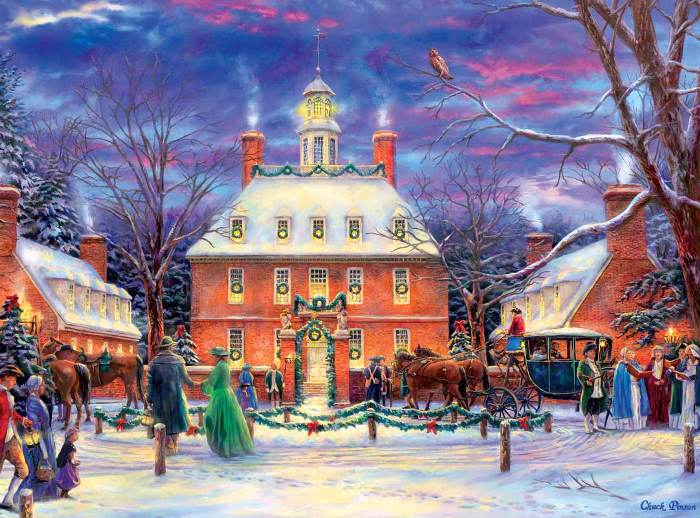 To check what size I need, I borrowed this print I had hanging in my dressing room and hung it above the bed. I like how this size looks, so that's the size I ordered of The Governor's Party painting: 36 inches wide x 24 inches tall. I plan to go with a wider frame so it will turn out another inch or two wider/taller. Looking forward to sharing it with you once I have it and it's framed.
Have a wonderful weekend!
*If a post is sponsored or a product was provided at no charge, it will be stated in post. Some links may be affiliate links and as an Amazon Associate, I may earn from qualifying purchases. *