Welcome to the 253rd Metamorphosis Monday!
Hope you had a wonderful Thanksgiving and an awesome weekend! I worked on Christmas decorations for the front porch and it's basically done, but it feels like something is missing. I'm not sure what just yet, but I'll figure it out and share it soon.
So, for today I thought I'd share how I've decorated the gas lantern this year. Throughout the year, the lantern normally looks like this. I just noticed today I never got around to planting my pansies at the foot of the lantern. There they sit, still waiting patiently in their container. Bad gardener! I did get pansies planted in the other two annual beds in the front yard but it got dark that day before I could get these in, then I just forgot. Will get that done today, putting it on the "to-do" list now.
When I've decorated the lantern for Christmas in the past, it looked something like this. I purchased the faux greenery many years ago. It looked really pretty the first few years I used it and was still looking nice the year this pic was taken. Last year it was starting to look kind of scrawny. Over time some of the berries have fallen off and the greenery and bow have begun to fade. I decided this year to retire it and decorate the lantern with live greenery from the yard.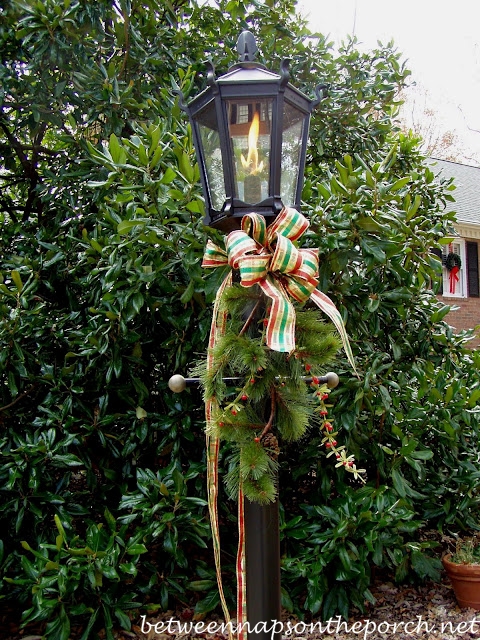 First I made a big bow from my stock of ribbon, then I cut off a wee bit of foliage from the magnolia you see in the pictures above. I also cut some Nandina berries from my large Nandina bushes in the back yard. I didn't bother cutting any of the Nandina foliage because I learned long ago that it looks pretty for about 5 minutes, then it wilts. Okay, that's a little exaggeration, it may last a few minutes longer, but it's almost that fast. I learned that the hard way when I attempted to use it in a centerpiece once.
I clumped the magnolia branches together, tied the bow I had made around them with wire, then tucked the Nandina berry stems up under the wire. Now it was ready for the lantern.
Here's how it looks as you approach the walkway leading to the front porch.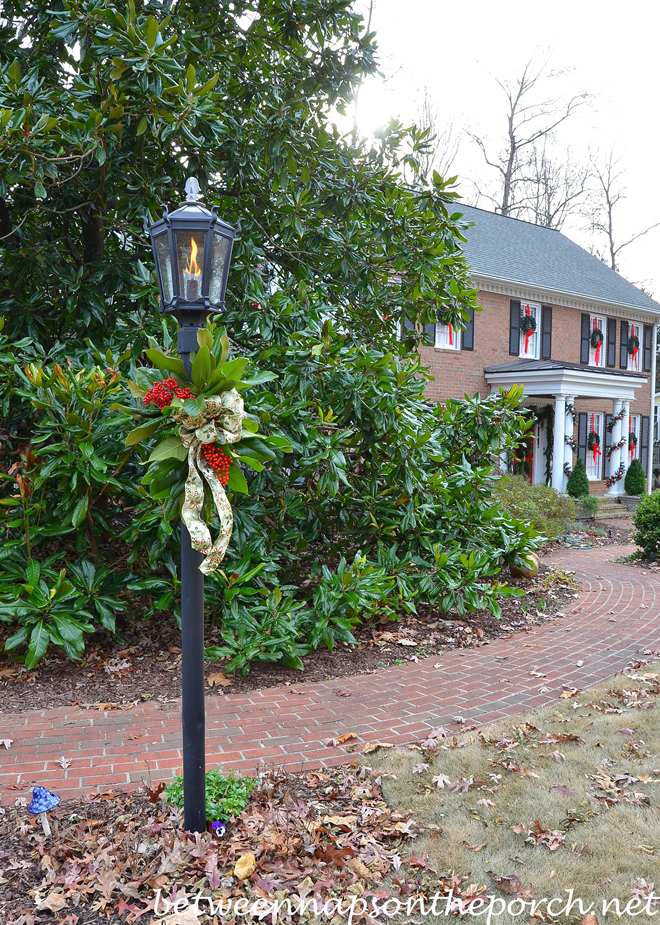 A view from the other side…
Magnolia lasts a nice long time after it's cut, making it a wonderful greenery for wreaths, garland and almost any type of Christmas decorating.
A little close-up…
This arrangement took about 10 minutes to make, including the bow-making time. It cost $0 since I used ribbon I already had along with fresh greenery from the yard.
Okay, I'm off to find my trowel…got some pansies to plant! 🙂
Looking forward to the Before and Afters linked for this Met Monday!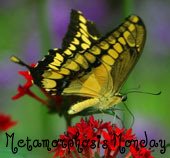 If you are participating in Metamorphosis Monday, you will need to link up the "permalink" to your MM post and not your general blog address. To get your permalink, click on your post name, then just copy and paste the address that shows up in the address bar at the top of your blog, into the "url" box for InLinkz.
In order to link up, you'll need to include a link in your MM post back to the party so the other participants will have an opportunity to receive visits from your wonderful blog readers.
Please observe these few rules:
Only link up Before and After posts that are home, gardening, crafting, painting, sewing, cooking, DIY related.
Do not link up if you're doing so to promote a website or product.
Do not link up a post that was just linked last week since a lot of readers will have already seen that post.
Do not type in ALL CAPS. It spreads the links waaaay out.




Welcome! Thanks for coming to the party!
*If a post is sponsored or a product was provided at no charge, it will be stated in post. Some links may be affiliate links and as an Amazon Associate, I may earn from qualifying purchases. *